WordPress is a universal content management platform that can be effectively used by anyone. Its admin dashboard is a sophisticated tool with many options to fine-tune a website to accomplish different tasks. Unfortunately, WordPress doesn't have a feature that allows clients and visitors to contribute new content and manage their profiles on the front end.
To solve this problem, talented software developers created WordPress user profile plugins. Of course, there are many options when opting for such solutions. In this article, I will analyze easy-to-use and robust WordPress user profile plugins and explain what they're best for.
Choosing the WordPress Front End User Profile Plugin
There are many instances when front end user profiles are absolutely necessary. Online communities, social networks, membership sites, and online courses—all must allow users to easily access their account pages and modify user profiles without accessing the admin panel. Not all WordPress profile plugins are the same, but you should look for these important features when choosing the best solution:
the ability to access registration forms and profile pages through shortcodes;
assigning user roles for different types of users;
integration with WooCommerce payments, PayPal, and Stripe;
filters for searching through lists of users;
ability to add custom fields to registration forms and user profile pages;
drag and drop visual editors;
customization tools to match user profiles to the site's design;
ability to generate multiple registration forms for different types of users.
In general, good plugins must be user-friendly, functional, lightweight, and priced accordingly. Let's now turn to our list of the best WordPress user profile plugins and review them one by one.
ProfileGrid
ProfileGrid is a profile-building plugin that allows the creation of different profile structures for different groups of users.
This plugin is essentially a user profile plugin with features that should satisfy most businesses. What sets it apart from other plugins is the notion of User Groups that it introduces. Basically, it's like profile types but with extended functionality. For example, each group can be assigned different managers, different privacy settings, and a registration workflow.
ProfileGrid key features:
private messaging system for direct contact between website users;
possibility to use User Groups or to switch to using default group as a single profile type;
elaborated filters to search and view information on individual users;
because of the plugin's modular structure, you can switch on/off whole sections of user profiles without changing ProfileGrid's core functionality;
integration with PayPal and Stripe. Using a native payment system in tandem with the User Groups feature makes it possible to create multi-tier paid membership plans;
users can change the postings they've made on their blogs;
you can set different pages to which the users will be directed after logging in or out.
ProfileGrid offers a free Core plan with 90+ basic features, including WooCommerce integration. This is going to be enough for some tasks. Premium Plan includes all of ProfileGrid's premium extensions, one year of updates, and support for one site costs $79. The same plan that covers lifetime support and a complete pack of extensions for unlimited sites costs $159.
I can definitely suggest this plugin to someone who's creating a site with paid memberships. It's a great community-building solution with extraordinary features. Buying single extensions for it is a bit pricey, but the premium plans are a good deal. Note that ProfileGrid is one of the newest WordPress plugins, and new items are still being added to its catalog of extensions.
JetFormBuilder
JetFormBuilder is the ultimate dynamic WordPress forms builder by Crocoblock that allows creating and styling of any form type, including profile forms in the WordPress default blocks editor.
This plugin has all the basics necessary for building profile and registration forms – the ability to add multiple custom fields to the forms, various payment methods integration, custom labels and messages, and so on. JetFormBuilder goes beyond what most other profile plugins do by utilizing 23+ functional blocks that make building and editing complex multi-step forms effortlessly.
JetFormBuilder key features:
23+ types of fields that can be used to create user profile forms (select, checkboxes, heading, media, and others);
12 built-in post submit actions (send an email, register user, update user, and others);
add profile form anywhere on a page or even in the blog using shortcodes or widgets;
email notifications after successful user registration;
apply custom style settings to the profile form fields;
form Progress Bar to indicate where users are in the registration process;
support of WooCommerce, PayPal, and Stripe integrations;
conditional logic: adjust visibility conditions for any field.
Most of the features mentioned are available in JetFormBuilder free version that can be found on wordpress.org. Some of the pro features, like the WooCommerce integration, are available only with the paid plan. This one costs $39 per year for one site or $79 per year for unlimited sites.
Taking into account how many cool features this plugin has, one might think it's difficult to use. But it's not. Thanks to the intuitive drag & drop editor, thought-out form field types, and exceptionally helpful support team, JetFormBuilder is a beginner-friendly WordPress plugin.
Ultimate Member
The Ultimate Member plugin is a popular simple solution to create front end user profiles and user registration forms.
This plugin is easy to install, even for inexperienced WordPress users. Furthermore, its interface is user-friendly, and the drag-and-drop editor is actually a pleasure to work with. Ultimate Member also adds Members, Account, and Register pages to the WordPress site for visitors' convenience.
Ultimate Member key features:
a content restriction feature restricts access to some parts of the site;
security features include the ability to add reCAPTCHA, implement anti-spam measures, and create a link to reset a custom password;
you can generate user roles using varied account access and general permissions options (it works well if you want to add different types of users);
admins can manage user profiles on the front end and the backend.
The free version offered by Ultimate Member WordPress plugin has plenty of nice features. It can be used by companies to test out the plugin and then upgrade to a premium plan or add the extensions that they need separately. The premium plan with 20 extensions comes at $249 per year and works on an unlimited number of sites. You get even more premium extensions and the Unlimited Member WordPress Theme for $50 more.
In general, the Unlimited Member WordPress plugin is a go-to user profile solution for companies that need an easy-to-use tool. I was a little surprised not to see many online payment options, but this package has other extraordinary features.
JetEngine Profile Builder
JetEngine Profile Builder isn't just a set of tools to create registration forms and user profiles. It's capable of building any sort of custom front end panel with useful features for WordPress website users.
Profile Builder is a JetEngine module that allows users to create personal accounts on the website and use front end forms to manage their profiles. Every aspect of registration forms and profiles is highly customizable and can be tailored according to the goals pursued by the website owner. The profiles can be basic or display the user's photos, contacts, education, hobbies, etc.
JetEngine Profile Builder key features:
embed profile menu widget to a user account page template;
the dynamic visibility module lets you set website content visibility restrictions (this way, you can choose which pages are visible to which users, and users can be assigned different user roles);
JetEngine Profile Builder allows building a front end user dashboard that perfectly matches the website's style;
ability to deliver content to your subscribers daily, weekly, or monthly (imagine the website teaches a French cuisine course);
pick different payment options: PayPal, Stripe, or WooCommerce payments;
set a time limit for some types of memberships.
JetEngine can be installed as a standalone plugin for $43. It has all of the tools to build user-editable profiles. The All-Inclusive license from Crocoblock costs $199 and features 20 plugins, each expending WordPress functionality (some specifically developed for work with Elementor builder).
JetEngine Profile Builder offers countless possibilities to build user profile pages and registration forms. It's compatible with any WordPress theme and is probably the most customizable option among user profile plugins.
User Registration
Another great tool that instantly creates user profiles with the help of a drag and drop builder.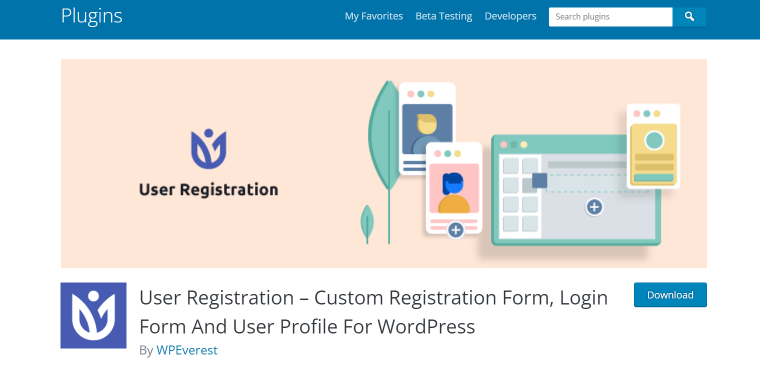 It is also easy to add registration and login forms to the WordPress site using shortcodes. The front end interface is exceptionally clean and user-friendly. Using it, customers and site members can view and modify their accounts without effort. These factors make it possible to use user profiles as My Account pages for customers.
User Registration plugin key features:
shortcodes enable you to place a registration form anywhere in columns, posts, and pages;
User Registration plugin comes with several form templates saving time for new WordPress users;
ability to choose user roles during the registration process and to restrict site content according to user roles;
email notifications for admins and users;
integration with Google reCAPTCHA.
You can download a free version of this plugin or buy one of the premium plans. Yearly premium plans start at $79 and give access to a collection of awesome extensions like WooCommerce integration and file uploads. More expensive plans allow the installation of the User Registration plugin on more sites and have more extensions (integration with PayPal and Stripe, Style Customizer, Geolocation, and others).
Considering the User Registration plugin's features, I can recommend it for its simplicity and clean design. Most of its extraordinary extensions are packed in the Plus Plan for $199.
WP User Manager
WP User Manager is one of the most customizable plugins featuring login, registration, and user profile customization options for WordPress websites.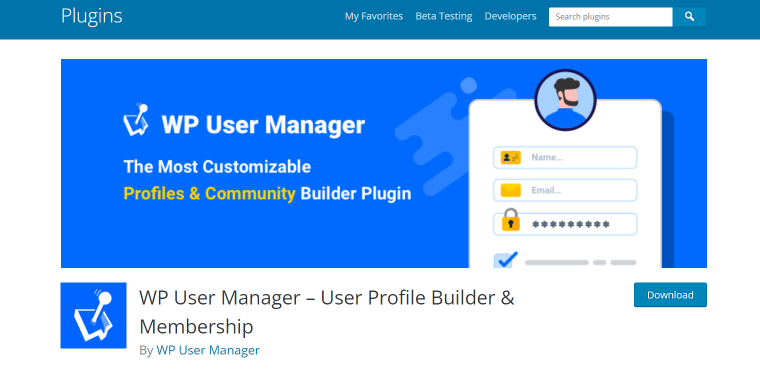 This plugin caters to everyone who wants full control over user profiles' appearance and functionality. Users can create and manage their own profiles and customize their identities directly from the front end interface—this option results in the site's increased engagement. Meanwhile, admins can edit user roles to control user permissions. Wonderfully, these features are included in WP User Manager's free version.
WP User Manager key features:
this plugin allows cleaner registration forms for users that can be easily modified;
registration forms can be embedded in any "widgetized" page area by simple drag-and-drop action;
built-in editor for email notifications;
a free Google reCaptcha extension;
conditional logic for fields—show or hide areas based on information inserted in other fields;
optional two-factor authentification for users when logging into the site.
There's a core WP User Manager plugin available on WordPress.org. If you want to add any premium features, you must sign up for one of the yearly premium plans ranging from $149 to $599. The $299 plan is the most popular one, including signature extensions like front end posting, advanced custom fields, and deep integration with WooCommerce. For this price, the plugin can be installed on ten WordPress sites.
WP User Manager is a great option for site admins who want to start building registration forms and profile pages from a blank page.
RegistrationMagic
RegistrationMagic is a WordPress user profile plugin optimized to create simple registration and contact forms effortlessly.
Right from the start, RegistrationMagic offers three sample forms that can be customized or used as they are. The plugin analyzes every user registration form through built-in tables and charts and assigns user roles to new members. The paid version has tons of features, so prepare to spend some extra time getting to know how to use all of them.
RegistrationMagic key features:
a visual editor for designing user forms lets you see the final product's appearance before you sign it up for the site;
RegistrationMagic allows creating multiple registration forms for different types of users;
detailed analysis of user registration forms, like user location, browser data, IP, OS, filling time, and a lot more (this kind of analytics is helpful when tuning up the user registration process);
there's an option to upload files during the registration process;
the visual form editor allows editing forms, input fields, and buttons in great detail (so creating a nice-looking layout is up to you);
sliding pop-up panels display registration-specific information to users.
A free version of this plugin has a fully functional toolkit for creating and managing user profiles. Premium and Premium+ plugins cost $89, and $189 have 55 more premium extensions dealing with third-party integrations, payment systems, security, and further customizations. Premium+ is good for unlimited websites.
Overall it can be described as a straightforward user profile solution with capabilities that can satisfy almost any user. At its core modifications, it can be used as a free user profile plugin for non-commercial uses. The premium plan offers some extraordinary features and is a bargain for $89. The amount of features is overwhelming and unlocking the plugin's full functionality is not easy.
UserPro
This WordPress plugin comes only as a premium paid tool and is used to create elaborate communities and beautiful user profiles.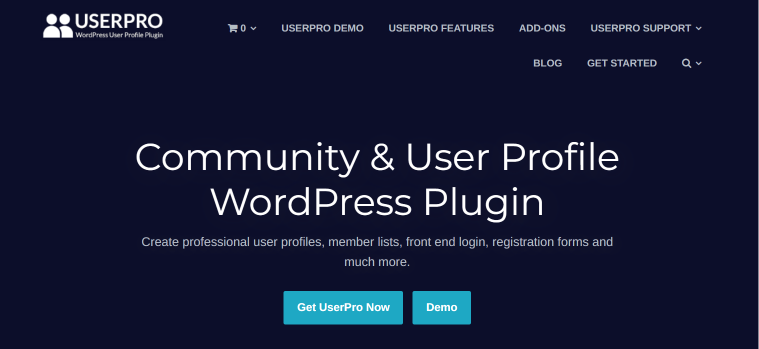 UserPro has it all to satisfy almost any site owner's needs. But it is especially useful for setting up a social network for loyal website members. For example, users can be granted different badges on their avatars for certain achievements; they can follow one another and see notifications about new postings or other actions. There are easy ways to implement membership fees and integration with PayPal, which makes it easy to introduce paid content to the site.
UserPro key features:
user profiles have photos, social links, and biography fields;
searchable member list for users to find people with similar interests (they can follow each other only after one click);
customizable, elegant profile cards are available for all users;
social media accounts signing/registering;
each registration form can be assigned user roles (customer, visitor, admin, owner, etc.);
ability to allow new users to come to your site only after receiving invitations from active users.
The UserPro plugin costs $39. This covers all the cool features, free future updates, and six months of technical support.
The backend of UserPro might seem a bit intricate at first, but don't get discouraged—it's packed with too many features necessary to build a strong social networking site.
FAQ
What is a user profile?
It is a data record with user settings and information about the related user account.
What is the main purpose of WordPress user profile plugins?
User profile plugins allow users to create and modify their profiles without accessing the admin dashboard.
Are WordPress user profile plugins free?
Most of the WordPress user profile plugins have free versions with limited functions. Some plugins offer 30-day money-back guarantees.
Do I need to know coding to use WordPress user profile plugins?
Most of the WordPress user profile plugins require no coding skills from users. Plugins that use drag and drop visual editors are the easiest ones to use.
Conclusions
The plugins listed above substantially extend WordPress functionality regarding user roles, profile pages, and membership plans. Some of them are all-in-one solutions for general users, while the others are made for more specific implementation.
I can definitely recommend the ProfileGrid plugin to someone who's creating a site with multi-tier paid memberships or an online community.
JetEngine Profile Builder is the best solution for any business that needs a sophisticated front end user dashboard on their website. It packs the largest amount of extraordinary features like Drip Feed and Fixed Term.
JetFormBuilder has the biggest number of features for building complex profile & registration forms.
User Registration is another plugin for general users, and I can recommend it for its simplicity and clean design.