Great-looking headers are a big deal for a beautiful website design, proper structure, and user experience. And when we create them for WordPress sites, it's essential to have handy instruments for header and footer editing instead of wasting hours on custom coding. Footers are less complicated but also deserve some attention. So, It's time to talk about plugins that make our life easier and our websites – even better.
Plugins and Themes for Creating Headers and Footers
I don't think I should exaggerate if I say that we all want one thing from headers and footers on the websites we build: to be flexible, easily editable, and responsive. Also, the conditional logic should be available, so several headers and footers can appear on the site, depending on the marketing goals and design requirements.
NOTE
There are two types of plugins for header and footer: for inserting code, such as Google Analytics snippet, into headers or footers and for creating custom headers and footers for the front end. This article will focus on the second category.
Premium drag-and-drop website builders
The most obvious option is to use premium site builders that offer the functionality of creating templates and applying conditions to them: which pages and custom post types have the particular header and footer assigned? I'm talking about Elementor Pro, Divi, VisualComposer, BeaverBuilder, Bricks, Oxygen, and others – it depends on your preference.
Pros:
Builders are extremely helpful for creating sites without coding and save a lot of time.
Cons:
Some builders can slow down a website so that extra performance optimization will be needed.
They are not free, and the Lifetime plan is not always available.
Price: as a rule, prices start from $50 a year for one website.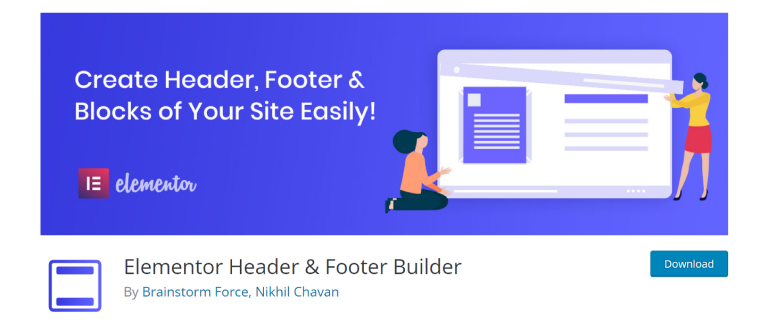 This plugin is for those who prefer Elementor and don't want to purchase its Pro version but want custom headers and footers. It's very easy to use; you simply create headers and footers using the Elementor editor and the extra widgets this plugin adds there. After that, thanks to the flexible functionality for conditional display, you choose pages where the particular block should be displayed, as well as for which user roles.
Pros:
it's free and gives you premium functionality for headers and footers, including eight header/footer additional widgets, such as Navigation Menu, Logo, Regina Image, etc.;
you can add a set of conditional rules for displaying or hiding each header or footer.
Cons:
it works only with Elementor.
Price: free.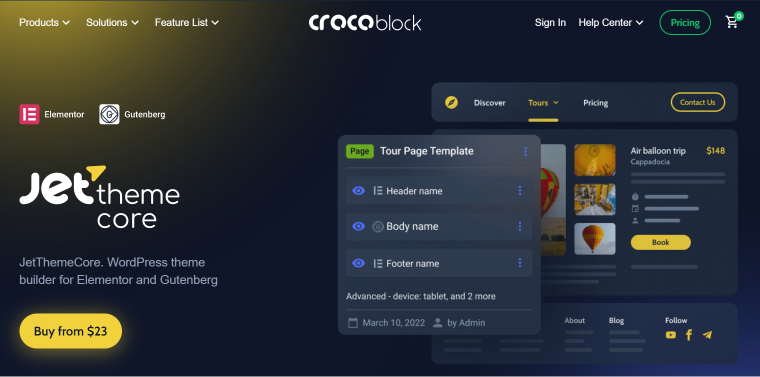 This plugin works with Elementor (free and Pro) and Gutenberg, and it is for creating templates for every section of the site, including headers and footers. WooCommerce templates can also be created using it, which is really useful. It works with Elementor, Gutenberg, and all of the most popular WordPress themes. 
The strong point of this plugin is advanced conditional rules for displaying each template: in addition to the "normal" conditions, such as choosing the template type (single, archive, etc.), taxonomies, post types, etc., you can set a URL parameter (which gives a lot of flexibility), device (mobile, tablet, and desktop) and user roles (all you have on the website). Plus, you can layer as many conditions as you want.
It works well in tandem with the JetBlocks plugin, which adds all necessary dynamic widgets but can also be used with any other plugin with the widgets or blocks you need.
Pros:
it works both with Elementor (free and Pro) and Gutenberg;
it has advanced condition types that add a lot of flexibility;
you can create not only headers and footers but also templates for different site parts and apply various display conditions to them.
Cons:
it doesn't add header/footer additional widgets, such as Navigation Menu or Logo;
it's not free.
Price: $23 a year or in a package of 20 Crocoblock plugins for $199 a year or from $750 Lifetime.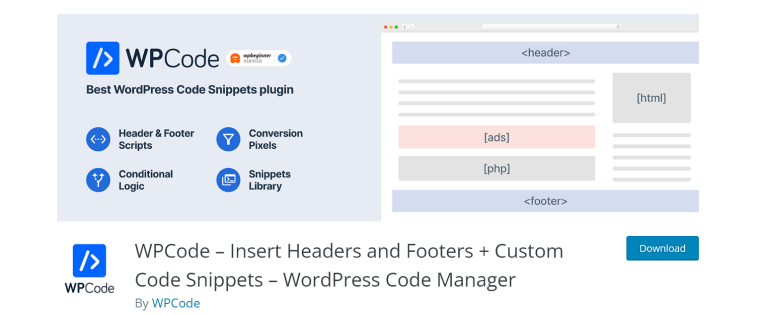 Well, as I said before, this article is not about code snippet plugins. Still, I want to add this one because it can be really useful for adding a custom header and footer HTML sections, top bars, and ads (or something else, it's up to your imagination). So often, we need a simple top bar, let's say, with the contact information and social icons. And this plugin will be really helpful.
Other than that, it offers quite an extensive library of helpful code snippets (such as Switch off comments or Duplicating posts).
Pros:
you can use raw HTML and other functionality of this plugin;
it has a free code snippet library of the most demanded snippets to save you time;
smart conditional logic for displaying snippets.
Cons:
it's not really about headers and footers as website sections, but it still can do some job there;
you can't use any drag-and-drop builders whatsoever, just HTML/CSS/JavaScript.
Price: free Lite version (which has a lot of tools) and premium one for $49-$399 a year.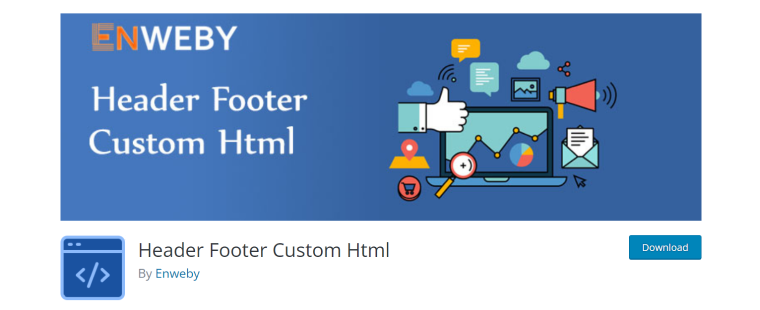 This plugin does a similar job as the previous one, and it's helpful when you want to insert a top bar or any other custom HTML code. Also, you can choose a particular post or page where it will be displayed. The downside is that you can't select several posts of pages or a specific post type, which could be really useful if you want to show something only on WooCommerce pages. Except for HTML, you can insert custom CSS or JavaScript. So, after all, this plugin is more for adding analytics or chat scripts.
Pros:
it's lightweight;
headers and footers can be sticky and placed either fullwidth on the top or bottom of the page or fixed in the corners.
Cons:
a limited conditional display functionality.
Price: free.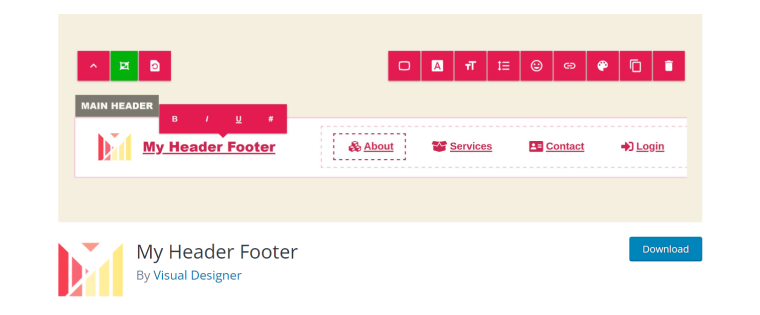 This plugin is a visual builder for header and footer, and the developers claim that it works with most themes and automatically adopts their styles. Yet, from my experience, it didn't, especially with the themes that have their own menu builder (such as Astra or Inspiro), because it doesn't replace the native menu. So you will need some workarounds when using this plugin.
The free version offers two mega menus and two dropdowns, but the Pro has more extensive functionality and a template library.
Pros:
it offers a visual builder for headers and footers;
the Pro version has a template library.
Cons:
doesn't replace the native menu and doesn't have a button to hide or remove it;
doesn't have Google Fonts support;
this plugin doesn't have conditional logic for displaying blocks;
the free version is quite limited.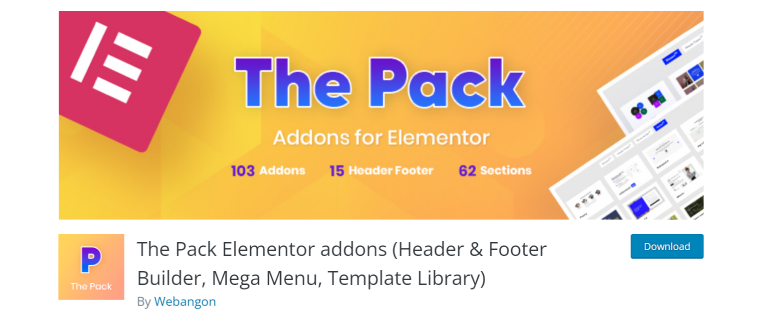 The Pack add-on (most of its functionality is available in the free version) can replace a lot of Elementor Pro features, including creating headers, footers, and other sections. It has a template builder and also offers a lot of pre-made templates, as well as ten starter sites.
But consider that the interface might be a bit confusing in the beginning – the problem is that its functionality often intermingles with the Elementor Pro functionality, which offers you to buy Pro, and its templates are popping up all the time. But the Pack's pre-made templates are already available in the page builder under the lightning icon. Also, the conditional settings are available on the context menu of the "Save" button.
It adds up a lot of widgets, including the Mega Menu one, which is basically for the logo and the menu, and the mega menu itself, if you activate it in the Dashboard > Appearance > Menu. So, it will take some time to figure out how to deal with the interface, but it's extremely powerful for a free plugin. Also, the cheap Pro version is available with even more widgets and templates, but don't forget to switch off those you don't use because it has so many that it will negatively affect the website's performance.
Pros:
it has very powerful functionality and many features that Elementor Pro has;
a lot of premade templates;
mega menu functionality.
Cons:
not very clear UX;
works only with Elementor.
Price: free and $10-$29 a year for a Pro version.
Wrapping Up
There are not so many plugins for building custom headers and footers, but this functionality often is included in the theme core. But in most cases, to have different headers and footers displayed on particular pages and other tweaks, you will need the extra plugin.
Premium builders will be the best option if you need other Pro functionality and are ready to pay each year.
Elementor Header & Footer Builder is a nice free option; you only need to customize those sections.
JetThemeCore is a good choice if you want to use the very advanced display of conditional logic and also if you use other Crocoblock plugins as a package.
WPCode is a nice option if you need to add just some simple block to the page's top or bottom; it also has powerful conditional functionality.
Header Footer Custom HTML serves the same purpose but is less powerful yet lightweight.
My Header Footer might work for simple sites and menus.
The Pack for Elementor may become that one add-on you need to extend the Elementor Free functionality almost to Pro.
So, depending on the project, design, and marketing goals, it's up to you to choose the best option for yourself.