Whether you're opting for new shoes, hotel rooms, dentist care, or a car online, there's a chance someone has bought that product/service before and put out a review of it. Such information is very helpful for consumers when they're deciding on buying things. As online reviews have become an important instrument to influence clients' opinions, business owners look for ways to encourage people to write reviews and use them for their business benefit.
Let's see why online reviews are so important.
Why Are Reviews So Important?
Positive reviews are the best form of marketing for free.
Consumers are more likely to buy products or services when they see people they know or are connected to on social media who have bought from the same company.
Feedback about your products can provide helpful information about how to improve products. It also provides you with a better understanding of customers and makes you think about how to improve your services, business, and brand.
By answering customers' reviews, you establish a relationship with people and encourage them to come back for their next purchase.
Reviews improve Search Engine Optimization.
The Best WordPress Review Plugins
Before jumping to the list, let me point out some of the standard features that all premium review plugins must possess regardless of what type of business they're serving:
a rating system, for example, stars or percentages;
a customizable form for customers to submit their reviews;
ability to approve/disapprove reviews by the site's admin;
filtering options to find positive/negative reviews;
options such as widgets and shortcodes for displaying reviews in different places on the website;
easy-to-use admin dashboard to find summarizing information about the reviews.
Finally, here's a list of the nine best WordPress review plugins.
WP Business Reviews
This plugin is an excellent solution for aggregating reviews from platforms like Google, Facebook, Zomato, and Yelp.
WP Business Reviews is rich with options to filter featured reviews and also to style them up according to your preferences. Once the plugin is installed on the WordPress site and connected with platforms that are sources for reviews, pulling new reviews is fully automated. There's a way to manually add reviews that were not already collected using a Single Reviews tool.
WP Business Reviews main features:
Multiple display formats like carousel, gallery, or a list for review presentation.
Filtering options allow either to completely remove reviews with ratings below a certain level or hide them from the top of a list.
Ability to tag each review and then group them into collections using these tags.
Manually add reviews that were not featured on any of the platforms connected with WP Business Reviews.
Adjustable styling to fit light or dark websites.
A user interface that allows searching and sorting reviews directly from the WordPress dashboard.
WP Business Reviews offers a yearly license for one site at $99, five sites at $149, and 15 sites at $299. The pricing is one of the highest among review plugins. There is no option for unlimited sites, so agencies and consultants that manage multiple websites might find WP Business Reviews to be too expensive.
While there is no doubt that WP Business Reviews has everything you need to automatically collect and filter reviews from major platforms, for small businesses, it may be easier to find and add reviews manually.
WP Ultimate Review
Users who like to have many customization options should consider using WP Ultimate Review.
Using this plugin, you can choose both how the review form looks and how the final review summary will look on your page. It will work for creating forms and customizing reviews for products, blogs, and pages.
WP Ultimate Review main features:
Four different review styles: point, stars, percentage, and pie chart.
WP Ultimate Review allows creating additional review fields like value, quality, appearance, and more.
Custom shortcodes help to place the reviews section anywhere on the page.
Send multiple e-mails with every new review submission. Admin can enable/disable author and user reviews.
Ability to restrict reviews to registered users only.
Set global product reviews in your blog or page.
WP Ultimate Review is free to use. It will work for most WordPress sites that need basic functionalities for posting user reviews for free. It might not have some of the premium features that other paid plugins have, like automation tools and the ability to include pictures in reviews. Still, it is a great way to provide a good-looking form for customers and share their opinions.
Ultimate Blocks
Ultimate Blocks is a Gutenberg blocks plugin with 18 fantastic blocks for content creators, bloggers, and marketers.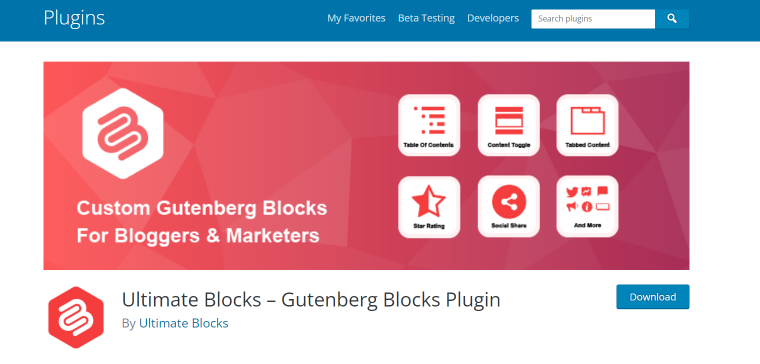 This plugin features a Review block that lets you create schema-enabled review boxes in your content. You can create attractive reviews on your website using this block, enabling you to add features, a summary, and a call to action button.
Besides that, Ultimate Blocks also has a star rating block that can be used to display reviews on your site.
Ultimate Blocks main features:
Describe features in the review box and a rating for each feature item.
Choose from a star or percentage rating system for your review box.
Summarize your review with a summary at the end of the ratings.
The block is schema-enabled, helping you rank better on Google. You can also choose the schema type.
The plugin is very lightweight and doesn't impact your website's performance.
The plugin is free to use, which makes it one of the best review plugins, especially for Gutenberg users who don't want to rely on shortcodes. The review block is easily customizable in the block editor and is perfect for bloggers, affiliate marketers, and anyone who publishes reviews on their websites.
JetReviews
JetReviews is an Elementor plugin with advanced functionality and unique features for increasing user engagement on WordPress sites.
This plugin allows users to post reviews, comments, ratings, likes, and dislikes based on their user roles. This way, business websites can substantially increase their user base. The ability to post dynamic reviews with real-time user data and summary ratings by users is a godsend for WooCommerce projects.
JetReviews main features:
Add static and dynamic review blocks to any post types.
Create a different rating system for each product/service using pre-defined criteria.
Make average stats visible to users.
Enhance your business reliability by including real user data like name, profile picture, and relevant stats in the review.
Filter products/services by rating levels.
Allow comments to reviews to increase user engagement.
Easy-to-use statistics dashboard holding data about reviews, ratings, and comments.
Let users upvote/downvote reviews, ratings, or comments.
All data are stored in custom DB tables, preventing your site from slowing down.
A subscription price for one website is $22 per year, which makes JetReviews one of the most affordable review plugins. This includes one year of updates and premium customer service.
JetReviews plugin is an ideal solution for eCommerce, rental, and hospitality websites that need a sophisticated and easy-to-use review and rating system. JetReviews offers outstanding styling features, responsive review layouts, and multiple customization options that help deepen user engagement with your website.
Taqyeem
This is a review and rating plugin that you choose if you want to have all the nuts and bolts for customizing the looks of reviews on your page.
This is one of the best review plugins at its price. It can create a review box for all posts, pages, and custom post types. Style up review boxes with a full palette of colors and typography options using Google Web Fonts to reflect your website's theme or any other design that you like.
Taqyeem main features:
unlimited shades;
unlimited evaluation criteria;
three review styles: stars, factors, and percents;
500+ Google Web Fonts;
three types of widgets for quick filtering options – best, recent, and average reviews;
schema SEO Rich Snippet Evaluation Microdata;
RTL support.
The Taqyeem license costs $29, and it's a one-time fee that grants access and SIX months of support from TieLabs.
Taqyeem is one of the top choice review plugins for its competitive price and wide range of customization options. Some of its features are quite basic (filtering options and automation), but the capability to create beautiful designs is superior.
Customer Reviews for WooCommerce
This is a perfect plugin for owners of WooCommerse sites who want to have more connections with their clients.
The Customer Reviews for WooCommerce plugin is created to improve SEO, connect with loyal customers and increase engagement. This plugin integrates with external sources to get reviews with social proof and verify customers' identities.
Customer Reviews for WooCommerce main features:
After completing a purchase, customers can automatically be reminded to leave a review.
A "reminder" form includes a picture of the purchased order.
Reminders can be done in different languages by integrating Translate, Polylang, and WPML plugins.
Ability to offer a discount on the next purchase in exchange for a review.
Integration with Google Shopping to reveal star ratings on certain purchases.
Incorporation of reCAPTCHA to prevent spam reviews.
There's a free version of Customer Reviews for WooCommerce available with basic functions for posting customer reviews. The premium version costs $49.99 annually and has everything you need to boost customer engagement.
The Pro version of this plugin will work great for online store owners, especially those who want to accept photos of their products and give out discounts for reviews. The plugin doesn't focus on styling and customization options, though.
Schema – All In One Schema Rich Snippets
This markup plugin is created to help your page show up in search engines with an eye-catching look.
One soul function of this plugin is to reveal rich snippets of the products from your page high in the Search Engine Result Page and thus attract more visitors.
Schema – All In One Schema Rich Snippets main features:
Many schema types: Review, Events, Recipes, Products, Services, and others.
Increases CTR through better rankings and visuals in the search engine.
A lightweight plugin that doesn't weigh down the website.
This plugin only pulls the most important information to the rich snippets.
This plugin is absolutely free to use. Anyone who's looking to improve their ratings with rich snippets can make use of Schema – All In One Schema Rich Snippets. It's a good idea to use this plugin in tandem with a standard review plugin.
Site Reviews
Site Reviews is an easy-to-use plugin that allows users to submit reviews about products, posts, or even pages in a similar manner to TripAdvisor and Yelp review submissions.
Site Reviews is an easy yet effective way to display your customers' reviews anywhere on your page with the help of shortcodes, blocks, and widgets. By default, this plugin shows reviews from the most recent to old ones, but you can pin the best reviews to the top.
Site Reviews main features:
Access reviews via REST API.
Display reviews anywhere on the page using widgets, shortcodes, and blocks.
E-mails are sent out when a new review is submitted.
Four CAPTCHA options for the best protection from spam reviews.
Ability to limit review submissions by IP address, e-mail address, or username.
It is a plugin that packs most of the basic features for posting reviews and ratings free of charge. It will work well for anyone looking for a lightweight solution that provides bare essentials.
Business Reviews Bundle
This plugin collects valuable reviews from popular platforms like Google, Facebook, and Yelp and embeds them in your WordPress site.
This plugin merges reviews from several sources into one feed and integrates it into a WordPress site using widgets and shortcodes. There is an ability to hide reviews with ratings below a certain level, while new reviews can also be added using a "Write a review" button straight on a WordPress site.
Business Reviews Bundle main features:
Words filter allows specifying which reviews should be included in your collection and displayed on your website based on keywords and authors.
This plugin can collapse very long Google, Facebook, and Yelp reviews and add a "Read more" button.
Five types of layouts: Slider, Reviews List, Fixed & Embedded Trust Badge, Reviews Grid with two, three, or four columns.
The Google Rich Snippets are there to increase SEO effectiveness.
Several themes for review representation are available for dark and light WordPress sites.
There's a free version of the Business Reviews Bundle plugin with limited features and the ability to collect only five Google and three Yelp reviews. The price tag on the full version with a complete set of features is $85/year for a single site.
The Business Reviews Bundle plugin is aimed at business owners who look for ways to prove their credibility. It's good at filtering out positive reviews from several trustful sources and presenting them in a uniform and tidy way on a WordPress website.
FAQ
What is a review plugin used for?
A review plugin is used to collect feedback from customers and post it on your websites.
Are WordPress review plugins free?
Some of them have free versions with limited functionality, while others offer yearly paid plans.
What is the best WordPress review plugin?
There is no one plugin that can satisfy every online business. Some plugins are better at collecting reviews from external sources, while others are more effective at engaging people with websites.
Why are reviews on websites important?
People are more likely to buy products from websites that display positive customer reviews.
Does using WordPress review plugins require coding skills?
None of the plugins analyzed in this article require HTML or coding skills from users.
Conclusions
In the above list, I gathered some of the best review plugins for WordPress websites. There are no two plugins with identical features there, so here's a quick recap on what some of these plugins are best at.
WP Business Reviews and Business Reviews Bundle have the most effective instruments for collecting reviews from popular platforms. These are the most expensive plugins on the list.
Site Reviews offers basic features for posting reviews and ratings free of charge.
JetReviews is the best plugin to increase user engagement and is the most affordable plugin with premium features on the list.
For plugins with an abundance of styling options for reviews, check out Taqyeem and JetReviews.