What is the first thing that users notice about websites? The correct answer is "speed." That's right, before signing up for a newsletter, finding relevant content, or admiring top-notch web design, they'll judge website efficiency based on page load times.
People do many things on the Internet, and they hate wasting time because of websites' poor performance, especially when using mobile devices. The cold truth is that the probability of bounce increases 32% as page load time goes from 1s to 3s.
Let's see what can be done to speed up WordPress sites without further ado.
Key Functions of WordPress Speed Optimization Tools
There are many reasons for the slow loading of websites. To address the issues slowing down WordPress sites, users must employ tools with the following functionalities:
Caching allows WordPress to create high-speed data storage containing copies of files so that in the future, WordPress can serve data from there instead of retrieving it from the original location.
A content delivery network (CDN) is a storage service that hosts website content in data centers worldwide. The content includes HTML pages, scripts, multimedia files, and more. CDN allows serving content from regional servers (also called Points of Presence – PoPs) for regional users.
Minification of resources refers to removing characters from scripts and codes to decrease their size without changing their functions.
Image compression makes images load faster by decreasing their size while keeping their quality at an acceptable level. Another image-related process that improves site performance is lazy loading. It defers the loading of media files located outside of a visible part of the web page.
Database optimization involves detecting and removing unnecessary files, and improving website performance and user experience.
GZIP compression is a type of data compression used for compressing files before sending them to the end user's browser. All modern browsers unzip the files automatically.
It is not an exhaustive list of measures for website optimizations, but all of them are absolutely necessary for boosting WordPress performance. Using specialized plugins is by far the easiest way to achieve this. When choosing WordPress speed optimization plugins, remember that they must cover all the issues above.
List of Top 10 Speed Optimization Plugins
Some of the presented plugins have a wide range of functions, while others do a better job at certain things but aren't all-inclusive.
🏆The best free cache plugin that offers fast server-side caching.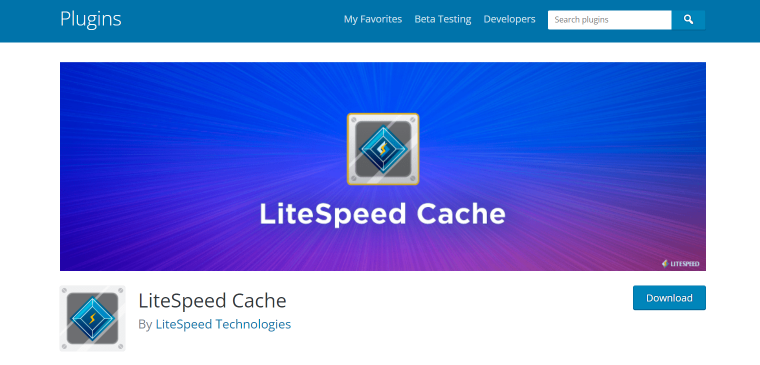 More than two million sites use LiteSpeed Cache, or LSC, as reported by the WordPress update API. Created by LiteSpeed Technologies, it packs tons of features helping to deliver excellent performance to WordPress sites. The included optimizations cover so many performance-related aspects that they eliminate the need to install multiple narrow-focused plugins.
LSC key features:
server-side full-page cache;
image optimization;
guest mode optimization for first-time visits;
lazy loading images and iframes;
QUIC.cloud CDN cache with support of 70+ PoPs;
database optimizer;
CSS/JavaScript/HTML minification;
smart crawl feature for refreshing pages with expired cache;
ESI support for caching dynamic pages.
Pricing: free.
Pros:
an exclusive server-level cache that is faster than file-based caching used by most plugins;
more configuration than other multi-purpose optimization plugins;
best free plugin.
Cons:
core features are available only with LiteSpeed hosting;
plugin settings may be challenging to configure for inexperienced users.
🏆Best as an all-in-one website optimization solution for WordPress newbies.

WP Rocket plugin, launched in 2013, is one of the most widely used caching plugins. The plugin developers claim that WP Rocket implements 80% of its optimization technics, including page caching, browser caching, and GZIP compression, right after activation.
A wide range of optimization features, convenience, and simplicity, make it a first-choice website optimization solution for beginners and those who want to save time. Additional customization is easily accessible through a very user-friendly interface. At the same time, some features have little to no customization options, and WP Rocket doesn't offer any exclusive features.
WP Rocket key features:
user-friendly interface;
GZIP compression;
automatic JavaScript delay;
minification;
database optimization.
Pricing: $49 per year for one website, $99 – for five websites, and $249 – for unlimited websites.
Pros:
straightforward plugin suitable for WordPress beginners;
wide range of basic optimization features.
Cons:
some of the features have no customization options (CDN hosting, lazy loading);
no server-side hosting;
no free version or a trial period.
🏆Best for removing bloat and CSS/JS.

Perfmatters doesn't catch, but it's a great solution to pair with another optimization plugin. Most WordPress themes and plugins load styles and scripts that increase page weight but remain unused. Perfmatters disables these junk files from accessing your site or selected pages reducing HTTP requests. Disabling different scripts is easy by toggling them in a script manager.
Overall, Perfmatters is the best solution to optimize WordPress sites after caching is done by another plugin or hosting service.
Perfmatters key features:
script manager to remove unnecessary CSS/JS;
lazy loading images, iframes, and videos with multiple customization options;
instant page feature (pages load in the background if users hover over links);
host analytics locally;
CDN rewrite;
database optimization.
Pricing: $24.95 per year for one website, $54.95 for five websites, and $124.95 for unlimited websites.
Pros:
robust and self-explanatory script manager helping to reduce page size and number of requests;
the lazy-load feature provides more options than most all-inclusive performance plugins;
support of preloading resources.
Cons:
needs to be used in tandem with a caching plugin.
🏆Best free plugin to optimize CSS/JS files.
This plugin focuses on code optimization and offers more advanced customization options for optimizing HTML, CSS, and JavaScript on WordPress sites than other plugins. Autoptimize has styles and script caching options, but it refers to how CSS is stored in the cache and doesn't replace the functions of caching plugins.
It can also eliminate the render-blocking resources problem typical for websites using Google Fonts.
Autoptimize key features:
condensation of files using minifying and concatenation;
defer loading selected scripts;
set CDN URL for serving files;
integrates well with all cache plugins.
Pricing: free.
Pros:
easy-to-understand customization options;
complete control over how CSS/JS files are optimized;
free.
Cons:
no user-friendly interface;
not too many exclusive features.
🏆Best image compression tool with a simple interface.

With over 1,000,000 active installations, it is one of WordPress's most popular image optimization plugins. EWWW comes with a one-window interface that reflects image optimization scores and customization options. Users can switch from Easy Mode with out-of-the-box essentials to Ludicrous mode, which opens up many more optimization options.
The free version has everything for image compression, while the premium version provides additional features like lazy load, CSS optimization, and CDN services.
EWWW Image Optimizer key features:
JPG, PNG, GIF, and PDF optimization;
supports lossy and lossless compression;
easy-to-use interface;
ability to switch between beginner-friendly and pro optimization modes.
Pricing: free with the ability to upgrade to premium plans starting at $70 per year.
Pros:
no limits on sizes and numbers of uploaded images;
suitable for beginners and advanced users;
the free version has everything for image optimization.
Cons:
most features added by premium plans are covered by other free optimization plugins.
🏆Best all-in-one optimization plugin with preconfigured features.

Gijo Varghese developed FlyingPress as an alternative to popular all-in-one optimization tools. However, all of its features (or almost all of them) have many customization options, are fully functional, and can replace multiple plugins.
As a newer plugin, FlyingPress constantly improves and adds unique features like lazy load background images, self-host YouTube placeholders, and more. Besides, it incorporates FlyingCDN, which is cheaper than most other CDN services (starting at $0,03/GB).
FlyingPress key features:
page caching;
remove unused CSS;
extensive lazy-load features;
FlyingCDN add-on offering 90 PoPs;
font optimization;
minify CSS/JS in the server or via FlyingCDN.
Pricing: four paid plans ranging from $60 to $500 per year for 1-500 websites.
Pros:
more optimizations than other cache plugins;
constant updates and excellent customer service;
Flying CDN with more PoPs than other services;
preconfigured customizations for a quick start.
Cons:
no free version;
no server-level cache.
🏆Best for use by WordPress experts.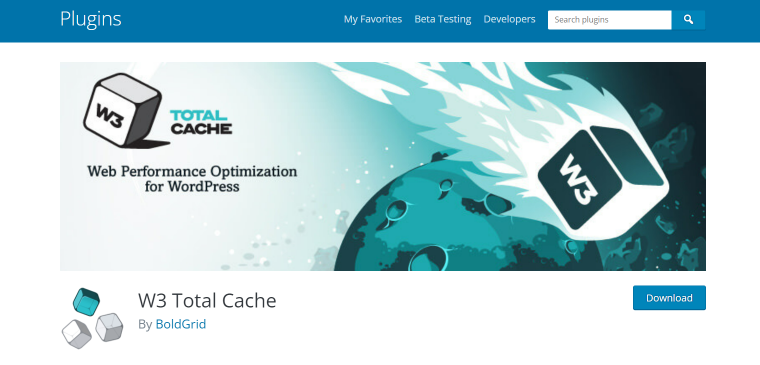 W3 Total Cache is a popular caching solution and a simple tool for boosting a website's performance. Indeed, it has essential features like database caching, browser caching, lazy loading, and WordPress API caching.
In most cases, users leave the plugin's settings untouched, which significantly improves the website speed. But tuning up W3 Total Cache to its maximum requires the involvement of server specialists.
W3 Total Cache key features:
CSS, HTML, and JavaScript minification;
support of CDN;
multiple caching – browser, database, mobile, fragments, query strings, memory;
advanced caching statistics.
Pricing: free.
Pros:
compatible with all hostings;
easy setting for basic cache functionalities;
absolutely free.
Cons:
the settings are challenging to configure;
uninstalling plugin is not straightforward;
the support is only provided by WordPress.org forum support.
🏆Best for minifying HTML, CSS, and JS files.

This simple plugin has one function – minifying HTML, CSS, and JS files. That means minimizing code and script files by removing unnecessary characters, and the compression of files mustn't change their functions.
WP Super Minify key feature:
minifies HTML, SCC, and JS files.
Pricing: free
Pros:
great additions to other optimization tools lacking minification tools;
free.
🏆Best for protecting WordPress websites from comment spam.

This plugin was developed by Automattic, a global company behind many WordPress products. Activating it helps fight spam comments, which is essential for many websites. Akismet anti-spam plugin makes web pages lighter and also improves SEO rankings by eliminating spam comments with links.
Akismet Spam Protection key features:
automatic filtering of comments;
provides Akismet API key for installation;
stores spam comments to check for false positives;
easy to set up and use.
Pricing: free for personal use. Paid plans start at $5 per month for one site.
Pros:
blocks spam on WordPress sites, making them faster;
free for personal use.
Cons:
doesn't fight manually submitted spam most of the time;
expensive for commercial use.
🏆Best for database optimization.

This is another all-in-one WordPress performance plugin highly recommended for its complete suite of free database optimization tools. WP-Optimize allows control over individual data tables and erases leftover tables from deleted plugins.
WP-Optimize key features:
page caching;
GZIP compression of HTML, JS, and CSS;
lazy image load;
image auto-compress feature;
minifying and combining JS and CSS.
Pricing: free.
Pros:
complete set of tools for database optimization;
control over actual database tables;
automatic periodic cleanups;
free.
Cons:
fewer features compared to paid optimization plugins.
FAQ
How can I increase WordPress site speed without plugins?
Use dedicated server hosting and compress images before uploading them to your site.
What's the best image optimization plugin for WordPress?
EWWW Image Optimizer offers the most image optimization features in its free version.
What is an all-in-one optimization plugin?
WordPress optimization plugins that use "all-in-one" or "all-purpose" in their description offer a wide range of features, such as database optimization, image compression, GZIP compression, and caching.
What are the effects of poor performance on websites?
Slow-loading websites drive visitors away and earn low SEO rankings.
Sum Up
Each of the plugins above can increase website page load speed. While some plugins have multiple optimization features, others offer complete control over selected features with advanced customization settings.
LiteSpeed Cache is the best free all-purpose plugin with the most advanced optimization features. WP Rocket is the most popular premium optimization tool suitable for WordPress beginners.
EWWW Image Optimizer is the best solution for automatic image compression, and most of its advanced features come with a free license.
WP Super Minify only does minifying scripts and codes but does it very effectively.
Perfmatters and WP-Optimize have exclusive database optimization tools, but pairing them with some cache plugins is better.