Surveys are a hassle-free way to collect information from anonymous and known participants to improve products, services, and marketing strategies. Plus, surveys create a positive image for businesses by showing the audience that their opinion is valuable.
Read this blog post to learn about the best WordPress survey plugins, their key features, pricing, pros, and cons.
Table of Contents
Common Types of Surveys
Before comparing WordPress survey plugins, determine what you want to achieve. Are you looking to generate leads, increase user engagement, or stimulate social sharing? Surveys are not one-size-fits-all, and different types of surveys accomplish different goals.
Below are some of the online survey types:
Customer feedback surveys are valuable tools to reveal what issues your customers face and decide how to give better services to the customers.
Market research surveys help businesses to understand their audience and launch powerful marketing campaigns.
Employee engagement surveys gather feedback from employees to improve your company's organization.
Cart abandonment surveys. They pop up when the user leaves the site or abandons a shopping cart asking how to improve products and services.
Net Promoter Score (NPS) surveys are short questionnaires investigating how likely customers may recommend your business to their friends.
Key Features a Survey Plugin Must Have
The key features of WordPress survey plugins may vary depending on what types of surveys they can build. However, some features are favorable for all plugins:
easy-to-use interface, allowing users to create surveys without any coding;
support of different question formats (e.g., open-ended and multiple-choice questions);
complex survey analytics with the ability to visualize numeric data via graphs and charts;
ability to customize survey design;
spam protection tools, such as reCAPTCHA;
responsive designs for displaying surveys on smaller screens;
advanced features, like conditional logic, to make surveys engaging;
multiple types of buttons and boxes for users to fill (radio buttons, star ratings, range scale, Likert scale, fields for uploading media files, etc.);
ability to choose post-submit actions (send an email, post a survey, allow access to website content, etc.)
The Best WordPress Survey Plugins
Here's a list of nine plugins that allow building and editing surveys on WordPress sites.
Quiz and Survey Master (Free/Premium)
🏆 Best for building quizzes for product recommendations.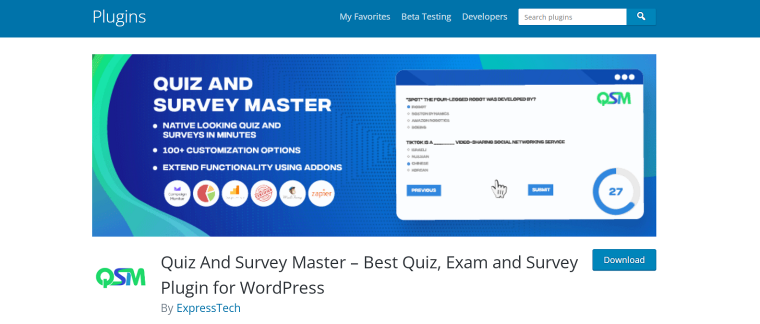 This plugin has a suite of features specifically designed for building all types of quizzes, questionnaires, employee surveys, and customer satisfaction surveys. Quiz and Survey Master reports 40k+ active installations. Many websites use it as an ultimate marketing tool, as the surveys can direct users to specific product pages based on the provided answers.
Ninety percent of users provide reviews with a five-star rating, and the average rating on the wordpress.org repository is 4.8 stars.
Quiz and Survey Master core features:
supports multiple choice/true-or-false/open answer questions;
the survey's results can be finalized using a correct/incorrect or point-based system;
you can set the questions in categories using tags, and users can see their scorings in selected categories of questions.
Pricing: the free version of this plugin offers minimal functionality and lacks features crucial for the analysis of the surveys. The paid plans start at $129 per year for one site, while the Pro plan with maximum features sells for $199 per year for ten sites.
Pros:
many valuable features for building detailed survey reports;
allows tracking the survey or quiz submissions in Google Analytics.
Cons:
the free version misses some of the core plugin functionalities;
the user interface is oversimplified.
WPForms (Free/Premium)
🏆 Best for users who want an easy and quick way to create surveys.
Over five million active installations and an army of satisfied users prove WPForms to be one of the most popular WordPress plugins. It employs an easy and powerful drag-and-drop editor to build all kinds of forms. One of the tasks that WPForms successfully handles is making online surveys and polls and automatically building reports with beautiful visualizations for different types of questions.
WPForms core features:
drag & drop form builder;
real-time polls;
different types of smart fields (star rating, radio buttons, multiple choice, Likert scale);
pre-built survey templates.
Pricing: there's a free version available that doesn't have the features listed above. The Pro plan, with all the tools for building surveys, costs $399 per year for five sites.
Pros:
user-friendly interface and pre-built templates;
automatically created visually appealing reports;
mobile-responsive forms.
Cons:
many plugins with advanced features for creating surveys for less money.
JetFormBuilder by Crocoblock (Free/Premium)
🏆 Best for creating and styling advanced surveys using WordPress block editor.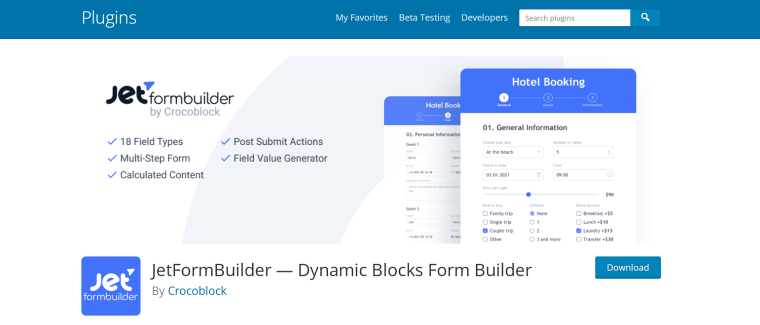 The functional yet easy-to-use, JetFormBuilder offers 19+ fields and exclusive dynamic features to build and style up all kinds of forms, including surveys.
The featured fields provide flexibility to create surveys with different layouts and many types of questions. By manipulating 24 functional blocks, you can set up conditional logic for displaying fields, create multi-step surveys with a step indicator, and build calculator forms with hidden fields.
JetFormBuilder is compatible with another free plugin by Crocoblock – JetStyleManager, used for developing a unique design for every element of every form, something that other form-building plugins lack.
JetFormBuilder core features:
19 field types for a variety of survey questions, including radio buttons, checkboxes, hidden fields, range fields, WYSIWYG fields, and others;
12 post-submit actions;
default value settings that allow fetching dynamic values from user, post, or page meta fields;
allow users to submit media files in surveys;
Stripe and PayPal integrations;
compatibility with Gutenberg and Elementor, ability to display survey forms in other builders via shortcode;
compatibility with Google reCAPTCHA.
Pricing: JetFormBuilder is free. However, generating survey reports requires using the query builder module, and presenting analytical data via graphs and pie charts involves the charts module. Both of these modules are included in JetEngine, costing $43 per year for one site or $88 for unlimited sites.
Pros:
visual block editor allows monitoring form creation as if you were on a front-end side;
custom field styles;
conditional logic for displaying selected fields as well as for triggering post-submit actions;
exclusive features to generate field values dynamically;
a free plugin that comes with more advanced features than any other plugin;
compatibility with the JetEngine plugin.
Cons:
the abundance of advanced features may be overwhelming for newbies.
YOP Poll (Free/Premium)
🏆 Best for customizing survey templates to match website brand.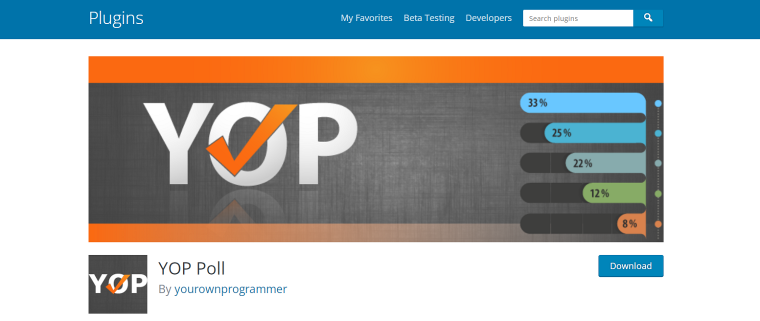 YOP Poll allows embedding multiple simple polls and surveys into your blogs, posts, and pages and managing them in the WordPress admin dashboard. The participants may submit their own answers that may be visible in the survey results.
YOP Poll core features:
creating polls with multiple questions;
filters to search for surveys with specific answers;
many options for displaying the results (before/after the selected date, numerous options for results ordering);
display results in real time.
Pricing: the core plugin is free, and the paid plans with seven advanced features and 30 templates cost $17 for one site, $27 for three sites, and $57 for seven sites.
Pros:
functional free version;
easy to set up and use;
flexibility in displaying results.
Cons:
doesn't have the types of fields that some other plugins do.
Forminator (Free/Premium)
🏆 Best for users who need an all-in-one form builder for WordPress sites.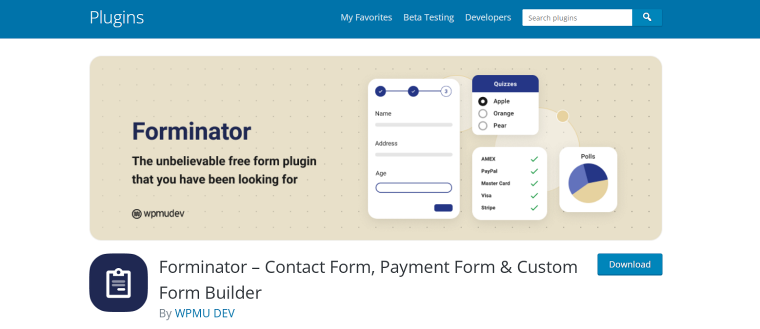 Forminator is a popular form-building solution with over 300,000 active installations and excellent ratings on wordpress.org. This plugin features an easy-to-use drag-and-drop editor that makes creating sophisticated forms a breeze. The ability to make interactive polls and surveys shine out thanks to advanced features such as conditional results, branching questions, and multi-step forms.
Forminator core features:
25+ form fields;
blocks for easy working in Gutenberg;
social sharing buttons;
Google reCAPTCHA integration.
Pricing: the free version is capable of building basic forms, including surveys. The Membership plan starts at $7.50 per month for one site, and it includes all the advanced features plus a bundle of 12 pro plugins by WPMU DEV.
Pros:
flexible behavior settings;
user-friendly interface;
generous membership plan.
Cons:
not many pre-built templates;
expensive if you only need it for building surveys on one site.
Modal Survey (Premium)
🏆 Best for customizing survey design and creating result pages with multiple visualization options.
This is an excellent solution for eCommerce sites as it allows guiding users to destination products based on their answers. Users can change how survey forms look by switching button styles and font sizes, choosing layouts, and implementing 30+ animation effects.
There are many unique features in Modal Survey for various strategies, such as the Lock the Screen feature, which allows hiding the content until users fill out the survey.
Modal Survey core features:
many options to visualize survey results in reports;
filters for searching through accumulated data;
many formats supported for exporting the surveys;
social buttons available;
redirections based on users' answers.
Pricing:
Modal Survey is listed for sale on CodeCanyon for $44 per site. It also has overwhelmingly positive reviews featured there.
Pros:
many customization options for designing surveys;
wide range of features for creating unique forms.
Cons:
Ninja Forms (Free/Premium)
🏆 Best for building surveys via a minimalistic yet beautiful interface.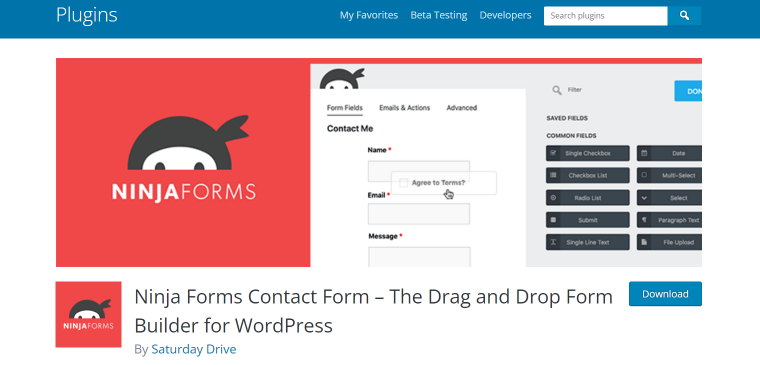 While the UI is perfect for users at all skill levels, it packs powerful advanced features for creating form-based applications, including surveys. Many survey templates can be customized easily using the drag-and-drop editor.
Ninja Forms core features:
multi-step forms;
invisible fields;
ability to fetch metadata to survey fields;
mobile responsive forms;
conditional logic;
free trial.
Pricing: Ninja Forms with core form-building features is available for free. All survey-specific add-ons come with the Elite plan costing $599 per year for unlimited sites. You can buy a specific add-on if you're just interested in one extra feature.
Pros:
native WordPress integration, friendly and intuitive UI;
advanced features for building complex surveys.
Cons:
advanced features must be purchased as add-ons, and the full-featured plugin is the most expensive on the list.
Poll, Survey, & Quiz Maker (Free/Premium)
🏆 Best for creating various types of surveys with media content.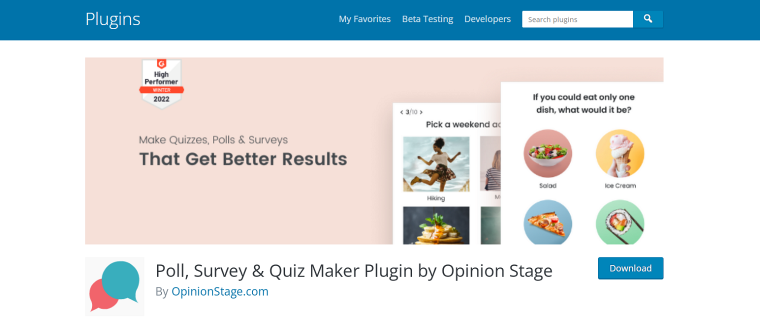 Hundreds of optimized templates make creating trivia quizzes, image polls, satisfaction surveys, and UX surveys easier. The use of images and videos provides surveys with the feel of interactivity, while color themes allow matching all forms with website branding.
Poll, Survey, & Quiz Maker core features:
integration of images and videos into the forms;
ability to create conversational one-question-at-a-time polls;
conditional logic;
extensive library of pre-built templates.
Pricing: the basic tool is free. It limits the size of surveys to ten questions and the number of participants to 25 per month. The Starter plan for $25 per month comes with standard features and allows 1000 responses, and the Unlimited plan with advanced features and 10,000 responses costs $79 per month.
Pros:
creates engaging forms with images and videos;
friendly interface and over 100 pre-built templates for different types of questionnaires.
Cons:
paid plans with advanced features are among the most expensive options on the market.
Formidable Forms (Free/Premium)
🏆 Best for building unlimited surveys with a drag-and-drop form maker.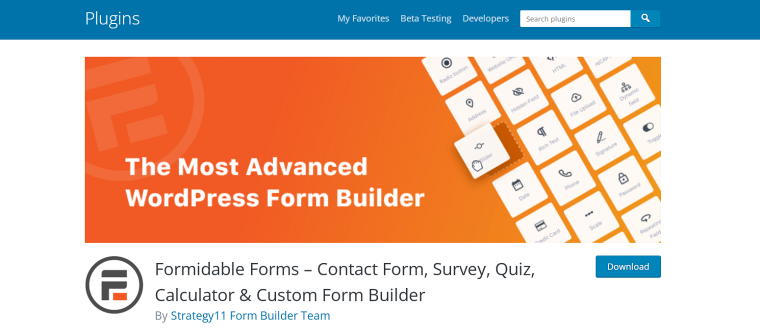 This is one of the most powerful form builders allowing you to create everything from calculators to registration pages. Concerning survey functionality, it provides all the necessary tools for fast and effortless survey creation and customizing reports.
Formidable Forms offers professionally designed templates that you can use as the starting point for making your survey templates. They include Net Promoter Score Survey, Brand Awareness Survey, Student Interest Survey, and more.
Formidable Forms core features:
drag-and-drop editor;
smart branching feature supported by conditional logic;
multi-page forms with a progress bar;
graphs and charts for report presentation.
Pricing: the free version doesn't include advanced features for building surveys. There are four paid plans from $79 to $599 per year, with more expensive plans offering more features, integrations, and templates.
Pros:
advanced features like smart branching and multi-page progression;
friendly and minimalistic interface suitable for beginners.
Cons:
while the plugins are easy to use, some users report difficulties with basic CSS styling and integrations;
an expensive buy when opting for all features.
FAQ
What are surveys most commonly used for?
Websites usually use surveys to collect user feedback about their products and services, understand their audience, and increase user engagement.
Are WordPress form-building plugins the same as survey plugins?
Form-building plugins allow building more types of forms than survey plugins. Usually, their price is significantly higher.
Are there free WordPress survey plugins?
Many WordPress survey plugins have free versions with limited functions. Most of the time, you have to pay for advanced features like aggregated reports, pre-built templates, and customization options.
What is conditional logic in forms?
Conditional logic controls the visibility of conditional fields based on the answers that users provided in other fields of the form.
And the Winner Is…
There are hundreds of options for creating surveys in WordPress; not all are easy to use, fit your budget, or match your business ideas. In this article, I gathered nine WordPress plugins capable of building different types of surveys.
WPForms is a popular versatile form-builder with a drag & drop editor and many pre-designed templates, making it ideal for quick and easy survey creation.
JetFormBuilder has larger number of features for building complex survey forms. It is a free and powerful tool.
I recommend Poll, Survey, & Quiz Maker for its ability to build eye-catching quizzes and polls using images and videos.
YOP Poll is an inexpensive solution optimized for embedding simple polls and surveys on WordPress sites.