Do you need to build a form on your website? Then you need a plugin with broad functionality that will help you create the desired form and make it convenient and beautiful.
Each of them has comprehensive functionality, exciting features, and many fans. This article will look at two popular plugins, WPForms Lite and JetFormBuilder. Let's start.
Why Do We Need WordPress Form Plugins?
To begin with, let's figure out what features form plugins offer and why they are needed on the site.
Imagine you are gathering people for some event, for example, an online lesson. You need to know how many people will come and remind them when it starts. And there is no better tool than a subscription form for such a task.
Now let's imagine that you have taught this lesson and now you want to sell it. Then you need a payment acceptance form that collects emails. After all, you need to send a receipt automatically after payment. So, again, a convenient form is necessary for this task.
Unfortunately, WordPress hasn't a default module for creating forms. Therefore, you need WordPress form plugins or the ability to write code. Plugins save time and nerves and help you make any form. At the same time, if you need to change the layout, remove or add fields, you will not need to write new lines of code.
Based on this, you understand that the best plugin should be versatile and easy to use. Furthermore, the form creation process should be uncomplicated.
JetFormBuilder Plugin Overview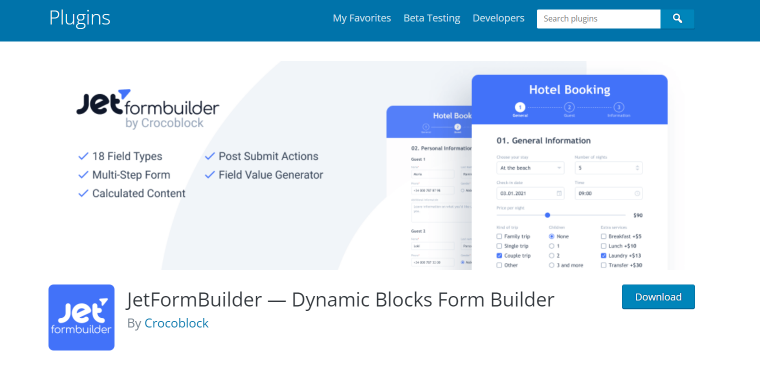 JetFormBuilder from Crocoblock is a little bit game changer for the fact:

a) it's absolutely free;

b) it works with a lot of dynamic data.

That's super cool.

Paul, WPTuts
JetFormBuilder is a free plugin developed by the Crocoblock team with dynamic features, options, and possibilities for creating various forms for WordPress websites. With it, you can create:
multi-level forms;
registration forms;
subscription forms;
PayPal payment forms, etc.
To create all this variety, you have 24 fields to choose from: date, time, text, range, media, and others. If you need some field that is not in the list, you can add it using HTML. JetFormBuilder uses the WordPress block editor, Gutenberg, to create forms. Apart from Gutenberg, JetFormBuilder is compatible with the Elementor page builder and other popular website builders.
Working with the plugin is intuitive, and you can create any form in just a few minutes by simply dragging and dropping.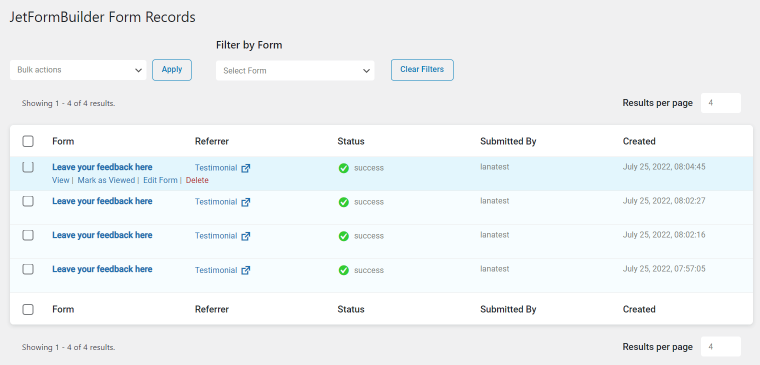 Plugin integrations with mailing and payment systems expand your possibilities for client interaction. In addition, you can style the website form the way you want and enjoy the result.
WPForms Lite Plugin Overview
WPForms is another popular plugin for creating various forms: payment, subscription, registration, etc. It has a free version with great possibilities. It also works on the principle of drag and drop. Therefore, even a beginner can compile any form layout.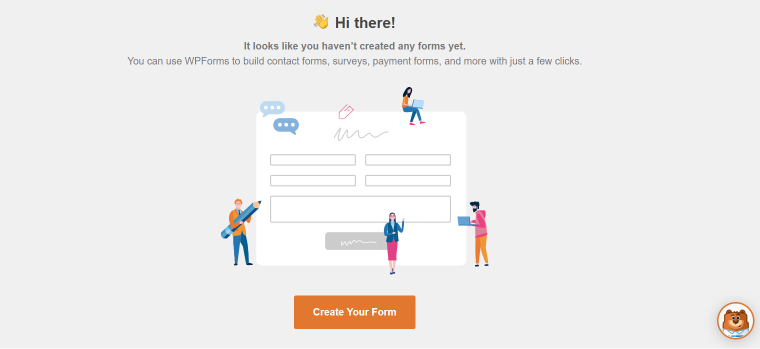 WPForms is compatible with various plugins and payment systems, including Stripe and PayPal (only in the pro version).
Also, WPForms has integration with mailing services, so it will be easy for you to send emails to your subscribers and remind them of important events.
JetFormBuilder vs. WPForms Lite Features Comparison
The JetFormBuilder and WPForms Lite plugins are very similar. They help to create various forms and arrange them as needed.
Free features comparison
Let's start the comparison with the most interesting – free features. Each of the plugins has a free version that users love a lot.
So let's start with the accessible features of WPForms.
This plugin allows you to select one of the many fields to create forms. Name, email, text, number, number slider, dropdown, multiple choice, checkbox, reCAPTCHA/hCaptcha. The plugin also sends messages to users after filling out the form. The free version contains form notification emails and confirmation messages on form submission.
WPForms Lite allows you to publish forms with the classic editor, shortcodes, and block editor support. WPForms also integrates email marketing services like Mailchimp, GetResponse, Active Campaign, and Zapier. But these features are available only in the PRO version.
If you need to make a confirmation, you have three options:
Message;
Show Page;
Redirect.
You can't see the information about registrations in WPForms Lite. It's a PRO feature. But you can integrate your plugin with Uncanny Automator, which will collect all registrations in Google Sheets. Also, if you need to create a payment form, you need WPForms PRO.
And now, let's see which features you can get with JetFormBuilder. There are 24 field types available in the free version of JetFormBuilder: select, radio, checkboxes, text, text area, hidden, calculated, number, date, datetime, time, media, WYSIWYG, range, heading, repeater, group, form break, submit, and advanced color picker. There's also the ability to add custom CSS classes to any field.
The free plugin allows you to create multi-column layouts and use Conditional Blocks, Group Break Fields, Repeaters, and Range Fields. In addition, you can get massive functionality for free to create unique forms. For example, you can post forms on existing pages or create a landing page to post them. You can also make a PayPal payment form using the free JetFormBuilder version.
Also, if you need to make some post submit action after the user fills out the form, use one of these options:
Send Email;
Update Post;
Call Hook;
Call Webhook;
Redirect to Page;
Mailchimp;
GetResponse;
ActiveCampaign;
Save Form Record;
Insert/Update Custom Content Type Item;
Connect Relation Items.
There are also two submit options: Page Reload and AJAX (without page reloading). The plugin will collect all registration on Forms Record Page. You will have access to all form submissions through your website.
With the JetFormBuilder plugin, you can receive PayPal payments. It's advantageous. Information about payments will be stored in a well-organized database table.
If you need even more features, you want to connect a CRM, a mailing service, Stripe, or a WooCommerce payment plugin, choose the paid version.
Fields comparison
Let's go in order. The first thing you should pay attention to in the form creation plugin is the choice of fields that you can add to the form.
JetFormBuilder has 24. WPForms has 10.
And this is enough. In both plugins, you will find the following fields:
text;
checkboxes;
slider;
multiple choice;
different breaks, etc.
But some fields are available to JetFormBuilder users and not in WPForms. Among these are the ability to add the date and time separately and the progress bar.
Both plugins allow you to place forms on your site using Gutenberg and Elementor's built-in features, shortcodes for other builders, and create multi-level forms with indicators.
The WPForms plugin has a large number of built-in Templates. They are compelling. But you can adjust the created form to the style of your site (if the built-in options do not suit you) only with the help of CSS.
JetFormBuilder allows you to style a form the way you like without writing any code. Also, this plugin permits adding the form values ​​into other form fields' labels, descriptions, etc., and generating a number range.
Support options comparison
JetFormBuilder has more user support options. So the Crocoblock team offers all its users chat, ticket, and Zoom support. In the free version, you can use chat to resolve any issue.
At the same time, WPForms ticket support is only available to premium subscribers. Both plugins allow you to buy a one-year subscription for one website and an unlimited number of websites.
Integrations comparison
For good functionality, form creation plugins must have integrations with various mailing, payment, and other services. And indeed, JetFormBuilder and WPForms have many such integrations. Free JetFormBuilder integrates with:
PayPal;
Mailсhimp;
GetResponse;
ActiveCampaign.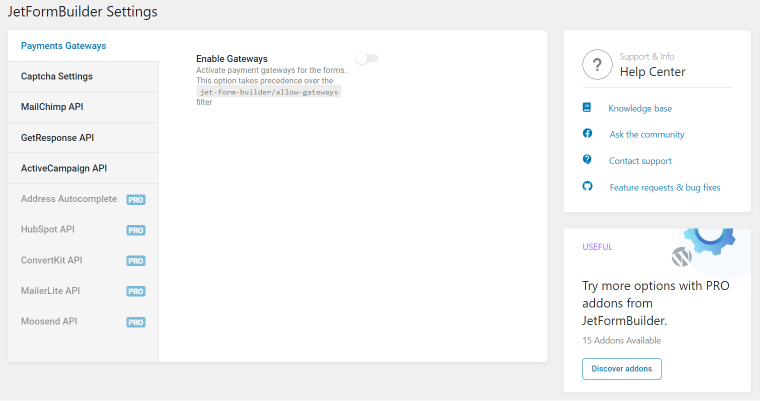 WPForms Lite has integrations with Constant Contact and Uncanny Automator.
Price comparison
If you need additional features, the plugins have PRO versions.
And here, JetFormBuilder and WPForms have some differences.
So JetFormBuilder Pro Addons cost $39/year for one site and $79/year for unlimited sites. The functionality of these packages is the same. The plugin has a 30-day money-back guarantee.
WPForms has four pricing options:
Basic – $79 per year for one site;
Plus – $199 per year for three websites;
Pro – $399 per year for five sites;
Elite – $599 per year for unlimited sites.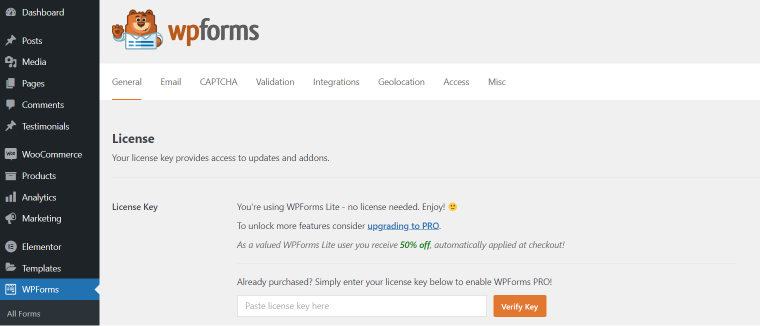 The first and second packages do not provide support and have limited functionality.
FAQ
How to choose the best WordPress form-building plugin?
To make the right choice, look at these plugins' functionality and ease of use. You need to understand what forms you will create with them and check if the plugin provides these features. Also, check integrations with different systems. For example, JetFormBuilder has more free features, which cost money in the WPForms plugin.
How to use the WordPress form plugin?
Install the plugin (JetFormBuilder or WPForms Lite) from the WordPress directory, activate it, select a template for your form, add the fields, and add the form to the page.
What free features does WPForms Lite have?
It has such features:
– unlimited forms creation;
– name, email, text, number, number slider, dropdown, multiple choice, checkbox, and reCAPTCHA/hCaptcha fields;
– form notification emails;
– confirmation message on form submission;
– classic editor, shortcodes, and block editor support.
What free features does the JetFormBuilder plugin have?
It has such features:
– 24 fields: select, radio, checkboxes, text, text area, hidden, calculated, number, date, datetime, time, – media, WYSIWYG, range, heading, repeater, group, form break, submit, and advanced color picker;
– multi-column layouts;
– conditional fields;
– calculated content;
– repeaters;
– dynamic values;
– free integrations with Mailchimp, GetResponse, ActiveCampaign, and PayPal;
– different post-submit actions.
JetFormBuilder vs. WPForms: Who Will Win?
As you can see, these two WordPress form plugins have a wide range of options for creating various forms. With their help, you can embody any form imaginable.
The free JetFormBuilder plugin has more features and integrations than WPForms Lite. And PRO add-ons of JetFormBuilder are cheaper.
So look at your goals and understand what you are looking for. Therefore, if you are looking for a free-form builder with advanced features and dynamic options, choose JetFormBuilder.
If you are ready to pay for WPForms features, choose this plugin.