Meet Brian Jackson, the co-founder of forgemedia, previously CMO at Kinsta, and a passionate writer. I've divided the interview into 3 parts to make it more readable, so I hope you, Reader, will get the most out of this article (as I do).
Table of Contents
WordPress Journey
I know your WordPress path started back in 2008. Could you please share what your first acquaintance with this CMS was? What is your education? Did you feel passionate about working with WordPress at first?
In 2008, I was a freshman at Walla Walla University in Washington state. I majored in "New Media Imaging," which was kind of a mixture of web design and graphic design. However, I didn't really care too much about graphic design; the part I really enjoyed was the tech side of things (internet, websites, DNS, code, etc.).
As a student, I worked at the University's helpdesk, where I would help fix computer problems for other students, staff, and faculty. I did this throughout high school, so I was pretty familiar with IT. It was a natural place for me to work.
Computer support is all about troubleshooting. And I would consistently turn to Google for answers. I kind of fell in love with the idea that people were documenting how to fix things online. I just found that really fascinating and decided I wanted to try and do it better. So I started a blog. At the time, the choices were really WordPress, Joomla, Drupal, or a static HTML site. There were no other options. Remember, WordPress started out as a blogging platform, so it was an easy choice at the time.
I wouldn't say I was super passionate about WordPress at first. It was simply a tool I used to get my thoughts across to the internet. But that definitely changed as time went on.
Here's a screenshot of my first WordPress blog. 🙂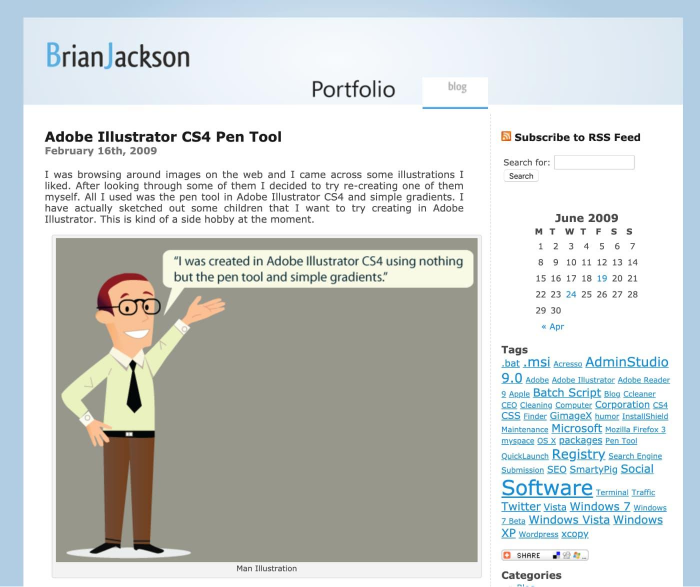 Your expertise is so wide, please let our readers know about your career path. Do you have the work in general understanding now? (like 8 hours sitting upfront of the desk)
My career path looking back now, is definitely an interesting one and kind of all over the place. It's probably easier to simply give you a bullet-list timeline:
2005-2006: Worked IT support in high school and built custom computers. I would ship these all over the globe on eBay.
2006: Started a web hosting company end of high school and sold this when I got too busy early into my time at college.
2006-2010: Started blogging (mainly tutorials) with WordPress while taking classes and working computer support at the University helpdesk.
2010-2012: Stayed on for a couple of years as staff at the University (after graduation) as a PeopleSoft Security Administrator. Pretty boring stuff but a fun challenge.
2012: Sold everything I had and moved to Arizona (big risk, but I couldn't stand the rain any longer). Got a job as a web developer, which only lasted six months. It was for a dental educational company. The topic of what you work on matters!
2012-2013: Moved back into an IT job at a local health insurance company. Burned out from work overload. However, during this time, I launched another WordPress blog (theitbros.com), which I later sold.
2013-2015: Dove into SEO/PPC job at a local pain management company. I was in charge of many WordPress sites in terms of marketing.
2015-2016: After spending more time on WordPress sites off and on, I decided I wanted to get more into the content marketing side of things. So I changed things up and got a job at KeyCDN as an inbound marketer. That is where I fell in love with hardcore content creation.
2016-2020: A couple of years rolled by, and I decided I wanted to focus more on WordPress-specific content. Luckily, I met Mark and Tom at Kinsta, which was a perfect match. I spent the next three and half years pushing out as much long-form content as possible.
2020-present day: Unfortunately, I lost sight of my work-life balance, and those years took a toll on my health (both mentally and physically). So I decided to slow things down a bit and do my own thing with my brother (who is a WordPress developer).
Throughout most of my career, I've used WordPress in one form or another. It's always been there. These days, I spend most of my time answering tickets for our business or helping with plugin development. I definitely try to sneak in as much content creation as I can, as it's still my true passion.
What is behind Perfmatters & Novashare plugins creation? Who came up with the idea to create a web performance plugin? Please share a little bit about each plugin. 🙂
Perfmatters was born during my time working at Kinsta. I worked with so many business owners trying to speed up their WordPress sites and discovered, time and time again, that there are multiple layers to performance.
First, you need quality hosting. That's where Kinsta came in. Second, you need to optimize the front end. A hosting provider can't fix everything. Therefore, my brother and I created Perfmatters. It was a way to tackle front-end performance but using a lightweight approach. Ironically we didn't initially plan on selling the plugin. It was more to use internally. But many friends/clients asked, and we eventually decided to package it up and sell it.
Novashare has a similar story. Over the years, I have used and tried many different social media plugins and was never completely satisfied. Many didn't care about performance. So my brother and I decided to build our own from the ground up with performance in mind.
Every KB matters to us! In our upcoming update, we are reducing our CSS file from 3.1 KB down to 2.6 KB. We're always finding new ways to squeeze even more performance out.
Honestly, Woorkup and Kinsta blogs are my first place to find inspiration for content creation and planning. The quality is super high.
Thanks for the compliment; that means a lot! During my time at Kinsta and throughout my different careers, I've discovered that long-form is what works. Therefore, I won't typically write short blog posts. I'd rather write one 10,000-word blog post (even if it takes weeks) than five 1,000-word blog posts.
If you look at the organic traffic growth of Kinsta's website, it's easy to see that the strategy works. SEO and content marketing is a long-term play; it's not an overnight success. But you eventually get into what I like to call "snowball territory," where things start going up really fast. And like most things in life, consistency is key.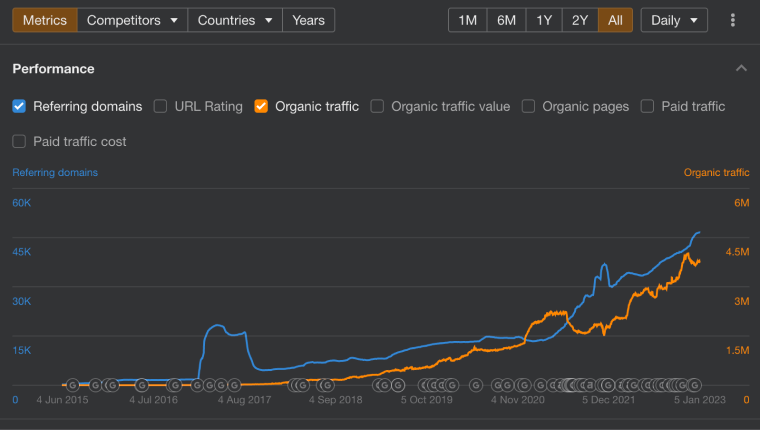 How was it to be Kinsta's CMO? What was your role/tasks in Kinsta? Have you been working from home or in the office?
When I first joined Kinsta, they had a team of around eight people. So there was no marketing department. I joined the team and spent my first couple of years just writing WordPress content from sun up to sundown. Trello and WordPress were my best friends.
As Kinsta grew and I moved into the CMO role, my tasks definitely varied quite a bit. I would code things on the website, manage social media, work on building partnerships, craft newsletters, experiment with paid traffic (although 90%+ of our traffic was organic), help with the affiliate program, etc. Think of anything marketing related, and I probably had my hands in it.
Kinsta was primarily a remote-first company. So I had the pleasure of working from home. I've actually worked remotely since 2014 and wouldn't have it any other way. I'm just more productive that way.
Things at startups move really fast. Anyone that has worked at one will know what I mean. I feel like I learned more at Kinsta during my three and half years than I did in the previous decade. There is so much learning, failing, growth, trial, and error, etc., all jam-packed into a short period of time. Definitely one of the best experiences of my career. It a ride of a lifetime!
What is your attitude about the Gutenberg editor? The abstract question, but what would you change back in the Gutenberg release? (organization, concept, etc.)
I'll be honest; I didn't like the Block Editor when it first came out. I just didn't see the vision. Also, being a writer, I hate blocks. That's the reason I'm currently writing this on my Mac in a freeform writing app instead of in WordPress or another block-based app. Blocks just make for clunky writing.
However, over time I began to see the potential for blocks when it comes to building and designing WordPress sites. And am happy to say I'm a full believer now. All of my WordPress sites are 100% block-based. With that being said, I still hate it for writing. 🙂
I think they could have marketed the Block Editor better or in a different way. Even for someone experienced with WordPress, building websites, etc., I didn't see the possibilities or vision right away. But all things considered, I think the Block Editor is making great progress. Many themes and page builders have fully embraced it, and there is no going back now.
WordPress Tips
What are your must-have tips for WordPress beginners? Where to start with? 😉
This is a tough one, as I've been using WordPress pretty much non-stop for 15 years. However, my best piece of advice is don't be afraid to get your hands dirty. I've always learned by doing. So launch a WordPress site and start experimenting. Many hosting providers have easy rollback options these days. So it's pretty hard to break anything permanently.
Also, never be afraid to ask for help. From WordPress.org support forums to Slack communities, FB groups, or even ChatGPT, there are plenty of places to get questions answered these days. Many of these didn't even exist when I started using WordPress.
What do you recommend for WordPress founders? If you were founding forgemedia today, what would be your first steps in promotion?
One thing I would probably recommend these days is to start building your side hustle before you quit your main job. There is no reason you can't build up a good foundation first. This can help reduce a lot of the stress when you do choose to go out on your own and do it full-time. Grind out a little bit each day in the evenings or on the weekends.
For example, during my time at Kinsta, I still found some time to work on my woorkup blog. And they were very supportive of this. If you have an employer that isn't supportive of your own passions or hobbies, find one that is. You'd be surprised that there are many out there.
This gave me some wiggle room when I quit (which wasn't the original plan, but it worked out), as I had a little passive income coming in, which I could build on.
Was it still stressful?
For sure. But at some point, you do have to take the leap, especially if it's for health reasons. However, you can be smart about it.
Do you still think content marketing is one of the top marketing tools? What do you think about TikTok, and podcasts as promotional tools? (Personally, I think TikTok is not the right thing for the WordPress audience, but perhaps you have other thoughts).
Content creation is still my favorite means of marketing as a business owner. I've never been a fan of TikTok, Facebook, YouTube, etc. However, that doesn't mean you can't be successful in those areas; it's just not my cup of tea. I've always preferred to read things rather than watch or listen.
I think marketers are the most successful when they produce content in the same way they like to consume it.
What do you like/hate about WordPress/community/web?
As I get older, the one thing I hate is drama. So I don't spend any time in FB groups, Slack communities, LinkedIn groups, etc. The reason? There's just way too much toxicity. I also personally think these can be a huge waste of time. I prefer to focus my time and efforts on other areas. I even wrote a whole blog post about how I stay sane and productive among social media distractions.
What are your top tools for writing/organization (productivity)?
As mentioned earlier, I'm not a fan of WordPress Block Editor when it comes to writing. I prefer non-block-based apps which focus on freeform writing. I'm a big fan of Ulysses and Obsidian.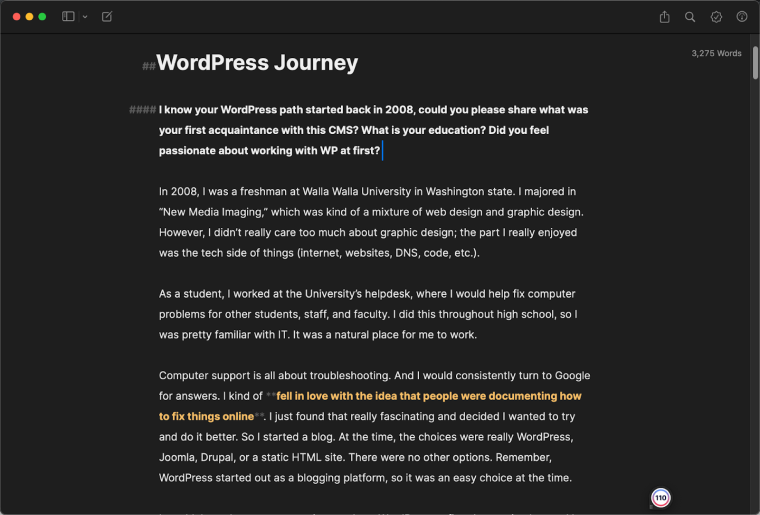 I also use Trello and Confluence extensively for my business to organize tasks and internal documentation.
Where do you read/listen to WordPress news?
I use Feedly to manage almost all of the content I consume. I follow certain Twitter accounts that I like, get web alerts, subscribe to newsletters and RSS feeds, etc. They have some handy features to port everything into Feedly and automatically filter out duplicates. You can also mute terms or keywords you don't want to see. The great thing about doing it this way is you can fine-tune things over time to really get only the content you care about. It saves so much time!
Work-Life Balance Tips
I'm impressed with everything you've mentioned on your BIO page; how do you find the time for each hobby/work/interest? 🙂
I've been a workaholic since a young age and would consider myself an entrepreneur. The problem I've always had is finding a healthy work/life balance. I've had a few burnouts already and never want to experience that again. I think I've found a good balance now, but it took a long time to find it. So while I might have done a lot, it was sometimes at the sacrifice of something else.
Another key thing I've found is task organization and prioritization. The 80/20 rule always comes into play. Never lose focus on what will produce the most results. Just ticking off a hundred little tasks in Trello each day doesn't necessarily mean you're doing a lot of work. I've been a victim of this as well.
Have you built your No Gluten blog by yourself? Could you please share a little bit about the idea behind the blog, who manages/writes, etc.?
Yes, I built and wrote everything on my No Gluten blog. Although my brother helped code a few nifty little tools that are on there. And I used WordPress, of course. 🙂
The main reason I started it was that I have an autoimmune disease (Ulcerative Colitis). Also, while I don't have Celiac Disease, I might as well. My blood tests are off the charts when it comes in contact with gluten. If I have any gluten, I'll immediately throw up an hour later. So I had to drop all gluten from my diet and have been 100% gluten-free since 2014. Thankfully it's much easier these days.
I enjoy sharing and educating people about eating gluten-free, sharing some of my personal experiences (hardships and triumphs), and tips and tricks to make life a little easier. Changing to a gluten-free diet (against all my doctor's recommendations) literally took me from a hospital bed to being completely off all medication. So you could say I have a huge passion for how diet and the food we put into our bodies literally changes everything. That goes for sugar too.
"We are what we repeatedly do. Excellence, then, is not an act, but a habit." – Will Durant
What is your favorite sport/book/film/podcast?
My favorite sport is volleyball. I used to play weekly during the summer back in college.
My favorite book is probably The Mindbody Prescription. Besides diet and exercise, I think the mind plays a huge role in our overall health and well-being.
My favorite films are The Big Short and Lord of the Rings. I like personal finance and investing and find the whole world fascinating. Also, I'm a pretty big fantasy and sci-fi nerd. I thoroughly enjoyed the new Avatar movie on the big screen! The tech behind what goes into making it I find fascinating.
What do you enjoy doing in your leisure time?
I enjoy a good hike. I'm lucky enough to live around 10 minutes from some great hiking trails and mountains. I also enjoy taking bike rides. I try to spend most of my leisure time outside since most of my life revolves around the computer.
What are your personal achievements you proud of?
One thing I was really proud of earlier in my career was getting the Microsoft MVP award in the "Windows Expert-IT Pro" category. It was from all of the content I produced in the community and on my WordPress blog. 🙂 Only around 3,500 MVP awards are given out globally per year, so you have to do a significant amount of work to get recognized.
I'm also really proud of everything that I accomplished with the team over at Kinsta. They are an unstoppable machine now, and I'm just thankful that I perhaps played a small part.
And, of course, I'm happy that my brother and I have been able to build and grow our small business. Being your own boss has a lot of challenges, but it's also super rewarding!
What are your tips for work-life balance? When do you think it's time to move forward in career?
I would consider myself an expert on this topic now, but perhaps that's not a good thing. 🙂 I've grown to really love this quote:
"A healthy person has a thousand wishes, a sick person only one." – Agnes Karll Schwest Krankenpfleger
Here are a few thoughts and things I've experienced during multiple burnouts in my career.
1. The first time I burned out was in college. Just because you're young doesn't mean you're unstoppable. If you think you have too much on your plate, take a step back and re-evaluate. Your body always has limits.
2. Never let a company overwork you. I was in a situation where I was the only IT support for a 150+ person company. Servers and VPNs going down at 1 am, running up and down stairs all day, never-ending emails, you get the point. Sometimes companies can take advantage of you. Speak up, and if change doesn't happen, be the change by switching jobs.
3. If you're a workaholic, be careful not to let things get out of control. Diet, exercise, and time spent outside doing other things are so important. Schedule them if you have to.
Always remember that "health is wealth."
After all, what good is wealth if you're not around to enjoy it?
Regarding moving on in a career, I shared a little earlier about how I made some of my decisions. For example, I was in IT but wanted to focus more on content marketing. So I got a job as an inbound marketer. After doing that, I discovered I wanted to hyperfocus even more on WordPress, so I changed jobs again to a WordPress-focused company.
For me, moving on all came down to asking myself if I was truly happy with what I was doing on a day-to-day basis. If I wasn't, I took the risk and changed things up.