Email marketing is one of the most affordable conversion-rich marketing methods. As a business grows, the contact list also increases, making it increasingly difficult to give each customer one-on-one attention.
Email automation is one of the most potent and valuable pillars of email marketing. You can easily create workflows and email each customer with personalized, timely, and relevant messaging.
With email automation, you use predefined rules to trigger personalized emails to customers based on specific customer actions. An added bonus? Once you set up the system, it will run seamlessly by itself, saving you lots of time and effort.
How does email automation work? Let's take a closer look at email automation and how you can leverage its best practices and succeed in your email marketing campaign.
Table of Contents
What is Email Automation?
Email automation is a setup that allows you to create and send emails to the right person at the right time, with the right message—without creating an email every time. With predefined rules, you can send personalized and highly targeted emails at intervals or when a user "triggers" an action such as a purchase.
With email automation, you can combine your web analytics and email marketing platform to target your customers based on behavior, previous sales, and preference. This personalization creates a better customer experience and increases the relevance and effectiveness of your email marketing campaign.
How Does Email Automation Work?
Though it's an automated process, marketers are needed to create the automated email workflow. They also set the rules, actions, and events that act as triggers and schedules for the emails in the automated workflow.
What are the most common email automation triggers? They may include:
welcome email;
the page or product view;
abandoned cart;
thank you for the purchase;
post-purchase;
milestone achievement.
Here's a practical explanation of how email automation works.
You create an email campaign setting the rules/triggers for the emails and schedules.
A visitor downloads a lead magnet, such as an eBook, and fills out a form on your site.
The person is placed in the relevant audience segment based on location, behavior, and interest.
The visitor receives your automated email based on the conditions set in your email automation.
Benefits of Email Automation
When done right, email marketing can be highly effective. Litmus reports that for every $1 spent on email marketing, you can generate $36. But, email automation plays a huge role in getting this handsome return.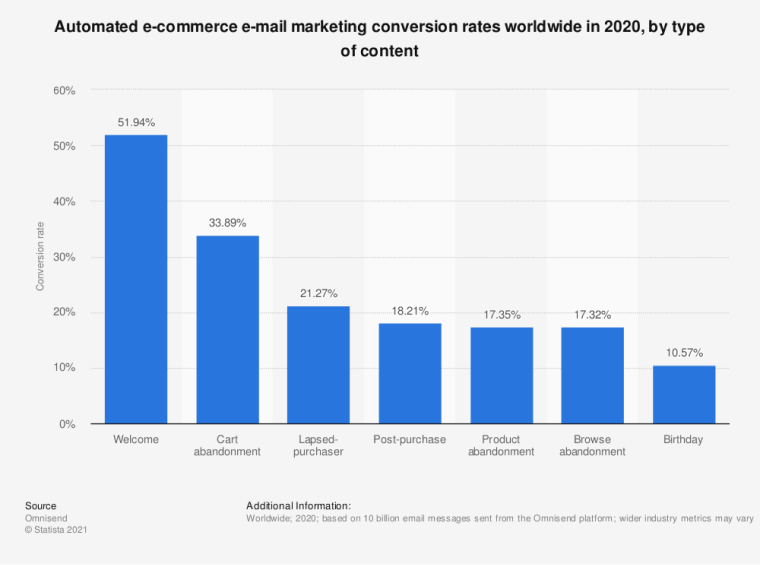 Besides saving you lots of time and making your team more efficient, here are the benefits of email automation:
Natures leads, making them more receptive
Does downloading a free how-to guide from your site make the person a target for the sales team? Not exactly. Not all leads become conversions.
On average, triggered emails have a 46% open rate and a click-through rate of 24%. Compared to the average email open rate for non-automated rates of 21.6%.
Email workflows help you follow up on all warm leads and nature the right client with helpful information and resources. If the contact finds the emails relevant and engaging, they will likely be receptive and convert. And you'll save on sales resources because your sales team will be more targeted.
Relevant emails to the recipient
As you plan your email workflows, you can ensure they're entirely relevant to the customer's journey. You don't want to drive your leads away with irrelevant, unhelpful emails that may make them unsubscribe.
From a welcome email, abandoned cart, or re-engaging lost customers, there are lots of opportunities for targeting. Relevant email workflows are highly effective if you want to entice more people to become your customers.
Personalized communication with prospects
Email automation allows you to personalize your email workflows. You get personalization tokens that you can fill in using the contact's details. For example, the email says "Hi Joe," Instead of saying, "Hi, there."
You can personalize further, using some workflow tools to add relevant information like location and the company they work for. Sending a personal email to your prospects adds a touch that strengthens your business's relationships.
Increases your revenue
36% of marketers that embrace email automation report a positive ROI within a year, with 44% of them seeing a return within just six months.
Email automation allows you to create several campaigns. For example, you can create a cart abandonment campaign and upsell/cross-sell based on clients' search history.
Diversifying your campaigns reaches wider audiences and increases your sale and revenue.
How to Make Email Automation Effective
As we have seen, automating your emails is a powerful content marketing strategy. But, you have to meet a set of dos and don'ts. Let's look at some of the best practices for email automation:
Send a confirmation or welcome email
When a customer signs up by filling out a contact form, send them a welcome email. The email is a confirmation that their signup has succeeded.
This is the first step to fostering a newly formed relationship, and the client won't be surprised to see your emails in the future. Here is a confirmation email from SERanking.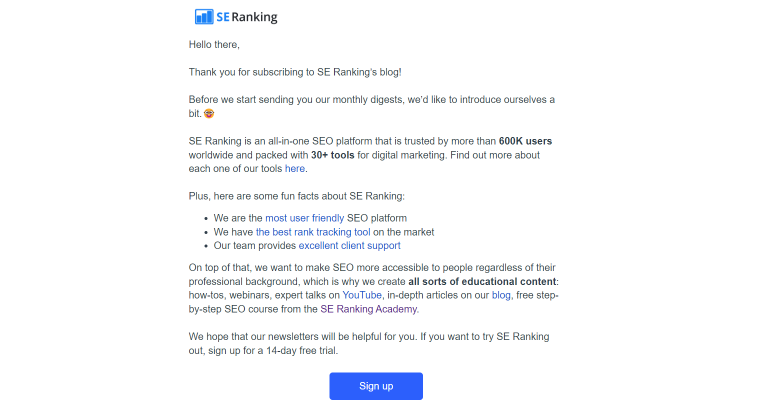 Leverage segmentation
Segment the audience based on interest and any common attribute that they may have. People with commonalities tend to gravitate towards similar things.
Here are some ways to segment your audience:
Geographical location and time zone.
Demographics, age, occupation, gender, company position, etc.
Purchase activity- Enables you to recommend similar items or upsell.
Engagement via email- Active and Inactive subscribers based on open rates and click-through rates.
Position in the sales funnel- You send relevant emails, from a welcome email to offers and thank you emails.
Create emails that match your brand's experience
Consistency helps you maintain your brand identity. You can start by customizing your email design and layout to make it easily identifiable. Use your logo, a specific font, and brand colors that can be easily recognizable.
Visuals add some extra aesthetic to your email and spice things up. Most email marketing software is built with different fonts and visuals that help you design your email better.
For the email design, consider mobile friendliness to ensure the email is readable on different devices.
Personalize your messaging
With email automation, you're saving time and sending emails more conveniently. But, subscribers should connect with your messaging and not feel like they're reading from a text sent by a machine.
Personalization begins by addressing the customer by their name. Segmentation also enables you to handle the parsons' specific needs. Create emails that deliver value, are helpful, and feel personal to the reader.
Include concise CTAs
For every email, you send, include a clear call to action that the subscriber needs to take. Position your CTA strategically, showing the next course of action in the process.
For example, if you're sending an email about an order update, the CTA should include essential details on how the customer can raise any issues regarding the order.
Alternatively, a CTA for a promotional email should redirect the subscriber to the product pages. Here's an email from Gatsby with a clear CTA.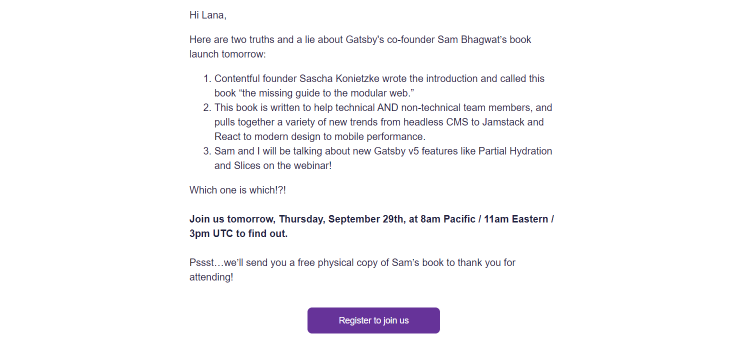 Track your email responses frequently
You need to track all your email responses to improve your email marketing campaigns. Reviewing your automated emails gives you a deep insight into your subscriber's preferences.
By tracking, you'll learn if a subscriber:
Opened the email or not.
Clicked on the CTA for discount, offer, or to view the website.
Purchased a product that was suggested.
With these insights, you can formulate your next campaign more effectively.
Different Types of Email Automation workflows
You can set up your email marketing campaigns in different workflows. Let's look at the different workflows you can automate your emails into:
Welcome workflow:

get triggered after a sign-up;
create a relationship with the new subscriber.

Topic-Related workflows:

specific industry-specific emails.

Engaged workflow:

a list of customers who engage with your emails;
have a higher chance of converting.

Lead nurturing workflow:

top of the sales funnel customers who need testimonials, product demos, and case studies to make a purchase.

Abandoned cart workflow:

users added a product to the cart but did not complete the purchase process.

Re-engagement workflow:

in-active subscribers who you want to convert to active customers.

Upsell or cross-sell workflow:

subscribers who have bought from you.

Deal-based workflow;

they need a relevant confirmation email after the purchase is made.
Email Automation FAQs
Can Gmail be automated?
Yes. Gmail allows you to automate your inbox. You create a set of rules that automatically handle incoming emails and repetitive tasks. On Gmail, you can automate frequently asked questions, newsletters, marketing emails, and even create email templates.
If you manage to automate your Gmail account, this can be utilized later for many creative uses, such as using it to improve your backlink profile through innovative link exchange strategies.
How can you automate emails?
You can begin by installing an email marketing tool. Create and segment your email list as we've seen based on preference, location, and behavior. You can then set up an automation trigger that will be determined by the users' behavior.
Finally, create your email campaigns with clear messaging and then activate your email automation.
What are the best practices for building an automated email workflow?
Segment your audience and set up your workflows in good time. Personalize your email content and subject line to help build relationships. Also, use analytics data and time zones to understand the best time to send your emails. You should also make it easy for your customers to unsubscribe. Test your emails to catch any broken links and analyze their mobile-friendliness.
Build Your Customer Relationships
Email automation helps you engage with your customers more efficiently. Automations run in the background, saving you time that would otherwise have been used to perform mundane tasks. This way, it's easier for you to build good relationships with customers and make money online more effectively.
What's more, you can use email automation to get valuable insights about your audiences, like needs, purchase behavior, demographics, etc. Data is that goldmine that helps you optimize your email marketing campaigns for better results.
Ready to automate your emails? Check out these reverse email lookup tools that can help you determine the people who are contacting you online.