Usual email addresses aren't the wisest choice for organizations. They don't add to the solid business image and sometimes even raise suspicions. So, it's better to use a business one with your company name. And if you don't want to spend extra money, we have good news; you can register a free business email address. How? Read on to find out.
What Is a Business Email Address?
It's an email with your company name instead of the standard email service domain. From the customers' point of view, a business email is an attribute of reliability. Moreover, messages sent from common accounts are often considered spam or fraudulent attempts.
In our world of digital technologies, email is an integral part of business communications. Even if you prefer to discuss the matters on the phone, emails are proof of some agreements, interactions, and decisions. It means that all critical aspects of negotiations should be fixed in the email exchange.
The official address associated with your company name is one of the attributes of a successful business. It makes your brand more recognizable, increases trust, and guarantees the professional nature of communication. All these factors make the creation of a custom email address a must.
Why Do You Need a Business Email Address?
We have already touched upon this question in the previous section. Now, let's look at all the benefits of a unique address in detail.
It highlights your professionalism. Using a standard email will demonstrate to your clients that you aren't serious about this business, so don't count on productive communications. People tend to choose companies with business addresses.
It's proof of authenticity. The business address is unique; it shows your contacts that it's official and legit communication. If a person can identify a sender before opening a message, they neither dismiss nor delete it.
It's your protection from getting into the Spam folder. If the client is sure that you send emails, they don't mark them as spam. The system also tends to consider the business addresses more trustworthy.
It increases the popularity of your brand. The email itself can be a marketing tool, making your brand known to a broader audience.
In other words, having a business address is highly advantageous for the company.
📚 Read also: Top email subscription plugins for WordPress.
Best Practices while Creating Business Email Addresses
Registering a custom email address is not hard, but you should keep in mind some practices ensuring the best result.
A good address starts with a good domain name. Needless to say, it should be unique and easy to remember. But it also should correspond with your company name. For example, you have a beauty salon named "Chocolate." The domain name Chocolate.com is already taken so that you can try "ChocolateBeauty.com" or "ChocolateYourLocation.com." Your customer should be able to recognize you just by seeing the address.
Be consistent with company email addresses. Once you have created a unique domain name, you can create addresses for different departments and employees. You can use the employee's first and last name or the department's name, but we don't recommend using both. All your addresses should look the same.
Complete the necessary authentication to protect your new address from spam and phishing.
Choose the most suitable email service provider. It should offer enough disk space and other required conditions.
Ensure security and privacy. Take all necessary measures to protect your email. Your conversations can contain sensitive information about your company and the clients. You have to protect it by all means.
Now when you know everything about business email addresses, let's analyze the technical aspects.
Ways to Create a Free Business Email Address
Several services allow the creation of a business address for free. We'll describe them one by one highlighting their pros and cons and the address registration specifics.
Gmail
This service offers reliable and secure business emails. You can register the account here. Press "Get Started" and fill in the required information. You'll be redirected to the next page, where you'll be able to set up a domain name.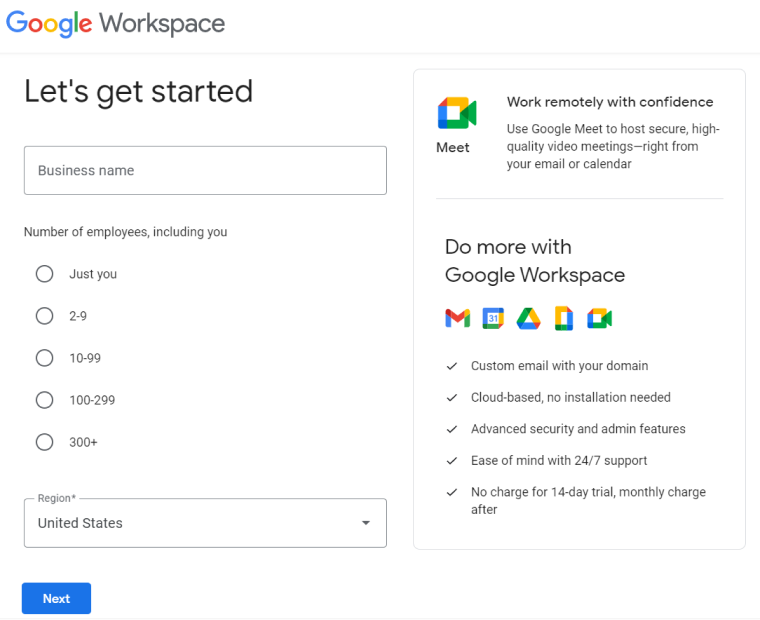 The process is nearly over. You only have to create a username and set a password.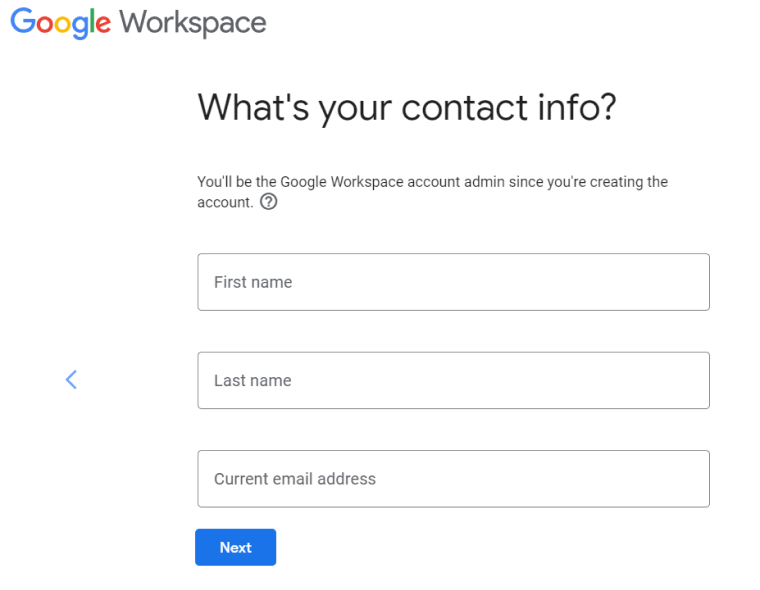 On the next page, you'll have to enter billing information, and after that, you can log into your new account.
Pros:
security: phishing messages are automatically detected and blocked;
compatibility with email software;
option to see attachments and files from the messages without opening them.
Cons:
free trial period is only for 14 days;
absence of set pricing plans for enterprises, only custom offers.
Zoho Mail
To register a business address, visit the Workplace billing page, find an offer to start a free plan for up to 5, and press the "Sign up now" button.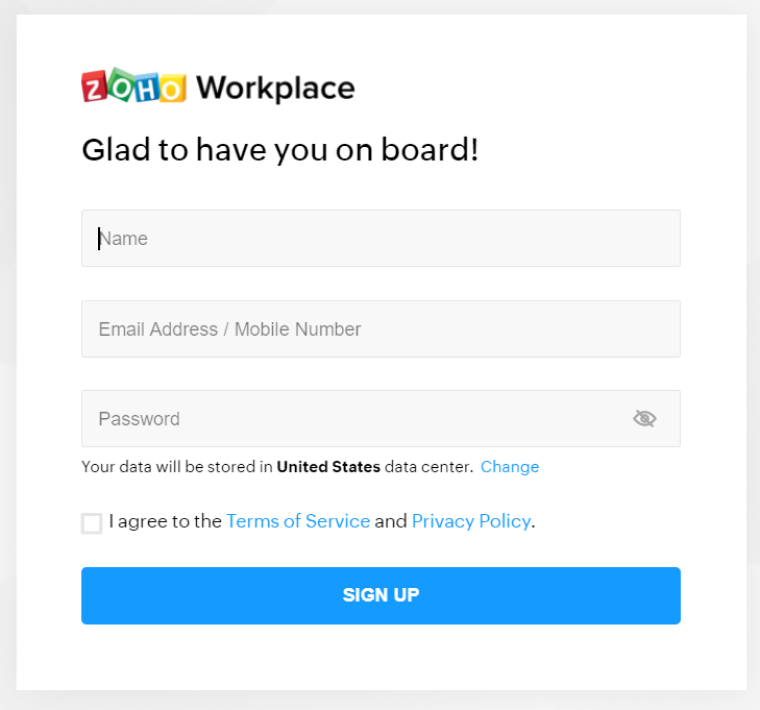 After registration, you will see two options on the next page: use the existing domain name or buy a new one.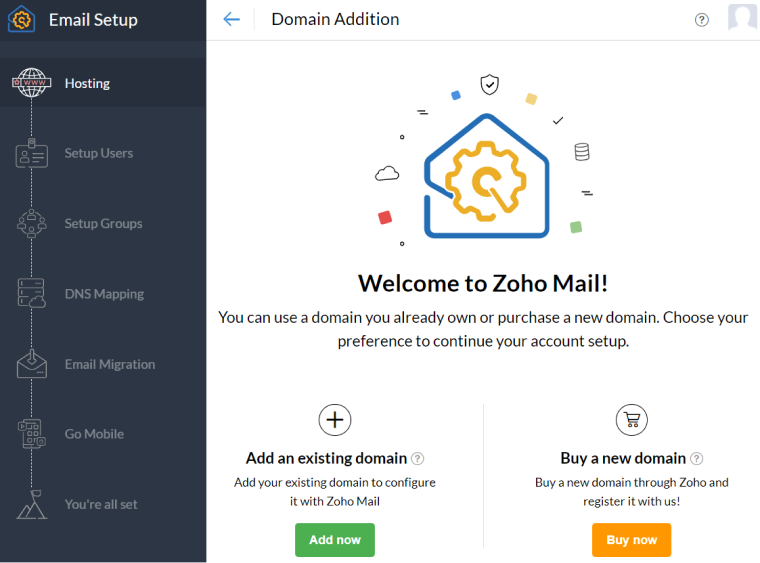 Choose the desired variant and follow the instructions. You'll need to confirm the ownership of a domain if you already have one. After that, you can enter the workplace and select the mail option to access your account.
Pros:
two-factor authentication for greater security;
multiple free options;
5 GB of disk space;
reasonable pricing.
Cons:
free trial for 15 days or free only for 5 co-workers;
for long-term use, you'll have to select a pricing plan.
WordPress Hosting Providers
Many WordPress hosters offer free mail services to their clients. If you have already created a site on some hosting, check whether this option is available for your pricing plan. If you are choosing a hosting provider at the moment, we recommend taking a look at these services:
A2 Hosting;
GoDaddy;
DigitalOcean;
SiteGround;
HostPapa;
NameCheap.
Some of these providers offer multiple free business addresses, which can be essential in choosing the service.
FAQ
How to get a business email address for free?
You can use a free trial option on popular mail services. Some offer a free business email address for one user; it's a convenient option for solo entrepreneurs and small companies. You can also get a free business address as a part of your hosting plan.
How can I set other reliable communication channels?
Email communication is not the only way to stay in touch with your customers. Make sure you provide other contact options on your site. For example, JetFormBuilder will help you create a functional contact form allowing visitors to reach out to you directly.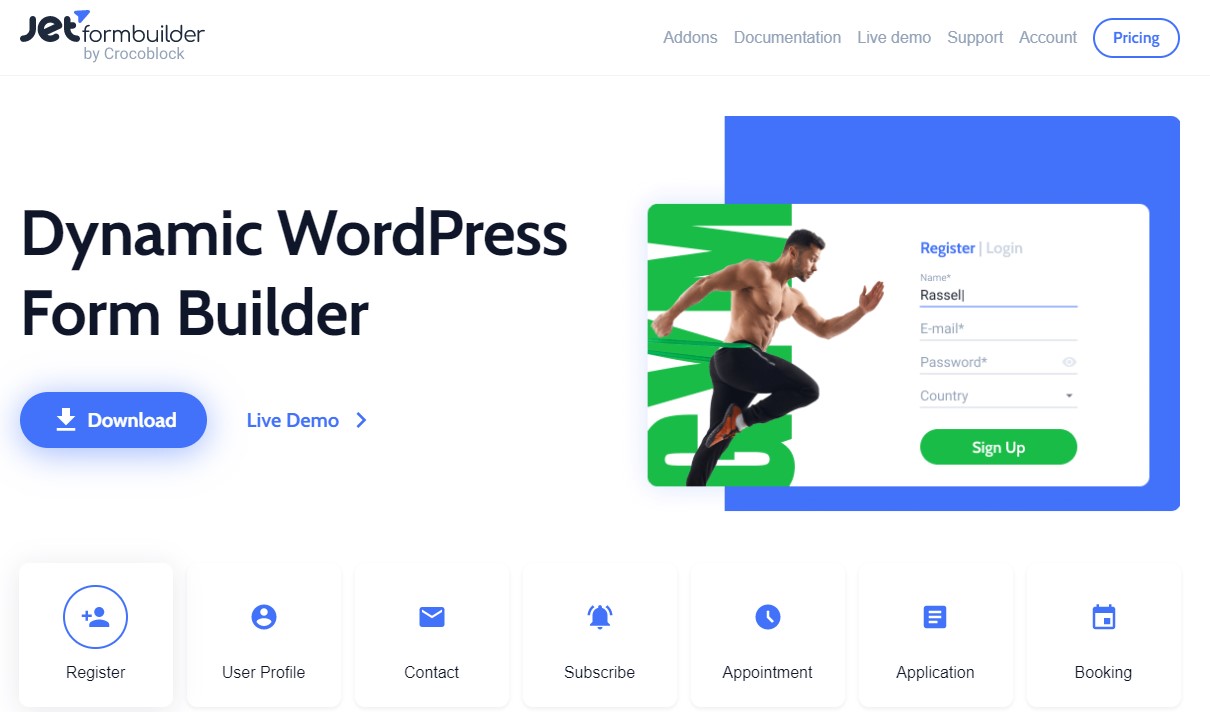 Sum Up
As you can see, there are plenty of opportunities to create a business address without paying. You can also consider services with low prices. A unique address for your company is worth paying. But if your budget is tight, use any free option described in this article.