It's time to make a great website, and if you need great free WordPress themes, look no further, you are in the right place. I've found and tested the best 10 themes to use with Elementor for your fantastic future website.
What Is "Elementor Themes"?
First of all, let's clarify: to call some themes "Elementor themes" is just a shortening of the technically correct phrase "WordPress themes optimized and fully compatible with Elementor builder." Well, most of the themes will work OK with it, but there can be minor or big issues with performance or conflicting code. It leads to glitching websites, a slowed-down editing interface, and other troubles. If you love working with Elementor, choose WordPress Elementor themes to avoid them.
Another perk of such compatibility is that themes often have pre-made page templates already built with this builder. All you need to do is simply edit them for your particular needs. Even if you create something from scratch, you can get great ideas from those templates about using and combining even most standard blocks in a very out-of-the-box way to deliver impressive layouts.
The Selection Criteria for Best Elementor Themes
There are millions of WordPress theme compilations over the Internet where no one can tell why exactly they are fantastic or suitable for you.
Themes are just starting toolkits for most of us, aren't they? Not likely that we will use them unchanged. So, the selection criteria like "perfect website for a flower shop" only because there are cute photos of flowers simply don't work. That's why I listed my criteria below.
Speed and optimization.
If it takes ages for your pages to load, a beautiful design or even discounts lose their glow in a wink. Visitors don't like such sites, and neither does Google. You might spend a fortune after trying to promote it and fix optimization problems.
Customizability and cool layouts.
This is thin ice: some themes aim to put everything into a customizer, every little detail. Which most often turns it into an elephant in the china store. After all, those who need very specific styles and actions or functions should consider learning the ropes or seeking professional help.
On the other hand, it's essential to have decent customizing options, such as choice of site width and layout, blog and archive design options, whether or not to show meta, etc. One more thing: if the theme doesn't have a header and footer builder, it's a bit sad.
Free means free.
Almost all the free themes are freemium, so you should buy a PRO version if you want more perks. Yet some of them are trying to sell even a basic functionality to the extent that the "free" version is not really functional. Down here, I have a list of really free themes.
Starter templates.
A theme demo or screenshots might look impressive, but as soon as you activate it on your website, it might lose all the charm. That's why it's so satisfying to have ready templates and demo content. With Elementor, it's extremely easy to edit and customize them for your specific needs.
Other criteria are simply must-haves in 2022: fully responsive design, compatibility with all well-coded plugins, including WooCommerce.
10 Great Free WordPress Themes for Elementor
Created for the love of Elementor and your bold ideas. And those who are not lazy at all.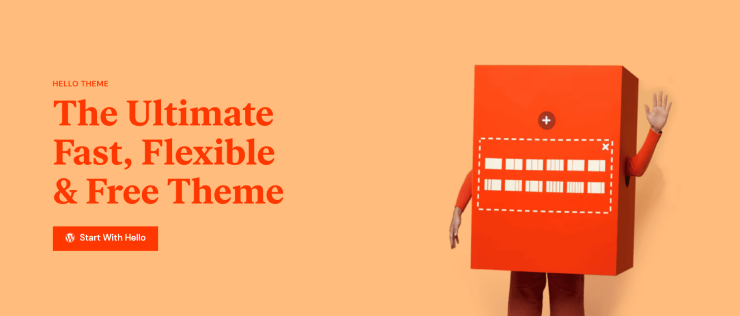 I guess Elementor creators decided to have a bit of rest after making their famous builder and released their theme to be a breath of fresh air. Because Hello theme is one of those few unique blank canvases that give you all the freedom to implement the boldest ideas regarding that design you were dreaming of.
For the most pleasing result, it's better to have Elementor PRO or JetPlugins subscription. Still, even on a completely free basis, there's a lot of space for a terrific design, functionality, and UX.
Key features: the fastest theme for Elementor, made by its creators. It has only minimal customizer settings and gives the most freedom to create everything, from head to toe, with Elementor only.
Pricing: free/from $49-$999 per year (no lifetime plan) to enjoy its features to the full extent with the Elementor Pro plugin.
Created for the love of beginners and all the lazy-busy of us.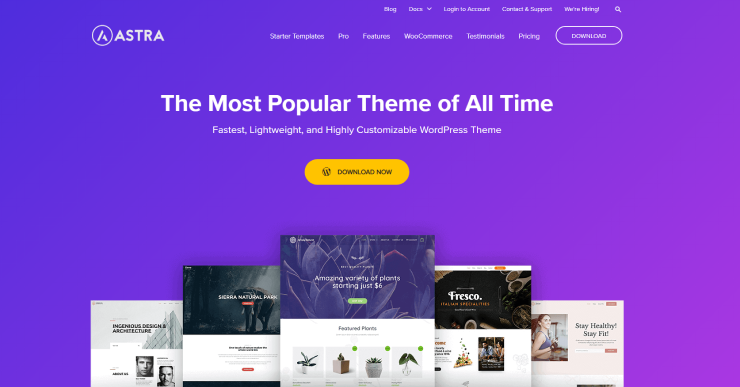 Astra became a living classic, and for a reason. Not to mention that it has more than one million installations, but also because it offers wonderful flexibility, speed, and compatibility with page builders, and Elementor is #1 among them.
It's ideal for those who don't want to strain and bother over creating their own very unique layout designs: Astra offers dozens of pre-made Elementor free templates. Let's confess, many of them duplicate each other, just having another color palette. But choosing a color palette can also be such a headache, right?
Key features: speed, compatibility, and a lot of customization options. Yet, not too many – which is also not so bad.
Pricing: free/$49-$249 lifetime.
Created for the love of sophisticated business owners.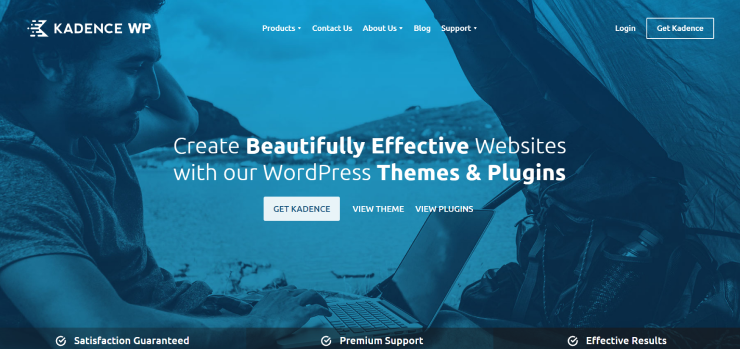 Kadence is quite comparable to everyone's good friend Astra by customizer settings and by the whole idea of the theme. Kadence, though, has more perks when it comes to design options and freedom, as well as a more visual representation of them in the customizer. The word is that it will soon push away the older competitor. Another good news, it has a starter template bundle with 11 free pre-made designs for Elementor.
Key features: Kadence has a lot of customization options, a header/footer builder, and free starter templates for Elementor with a possibility to change their color scheme before the installation. The other attractive option is that you can change the post feature image ratio straight from the customizer. It has a "landing page" custom post type, which means those posts can be collected in categories with separate layout design settings.
Pricing: free/premium bundles are $59-199 yearly or $649 lifetime.
Created for the love of SEO.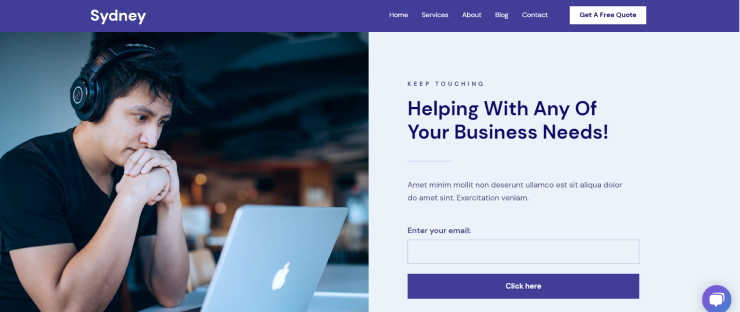 Sydney is a neatly-coded and lightweight theme with decent customization options and an accent on SEO goals, made using Vanilla JS instead of the jQuery library (which means the pages will render without waiting for third-party libraries to load first). It offers four free pre-made starter sites, three types of hero area styling, quite detailed color scheme options, and, what is just a nice detail, a control over default forms colors, shopping cart layouts, and sale badge designs.
Key features: Sydney is a lightweight and well-thought theme, great for eCommerce websites thanks to its advanced performance and any kind of business website. It seems like its developers found the right balance, creating a theme with not-too-many but perfectly enough options and features.
Pricing: free/$69 a year. No lifetime plan.
Created for the love of all kinds of businesses.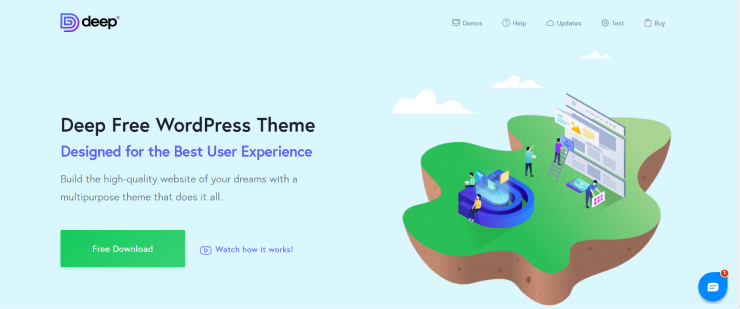 Deep is a free theme that offers a huge variety of customization options and works excellent with Elementor, providing 28 demo templates with awesome designs and powerful add-ons. It also suggests you download their free (with more perks in the pro version) powerful event calendar plugin with tens of different view layouts. Moreover, this free Elementor theme includes many widgets for the builder. Other pleasant features are header/footer builder and advanced mega menu add-on, so indispensable for shops.
We are talking here about free themes, but what this one offers in the pro version is truly impressive: 27 premium plugins and another 65 demo sites.
Key features: Deep has a lot of customization options, starter themes for Elementor, and custom widgets. Multipurpose, elegantly designed, well-thought-out, and lightweight.
Pricing: free/$59 lifetime.
Created for the love of web design.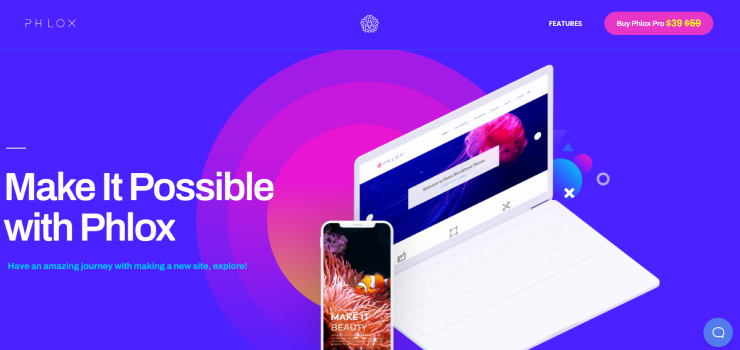 This youngster among Elementor themes is nothing less than a new rising star, offering not only great customization options but also dozens of free Elementor templates (pages and sections) for any kind of business and purpose. Moreover, it proposes you install the custom-made Depicter slider builder with plenty of settings, options, and templates (suitable not only for slideshows but for creating standout hero blocks). Another attractive option of this free Elementor theme is page-open animation, available straight from the customizer.
Key features: multifunctionality and beautiful starter templates make this theme an excellent solution for many purposes. The header and footer can be customized with Elementor.
Pricing: free/$39 lifetime.
Created for the love of WooCommerce.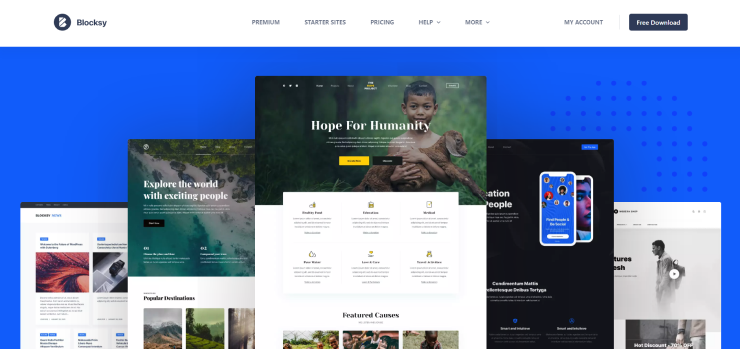 This fast and functional theme has seven pre-built starter sites for Elementor and many nice features in the customizer, including a header/footer builder. It's well-coded, fast, and multipurpose, suitable for beginners and professionals.
The pleasant thing about this theme is WooCommerce options, such as AJAX add to cart and advanced item and category layouts. The pro version offers much more customization opportunities and tweaks for eCommerce websites.
Key features: it is a fast and optimized multipurpose theme with an accent on WooCommerce and great customization options.
Pricing: free/$49-$99 per year or $199-$299 lifetime.
Created for the love of fancy builders and animations.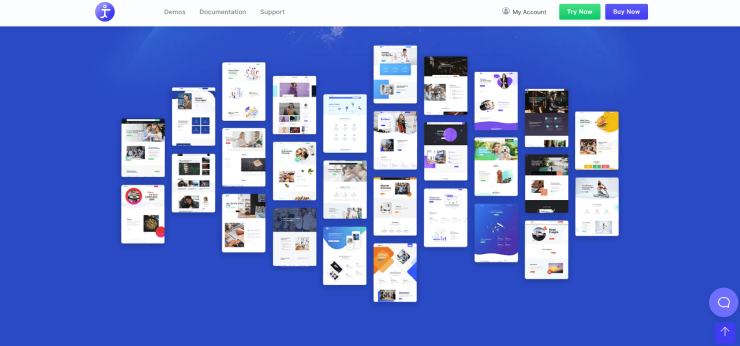 This theme is worth mentioning here, at least because its creators got inspired by some design software, so they have modified Elementor and the dashboard interface. That's why this theme can look very attractive to designers. And not only due to the sleek dashboard but thanks to a choice of 28 free demo templates and extra widgets for Elementor. There are also header/footer and blog builders available.
Key features: a friendly, sleek interface and a choice of page templates are the backbones of this theme.
Pricing: free/$29 lifetime.
Created for the love of geeks who don't like to code.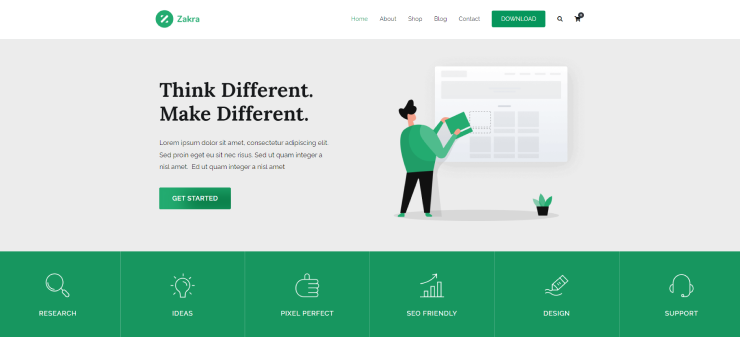 Along with impressive speed and performance, this theme offers a lot of flexibility. Detailed settings of the top bar, header and footer, sleek and thought-through customization options are a feast for the eyes. Twenty-four free demo themes for various purposes and a one-page option is also available.
Key features: it is a multipurpose, functional, and fast theme with two dozens of free niche pre-made demo websites, a great basis for future customization.
Pricing: free/$69-$299 yearly or $199-$699 lifetime.
Created for the love of advanced developers and demanding bloggers' needs.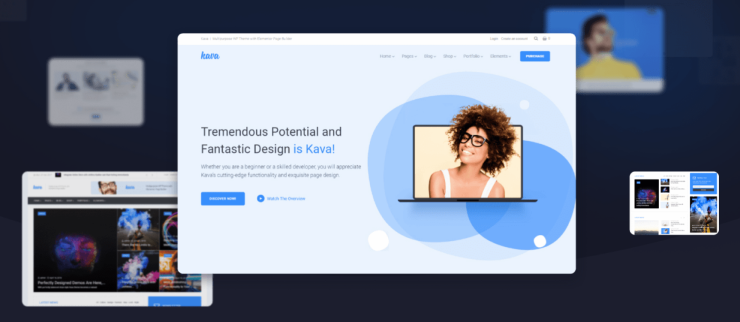 Kava is a blazingly fast and neatly-coded theme, Elementor and WooCommerce optimized, great for blogging. But the unique thing is that it's made for perfect compatibility with the JetPlugins set and Crocoblock widgets – one of the most impressive bundles on the market, able to turn your website into a true powerhouse with thousands of options and custom settings for a fantastic price.
As a rule, when describing WordPress themes, the biggest emphasis is on how beginner-friendly they are. Well, that's great, but WordPress has been a powerful CMS for many years so far, capable of implementing complex projects and solving complicated tasks. So, advanced users and developers also should have themes and toolsets crafted with their needs in mind.
Key features: it's clean and modern, comes with 50+ free blog layouts (by combining five page layouts + ten styles of your choice) and has 100+ hooks for developers, which they can easily modify.
Pricing: free/for premium templates, 20 plugins, and 150 Elementor widgets, you need a Crocoblock membership.
FAQ
What is Elementor?
Elementor is a drag-and-drop visual page builder for WordPress. User-friendly design and plenty of widgets, options and add-ons made it the most popular visual builder. It gives an opportunity and freedom to design web pages using container blocks and widgets. Each of them has a diverse range of settings. Elementor allows building responsive websites with ease. Also, it has a template library with full pages or individual pre-made sections. There are free and pro versions of this builder.
What is the Elementor theme?
It is a WordPress theme, perfectly compatible with Elementor page builder, often proposing pre-made templates made with Elementor. 
Does Elementor work with any theme? 
In theory, yes, but some themes are not compatible enough with it, which leads to minor or even major performance issues, slow editing interface, and conflicts between JS libraries (which negatively impact the front end). 
What is a premium (pro) theme?
It is a theme that has full functionality and more options than its free version. Some themes can have a premium plan only. The fact that the theme is premium doesn't always mean that it will have considerably greater functionality than other free themes. Each of them needs examination and testing. 
What is 1-click demo content?
It is a whole website, a page, or a section that can be deployed on the website with just one click. All the styles, pictures, fonts, and settings will be imported, too. This content is fully editable afterward. 
Conclusion
More and more WordPress themes are made with Elementor in mind, and there's a good reason for it. We all cherish freedom, right? And so this page builder gives it to us, making it easy to customize every little detail without coding. It also has an entire community of companies and individual developers who create excellent add-ons and plugins which dramatically expand its functions. Many of them are free, and you can build amazing websites with the help of some creativity and experience.
There are plenty of free Elementor themes and templates, which also offer great possibilities. And it is nothing but inspiring. As they say, all we have to do is just do it: the sky is the limit. 😊