It all started as a cue…

…transforming into a light conversation…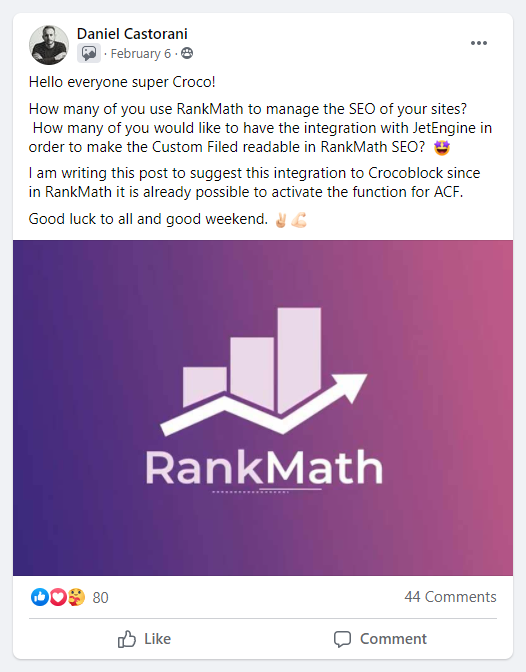 …which eventually provoked a strong appeal.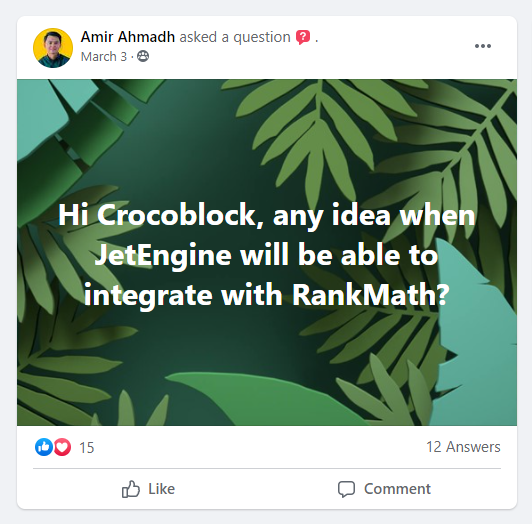 Truth be told, the SEO plugins initiative has been kept in the pipeline for way too long. You asked for it, so there you have it – JetEngine and Rank Math are now fellow plugins. ??
What does it mean to you?
First things first, Rank Math's SEO plugin will be able to read the data storing in JetEngine meta fields, which is exactly what's been missing. Next, it will help you fix all the SEO-related problems that you've struggled with before. Last but not least, you'll get the chance to make the content added through JetEngine functionalities visible to search engines.
What about the details?
We added the following:
SEO module. Go to JetEngine Dashboard and you'll spot a dedicated SEO tab, which stores all the CPTs and JetEngine mate fields that can be – and will be – read by the Rank Math plugin.

Manual selection of the meta fields. You are at liberty to decide which custom fields should be SEO checked.

Supported field types. So far, there are 4 to choose from: Text, Textarea, Repeater, and WYSIWYG.

Error detection capacity. You can jump from Basic SEO to Additional tabs and top it off with Title and Content Readability. The errors are painted red; the green checkmarks mean you did a great job!
As always, if you need more information, you'll find it here.
How do you like this update, guys?
Let us know in the comments down below. ?