You have only 10 seconds to impress the website visitor and be remembered. So how do you use this time?
It's no secret that users love speed. Does the website take a long time to load? Next. Dull, uninteresting, not what you were looking for? Next. The battle for attention costs you energy, money, and reputation, especially if you are doing something creative.
Designers, stylists, and photographers need a resource to share their experiences and show their best work. And plugins can help with this task: to create memorable galleries.
Which to choose? This article will compare two powerful plugins for creating memorable galleries in WordPress. So read and apply.
Table of Contents
What to Look For When Choosing a Plugin?
WordPress has built-in features for creating galleries. Unfortunately, they are minimal, so plugins come to the rescue.
In general, plugins for creating galleries are similar. But to choose the right one, answer these questions:
Do you need a simple display of images or the ability to customize the gallery?
How does the gallery created with the selected plugin adapt to different devices?
What design capabilities do you need?
How convenient is the selected plugin to use?
How much does the plugin you choose cost?
The answers to these questions will help you choose the plugin that will simplify the work and help you achieve the perfect result. Now let's compare the capabilities of the JetGridBuilder and Essential Grid plugins.
JetGridBuilder Overview
JetGridBuilder is a free plugin developed by the Crocoblock team. It helps to create a grid with images for any purpose. All JetPlugins help to create a dynamic website, and JetGridBuilder allows creating a gallery the way you imagined it. Just place images with a drag and drop and change their location and size.
JetGridBuilder helps to create:
a portfolio gallery;
a blogging website;
a product gallery;
the event/ticket booking website;
video playlists and galleries, etc.
Here are some basic features to help create a perfect gallery:
define the number of columns for the grid;
resize each card;
move a card along the grid;
set the gap between cards;
align posts to the top automatically;
use a customizable Loading Spinner.
It is also compatible with most plugins that users actively use on WordPress sites. Among them:
WooCommerce;
ACF;
PODS;
Meta Box;
WPML Multilingual plugin;
Yoast SEO plugin;
Rank Math SEO plugin.
When using JetGridBuilder, the website will work quickly and display correctly.
Essential Grid Overview
The ThemePunch OHG team developed one of the most popular plugins for grid creation—the Essential Grid. It allows you to create an attractive gallery on the website in a few clicks. You can also create:
a portfolio gallery;
a blogging website;
a product gallery;
the event/ticket booking website;
video playlists and galleries, etc.
The plugin has the following functions:
define the number of columns for the grid;
set the gap between cards;
pre-made layouts;
advanced options for creating a card style.
Essential Grid and JetGridBuilder Comparison
Both the Essential Grid and JetGridBuilder plugins allow the creation of various types of galleries with pictures of the products or works and videos. Also, plugins can help to create an Elementor post grid. And they seem to be the same. But this is a delusion.
Types of layouts
The layout you choose to apply is the main thing that affects the look and feel of the website and its usability. Both plugins offer a wide range of designs. Here is a comparison of what you can do with JetGridBuilder and Essential Grid.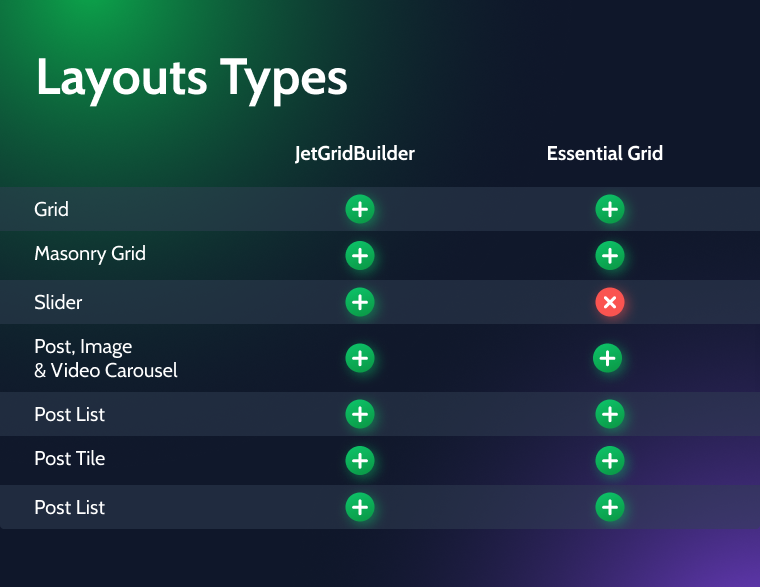 So, as you can see, the capabilities of JetGridBuilder are somewhat broader. It allows you to create a slider. You can put pictures, videos, text in the slider, and users will be able to see all the details.
Also, JetGridBuilder can be teamed up with other JetPlugins to create Listing Injection and Map Listing. With their help, you can highlight and conveniently place the most important details or content.
But Essential Grid gives you the ability to create a Custom Grid. So if you know how to code or have an exact idea of ​​what the content grid should look like, you can make something unique.
Custom Grid functionality
You can find the most significant differences between the two plugins if you study their functionality. Just look: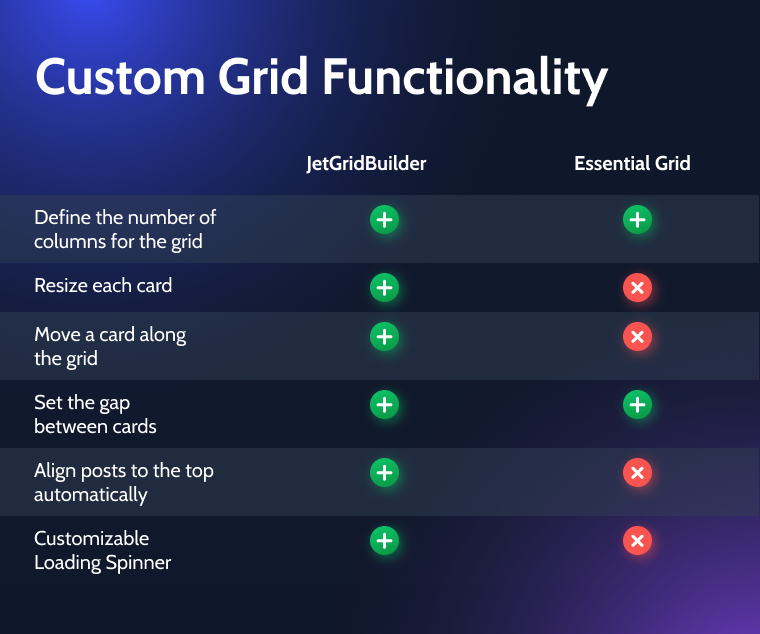 The JetGridBuilder plugin allows to customize the display of content according to the requirements—change the size and location. Moreover, you can make waiting less tedious for users if you customize the loading spinner.
To quickly create a page with content, JetGridBuilder and Essential Grid have pre-made layouts.
Content sources
Galleries of publications, taxonomies of users, and products—all of this can be done with JetGridBuilder and Essential Grid plugins with a simple drag and drop.
But you can create a gallery of wishlists and favorite publications only with JetGridBuilder. Therefore, if user content is essential, pay attention to the possibility of creating a gallery with the Data Stores. You can build one with the JetEngine plugin.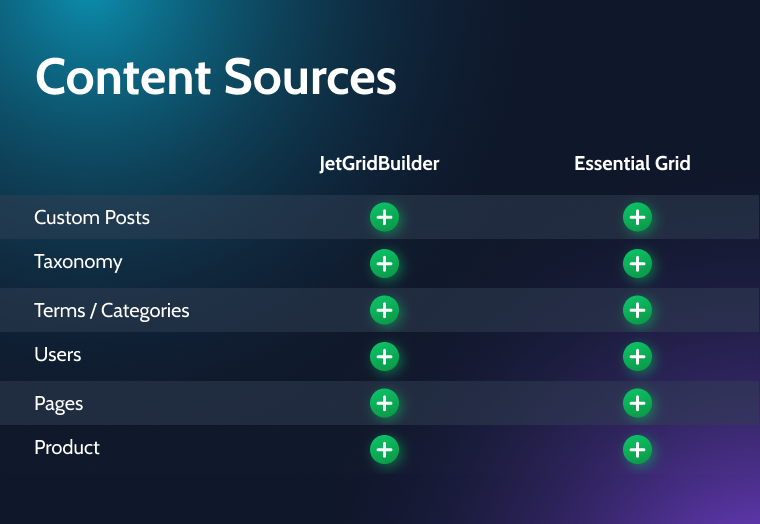 Compatibility
The compatibility of the selected gallery grid plugin with those already on the website is critical. Because if it is not compatible, the site or essential functions may stop working or be displayed incorrectly.
We have collected some of the most popular plugins and tested their compatibility.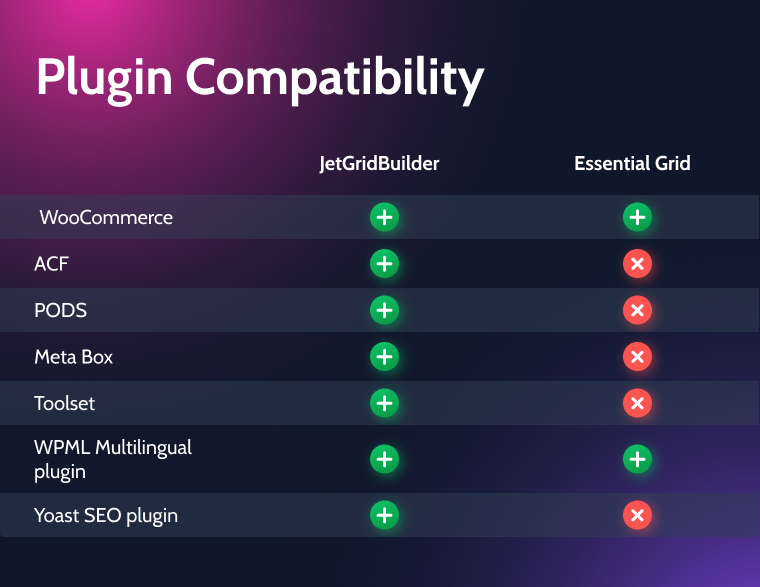 As you can see, Essential Grid is not compatible with some necessary plugins. As a result, it reduces the ability to create a website's functions.
Price
Another critical parameter that you should pay attention to when choosing plugins is the price. You can download JetGridBuilder for free. And this is an excellent opportunity to create the gallery you imagined at no extra cost.
But if you want to expand the plugin's capabilities and create a dynamic website, try combining it with JetEngine or other JetPlugins. For example, the JetEngine plugin costs only $43/year for a single site or $88/year for an infinite number of websites.
The Essential Grid plugin does not have a free version. Instead, it costs $34/year for one site, $89/year for three websites, or $149/year for five websites.
The functionality in all packages remains the same.
FAQ
How to create a gallery on a WordPress website?
You can use WordPress gallery plugins or HTML and CSS for this. Also, you can use the basic functionality of WordPress.
Is it possible to create a gallery on a website without third-party plugins?
Yes, WordPress has built-in functionality. But it is constrained. You need to install a plugin or understand programming to create beautiful, functional, responsive grids.
What is a WordPress gallery plugin?
It is a plugin that helps to create a gallery with pictures, videos, posts, customer cards, etc. The types of galleries you can create depend on the plugin you will use.
JetGridBuilder vs. Essential Grid: Which Should You Choose?
So I compared two popular plugins, JetGridBuilder and Essential Grid. They have similar capabilities, but still, have a lot of different things. As you have seen, the JetGridBuilder plugin gives you more options to create a gallery just as you imagined. It is also compatible with most popular WordPress plugins, so using it will not affect the site. And the best thing is that it is free.
The Essential Grid plugin has fewer features but is still popular. In addition, it is easy to use by simply dragging and dropping the required elements. Which WordPress gallery plugin will you choose?