There are a lot of good website hostings, but SiteGround has been one of the leaders for a long time, especially when it comes to managed hosting for WordPress. This company originated in Bulgaria and now has data centers not only all over Europe but in North America, Asia, and Australia. It's been founded in 2004 and now hosts over 2,800,000 domains.
It has a 4.6 rating on TrustPilot and 4.1 on G2.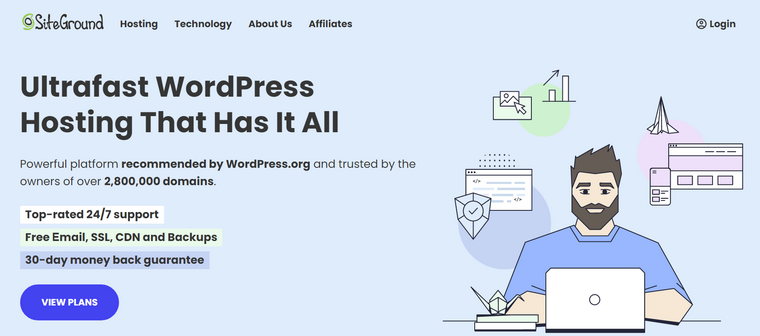 Pricing
SiteGround pricing plans are not very cheap unless there's a promo, so with a discount, the cheapest plan starts from $2.99 if paid yearly. Also, you can get a more affordable offer as a Crocoblock client. However, if you pay monthly, the price will start at $19.00, excluding VAT. Have a look at the shared hosting pricing plans as of the beginning of 2023: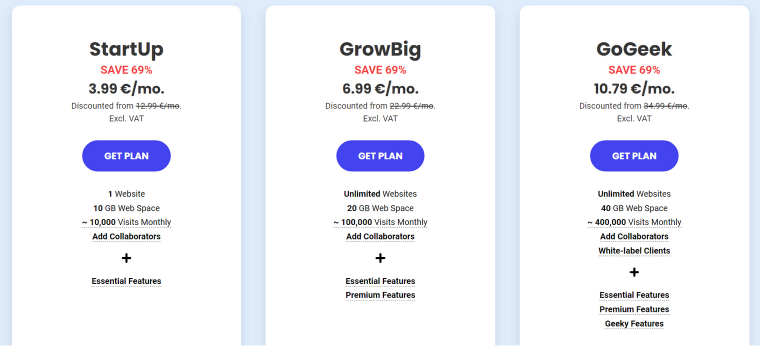 It's worth mentioning that WordPress managed hosting doesn't come with another, more expensive plan; it's included everywhere.
Technology
Let's have a look at what SiteGround offers and which technologies they use.
Google Cloud
First and foremost, they use Google Cloud, one of the fastest and most reliable providers that nearly guarantee smooth work and no server failures due to its cloud architecture. Moreover, Google has one of the fastest networks, so the speed is one of the biggest advantages this hosting can offer.
Fast PHP
Starting from the GrowBig pricing plan, a special PHP custom implementation is available, which makes the website work 30% faster, processes a bigger number of queries in a shorter time, and uses less memory. Also, you can choose different PHP setups for different domains and subdomains.
Optimized MySQL setup
The company claims that due to their optimized MySQL setup, even heavy queries can be processed much faster, sot the number of slow queries has dropped 10-20 times.
And overall, they moved from cPanel to their custom one to have more freedom to improve and come up with more useful tools.
Dynamic and Object Caching (Memcached)
Proper caching is essential for a website to work fast. And some cache types can be set up only from the hosting if the provider has those tools available. The great thing is that Memcached is available even on the Starter plan, and their custom SuperCacher technology can be used starting from the GrowBig plan.
With the proper setup, those tools can make your website up to five times faster. The great thing is that you can exclude specific post types and URLs from caching, which is very important because, in some cases, caching can cause errors on the front end. Also, you can purge the cache either automatically or manually.
Security
Along with speed, SiteGround pays a lot of attention to security. The company claims to consistently update its WAF rules to patch the security holes even before the official plugin or WordPress developers do it.
Spam and bots are other extremely annoying problems for many websites. SiteGround uses AI anti-bot to protect servers from such botnets.
Backups are geographically distributed, which lowers the risk of data loss.
SiteGround and WordPress
There is a list of tools for WordPress users, such as:
one-click WordPress (or WordPress + WooCommerce) installation;
some plugins can be preinstalled and configured right from the hosting dashboard;
there's an Autoupdate tool, and the advantage of it is that you can set up after what time you want plugins and WordPress to be updated, and some versions can even be skipped;
the SiteGround Optimizer plugin allows you to have control over all the caching tools and helps to keep all the settings optimized for WordPress;
SiteGround Security plugin to protect the website from common attacks and strengthen login security;
WordPress and E-mail Migrate tools make the process of migrating the website and emails quicker and easier;
automatic daily and on-demand backups stored for about a month.
So, this hosting has quite many tools for WordPress users. Also, there's a beginner-friendly control panel which is important for those who don't want to have a hard time with more complicated cPanel or similar software. Combined with the one-click plugin installations, it can be handy.
I personally don't fully understand the advantage of preinstalled plugins because it doesn't take much time to do it manually from the plugin directory instead of the hosting panel. But a one-click WordPress installation can definitely save some time.
Special in-house built tools:
CDN;
geographically distributed backups;
security plugin;
centralized DNS;
monthly performance and security reports ;
dedicated support is available 24/7 in English, Spanish, Italian, and German.
Service
Pros:
it's fast because it uses Google Cloud;
the uptime is at the level of 99.99%;
the caching tool is good and efficient;
collaborators can be added without sharing your login and password to the hosting account;
the firewall is honed to protect WordPress websites, keeping track of all CMS-related vulnerabilities and patching against exploits;
has the Protected URLs feature that can be set up directly from the hosting panel;
their tech support gets a lot of good reviews for their willingness to help and fast responses;
the control panel is beginner friendly.
Cons:
their discounts work only for new customers and for the first year, and after that, you have to continue with the full price, which starts at $12.99 per month if paid annually and a whopping $19.99 if paid monthly;
they have quite a limited SSD space for such prices.
SiteGround FAQ
What is the strong point of SiteGround hosting?
SiteGround's undoubted strength is speed.
What makes SiteGround fast?
The fact that they use Google Cloud, their special PHP setup, and caching.
Is SiteGround cheap?
It's quite affordable.
Is SiteGround optimized for WordPress sites?
Yes, it's optimized for WordPress.
To Wrap It Up
SiteGround hosting used to get many complaints about high prices and not-so-great service a few years ago. But they achieved a client satisfaction rate of over 96% for five years in a row. So, it seems that they decided to come up with solutions that will change the situation, and during the last couple of years, they moved to Google Cloud. They brought to the table more advanced setups for better website performance and more affordable prices.