Static and dynamic are two broad categories that divide website functionality and design. Static websites are coded using HTML for most parts, a primary website programming language. Static WordPress websites are fixed in terms of content, meaning the content is not subject to change.
In contrast, a dynamic WordPress website is more interactive to the user and displays various content. These websites use more than just one programming language and database, however. Understanding the difference between static and dynamic websites can give better insights into the latest website trends, hybrid websites, and personalized web applications.
What is a Static WordPress Website?
A static website's key features include a fixed number of pages and an unaltered and straightforward layout. Web designers code static websites using HTML for their structure and integrate minimal design elements using the CSS programming language.
Once you build a static website, the content remains the same throughout. Regardless of what visitors do on the website, the content does not change in response to their activity. However, that is not to say that you cannot make changes to a static website.
Static websites work best for people who want to create a website with minimum pages. If you make specific changes, you have to independently access the website's source code and manually make additions to it. For many website managers, this process is timely and undesirable.
Even though you can change color and font and add images and video content, the page layout always remains the same. This stagnant design is the essence of a static website. A WordPress static website's easy setup and user experience make it a good choice for consumers.
Pros and cons
You can use several open-source static website generators to get your website up and running quickly. Another benefit of using static websites is advanced security. Static websites are not vulnerable to some of the threats that dynamic websites can have. Static websites can also provide better performance and speed.
If your website has unchanging content, a user will likely not return to your website. Readers will find your website monotonous and boring. Moreover, it also rids you from the opportunity of ranking your website on search engines.
You need a steady stream of keyword-optimized, valuable, and relevant content to rank higher. To build a reputable website for search engine bots, you will need a dynamic website. A static website is not a user platform for your audience that offers them more opportunities and benefits.
It is instead similar to a digital business card for your product or service. A dynamic website is a better option if you want to build a robust online web presence.
What is a Dynamic WordPress Website?
A dynamic website is not only a visitor's digital information guide but a highly functional platform with multiple features and advantages. Numerous variables can show how you want to display content on a dynamic website. You can personalize content for each set of users.
For instance, a dynamic website can look different for visitors that open it from another country. It can change depending on the country you access it from and according to the various time zones, browsers, and devices. Dynamic websites can also be responsive, which means they can adjust according to the device you use to open them.
The content you see on dynamic websites usually goes into a database and is generated using a content management system. This allows web creators to generate real-time pages that are highly responsive.
Pros and cons
Many companies prefer dynamic websites since they can hold more content and better draw viewers' interest. They are also optimal in helping you gain authority on search engines. Dynamic websites also allow you to use cookies and small text files to collect essential data from users visiting these websites.
Cookies allow dynamic websites to keep track of website visitors' activities. This track record of user engagement allows using these metrics to make changes to their website for maximum engagement. Dynamic websites also provide users with a more modern, sleek, and sophisticated experience.
Their mobile responsiveness allows you to leverage most of the target audience who browse their mobile devices. It also allows you to easily make changes to the content and design of the website. Overall, a dynamic website has more advantages than a static one, but since it requires more expertise, you will need to pay more.
Static vs. Dynamic Website: What's in Common?
Both static and dynamic websites are a way to display your product or service information on a digital platform. Both websites also use base programming languages such as HTML and CSS. Similarly, static and dynamic web pages also allow you to integrate web pages into your website.
Main Differences
The most evident difference between static and dynamic websites is that static websites have stagnant content that does not change with different variables. The flexibility and versatility of dynamic websites allow you to personalize the user experience according to demographic, geography, language, cultures, time zones, devices, and more.
Unlike a static website that remains the same throughout all pages, a dynamic website will change content according to different user activities. Moreover, a static website sees fewer downloads, and you can create it primarily by using HTML code with CSS programming language to give it color and design.
On the other hand, a dynamic website will require advanced source code or plugins since it displays more functionality. Along with HTML and CSS, the code of a dynamic website will also integrate other programming languages such as python.
Another difference between a dynamic and static website is that you can pull content for a static website directly from the server. You must pass content across different application logic layers to remove it from it. Alternatively, a dynamic website is administered and stored in databases and content management systems.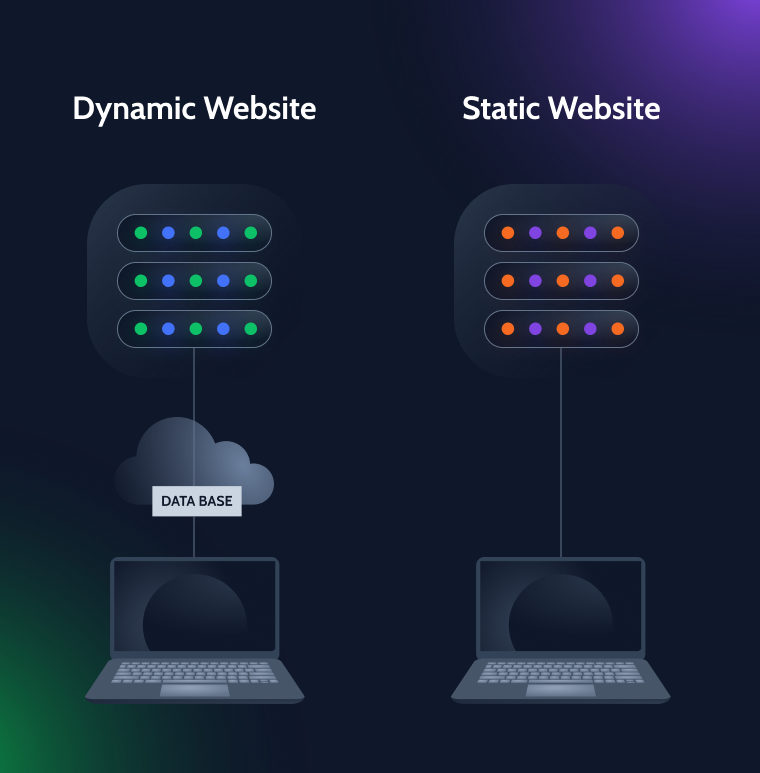 How to Get Started
So, do you want to create a dynamic website using JetEngine by Crocoblock? This highly customizable tool enables you to easily integrate a highly interactive and dynamic architecture into your website. This tool is instrumental whether you want to create a website for your eCommerce store or increase your web traffic through search engines.
Watch this video for a guided tutorial on how to use JetEngine to create a dynamic website.
FAQ
Why should you choose a dynamic website? 
A dynamic website is more than just a digital information address. Having basic pages on the internet that do not offer a lot of functionality can put you at a disadvantage. Upgrading to a dynamic website can help you generate leads online and experience the benefits of your online audience. 
What is a WordPress plugin for a dynamic website? 
Plugins are ready-made files that can provide a dynamic website with various features. It can also be pivotal in making your website more functional.
Conclusion
When comparing static vs. dynamic websites, creating a dynamic website instead of a static one will give you an edge in your industry. Getting your content and data displayed dynamically on your website is easy using powerful interfaces and tools.