With over 1 billion million active websites and counting, the world has come a long way since the first website went live in 1991, and so has the website-building process. Initially, building and managing a website required the ability to write code, basically HTML, at the time.
Hence, it was an elite task reserved for the initiated. But the introduction of content management systems has proven to be a game-changer, liberalizing the process for everyday people to build websites. In this article, I'd define website CMS, list some popular examples and discuss how you can build a website using a CMS.
Table of Contents
Definition of Website CMS
A website CMS, a content management system in full, is software that allows users with little to no knowledge of coding easy administration a website. This administration usually includes creating, modifying, and managing digital content for a website. These systems allow web administrators to create web pages and edit and store multimedia content. They can also modify a website's appearance and manage its functionality.
The CMS you use to build a website can determine the general appearance and functionality of the website. To give users broad options, most website CMS allows the addition of third-party extensions and plugins.
Popular Examples of CMS
While there are many content management systems you can use to build your website, the following are the most famous examples I'd suggest you choose from:
WordPress
🏆 Best of the best. Can sound biased 😅, but here you can read 25 reasons why use WordPress.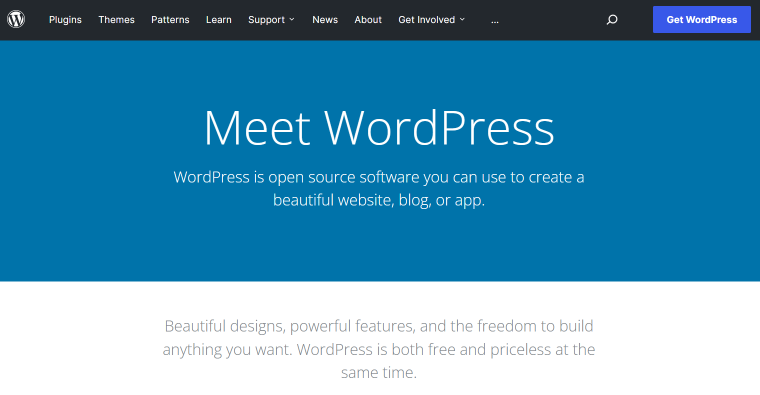 WordPress is the leading content management system worldwide as it powers over 65% of websites on the internet. It is quite popular because you can use it to build all types of websites, including eCommerce, portfolios, online courses, blogs, etc.
I must note the distinction between wordpress.org and wordpress.com. While both platforms originate from the same company, the .org platform is more flexible than its .com counterpart. Called the self-hosted WordPress, wordpress.org is the choice for website developers with the technical prowess to write and edit code. On the other hand, the .com version is a commercial offering that appeals to everyday people without programming skills.
Key features:
SEO & marketing;
encryption and Security;
analytics;
social media integration;
help & support.
WordPress.com pricing:
Free plan.
Personal plan: $48 per year.
Premium plan: $96 per year.
Business plan: $300 per year.
eCommerce plan: $540 per year.
Pros:
Free of charge;
total website control;
a vast collection of extensions, add-ons, and plugins;
easy customization;
easy integration with third-party tools.
Cons:
No support;
No in-built drag-and-drop website builder.
Wix
🏆 Best for small businesses, creatives, and beginners.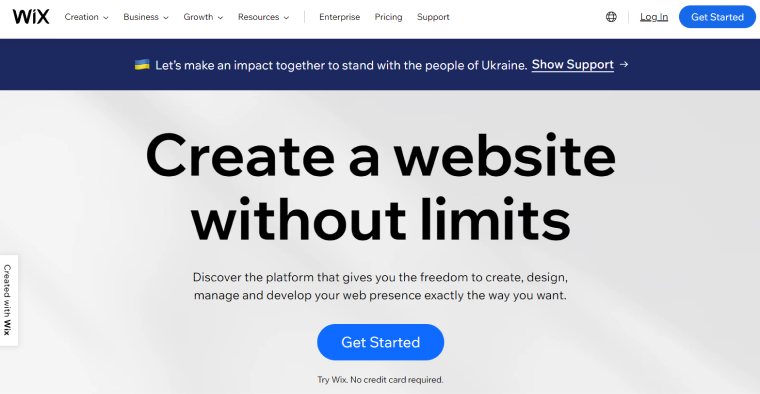 Wix is a website builder that also offers web hosting and design services. A user-friendly platform, this website builder offers drag-and-drop web-building tools and over 500 pre-designed templates that allow you to build your website without needing specialized knowledge or hiring a web developer. 
Key features:
extensive app market;
free domain names for the first year;
social media integration;
SEO;
security;
marketing.
Website plans:
Connect Domain: $4.50 per month.
Combo: $8.50.
Unlimited: $12.50.
VIP: $24.50.
Business and eCommerce plans:
Business Basic: $17 per month.
Business Unlimited: $25 per month.
Business VIP: $35 per month.
Pros:
drag and drop tools;
eCommerce tools;
extensive app store;
flexibility.
Cons:
Extra fees may apply for third-party apps.
You can't switch templates after going live.
Can get overwhelmed with features.
Squarespace
🏆 Best for photographers and artists.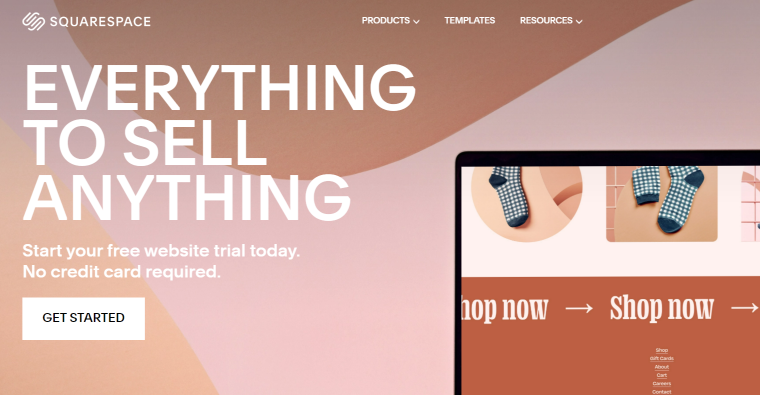 Squarespace is a website builder that allows creatives of all skill levels to create websites for showcasing their work. With its latest version, 7.1, making changes in design on your websites has never been easier.
Key features:
SEO;
email marketing;
extensions for extra features;
free domain for the first subscription year;
free SSL;
backups & restores.
Squarespace pricing:
Personal: $16 per month.
Business: $23 per month.
Basic Commerce: $27 per month.
Advanced Commerce: $49 per month.
Pros:
amazing templates;
great marketing features;
excellent help and support.
Cons:
Limited customizability.
Editing may be manual.
GoDaddy
🏆 Best for small businesses.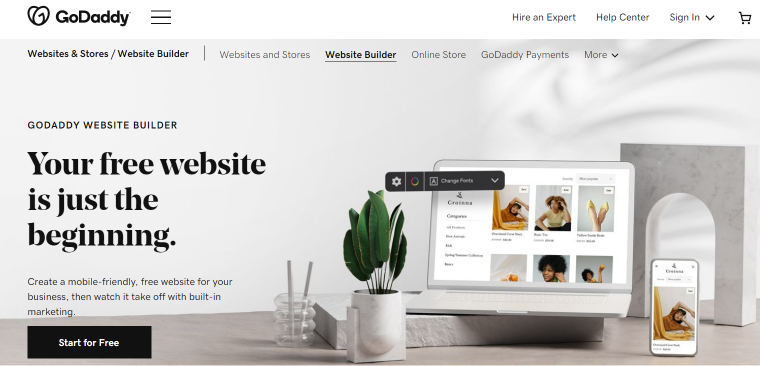 Key features:
quick and easy setup;
robust marketing; 
social media integration;
analytics;
includes SSL security;
backups & restores.
GoDaddy pricing:
Basic: $9.99 per month.
Standard: $10.49 per month.
Premium: $14.99 per month.
ECommerce: $16.99 per month.
Pros:
fast website builder;
ability to switch templates at any time;
easy to use;
cheap paid plans.
Cons:
Little creative freedom.
Restrictive block elements.
Low visual appeal.
Shopify
🏆 Best for large businesses.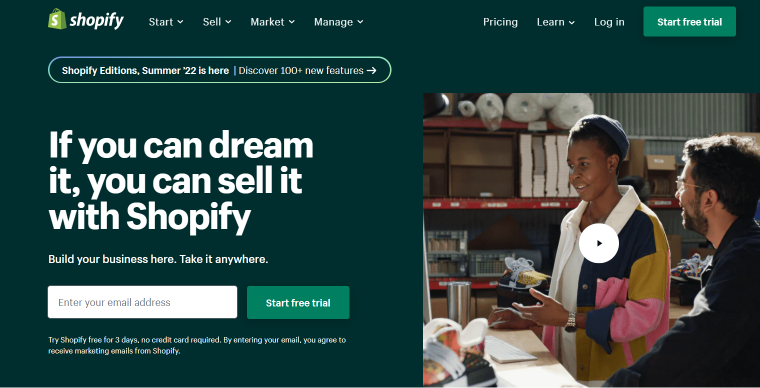 Shopify is a dedicated website-building platform allowing people to build online stores. In addition, it offers various sales and marketing tools that help businesses optimize and manage their sales processes.
Key features:
sales tools;
SEO and marketing tools;
analytics;
email marketing;
multilingual options.
Shopify pricing:
Basic: $24/month or $252/year.
Shopify: $69/month or $744/year.
Advanced: $299/month or $3192/year.
Pros:
can manage larger stores;
multi-platform selling;
stand-out design functionality and flexibility;
extensive app and extensions library;
over 100 payment options;
round-the-clock customer support.
Cons:
Steep learning curve.
Few built-in features.
Exorbitant transaction fees.
Expensive.
What Is the Best CMS for a Website?
Given the sheer number of CMS available, you may be wondering which one can best serve your needs. Frankly, no one CMS is perfect for all uses, and it would not be quite right if I selected one as the best. But as you have seen in the previous section, each CMS has specific strengths, making it more fitting than others for certain uses.
I'd also like to point out that WordPress is the most popular among users for reasons that may give you an idea of what to look out for when choosing a CMS. First, it has proven to be the most user-friendly, and its flexibility allows it to be used for many websites.
How to Build a Website With a CMS in Four Easy Steps
Building a website with a CMS is technically simpler than many people think. While there may be a few differing details, the process generally involves four basic steps.
The first step is to buy a domain name and web hosting. A domain name is the address of your website. This address is unique to your website, and users can access the website by typing that address into a web browser on their devices.
The next step is to install the content management system you've chosen on your web server. Again, some web hosting service providers can help you do this.
After the installation is the configuration: this is where you tweak the settings to decide how your website looks and works.
The final step is to fill the website with the content of your choice and share it with the world.
Frequently Asked Questions
What does CMS mean?
CMS stands for Content Management System. It helps users build websites for business and personal use.
What does a CMS actually do?
A CMS helps you create, manage, and present your content in a way that is pleasing to your audience. 
What is an example of CMS?
There are many examples of CMS. Some of them are WordPress, Squarespace, Wix, and GoDaddy.
Why is CMS important?
Content Management Systems are essential in several significant ways. First, they make website creation possible without writing unending lines of code. They also make the process of creating and managing content easy and efficient.
Conclusion
Content management systems are quick and easy ways to build websites. There are many examples of CMS, each with its pros and cons. To choose one that works for you, consider the type of website you want to use and the budget you have available.