Want to create your website but don't know where to start?
Creating a website is not like launching a rocket into space, but it can be genuinely disarming initially. What is a domain name? How will people find you? What do you need to do?
In this article, you will find answers to all these burning questions. So start exploring. 🍿
Do You Need a Domain Name?
Nowadays, almost every organization, company, or shop has its site. People look for all the information about you on the Internet. Entrepreneurs, different specialists, and companies create thousands of websites every minute.
Is there something that helps find them on the Internet? Yes, it is a domain name.
Your domain is your site's "house." A domain name is what people type when they want to visit some Internet resource and how they can find you, e.g., Crocoblock.com or YouTube.com.
Domain's Anatomy
Before creating a domain, let's figure out what the name of your future site comprises. It includes two parts — a second-level domain and a top-level domain.
SLD is the name of your site. It's an original combination of letters and numbers which your resource will be associated with. For example, Crocoblock. Later you will understand how to choose a strong SLD.
TLD is also an essential part of a domain name. As usual, it is standard. You have definitely seen it many times: .com, .uk, .gov, .media, .me, .pharm, etc.
Each country has its own recognizable TLD. For example, .cz is the country code for the Chech Republic, and .nl is for the Netherlands.
Simple Way to Choose the Best Name
Choosing a domain name is a spellbinding task. It should be easy, memorable, and as short as possible. Then, of course, you can select some strange set of letters and symbols. But don't be surprised if no one visits your website.
Easy and original
Do you have a physical store or brand? Use its name as your site's address. It will help people find you. Your choice must be something specific, enjoyable, and unforgettable.
Don't take a useless set of symbols. For example, what will you remember faster: redcar1234.com or bikbik.com? Which is better?
Pay attention to the length. Would you like to be in the TOP position in Google Search? Sure! Then you need an unforgettable, simple domain that gives visitors exactly what they want from your resource.
Unfortunately, many famous and funny site addresses are already taken, so finding your unique name can be challenging. But don't get discouraged if a particular domain is busy. Believe it or not, you can buy a taken domain.
Correct TLD
The second part of your domain name, after a period, is also significant. It affects your site's credibility. Such options like .com, .net, .org, .us are more trustworthy than .music or .movie. Because everyone sees the first group almost every minute.
This ending doesn't change search rankings or customer recall. Such sites are just more credible.
Some TLDs are often used for specific category websites. For example, .edu is typically owned by educational platforms, while government agencies generally own .gov. If your site isn't part of these groups, it is better to choose another TLD.
Copyright check
No one likes having their brand used by someone else, even if it's a small shop near your house. So make it a habit to check if such a site is already on the Internet.
Will Your Customers Find You?
Here is a simple way to check whether you chose the site address correctly. First, tell your family your domain name and ask them to write it.
Can they do it easily? Great, you did everything right. But, if they don't, you risk losing many of your customers.
TOP 7 WordPress Domain Registration Providers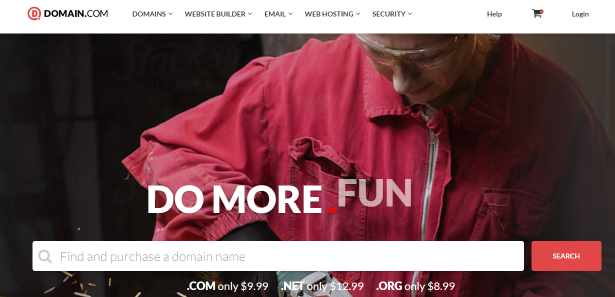 It is one of the most popular domain registration providers. This site has different services:
selling domains;
website building;
web design and marketing services.
But the main product is domain registration.
Main features:
Strong customer support
Easy to register and use
Different services
Price:
COM $9.99
NET $12.99
ORG $8.99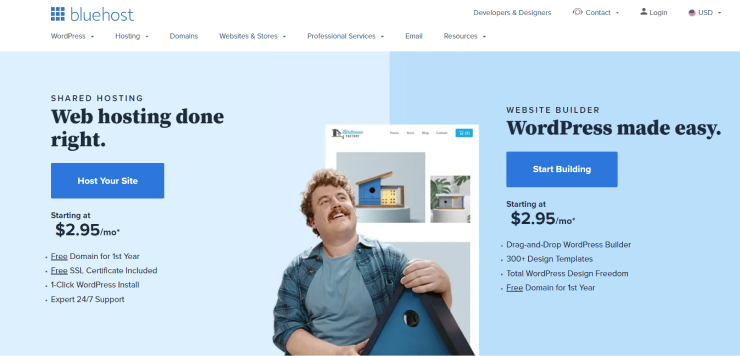 Another popular domain registration provider. You can use it like hosting and buy a domain name.
Main features:
Easy to use
In-house hosting, marketing, and web design services
Price:
COM $12.99
NET $18.99
ORG $9.99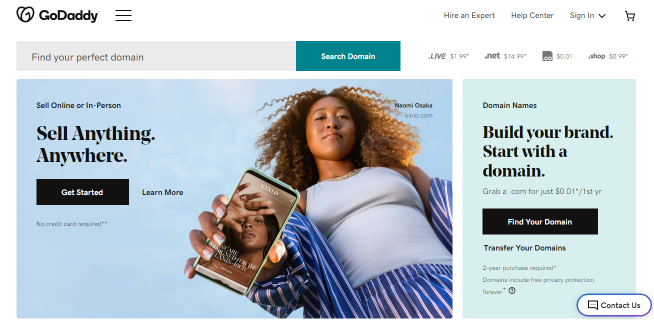 The next registration service is GoDaddy.
Main features:
Easy to use
Additional services galore
Customer support
Price:
COM $19.99 ($0.01 for the first two years)
ORG $20.99 ($7.99 for the first two years)
NET $21.99 ($14.99 for the first two years)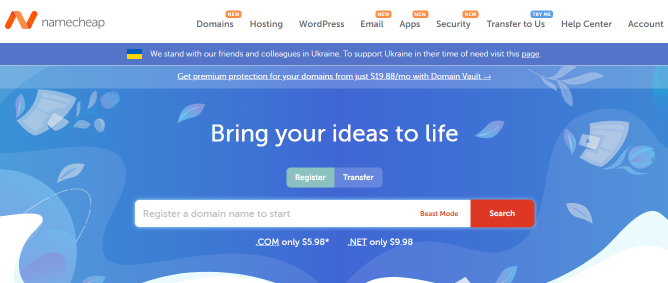 This provider also has a lot of additional services, such as hosting, different design options, site maker, and so on.
Main features:
Easy to use
Apps for better design
24/7 customer support
Price:
COM $8.98
NET $9.98
ORG $8.98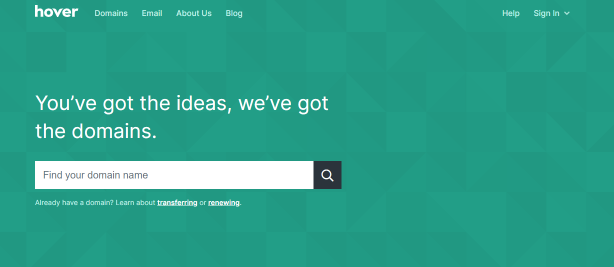 It is simply a service for domain name registration. It is young and attention-worthy.
Main features:
Easy to register and use
Professional email address
Strong customer support
Price:
COM $13.99
NET $14.99
ORG $19.99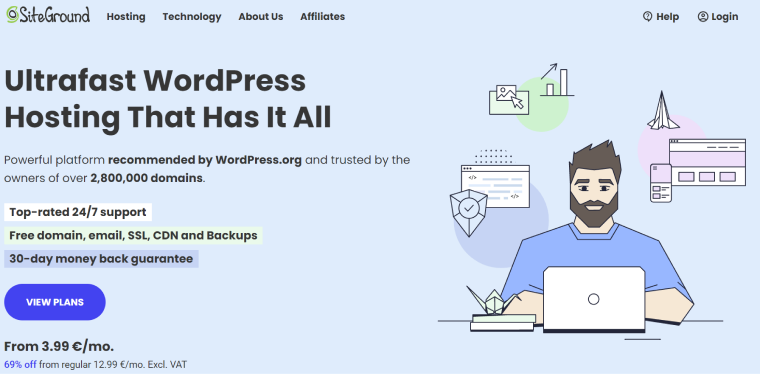 Primarily, it is a hosting service, but it provides domain name registration.
Main features:
Valuable services like web hosting and email hosting
24/7 customer support
Easy to use
Special focus on speed and security
Over 96% client satisfaction rate
Unique in-house built tools
Price:
Different prices for different domain names start at $15.95+ per year.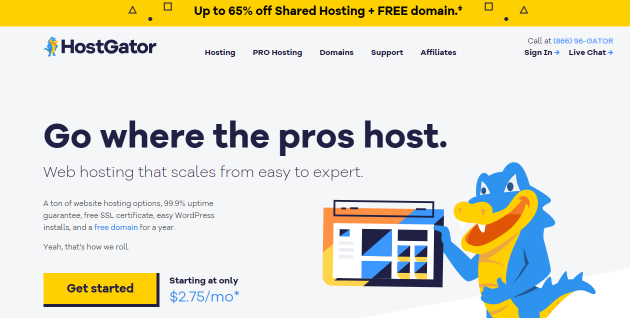 It is another hosting service that provides domain name registration.
Main features:
Additional services galore
24/7 customer support
Easy to use
Price:
COM $12.95
NET $12.95
ORG $12.95
FAQ
Do I need a domain name?
Yes, the domain name is essential for creating a WordPress website. A domain is how customers can find you.
What do I need to choose: a free or paid WordPress domain name?
It depends on your goals. For example, a free domain will suffice if you use the site as a portfolio.
If you need a WordPress website that you will use for business, it is better to choose the paid option. Such a site is more credible and looks more professional.
How to buy a domain name for a WordPress website forever?
Unfortunately, you can't do this today. You can only buy a domain name for some time and renew it after that period. 
What happens if you don't renew your domain name registration?
If you forget to pay for a new domain name expiration date, you won't be able to use your WordPress site after the expiration date. 
How to protect a WordPress website from hacking?
Unfortunately, scammers can hack your new website. To prevent this from happening:
1. Use the services of a reliable domain registrar.
2. Use a strong password.
3. Set up two-factor authentication.
These steps will protect your data.
In Conclusion
So, I hope my article was helpful, and you understood what a domain is, who registrars are, and how to choose a domain name. Save this article to avoid losing instructions, and share in the comments which registrar you have chosen for your domain.