Want to create your website but don't know where to start?
Creating a website is not like launching a rocket into space, but it can be genuinely disarming initially. What is a domain name? How will people find you? What do you need to do?
In this article, you will find answers to all these burning questions. So start exploring. 🍿
Table of Contents
What Is a Domain Name?
Nowadays, almost every organization, company, or shop has its own website. People look for all the information about you on the Internet. Entrepreneurs, freelancers, small businesses, and corporations create websites literally every minute.
Is there something that helps find them on the Internet? Yes, it is a domain name. The domain is a website's "house." A domain name is what people type when they want to visit some Internet resource and how they can find you, e.g., Crocoblock.com, YouTube.com, etc.
Anatomy of a domain name
Before creating a domain, let's figure out what such a name comprises. It includes two parts — a second-level domain (SLD) and a top-level domain (TLD).
SLD is the name of your site. It's a unique and original combination of letters and numbers with which your resource will be associated—for example, Crocoblock. Later, you will understand how to choose a strong SLD.
TLD is also an essential part of a domain name. As usual, it is standard. You have definitely seen it many times: .com, .uk, .gov, .media, .me, .pharm, etc.
Each country has its own recognizable TLD. For example, .cz is the country code for the Czech Republic, and .nl is for the Netherlands.
In addition, you may see some words or characters before SLD after the protocol—for example, blog. It is a subdomain that helps to divide all the website's content into smaller sections and allows users to understand where they are now.
And if you see some words with a # sign after TLD and a slash, it means you're viewing content under a specific anchor. For example, it might look like this: #anatomy.
Simple way to choose the best name
Choosing a domain name is a spellbinding task. It should be easy, memorable, and as short as possible. You are free to compile any set of letters and symbols. But don't be surprised if no one visits your website. 😏
Easy and original
Do you have a physical store or brand? Use its name as your site's address. It will help people find you. Your choice must be something specific, enjoyable, and unforgettable.
Don't take a useless set of symbols. For example, you have a business, and BikBik is the real name of your company. What will users remember faster: redcar1234.com or bikbik.com? Which is better?
Pay attention to the length. Would you like to be in the TOP position in Google Search? Sure! Then, you need an unforgettable, simple domain that gives visitors exactly what they want from your resource.
Unfortunately, many famous and funny site addresses are already taken, so finding your unique name can be challenging. But don't get discouraged if a particular domain is busy. Believe it or not, you can buy a taken domain.
Correct TLD
The second part of your domain name, after a period, is also significant. It affects your site's credibility. Such options like .com, .net, .org, and .us are more trustworthy than .music or .movie because everyone sees the first group almost every minute.
These extensions don't change search rankings or customer recall. Such sites are just more credible.
Some TLDs are often used for specific category websites. For example, .edu is typically owned by educational platforms, while government agencies generally own .gov. If your site isn't part of these groups, it is better to choose another TLD.
You can also buy domain names for WordPress websites with a single SLD yet having different TLDs every time. It will increase your security and keep you away from unpleasant branding situations. For example, if you choose the name Onceuponatime.com, you can also buy Onceuponatime.org and Onceuponatime.net.
Copyright check
No one likes having their brand used by someone else, even if it's a small shop near your house. So, make it a habit to check if such a site is already on the Internet.
Will your customers find you?
Here is a simple way to check whether you chose the site address correctly. First, tell your family your domain name and ask them to write it.
Can they do it easily? Great, you did everything right. But, if they don't, you risk losing many of your customers.
Why Choose Different Domain and Hosting Providers?
Many think choosing different domains and hosting providers is inconvenient and energy-consuming. On the contrary, some believe this approach is another point in favor of security.
Let's understand the pros and cons of getting domains and hosting from different providers.
Cons
Price. You must pay separately for hosting and domain name, which can be more expensive than choosing everything in one place.
Customization features. When you buy hosting and domain names from different places, you have to set up DNS and accounts separately.
Inconvenience. You get two invoices to pay, alerts in different locations if there are any issues, support responses at different speeds, etc.
You miss the opportunity to use the domain for a year for free. Many hosting providers offer a free domain if you pay for one year of hosting service.
Pros
Security. You can give access to your domain name to only one verified person and, for some technical work, provide access to the hosting to programmers. This way, you protect your domain from theft and potential threats to your reputation.
Price. Is the chosen hosting domain name too expensive? You can choose a more affordable option from a different provider.
Favorable terms. Some providers can offer more favorable conditions if you manage several domains simultaneously.
What Should You Pay Attention to When Choosing a Domain Name?
There are numerous things to consider when picking the right domain name. Below, I've enumerated the nine popular factors.
Price
Often, for the first year of use, the price is much lower than for the renewal of the domain name in use. Therefore, you should analyze pricing very carefully.
Safety
Choose a reputable registrar, and make sure they provide the registrar lock, not to mention that it's important to renew the domain on time not to lose the brand name. It's also crucial to protect the WHOIS information and set a strong password and two-factor authentication.
Customer support and reviews
This factor will help you to detect potential problems, if any, quickly. Look for reviews and see if the company goes to great lengths regarding support. Also, pay attention to the support team's response time. They often mention it in reviews.
Domain Transfer Policy
At some point, you may want to change your domain registrar. In this case, you need to know what commissions await you and the procedure. To avoid unpleasant situations, look at the rules in advance.
Domain Extension Availability
Check if the domain provider offers a wide range of domain extensions (TLDs) that you might need (e.g., .com, .net, .org, etc.). It will be unpleasant if you choose a particular domain and the provider doesn't have the right TLD.
Domain Management Tools
Evaluate the user interface and domain management tools provided by the registrar. A user-friendly control panel makes it easier to manage your domain settings.
DNS management
Check if the domain provider offers easy-to-use DNS management tools. This is important for configuring domain settings such as DNS records, subdomains, and redirects.
Add-on services
Consider additional services offered by the domain provider, such as website hosting, email hosting, and SSL certificates.
Uptime guarantee
Some domain providers may offer uptime guarantees for their DNS services. While this is not always a critical factor, it can be important for businesses with high reliability requirements.
TOP 7 WordPress Domain Registration Providers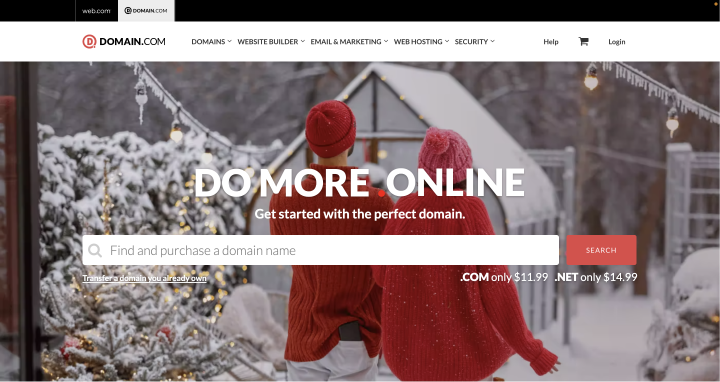 It is one of the most popular domain registration providers. It started its history as a hosting provider, but later, it began to work as a domain registrar. The company is a home to over 1.2 million websites. This site has different services:
selling domains;
website building;
web design and marketing services.
But the main product is domain registration.
Key features:
strong customer support;
easy to register and use;
it provides a dedicated website builder, marketing and design consultancies, and hosting.
Price:
COM $11.99
NET $14.99
ORG $10.99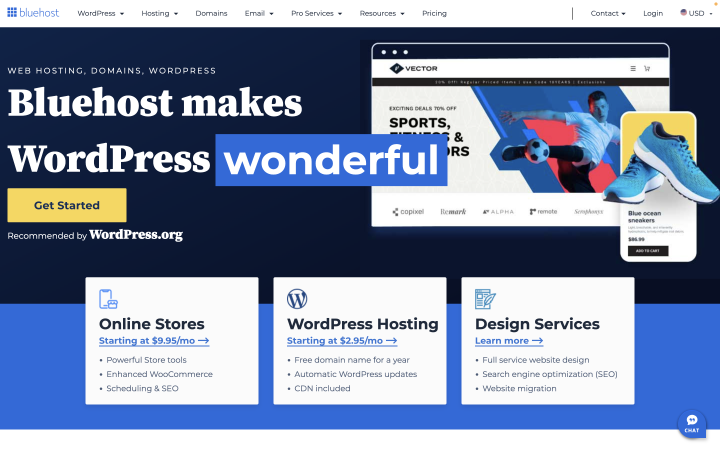 Another popular domain registrar. You can use it like a hosting provider or buy a domain name. If you use the Bluehost shared plan, you get a domain name for free.
Key features:
easy to use;
daily scheduled backups;
it offers WordPress managed hosting;
malware detection;
in-house hosting, marketing, and web design services.
Price:
COM $12.99
NET $18.99
ORG $9.99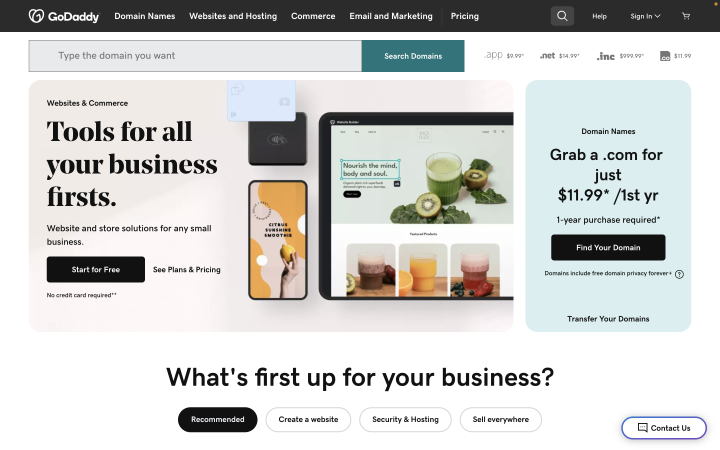 The next registration service is GoDaddy. GoDaddy was founded in 1999 and became one of the leaders in this field. It serves more than 20 million websites.
Key features:
24/7 customer support;
500 extensions and domain auctions;
a wide variety of premium SSL certificates to choose from.
Price:
CO $39.99 ($11.99 for the first two years)
APP $23.99 ($9.99 for the first two years)
NET $22.99 ($14.99 for the first two years)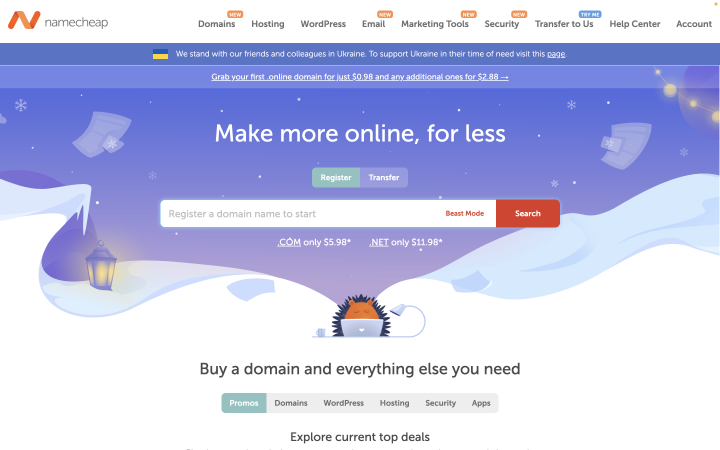 This provider also has a lot of additional services, such as hosting, different design options, site making, and so on. The company started its history in 2000 and became one of the biggest players in this field. It serves over 11 million users.
Key features:
possibility to add a professional email connected to your domain;
apps for better design;
24/7 customer support.
Price:
COM $13.98
NET $13.98
ORG $12.98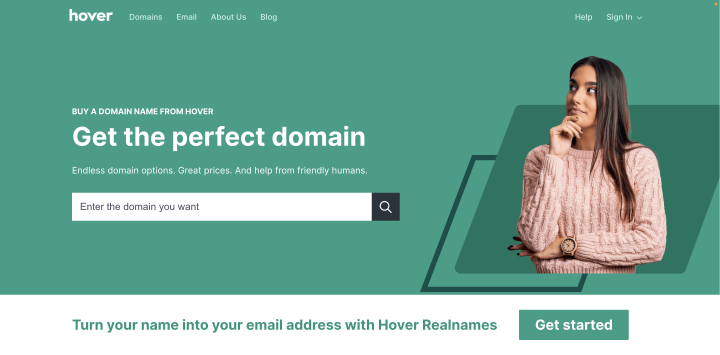 It is simply a service for domain name registration. It is young and attention-worthy. Another area this company focuses on is professional and real-name email addresses.
Key features:
easy to register and use;
professional email address;
hover Realname email service for the [email protected] email addresses.
Price:
COM $17.99
NET $18.99
ORG $15.99
In addition to popular options, they have a bunch of other domain extensions.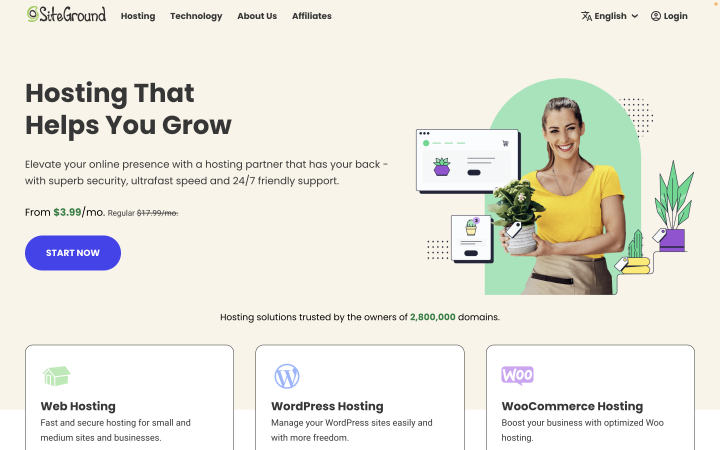 Primarily, it is a hosting service, but it provides domain name registration. SiteGround positions itself as a fast managed WordPress hosting, and you can read our dedicated article about it.
Key features:
valuable services like web hosting and email hosting;
24/7 customer support;
easy to use;
special focus on speed and security;
over 96% client satisfaction rate.
Price:
Different prices for different domain names start at $17.99+ per year.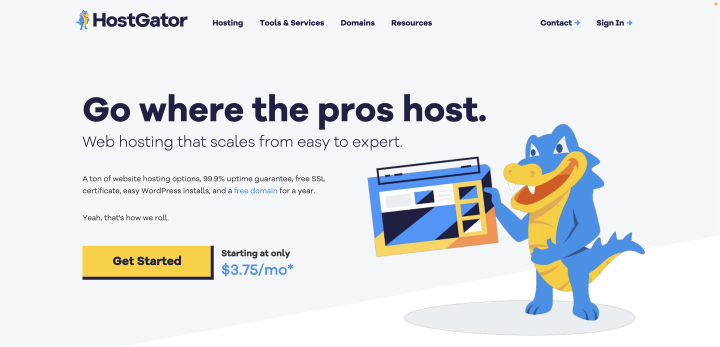 It is another hosting service that provides domain name registration.
Key features:
domain locking;
free domain for one year on selected hosting plans;
1-click WordPress installation.
Price:
COM $12.99
NET $18.99
ORG $9.99
FAQ
Do I need a WordPress domain name?
Yes, the domain name is essential for creating a WordPress website. A domain is how customers can find you.
What do I need to choose: a free or paid WordPress domain name?
It depends on your goals. For example, a free domain will suffice if you use the site as a portfolio.
If you need a WordPress website that you will use for business, it is better to choose the paid option. Such a site is more credible and looks more professional.
How to buy a domain name for a WordPress website forever?
Unfortunately, you can't do this today. You can only buy a domain name for some time and renew it after that period. 
What happens if you don't renew your domain name registration?
If you forget to pay for a new domain name after the expiration date, you won't be able to use your WordPress site.
In Conclusion
So, I hope my article was helpful and you understood what a domain is, who registrars are, and how to choose a domain name. This article contains information about the most popular domain registrars, like Domain.com or GoDaddy, and about not-so-popular but still great ones. Look through these options and choose one that suits you best. 
Save this article to avoid losing instructions, and share which registrar you have chosen for your domain in the comments.