Did you know there is a vast difference between WordPress.com and WordPress.org?
Beginners frequently mix up WordPress.com with WordPress.org, which causes them to pick the incorrect blogging platform for their requirements. Unfortunately, even people who know the two platforms are different may not fully understand their distinctions.
Table of Contents
What Is WordPress.org?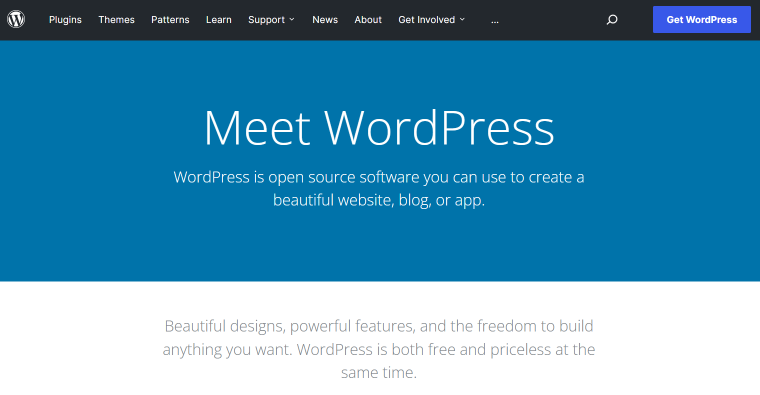 You've probably heard fantastic things about the well-liked website platform known as "the genuine WordPress," or WordPress.org.
WordPress.org is the official website for open-source software that anybody may use at no cost. Users can see the source code of the WordPress software and modify it for their specific needs. This feature prompted the development of plugins – third-party add-ons that greatly expand the original software's functionalities.
While WordPress.org provides free web development software, including free plugins, you still require site hosting and a domain name. Because of this, it is also known as self-hosted WordPress.
What are the benefits of using WordPress.org?
Here are some of the top WordPress.org benefits listed below, along with why it is our top recommendation for the best website builder.
The WordPress platform is user-friendly, open-source, and free.
More than 43% of websites utilize WordPress (see why WordPress is free?).
Your website and all of its content are yours. If someone determines it is against their terms of service, your site won't be shut down. You have complete control over your website.
You can install free, premium, and unique WordPress plugins on your website.
The website's design can be changed as necessary. You may include any WordPress theme, whether it is free or premium. Additionally, you may alter anything you want or design anything entirely from scratch.
WordPress integrates design and dynamic templates that provide ready-made solutions for different website types without additional tools.
Your WordPress website may generate income if you run advertisements.
Add tracking and analytics tools, like Google Analytics.
Create an online store using self-hosted WordPress to sell products or digital items, collect credit card payments, and distribute and ship items from your website.
You may also develop an online community around your website by creating membership sites and selling subscriptions for premium material, classes, etc.
What are the drawbacks of using WordPress.org?
The self-hosted WordPress.org website has relatively few drawbacks.
You require web hosting, just like other websites. The initial price is between $3 and $10 per month. However, the cost of the web hosting plan will rise due to expansion, but by then, you should have enough income. Your website's files are kept online in this location.
WordPress must be installed. Fortunately, most well-known WordPress hosting providers provide one-click WordPress installation alternatives.
You are in charge of updates. It's not a lot of work to update your WordPress site because you can do it with only one click on the update button.
You are in charge of making backups. Fortunately, several WordPress backup plugins are available that enable automated backup configuration.
Depending on the type of website you're seeking to create, the cost of building a website with WordPress.org software varies. There are further aspects, such as free vs. paid page builders, free vs. premium plugins, etc.
What Is WordPress.com?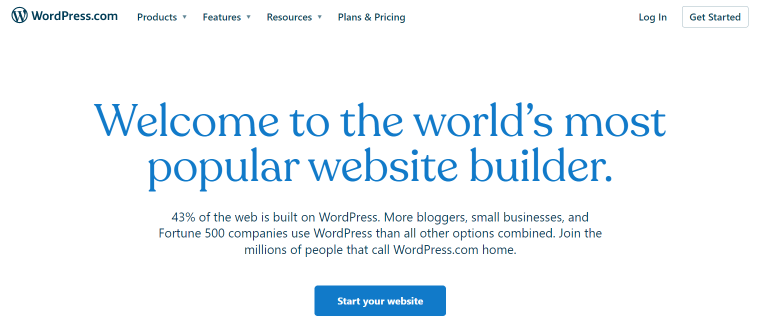 Automattic, the organization run by WordPress co-founder Matt Mullenweg, developed the hosting service WordPress.com. Users frequently mix up WordPress.com and the well-known WordPress.org software due to the same founder and similar names and functionalities.
There are six pricing tiers for the WordPress.com hosting service:
Free – limited functionality;
Personal – $48 annually;
Premium – $96 annually;
Business – $300 annually;
Commerce – $540 annually;
VIP memberships begin at $25,000 per year.
You can find a detailed WordPress plan comparison on the official website.
What are the benefits of using WordPress.com?
Those beginning a blog for their family or as a pastime should use the free WordPress.com platform. It's like getting a ready-made website without any cost or technical headaches.
The following are some advantages of WordPress.com:
A great thing about WordPress.com is that it comes with hosting built-in. That means you don't need to find a separate hosting service or deal with technical stuff when you want to start your website.
First, for up to 1GB of space, it's free. After that, you'll have to upgrade to a premium plan if you want extra storage. You get 6GB of storage with the Personal plan, 13GB with the Premium plan, and 200 GB with the WordPress Business plan.
Updates and backups won't be a concern. WordPress.com will handle it for you.
What are the drawbacks of using WordPress.com?
Free WordPress.com has several restrictions that set it apart from its self-hosted counterpart.
Consider these factors for using this platform:
Every free website has advertising on it. Your visitors see these ads, but you don't receive compensation. Upgrade to a premium WordPress.com account for your users to have an ad-free browsing experience.
Your website cannot directly sell advertisements, significantly limiting your options for making money. However, if your website receives a lot of traffic, consider joining their WordAds program to share in the revenue generated from ads on your site.
WordPress.com doesn't allow uploading most of the plugins. Users of the free plan have access to the preactivated Jetpack add-on, while the $300 yearly plan provides access to more plugins (but not all of the plugins that WordPress.org has).
The free edition only offers a few customizing possibilities. Users can't add their own custom themes and are limited to a small selection of free options. If you are on the Premium or Business plan, you may choose paid themes.
Free plan users cannot install any robust tracking system, while users with paid plans can set up Google Analytics. Otherwise, you're limited to the built-in options provided by WordPress.com.
Free WordPress.com sites have a subdomain with "wordpress.com" in the URL, such as https://yourwebsite.wordpress.com. You must purchase a plan to obtain a custom domain name, such as https://www.yourwebsite.com.
WordPress.com reserves the authority to remove your website if they believe it violates their terms of service.
The free website will feature a WordPress.com link. However, upgrading to the Business plan will take it away.
Unless you upgrade to the Commerce package, WordPress.com does not include any eCommerce functionality, including payment methods.
WordPress.com cannot be used to develop membership websites.
As you can see, when you're on the Free, Personal, or even Premium plan, the WordPress.com hosting platform is somewhat constrained. To use some advanced features, you must be on the Business ($300 annually) or VIP plan ($25,000 annually).
Which One Is Better: WordPress.org or WordPress.com?
When comparing WordPress.com vs. WordPress.org, consider your expertise in website creation, ease of use, and WordPress price per year. Choose the free WordPress.com option if you are a personal blogger and don't worry about generating money from your website.
I advise utilizing self-hosted WordPress.org if you are a company or blogger aiming to monetize your website. Then, you have the freedom and flexibility to develop your website as you envision it.
While the WordPress.com Business plan costs $300 annually for each website and comes with several sophisticated features, you can often get more value for your investment by using a self-hosted WordPress website. This involves paying hosting services and domain fees while using WordPress's paid or free add-ons, which can provide a wider range of customization and functionality.
In my opinion, WordPress.org is unquestionably the superior platform. It is used by professional bloggers, small company owners, and even household names like Disney.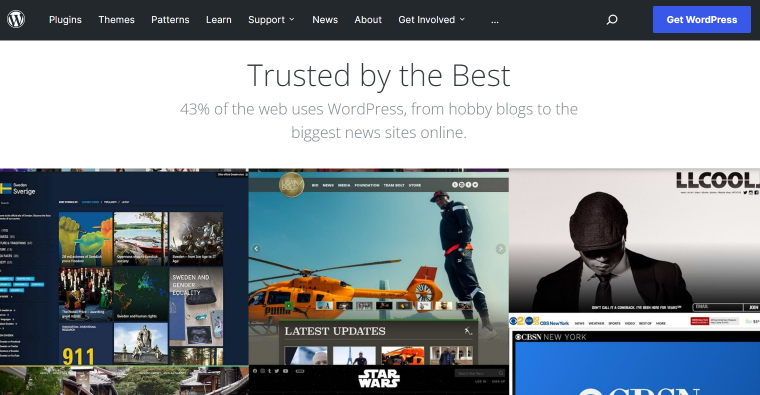 FAQ
Is WordPress.org the same as WordPress.com?
No. WordPress.com provides hosting and maintenance services for your website while having more limitations on customization. On the contrary, with WordPress.org, you host and manage your site independently while having complete control and flexibility.
Which platform is free?
WordPress.com offers free and paid plans. WordPress.org provides free software; however, you must pay for hosting and domain separately.
Which platform is better for beginners?
WordPress.com is easier for beginners due to its user-friendly interface and managed hosting. It is also a good option for casual bloggers.
Can I switch from WordPress.com to WordPress.org?
Yes, you can migrate your website content to a self-hosted WordPress.org site.
What is a plugin?
A plugin is a piece of software that adds specific features and functionality to your WordPress website. WordPress.com allows you to use a limited selection of plugins on its platform, while with WordPress.org, you have complete freedom to install any plugins you want.
Conclusion
The comparison of renting a house vs. owning a home is the most effective method to illustrate the difference between WordPress.com and WordPress.org.
Using WordPress.com is like renting. Your ability to decide what you can accomplish is constrained.
WordPress.org is comparable to home ownership – you have complete control and the freedom to shape it as you wish, and no one can tell you otherwise.