I bet you've noticed how many acquisitions WordPress companies have made these years. I'm the one who follows and tries not to miss any WordPress news to stay updated.
That motivated me to write this article to show you the top brands in the WordPress market, their history, discover acquisition reasons, and their effects on the whole community.
Thus, at the end of the article, you'll be able to figure out, "Is acquisition terrible for the company or customers?"
Spoiler: not always.
Table of Contents
Is Acquisition Bad?
I know the feeling when you find out another company has bought the product you used.
Frustration, not knowing what comes next.
Thoughts about alternatives and researching companies' past acquisitions to see how that's influenced another product.
Fear of the future is a familiar feeling of every human being, so it's okay to care about the tools you use as you want stability in the development process.
WordPress Acquisitions Main Numbers
Regarding the Post Status acquisitions database, 2021 was the most acquisition-rich year – 46. The rise of WordPress acquisitions started in 2019 (15). On average, there were 5-10 acquisitions during 2014-2018.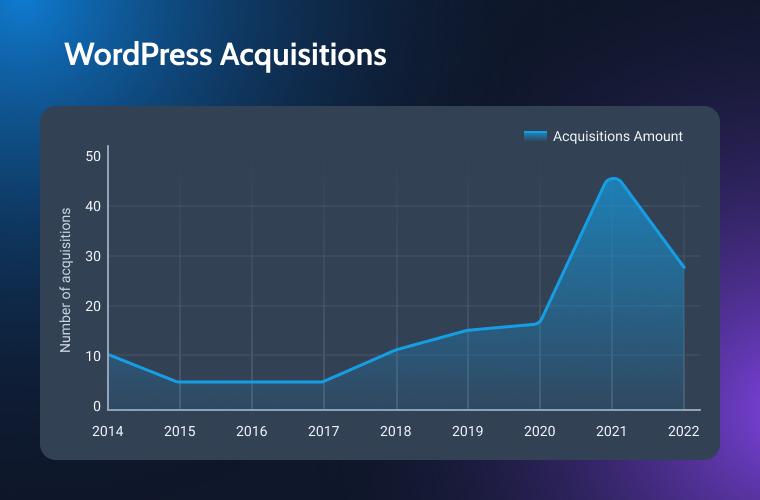 Why Brands Sell: Product Selling Reasons
Competition
Imagine you are a small business owner with just one WordPress plugin in the arsenal and notice that plugin installations are stuck.
You'll be frustrated, yes?
This is because of the high competition: 60,000+ WordPress plugins in the directory. 😶‍🌫️
You should invest your time not only in development but also in marketing: to let users know about your plugin.
So, you have three choices:
Keep the plugin development slow; make it more like a hobby than a business.
Create the team for developing and marketing your product.
Sell the plugin if you are not ready to handle the competition.
When we launched JetFormBuilder, we knew about the form plugins competition, so we made a competitive analysis and thought about what we wanted to make better. Then, we asked top influencers and the WordPress community to test the plugin and share their thoughts. Thus, after a year, JetFormBuilder became one of the most used products in our stack.
Low budgets
It's evident that one person cannot cover product marketing, onboarding, support, SEO optimization, etc. So, you'll need more budget and time if you want your product to pay off. Smaller companies have smaller budgets, so they should rely on the community more.
Burnout
You may simply burn out, as we are not robots. We have our dreams, and sometimes you don't want to continue product development to focus more on what you like.
I'm happy that mental health has become one of the top topics. And I think it's better to sell the product than keep developing despite not feeling happy about it.
Recession
Covid brought a new era of working from home, and I think not everyone was ready to embrace the change. It makes us reconsider our wishes, desires, and work.
Why Brands Buy: Acquisition Reasons
It may sound obvious, but money. 🤑
To get more profit from the business, there are several reasons why big players buy new or famous brands, as outlined below.
Diversification
During my university time studying economics, diversification was the #1 rule for any business or individual investments.
"Don't put all eggs in one basket."
So, most companies keep following the rule to diversify their investments in different products.
Dealing with competitors
You've noticed the new product (similar to yours), buy it, and close – sounds like a plan? Yeap, it's one of the strategic moves for many big brands.
For example, Nimbella startup has been merged into Digital Ocean.
Expand web presence
Broad marketing techniques include buying the popular product, adding the brand keyword, changing naming, and getting backlinks to the target website.
Expand the product or service
Some companies want to deliver all-in-one solutions or services to add more value to the client, keep them, and attract more customers. The WordPress market is not an exception.
For instance, if you are a hosting company owner, why not broaden your services by tapping into domain registration, SSL certificates, and website builders?
When we find a reliable brand in website building, we want to stay with their team as much as we can because we simply trust them.
Key WordPress Brands and Their Effect on The Acquired Product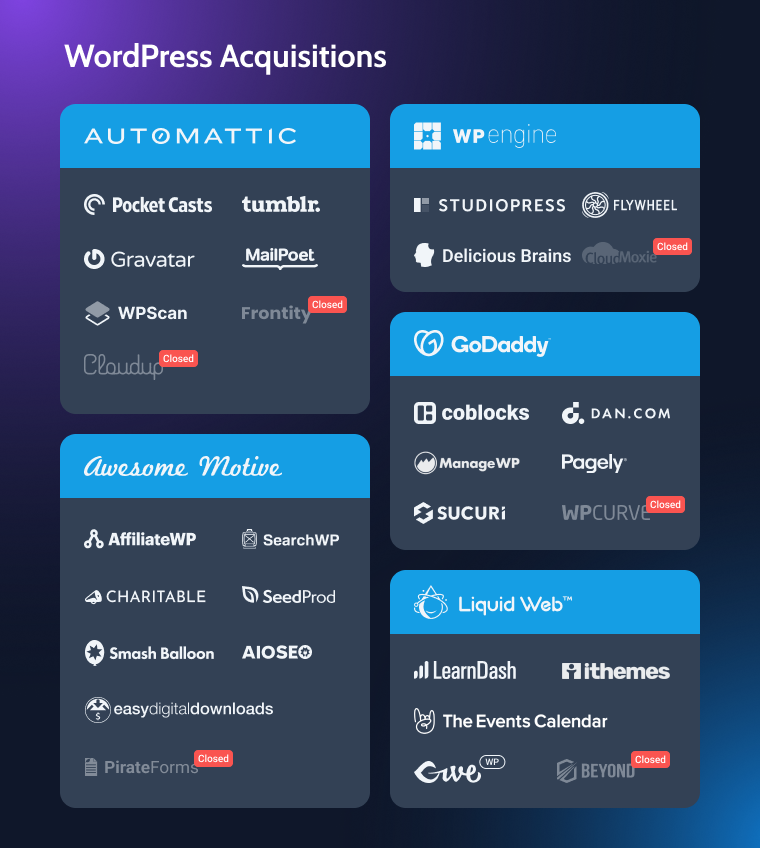 Automattic
The pioneer in WordPress acquisitions is Automattic. Their first buying was made in 2007, two years after the company was founded in 2005. As you know, Automattic is the team behind WordPress.org and WordPress.com; they own a bunch of products (and acquired at least 30), and here are their top acquires:
WP Super Cache – a caching plugin, with 2 million installations and more than 1900 reviews, was sold because Donncha O Caoimh, the plugin's author, didn't want to develop further.
Clipisode – a social media platform that has been closed. Brian Alvey, the Clipisode CEO, joined the WordPress VIP company.
WPScan – WordPress vulnerability database that continues working independently as a team in Jetpack. Both WPScan owners joined the Automattic team.
Social Image Generator – the naming speaks for itself; this plugin functionality will be integrated into Jetpack.
Frontity – React Framework is an open-source project and free to use now, but the team will focus on improving the full site editing experience.
Pocket Casts – a podcast app that continues to operate.
Day One – a journalistic app for Mac and Apple users.
Parse.ly – an analytics tool that became part of WordPress VIP (enterprise package).
MailPoet – an email plugin for WordPress that joined the WooCommerce team to add more value for store owners.
Tumblr – a blogging platform that Matt Mullenweg is passionate about making great again.
Cloudup – a media sharing platform planned to replace the WordPress.com media uploading functionality.
Gravatar – one of the first Automattic acquisitions. This blog avatar platform had scaling problems that Automattic was ready to solve, according to Mullenweg.
For years, Automattic has shown its responsibility and dedication to acquisitions, so some products have become more popular, such as Gravatar, MailPoet, and WP Super Cache. Joining Automattic is a boost for the acquired brand, and it is so interesting to observe what comes next and how Tumblr's development continues.
DigitalOcean
DigitalOcean, the cloud-hosting company, was founded in 2011 and has had only three huge acquisitions:
Cloudways – 2M visitors, top hosting provider; Aaqib Gadit, co-founder and CEO, said that the company continues to function as a standalone business, so nothing changes for their customers.
CSS Tricks – one of the most popular web development blogs; Chris Coyier is planning to help with the transition and step back, then focus on other projects.
Nimbella – an open-source serverless development startup that was closed after acquisition.
Digital Ocean plans its acquisitions precisely to get more value from the bit. Honestly, I was surprised after Cloudways and CSS Tricks acquisitions, but I'm sure this is for the best, as they are in good hands with a robust community that cares a lot about partnerships.
Awesome Motive
Awesome Motive (AM) is the one behind the WPBeginner blog, WPForms, OptinMonster, RafflePress, and MonsterInsights brands. Syed Balkhi founded the company in 2009 and had at least 12 acquisitions, for example:
Pirate Forms – a WordPress form plugin from the Themeisle team, Awesome Motive acquired the plugin when the Themeisle team decided to recommend WPForms instead Pirate Forms.
WP Charitable – a donation plugin with a small team, has been sold to pass the further development to AM.
Sandhills Development, which owned Easy Digital Downloads, AffiliateWP, Sugar Calendar, WP Simple Pay, and Payouts Service – one of the vast AM acquisitions; the whole team joined the AM corporation.
SearchWP – a WordPress search plugin that joined AM family and continued fruitful development.
Smash Balloon – a popular social media plugin, was added to the AM brand lists.
All in One SEO – an SEO WordPress plugin became a great addition to the AM products.
SeedProd – the founder of this plugin managed development by himself, so he wanted to sell the product to have a bigger team.
Formidable Forms – a WordPress form plugin, that becomes part of the WPBeginner accelerator and becomes one of the advanced WordPress form plugins.
Yoast Analytics – rebranded into MonsterInsights.
By the way, Awesome Motive brands sometimes got criticized for "shady marketing" or confusing content pieces. In return, Syed Balkhi commented in Post Status Slack:
"…Our companies operate independently of each other and tech decisions / cross promotion decisions are made by their respective GMs".
Anyway, all WordPress product owners should re-think their honesty in their blog posts, so I'm happy the Community is talking about this, so we can make WordPress a better place.
Elementor
Founded in 2016, Elementor has become one of the popular WordPress website builders. Thus, the company has only two acquisitions – Strattic, headless WordPress hosting, and Layers WP, a theme development company.
Elementor decided to continue Strattic development; on the other hand, paused Layers WP themes improvement and make the themes free for users.
WP Engine
A WordPress hosting company founded in 2010, which is also known for its Torque magazine.
ACF – after a year of being under the Delicious Brains roof, the Advanced Custom Fields plugin has been sold one more time with other Delicious Brains plugins.
Frost – WordPress themes, the business model has been changed to free-to-use, and all customers received the refunds.
Block Lab team joined the WP Engine team, but the plugin will no longer have new features.
Flywheel – managed WordPress hosting that successfully continues operating.
StudioPress – WordPress solutions joined the WP Engine product list and went on with product development.
CloudMoxie – a hosting company that has been merged with WP Engine.
Liquid Web
Liquid Web Family of Brands includes LiquidWeb hosting, Nexcess digital cloud, StellarWP (iThemes, Kadence, GiveWP, IconicWP, etc.), and was founded in 1997. Most of the acquired products continue operating and are being further developed:
Modern Tribe agency;
LearnDash WordPress plugin;
GiveWP WordPress donation plugin;
IconicWP WooCommerce plugins;
The Events Calendar plugin;
Beyond Hosting clients migrated to Liquid Web;
iThemes Media, including themes and products;
WiredTree was merged with Liquid Web hosting;
Rackspace cloud sites platform.
Matt Cromwell, Chief Operations Officer at StellarWP, shared his thoughts about the recent GiveWP acquisition:
"Since acquisition, GiveWP has continued to grow and mature as a product and team. We've benefitted greatly from working alongside the other StellarWP leaders. Our development team, marketing team, and Customer Support teams have also helped other StellarWP brands learn some best practices we've really honed over the years."
GoDaddy
GoDaddy's path started back in 1997 in the United States, and they had several successful acquisitions:
Pagely managed WordPress services.
SkyVerge extensions were planned to be included in GoDaddy packages.
CoBlocks and other Rich Tabor's plugins joined GoDaddy.
Sucuri security products added more value to GoDaddy customers.
WP Curve customers moved to GoDaddy.
ManageWP – multisite management add-ons.
DNAcademy and Dan.com were integrated into GoDaddy domain services.
Newfold Digital
Bluehost, HostGator, Web.com, and others are part of Newfold Digital corporation. The acquisitions of Yoast SEO and YITH development brand impress.
After a while, Yoast launched their product for Shopify users. Isn't it splendid?
To Conclude
I hope this article was helpful, especially for WordPress newbies. WordPress is astonishing. With all #wpdrama, changes, new products, and acquisitions, it brings the excellent feeling of competition, variety of products, and frustration (sometimes 😅).
In conclusion, I want to quote Erik Karkovack from his thoughtful article about acquisitions:
"New ownership often means more resources to maintain, support, and extend the software. This could be a great thing for the WordPress community…The fear is that competition will shrink and that we may become too reliant on a small number of developers for the bulk of a site's functionality."
I can't disagree. Acquisition mostly means better development by the bigger company that can effort better marketing, improvement, and organization, but we should pay attention to each product acquisition to check if the product is going to the "right hands" and forecast changes. And it's incredible to have WordPress huddles, like Post Status Community or Twitter spaces, where I can read members' thoughts to learn more about the companies. It helps to stay on track.