How often do you maintain a WordPress website? Although WordPress is a platform that is constantly being improved, you still need to check it from time to time.
In this article, I will tell you what to pay attention to so that the website works quickly and correctly and does not bring you problems.
Why Maintaining a WordPress Website Regularly Is Important?
WordPress is one of the most popular website-building platforms. And this means that it needs to constantly evolve and improve to be the best solution for customers.
WordPress often conducts various updates: security, speed, and quality of work are improving. In addition, each website consists of add-ons, plugins, and themes, which must be constantly updated and improved.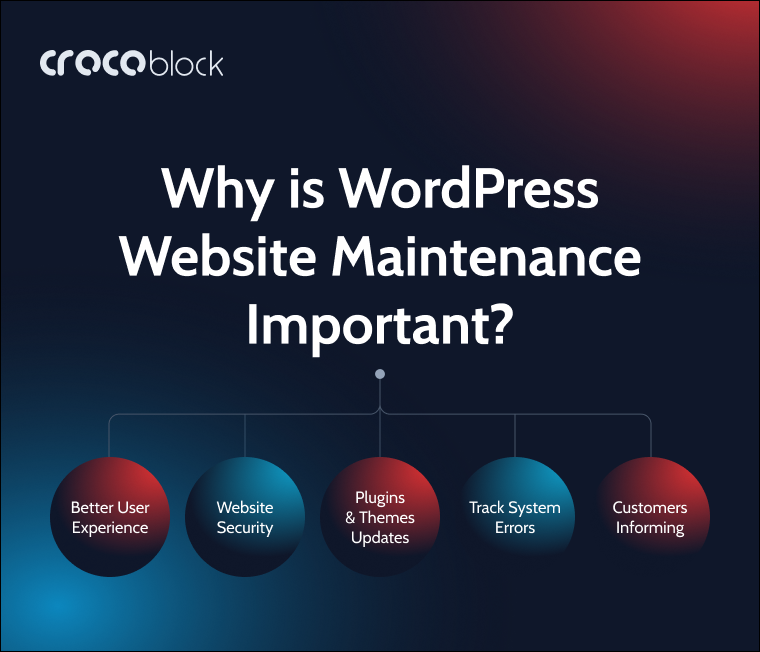 If you do not abide by WordPress website maintenance, then you do not take these updates, and as a result, your pages may:
not open or display correctly;
become available to scammers;
slow down;
not work properly.
A user can find any product on dozens of websites in seconds. Therefore, if yours glitches or slows down, they will choose another. In addition, websites with errors and inconsistent page loading look suspicious.
If you care about reputation and want a stable website, you must maintain it regularly. What is essential to pay attention to? Here is the shortlist:
12 Steps to Keep WordPress Website Healthy
Data backup
Regular data backup is what will ensure your peace of mind. A copy of the files will help you if the site is hacked or something stops working. You can restore the working version of the WordPress website at any time. If you don't have a backup, it can be impossible to restore the broken one.
You can enable automatic backups using the plugin. The frequency of backing up a website depends on a couple of factors:
The type of site architecture you use: if you use a hidden layer neural network system or a framework that includes a lot of automated updates, your site will change and evolve faster and more frequently than more static architecture. This means that you'll need to back up more often.
The number of updates and changes you make: if you want to keep the most up-to-date version of your site backed up at all times, it's important to make a backup every time you do something like add a new blog post, add a new page, or basically change anything.
Ensure website safety
Website security can be ensured in various ways:
choose a hosting provider that has special information protection tools;
install a plugin that will scan your website and warn you about threats;
come up with a strong password and update it periodically.
Unsafe sites are blocked by search engines and may send spam to users. Therefore, taking care of your resource's security is essential. 
Update the website components
CMS WordPress, plugins, themes, and add-ons are constantly updated. And your task is to ensure that the WordPress website has all its components up to date. A non-updated WordPress or plugin version can become a backdoor in the security of your site and lead to its loss. Furthermore, sometimes new updates to the CMS or individual plugins can cause incompatibilities and malfunctions. Therefore, you need to detect such problems and fix them.
Check for updates at least once a month and install new versions of plugins, add-ons, and themes on time.

Optimize the WordPress website
Website optimization will help it load faster and display correctly on different devices. Therefore, optimize images, pages, and all the elements on your WordPress website. Remove all unnecessary and irrelevant information and check for broken links, too.
Such actions should be carried out at the very beginning when you are just launching the site, and then check whether everything is optimized from time to time.
Track spam
The more traffic your site has, the more likely it will be filled with spam, especially if you run a blog. You can notice strange posts in the comments, sometimes with links. These links can lead to malicious resources, steal your users' data and lower your site's SERP rankings. Therefore, keep an eye out for spam comments, delete them regularly, and keep your website clean.
Test forms, links, and buttons
Broken links, forms, and buttons on the website are annoying and could cost you a customer. Since it is a way for a user to contact you about anything they've stumbled upon, delayed responses can make them leave without a solution.
Broken links affect the ranking of a site.
Therefore, checking the operation of all forms and buttons is a top priority before the site's launch and after updating the site or plugins. Delete or fix everything that doesn't work.
Depending on what your business does, it's likely that a lot of your CTAs direct customers to the contact page. We've already covered the importance of checking and optimizing your forms. Now, it's worth taking this a step further and ensuring that all of your contact page information and options are optimized.
Check that "Contact us" CTAs lead to the right place. Make sure that there are several contact options (perhaps including a contact form, an email address, a postal address, a link for SIP calls, and a phone number). Make sure that these details are clear, easy to find, and accurate.
Test performance
A performance test is a quick way to check users' experience. It shows page loading speed and highlights possible problems.
It is essential to run this test after all updates because you may not notice any plugin or theme conflicts. I recommend that you come up with a general testing strategy, incorporating things like:
finding and fixing broken links (tools like SEMrush and Ahrefs are useful for this);
checking the database connection;
making sure that all the buttons are clickable and that they lead to the right place;
usability testing – making sure that the site is running smoothly, loads quickly, and displays as it should;
mobile testing – making sure that your site is optimized for mobile and (if relevant) that it links up to your app properly. There are plenty of on-demand testing solutions out there that can help with this.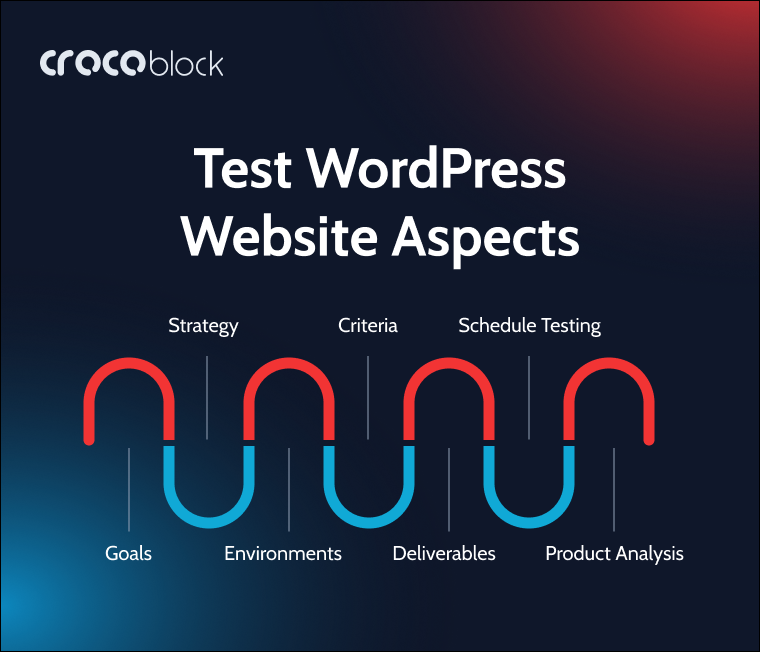 Work on your site's SEO
SEO is the ability to attract customers from search networks for free, so – no joke – you should give it special attention. If you need help understanding how to optimize the website for SEO, contact a specialist.
Essential parameters that you need to check:
meta tags and meta descriptions are written;
images are optimized;
relevant keywords and links are present;
high site loading speed.
Check your SEO positions at least once a month.
Optimize for different devices and browsers
Someone is viewing your website from a phone, while someone prefers a MacBook. In any case, the WordPress website should look beautiful and work efficiently. Remember that today there are dozens of sites on every topic. If, for example, your site cannot be viewed from a mobile phone or it takes more than three seconds to load, you will most likely lose visitors.
Optimize your site for different devices and browsers immediately after creation to prevent this from happening. Then, check its work after optimization, as well as after updates.
Set up a redirect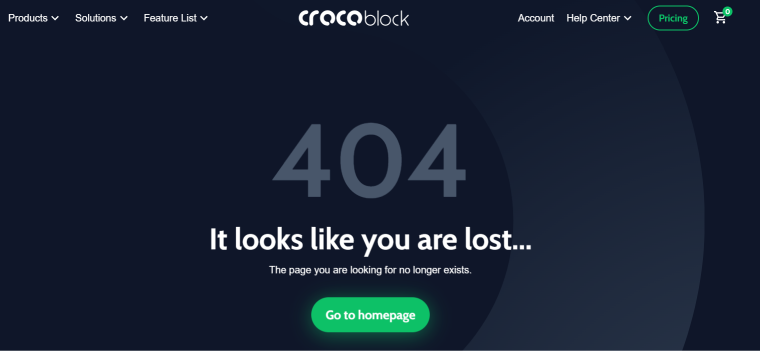 If a user is looking for something on your website and sees a 404 error, they can leave. To prevent this from happening, design a 404 page and offer some relevant content or set up a redirect.
It is how you retain visitors and increase user loyalty.
Use WordPress security logs
Review the WordPress security logs from time to time. They will help you quickly identify any problems and see what has caused them.
It is essential if you are running more than one WordPress website. To reduce errors and malfunctions, give your administrators and users minimal access.
Check for enough server space
As a rule, hosting providers allot their space according to the package you bought. You upload pictures and information, and it shrinks. If there is not enough space, the site may perform poorly and load more slowly.
Therefore, check the amount of available memory and, if necessary, upgrade the purchased hosting package.
FAQ
How often should WordPress websites be maintained?
They need to be maintained regularly, at least once a month. You can do it manually or use special services for each task.
Should inactive plugins be removed from the site?
Yes, it is better to remove all inactive plugins, broken links, and irrelevant information. Also, remove spam comments.
How do you know if a comment needs to be deleted?
If a comment contains information unrelated to the discussion, looks strange, or contains malicious links, it is spam, and you better remove it. 
Last Words
Regular maintenance of the website is a guarantee of its correct, fast, and well-coordinated work. In this article, you received a checklist of actions you must perform. Check the website manually or with the help of special plugins and applications. They will help you evaluate the loading speed of a WordPress website, its security, and performance, and find errors.
It is advisable to maintain the WordPress website every month or as needed.
Save this article, so you remember everything necessary at the most crucial moment.