With JetCompareWishlist plugin, you will have a unique opportunity to create wishlists and compare tables with desired products, add wishlist and Compare buttons to the product templates.
From this tutorial, you will learn how to start using Comparison functionality for WooCommerce products.
Enabling Comparison functionality
Step 1 — Navigate to the WordPress Dashboard and go to the Elementor > JetCompareWishlist Settings directory.
Step 2 — Then, in the Compare tab, you will see options that you should customize carefully. Let's have a closer look at them.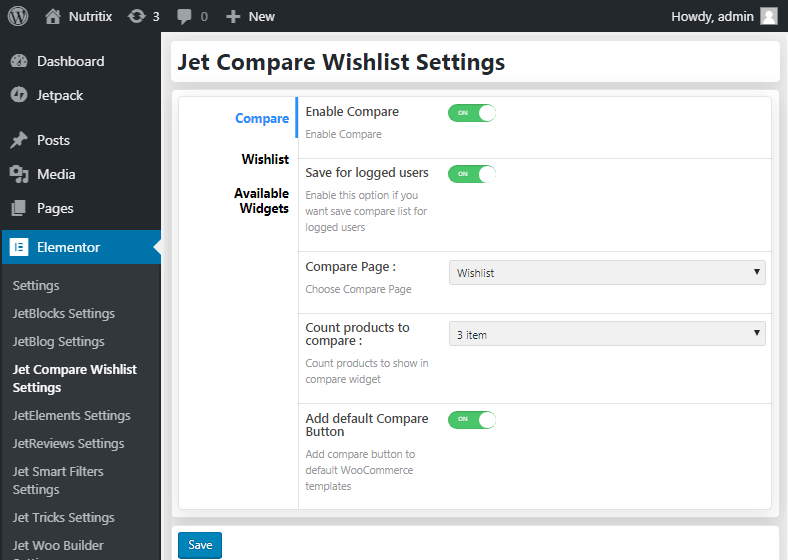 Step 3 — Firstly, you should toggle on the Enable Compare option to enable compare functionality on your page.
Step 4 — Secondly, toggle on the Save for logged users option in order to save a compare list if the user is logged in to the site.
Step 5 — Then, select the page, where the compare list will be displayed in the Compare Page dropdown menu. Note, that you can create a specific page for this purpose or choose the existing one.
Step 6 — Next, you have an opportunity to set the preferable number of products that the user can add to the compare list. Perform it in the Count products to compare dropdown menu. Remember, that you are able to display from 1 to 4 items.
Step 7 — Moreover, you can enable an option that allows adding the compare button to the default WooCommerce templates. To do it you should toggle on the Add default Compare Button option.
Step 8 – After that, proceed to the Available Widgets tab and here check the necessary comparison options to be displayed on the preferrable page. For this purpose, you need only three of them (you can choose one of them or add several options): Compare Button, Compare Count Button, and Compare one.

Step 9 — When all customizations are set, don't forget to click the Save button to apply the changes.
Now you know how to enable Comparison functionality for WooCommerce and the functionality of Compare widgets. Hope this tutorial was useful!