The Conditions block provided in JetThemeCore plugin, you can apply the templates you've built to different pages of your website.
You can easily apply any footer you've got to your entire site, or to any combination of pages of your choice.
Setting the footer conditions
Step 1 — Firstly, open the Crocoblock > My Library directory and edit the Footer template with Elementor editor.

Step 2 — Secondly, click the Settings option on the left of Update button.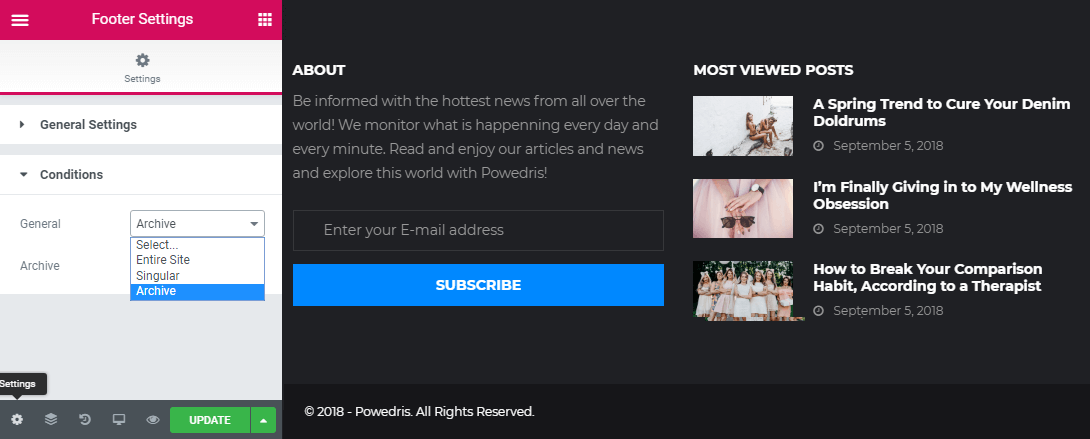 Step 3 — After that, move on to the Conditions block and select the needed condition from the General dropdown. There are three available conditions:
Entire site condition means that the footer template will be applied to the entire site.
If you select the Singular condition, you will set the footer template for the specific posts, pages, categories, tags, etc.
Archive conditions allow applying the footer to different archive pages or search results archives.
Step 4 — Finally, after you've decided on the needed condition, click the Update button in order to save the progress.
Now the footer template will be applied to the specific place of your website. You can check if it's already active in Crocoblock > My Library. Here you'll see the Active notice on the right from the needed footer template.

Now you can check it out on front-end. Just navigate to the page for which you've set the footer template and scroll it down to view the footer.