How to Setup Booking With Wizard Set Up
This tutorial provides an overview of the easy Wizard Set Up for creating a Booking.
Use Wizard Set Up from the JetBooking plugin to create a booking form for your website. You'll be able to create a booking just in four steps by following the instruction under each step. Creating a booking never was so easy.
Booking Overview
Now, it's time to go to the Bookings dashboard where you can create a booking: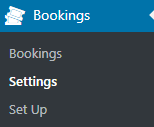 Easy Booking Set Up
You can create booking smoothly with a four-step setup. To start the setup, navigate to Bookings > Bookings and click on the Go to setup.

Also, you can follow to Bookings > Set Up and start there. Let's check it out.
In the first step, you'll need to Set up booking instance CPT. Here you can select from the dropdown the post type to get booking instances from.

In the second step, you can Set up orders for booking.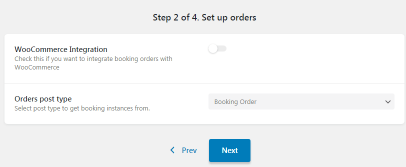 Also, if you enable the WooCommerce Integration option, there will be a great opportunity to integrate booking orders with WooCommerce.

The next step is to Set up DB tables. Here you will see a minimum set of the required DB columns and you can add additional columns according to your needs by clicking on the "New DB Column" button.
Create the columns one by one, by adding the new items. For example, we added the following information:
additional_booking_id;
additional_order_id;
additional_status;
additional_apartment_unit;
additional_check_in_date;
additional_check_out_date.
The final step is to Set up additional settings, such as the creation of a booking form for the single booking page. Click on the "Finish" button to save the changes.

When you're done with all the steps, the Congratulations window appears. It contains the information about the booking form you've already created.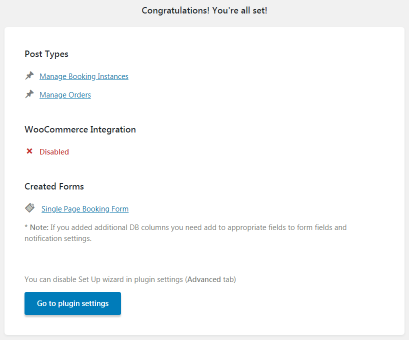 We set up everything! Now it's time to customize the booking settings.
Was this article helpful?