Search Engine Optimization (SEO) is a series of measures required for a website to rank higher in search engine results. Every SEO expert knows that it is challenging to earn Google's favor. To accomplish this, you require high-quality content, high-level usability and accessibility of the website, a quick loading speed, a considerable deal of time, and other factors. And yet, we pursue it because a boosted SEO and high site ranking are efficient methods for building the brand.
Table of Contents
Why Do I Need SEO Plugins?
In the case of WordPress-based websites, optimization plugins might simplify the work. Numerous excellent plugins enable you to automate the bulk of procedures, and in some instances, a single exceptional plugin can substitute the job of an entire SEO agency.
SEO plugins will help you to:
create AMP pages;
generate XML sitemap;
set up redirects correctly;
automatically add nofollow and noindex tags;
optimize image sizes and titles;
check for availability and add meta tags;
count and optimize keywords;
configure caching to increase loading speed; 
other custom functions depending on the selected plugin.
There is an abundance of SEO plugins. Some are relatively well-known, while others are not. In addition, paid and free plugins with basic functionality and a plethora of additional features are available. This article will discuss the 18 most effective WordPress SEO plugins.
18 Best WordPress SEO Plugins 
As always, I would like to point out that the sequence of the plugins is entirely arbitrary. Also, for ease, I will divide the list between SEO solutions that serve multiple purposes and point-specific plugins. For instance, they merely generate XML Sitemaps or cache the website, and so on.
Best all-in-one SEO plugins
Yoast SEO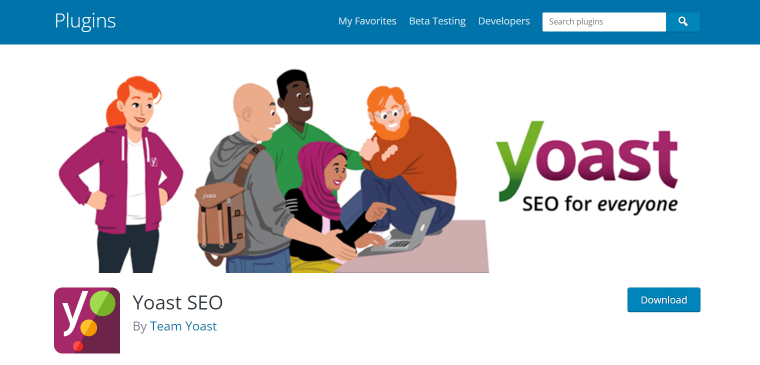 Yoast SEO is the most widely recognized and utilized SEO plugin available. It even ranks among the top plugins in the WordPress directory with over 5 million downloads, a 5-star rating, and more than 40 localizations. In addition, Yoast SEO is now compatible with our JetEngine as of April, 2021.
Yoast SEO is a complex solution that offers various functions in its free edition, but its premium version can replace an in-house SEO. There includes content optimization, recommendations for internal links, a reminder to update the page six months after publishing, and much more. In addition, a premium subscription gives you access to Yoast's SEO Academy and full-service technical assistance via email.
Top basic features:
Access to courses;
SEO and readability check;
creation of XML project map;
setting canonical URLs and meta tags;
header and description templates;
displaying snippets in preview mode;
Schema.org integration (it enhances the likelihood of obtaining SERP-rich results).
Top premium features:
Access to the whole SEO academy;
user support via email;
social media previews are available;
content optimization for synonyms and related keywords;
automatically redirects; 
ability to extend features using News SEO, Video SEO, Local SEO, and WooCommerce SEO plugins;
integration with Elementor and Zapier.
Pros:
It is an old, trustworthy plugin with a large user base and excellent ratings.
The free version lets you understand how this plugin functions and significantly aids in the optimization process.
Cons:
The price starts at €89 per site, which may be excessive. However, it is still significantly less expensive than hiring a specialist. 
Only paying customers to have access to comprehensive support.
Price range: $0 to $756,50.
Rank Math
Rank Math is a well-known, reliable WordPress SEO plugin that helps to boost site rankings. The plugin is universal and compatible with any website, including blogs, e-commerce sites, and much more. It analyzes your website's content based on 40+ SEO variables and offers suggestions for improvement. The features include XML Sitemaps, automatic picture SEO, social media optimizations, WooCommerce SEO, and many more.
Rank Math is available in both free and premium versions. The free version is sufficient for testing this plugin, including all the key components. However, if you require time-saving automatic features and sophisticated integrations, you should strongly consider a subscription solution.
Top basic features:
30 SEO tests and reports;
18 pre-defined Schema types;
auto canonical tags;
Facebook Open Graph, Twitter Cards;
auto redirects generation;
broken links monitoring;
one-click import from all major SEO plugins.
Top premium features:
Google Analytics integration;
WooCommerce SEO;
24 pre-defined Schema types and 840+ Shema types supported;
keywords and posts tracking;
orphan pages detection;
advanced images optimization.
Pros:
The support is unparalleled.
Free, unlimited use of numerous advanced features.
Simple and instinctive.
Cons:
Documentation could be made more thorough.
Price: $0 to $199
AIOSEO (All in One SEO)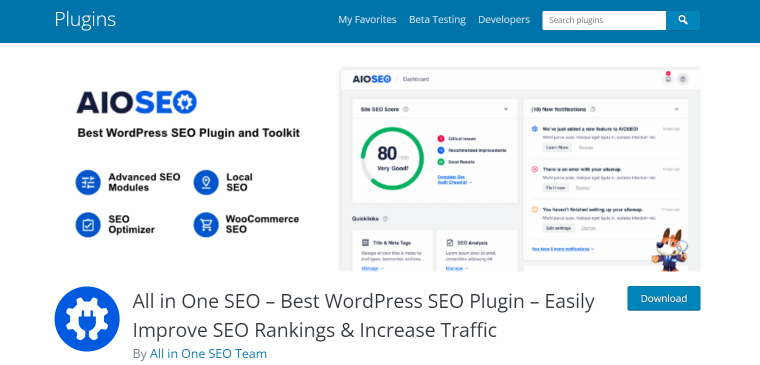 AIOSEO is a complicated SEO solution that is straightforward to install and user-friendly for beginners. Moreover, the plugin is continuously updated and adapted to each new algorithm that Google and other search engines introduce.
The primary benefit of this plugin is the TruSEO algorithm. It evaluates your website and provides you with an SEO checklist that, if adhered to, will boost your chances of ranking well in search engine results. It's remarkable because you may optimize an endless number of pages or blog posts for an unlimited number of keywords without purchasing the premium edition.
Top basic features:
XML sitemaps;
automatic generation of meta titles, meta descriptions;
Open Graph for improved social media aesthetics;
all popular social media integrations;
integration with Google Analytics and other webmaster tools;
schema markup;
RSS SEO Sitemap;
TruSEO score;
settings migrator for easy switching from other SEO tools.
Top premium features:
Video and news SEO Sitemaps;
optimization of product pages and categories via Advanced eCommerce SEO support for WooCommerce;
redirection manager;
optimization of taxonomies;
access to premium forums and video tutorials.
Pros:
In addition to Google, features are optimized for Yandex, Bing, and Baidu.
Numerous cutting-edge features are accessible at no cost.
Cons:
Inconvenient pop-ups on the website.
Paid customers get access to video tutorials.
Price: $0 to $299.50
SEOPress, on-site SEO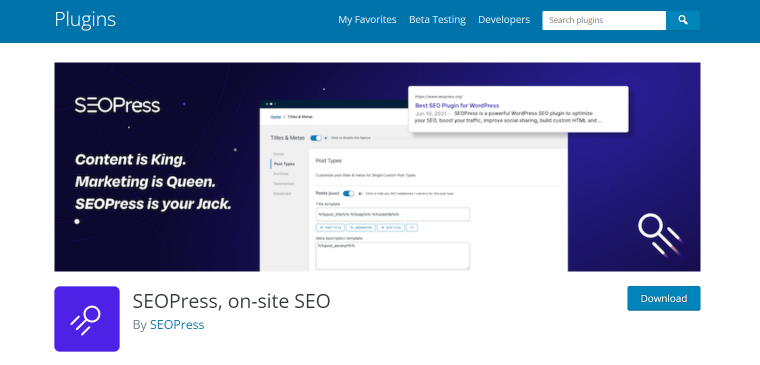 SEOPress is one of the more recent comprehensive SEO plugins. I believe that newly built plugins have at least one undeniable benefit. Typically, they strive to make their products marginally superior to their competitors. For example, this plugin provides a free preview mode for all social networks, whereas other plugins only offer this feature in their paid versions.
Furthermore, the premium edition is considerably more affordable than other advanced SEO plugins while offering even better features.
Top free features:
XML sitemaps and Images XML sitemaps for better ranking;
content analysis for an unlimited number of keywords;
preview for mobile and desktop Google search results and Facebook and Twitter;
custom canonical URLs;
meta robots and meta descriptions;
redirects in CPT, post, and pages;
Google Knowledge Graph;
integration with Google Analytics.
Top premium features:
Supports importing and exporting of metadata to and from CSV files;
Schema protocol markup;
Schema organized breadcrumbs;
monitoring for 404 errors;
redirects manager;
WooCommerce support.
Pros:
Provides additional opportunities when using Elementor.
Much less expensive than its competitors.
No advertisements and white labels, even for the free edition.
Cons:
While some features that are often paid for are offered here without charge, certain features that are typically free require payment.
Beginners may find the installation wizard daunting.
Price: $0 to $39
The SEO Framework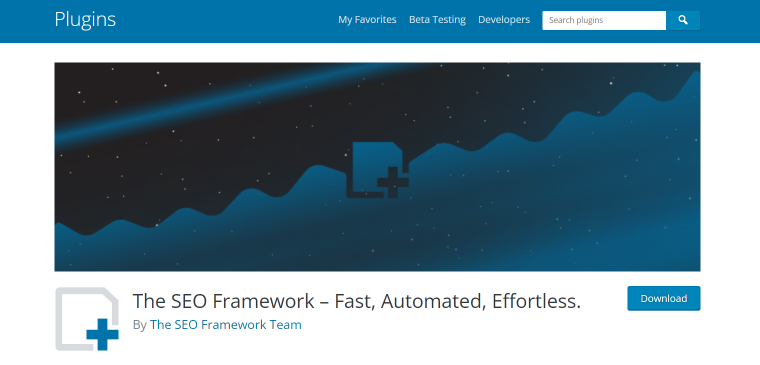 The SEO Framework is an all-encompassing SEO plugin that employs artificial intelligence to create efficient meta tags in any language. This plugin's features are relatively sophisticated, yet it is essentially free.
Paid subscriptions include API access, concurrent support for several websites, and a few other features. There are also paid extensions available.
This plugin is ad-free and follows best practices. Additionally, the plugin includes a color indicator on the control panel pages. When you hover over a color, suggestions for improvements will appear.
Top free features:
Open Graph for an enhanced social media appearance;
Schema integration;
automatic creation of title and description;
color indicators with improvement recommendations for each post on the control panel;
canonical tags automatic generation;
XML sitemaps;
generation of critical SEO meta tags according to the current WordPress environment.
Top premium features:
Premium extensions: HoneyPot, Articles, Focus, and more;
access to more than one site at the same time;
private support;
API requests;
Google Analytics support.
Pros:
The plugin provides features that are unrestricted to use.
The plugin automates a substantial amount of effort, such as generating titles and descriptions.
No ads.
Cons:
Some suggestions are challenging to comprehend if you are not an expert.
Documentation could be improved on.
Price: $0 to $324
SEO plugin by Squirrly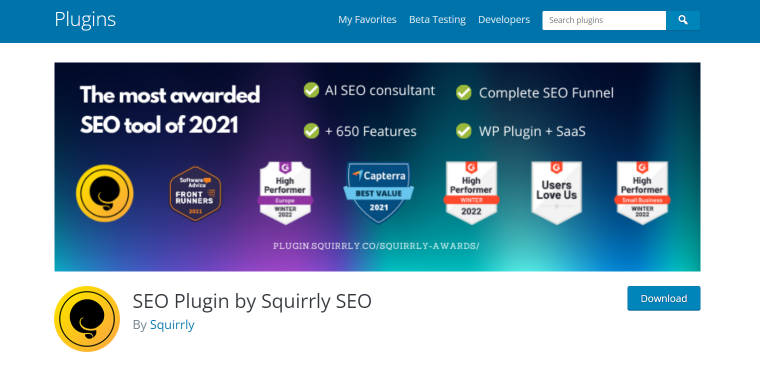 SEO plugin by Squirrly is an additional all-inclusive SEO plugin ideal for beginners. The plugin's developers describe it as a Non-Human Private SEO Consultant that uses cloud services, machine learning, artificial intelligence, and other cutting-edge technologies to develop the best possible SEO tactics.
The plugin is available in both a premium and a free edition, with the free version having all the same features but with a request limitation. In addition, all plugin users have access to the free Education Cloud, and for the first fourteen days of use, the plugin will provide a daily hint to enhance the ranking.
Top free features:
Bulk SEO option for controlling all post types in a single panel;
content marketing analysis for an unlimited number of pages;
13 Schema types of integrations;
creating and managing robots.txt;
live assistant for content optimization;
sitemap XML for images, videos, Google News, and more;
open Graph preview;
Twitter cards preview and validation.
Top premium features:
Support service by phone;
increased limits of focus pages;
increased limits of new keyword suggestions.
Pros:
Useful tips for beginners.
Unlimited content analysis in the free version.
Free SEO instructional materials.
Cons:
The interface appears antiquated.
There isn't a live chat feature on the website.
Price: $0 to $75.99/mo
Slim SEO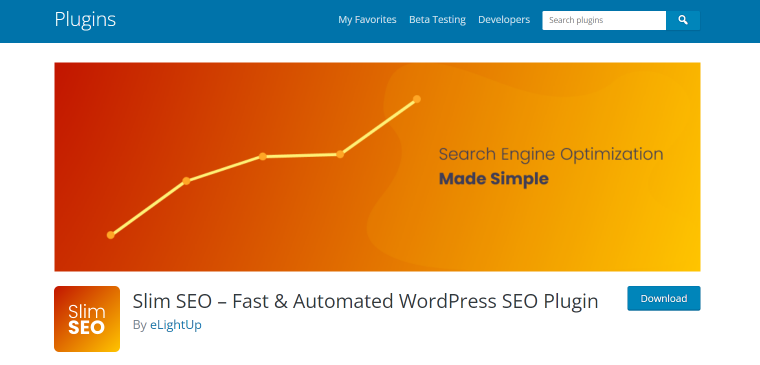 Slim SEO is a unique example of an all-inclusive, entirely free WordPress SEO plugin. The plugin's name is Slim because it makes it simple for prospective SEO optimizers to get started. All procedures are automated, and the plugin creates standalone meta tags, breadcrumbs, and sitemaps, among other things.
If you choose, you can install this plugin, which will take care of everything. As for developers, Slim SEO offers configuration choices for the plugin's precise operation.
Top features:
Auto-generation and optimization of meta tags, including title and description, robots, Open Graph, Twitter Cards; 
XML Sitemaps;
breadcrumbs generation and flexible styling;
Schema integration.
Pros:
Free, lightweight.
Completely automated.
Extended documentation.
Cons:
Not frequently updated.
It does not permit manual meta tag modifications. 
Price: $0
Best SEO plugins for solving point problems
Strive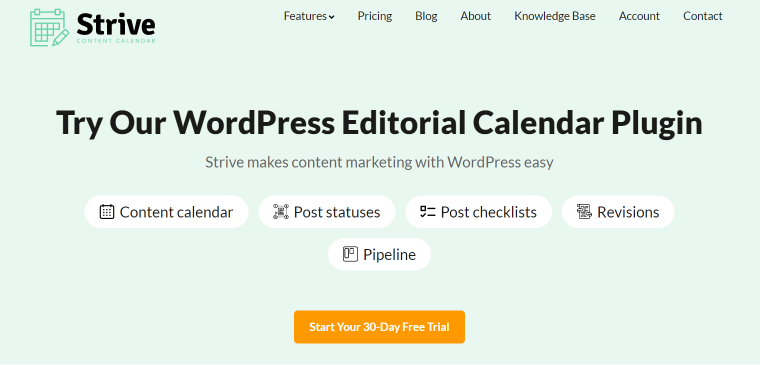 Strive is a WordPress content calendar plugin. One of the best methods to boost your search traffic is publishing high-quality material. Strive considerably simplifies this process by providing you with an impressive, interactive editorial calendar to organize your content.
The Revisions feature of the Strive plugin simplifies the process of republishing obsolete content. You can convert any published post into a revision and then take your time making any necessary modifications. Once the change is complete, it can be scheduled and appear in the calendar alongside the other posts.
Top features:
Interactive calendar in your WP dashboard;
post statuses for tracking your progress;
custom post checklists to organize your workflow;
post revisions for republishing the content;
pipeline view of all your post drafts.
Pros:
Beautiful design.
Easy to use.
Frequently updated and well-supported.
Cons:
No free version is available.
Price: $7/month
Schema Pro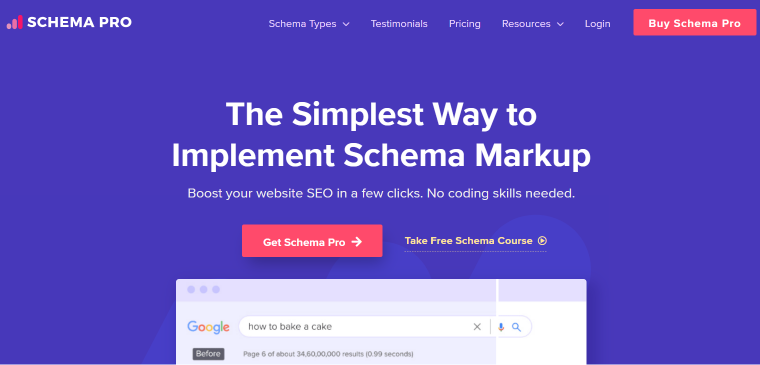 Schema Pro is a highly effective plugin that aids in all facets of implementing Schema on a website. The plugin is extremely user-friendly and provides a point-and-click interface that allows you to make your website compatible with the most recent Schema. For example, choose a page or post, a schema, and map the two together; the plugin will deal with the rest.
Schema Pro is compatible with numerous schema types, including review, local business, article, service, product, course, recipe, person, job posting, book, event, software, video, frequently asked questions, and how-to Schema.
Top Pro features:
Use on unlimited websites;
control display rules;
advanced schema type support;
100% ACF compatible;
live schema testing;
premium support.
Top Growth Bundle features:
Astra Pro plugin;
180 Starter Templates;
WP Portfolio plugin;
Convert Pro plugin;
Ultimate Add-ons for Beaver Builder;
Ultimate Add-ons for Elementor;
SkillJet Academy Membership;
Extensive Training.
Pros:
Simple to use and requires little setup.
No coding or SEO expertise is needed.
100% compliant with the most recent schema standards.
Frequently updated.
Cons:
Price: $63 per year for Pro and $174 for Growth Bundle
Independent Analytics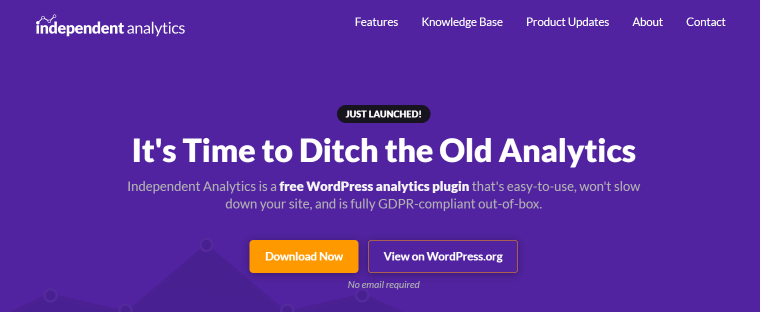 When ranking your site, it's critical that you can track your site's traffic gains and where those gains are coming from. An analytics plugin like Independent Analytics can help.
Independent Analytics is a free Google Analytics plugin that adds visitor tracking to your site. You can see your Views and unique Visitors from the beautiful dashboard added right inside the WP dashboard. There's also a referrers report allowing you to see which sites, like Google, are sending you the most traffic.
Top features:
Beautiful and user-friendly analytics dashboard;
top pages report;
top referrers report;
GDPR compliant;
virtually zero impact on performance.
Pros:
Adds analytics inside your WP dashboard.
No setup process.
Doesn't require a cookie popup to use.
Cons:
Doesn't include as much data as Google Analytics.
Price: freemium.
Schema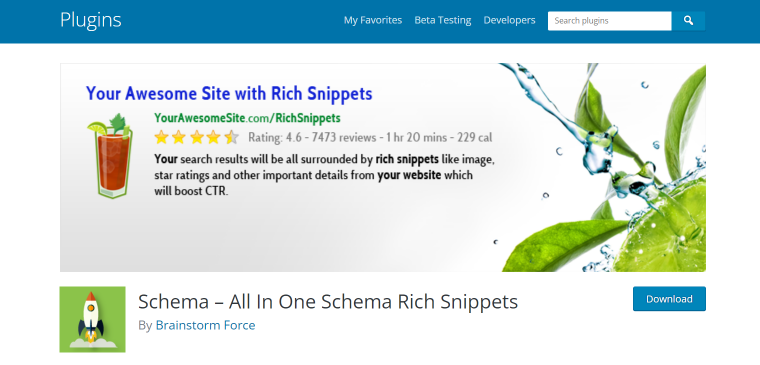 With nearly 100,000 downloads, Schema is perhaps WordPress's most popular free schema markup plugin. It supports many schema types and provides rich snippets for various search engines.
Rich snippets will promote your website in search engine results and enhance click-through rate (CTR).
Top features:
Efficiently implements different Schemas: articles, video, people, review, and four more
Pros:
Improved appearance in search results.
Consequently, Facebook reposts have more accurate information.
Cons:
Price: $0
Semrush SEO Writing Assistant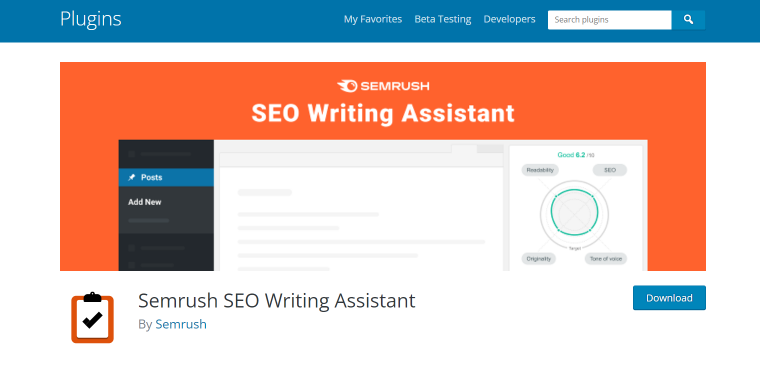 Semrush SEO Writing Assistant is one plugin that provides a straightforward solution. Here, we are discussing content optimization. Based on a study of the top 10 search results for the provided keywords and region, the plugin offers suggestions for refining the text. The plugin examines the text for originality, voice, keywords, and legibility. It also verifies the authenticity of links.
This is a free plugin developed by one of the most well-known providers of SEO tools.
Top features:
Provides total readability score and improvement recommendations;
recommendations are based on the given keywords;
suggests related keywords;
checks the relevance of tone of voice.
Pros:
A plugin designed by the team that has produced SEO tools for more than a decade.
Cons:
Only one set of recommendations is available for free.
Price: $0
WP Rocket
WP Rocket is a clever caching plugin. Once installed, it dramatically accelerates the website by caching pages and compressing pictures, among other techniques. The SERPs are significantly impacted by high loading speeds, which are also pleasant for your site's users. Quick-loading websites have a greater chance of ranking well in search engine results.
Although the plugin does not offer a free version, it is evident from the description of how it works that millions of users worldwide are quite impressed with the quality of its output. Furthermore, this is a straightforward plugin that any new webmaster can use without difficulty.
Top features:
Page and browser caching;
GZIP files compression;
the plugin won't affect sensitive pages, i.e., product purchasing ones;
integration of a Content Delivery Network to increase loading speed for users located too far from your server;
automatic and manual database cleanups enable quick deletion of comments, posts, and much more in a few clicks.
Pros:
A sophisticated algorithm that avoids sensitive pages.
Possibly the simplest-to-use plugin in its field.
Comprehensive documentation.
Cons:
No free version.
No live support.
Price: $49 to $249
LiteSpeed Cache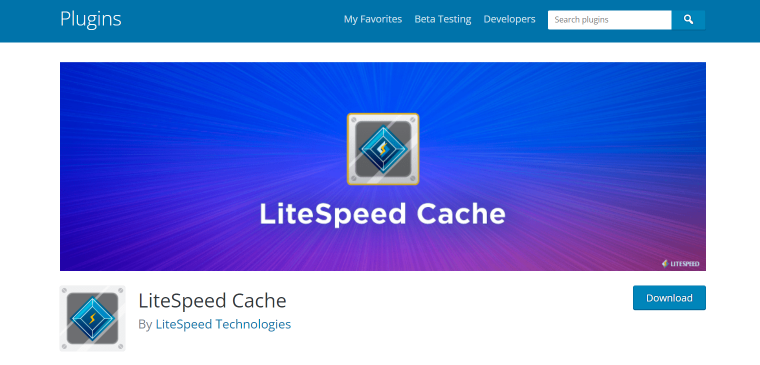 LiteSpeed Cache is a free 5-star WordPress plugin downloaded over 2 million times. It optimizes webpage performance through server-level caching. All cached pages are stored on the LiteSpeed server and have no relation to the WordPress server.
The plugin integrates seamlessly with major well-known software like WooCommerce and Yoast SEO.
Top features:
Support of multiple CDN;
critical CSS auto-generation;
cloudflare API;
page speed score optimization;
image optimization;
lazy load.
Pros:
Extremely straightforward and effective.
Speeds up the site.
Cons:
Not compatible with Google PageSpeed.
Price: $0
W3 Total Cache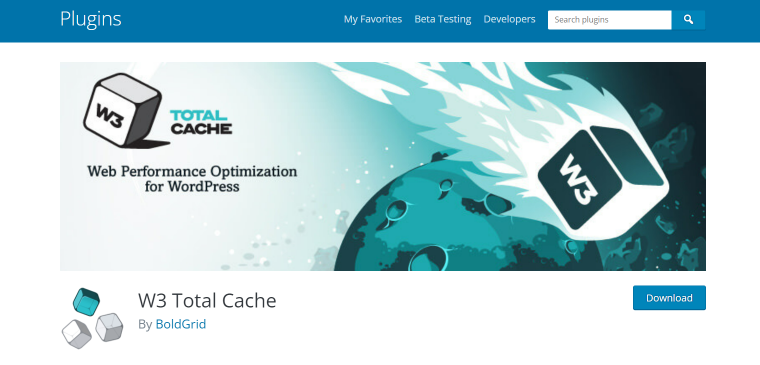 W3 Total Cache (W3TC) is another caching plugin that accelerates a website. It combines CDN (content delivery network), implements lazy loading, and uses other best practices for optimizing website speed.
Top features:
Compatibility with any hosting sorts;
CDN management with media library;
AMP pages generation;
caching of posts, pages, RSS feeds, objects, CSS, JavaScript, and more in memory/on disk/on CDN;
minification of posts and pages, RSS feeds;
Lazy Load.
Pros:
Many free cutting-edge alternatives for developers (which is also a con if you are a newbie).
It shows good performance.
Supports all major CDN providers.
Constantly updated.
Cons:
Too complicated and overwhelming for novices, with insufficient assistance supplied.
Lots of adds.
Price: $0
XML Sitemaps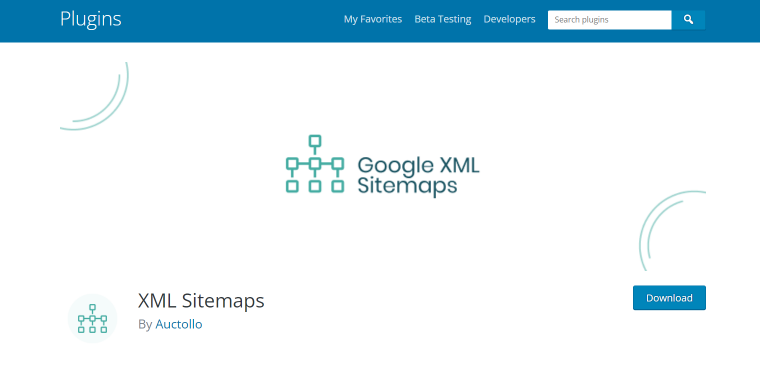 Typically, complex SEO plugins support the Sitemaps protocol, but this plugin will drastically assist if you use different SEO solutions. The plugin builds XML Sitemaps, as is evident from its name. And sitemaps, in turn, assist search engines in understanding the site's structure and displaying it correctly in SERP.
Top features:
Creates complete sitemaps for better crawling.
Pros:
Simple and free 5-star plugin.
Cons:
Not sure if there are any.
Price: $0
Spider Blocker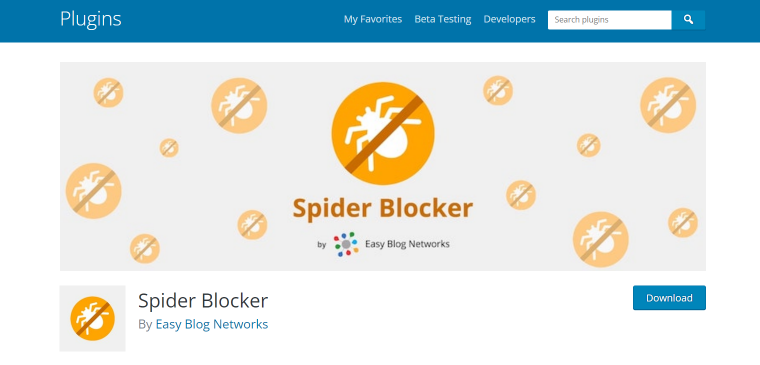 Spider Blocker is a WordPress plugin that prevents slowing bots from accessing the website.
Top features:
It prevents all bots that slow down the site from viewing it;
easy rules for importing and exporting. 
Pros:
Zero footprint.
Allows adding bots manually.
Cons:
This is most likely not a tool that a novice could easily use.
Price: $0
Broken Link Checker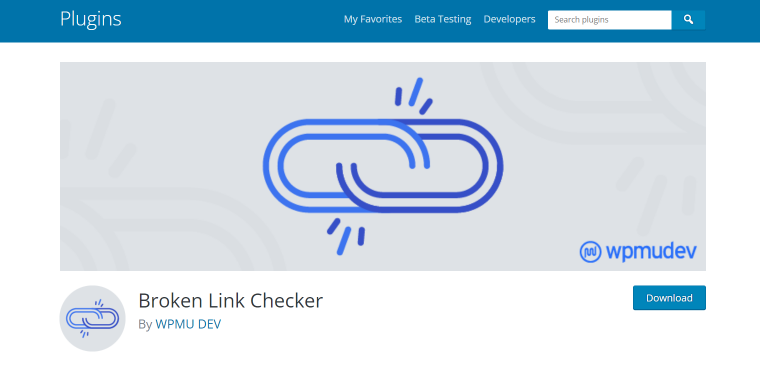 Broken links negatively influence both the user experience and the site's ranking. Broken Link Checker is a free WordPress plugin that checks external and internal connections and assists in fixing broken ones.
Top features:
Monitors all links on the website; 
finds broken links, redirects, and missing images;
notifies users of broken links through email or a dashboard (you can configure this manually).
Pros:
Saves time by automating monitoring.
Improves user experience.
Cons:
It sometimes brings false reports.
Price: $0
How to Choose a WordPress SEO Plugin?
As you can see, the list contains numerous plugins with comparable functions, each of which has advantages and disadvantages. There is probably no perfect solution, but downloading is not an option, and neither is buying each one to determine which is best for you.
Before deciding, it is vital to examine all desirable options beforehand. What to search for:
SEO plugin features
Everything is quite evident here: before beginning work, you must be aware of the problem you need to solve and whether the selected plugin can accomplish it or not.
Compatibility with third-party plugins
Before selecting an SEO plugin, ensure it is compatible with your other work tools, if necessary.
Price
Obviously, the price of a plugin is frequently determined by the abundance of its features, but you may not require all of them and therefore cannot afford to spend a great deal.
The number of users
Everything is straightforward if we are discussing a plugin from the WordPress directory; this number is displayed on the homepage. The better a plugin is, the more people trust it. Additionally, consider the number of reviews. If there are many downloads but few reviews, this is questionable. On the other hand, suppose the plugin is not listed in the directory. In that case, it is still possible to estimate the number of users by viewing SimilarWeb's page-visitation statistics and reading reviews on various websites.
Reviews
Always read the directory's reviews and those from services such as G2 Crowd, TrustPilot, and others.
Security
A significant consideration that few consider. The plugin must be constantly updated and compatible with the most recent version of WordPress; this reduces the likelihood that the plugin will cause harm to your website.
User support
Most premium plugins provide excellent individual assistance, whereas the free plugins are supported primarily through ratings in the directory and forums. Therefore, observing how quickly developers respond to user requests is crucial.
Best WordPress SEO Plugins FAQs
What is the WordPress SEO plugin?
WordPress SEO plugin enables you to automate most SEO procedures, and in some situations, a solid plugin can take the place of an entire SEO agency.
What does the WordPress SEO plugin?
WordPress SEO plugin aids in creating AMP pages, generating an XML sitemap, correctly configuring redirects, adding nofollow/noindex tags automatically, counting and optimizing keywords, increasing loading speed, and optimize image sizes and names, among other things.
How hard it is to change SEO plugins on WordPress?
Consult the migration guide for the SEO plugin that you wish to disable.
How many SEO plugins do I need for WordPress?
Consider the features you require, not the number of plugins. Occasionally, you do not need a comprehensive SEO plugin, only the WordPress plugin that handles point problems. There is no reason to replicate a plugin's features; therefore, analyze the plugin's features before installing a new plugin.
Can I optimize a WordPress website without a plugin?
Yes! You can optimize your WordPress site without a plugin if you adhere Google Search Central (Webmasters) guidelines.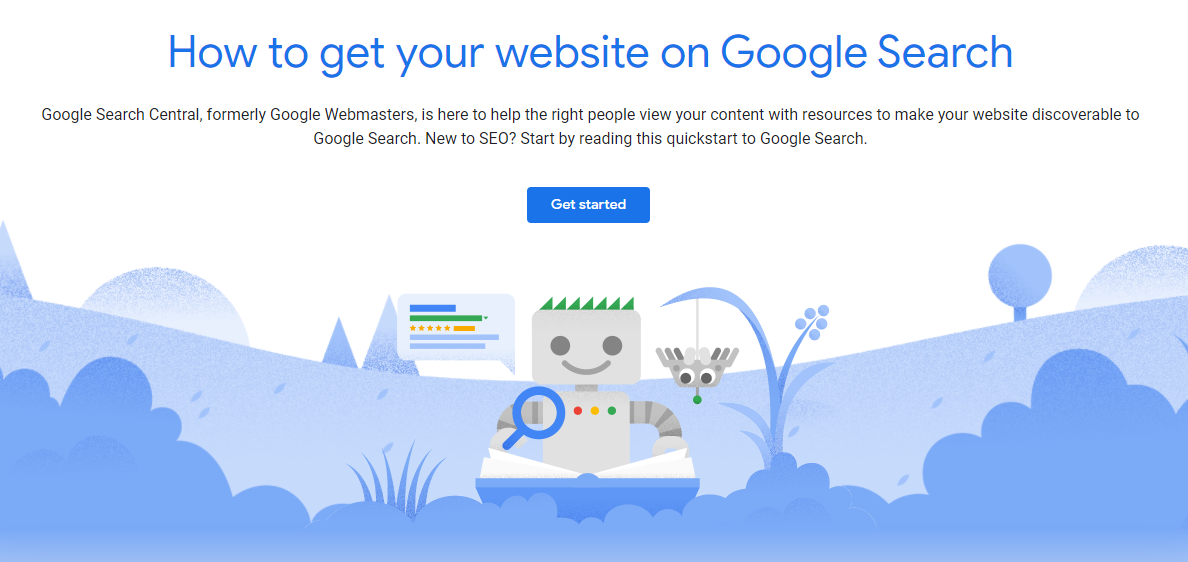 Do I need WordPress SEO plugin?
Complying with all Webmasters' recommendations might be difficult and time-consuming. In addition, coding skills are required to optimize a website without a plugin. Therefore, it is preferable to use a WordPress SEO plugin.
Where can I find WordPress SEO plugin?
Check out our SEO plugins list or the WordPress plugin directory.
Sum Up
I hope this was useful! I would appreciate your feedback in the comments. Also, feel free to inform us about your preferred plugins.