Do you want to create a unique website but do not know how to program it?
Today, this is unnecessary because various platforms, plugins, and templates help you create a resource without programming skills.
One such helper is Elementor.
What Is Elementor?
Elementor is a free WordPress website builder plugin. With it, you can easily create any website you can imagine.
The Elementor plugin is visual. You can place any images, text, buttons, and other elements by simply dragging them to the right place. Is there anyone who can't handle this task?
Moreover, you immediately see the created page exactly like it will be displayed on the users' screens. So you won't run into an unpleasant surprise.
It's an incredible tool to build a website without a development team and learning the basics of programming.
What Can Be Created with Elementor?
Everything. From a blog and magazine to an online store. It makes it possible to create a site with many sections or a one-page site: post photos and descriptions or payment buttons. You can find many Elementor reviews and understand if this plugin is good for you. Here is one of them:
Elementor Pricing
Elementor allows you to work with it for free or buy one of the subscription options. In this article, we will analyze the features of the free plan in detail.
But if you decide to expand your options, you can purchase one of the paid accesses:
Access for one site – $49
Access for 25 sites – $199
Access for 1000 sites – $399
Paid versions of Elementor have advanced widget sets, premium support, and design features.
The free version has over 40 different widgets and 30 templates, plus everything you need to create a website.
In this article, we compared the features of the paid and free versions, so be sure to check it out.
How to Start Using Elementor?
Getting started with Elementor is very easy. You can do this with a WordPress plugin or the official website.
Let's start with the second option.
To install Elementor on your site, go to Elementor.com.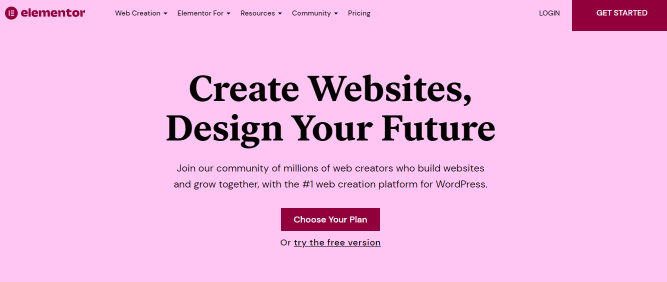 2. Click "Get Started" and create an account.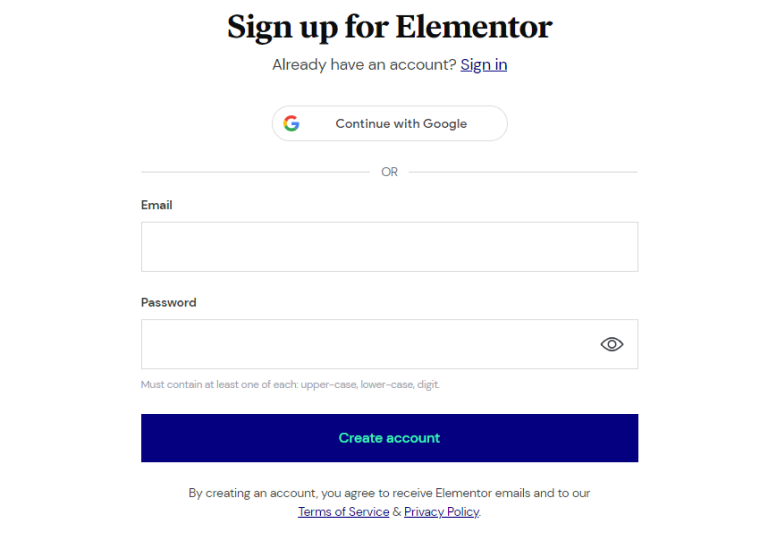 3. Answer the questions suggested by the system. In the future, these answers will help you better customize your site.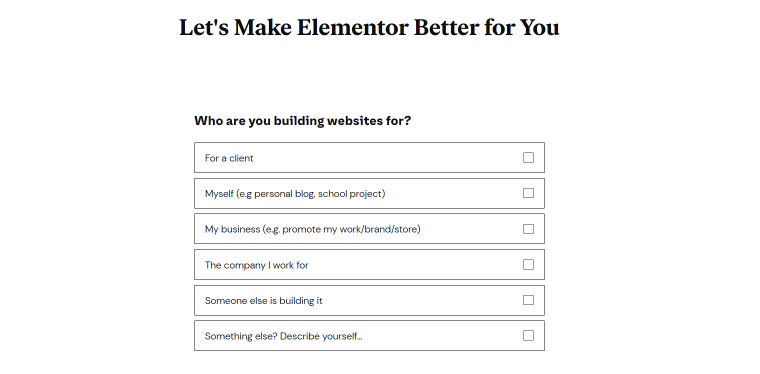 4. At the next stage, the system will prompt you to choose one of the packages. Choose free and click continue.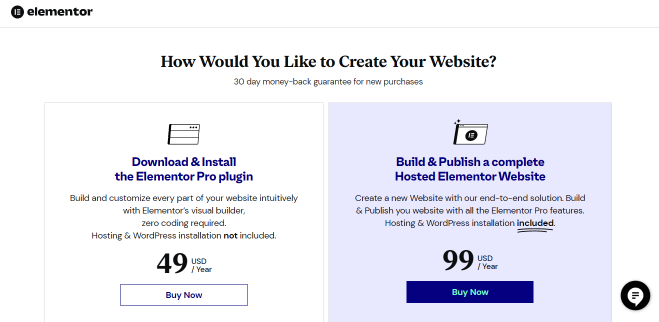 5. Next, enter the domain name of your WordPress site.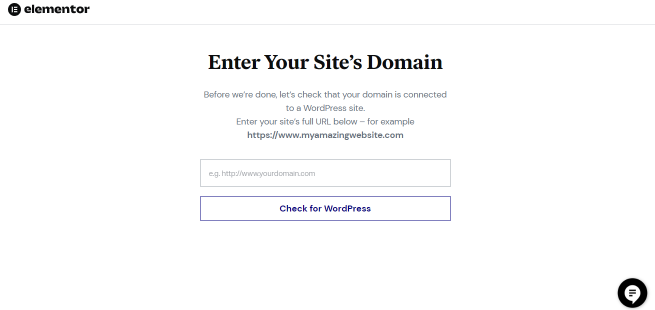 6. At the next step, click "Install Elementor."
7. After that, the system will take you to the site's admin panel. Click install plugin and then activate it.

Ready! You can start customizing your website design with Elementor.
Installing Elementor on your site using the plugin search in the WordPress admin panel is even easier.
Log in to your site's admin panel.
Click on the Plugins tab.
Type "Elementor" in the search box.
Find Elementor Website Builder.
Click "Install" and then "Activate."
Ready! You can use Elementor on your new site.
Free Widgets for Elementor
There are over 30 different widgets available in the Elementor free version. Let's analyze the most popular of them in more detail.
Headings and working with text
It is what every user needs, regardless of whether they make an online store or create an information resource. Headings and text are the soul of your site. Therefore, convenient tools for working with them are essential.
Images
Post a photo of your favorite cat or popular product so that site visitors can see and appreciate it.
Video
If your site needs more dynamics and images are not enough, add a video to the site.
Buttons
Do you want people to buy goods and services, register, or take other actions? Add bright buttons to help them out.
Rating
Do you have several products and need to show how customers like them? This widget will do the trick.
Map
This widget will help customers find your store or establishment. It is straightforward and convenient to use.
Badges
Use icons to show the essence of the written text even better.
Reviews
They will help potential customers understand what those who have already used them think about your product or service. This useful widget will be great for gaining even more trust from your audience.
Social media icons
Want to connect even more with your customers? Place social network icons on the site and link your pages to them.
Sidebar
Place essential sections in the sidebar so that site visitors can easily find all the information they need.
Container
This useful widget will help you organize information and make the site more attractive. For example, organize text, pictures, or videos into categories and create an order that visitors to the resource will like.
HTML
If your site needs a different, custom solution, you can create it using code. The HTML widget will have you covered.
This tutorial will help you do the perfect website featuring all these widgets:
Free Plugins to Extend the Elementor Capabilities
Yes, Elementor provides a great set of tools for creating a website. But sometimes, this is not enough, and you don't want to buy paid access. What to do in this case?
Try extending Elementor with free addons and plugins.
FAQ
Is Elementor suitable for beginners?
Yes, completely. You don't need to know how to write code to use it. It is enough to drag and drop various elements to the right places. There are a lot of Elementor tutorials that could help you.
Do professionals use Elementor?
Yes. Elementor gives many features even to professional users.
Which is better, WordPress or Elementor?
It would be best not to compare them because Elementor is a WordPress plugin. They work together. Installing Elementor expands the possibilities of WordPress and gives you more tools to build a website.
Will I be able to create an attractive website with the free version of Elementor?
Yes, the free version has enough tools for that.
Final Thoughts
Elementor is a convenient and practical plugin that everyone can use: from novice users to a professional. It dramatically simplifies the work of developing a site and helps to create attractive web resources.
Try the Elementor free version and evaluate its features.