Do you want to create a unique website but do not know how to code it?
Today, this is unnecessary because various platforms, plugins, and templates help you create a resource without programming skills.
One such helper is Elementor page builder for WordPress.
Table of Contents
What Is Elementor?
Elementor is a free WordPress website builder plugin, which helps developers easily create any website they can imagine.
The Elementor page builder plugin is visual. You can place any images, text, buttons, and other elements by simply dragging them to the right place. Is there anyone who can't handle this task? 😉
Moreover, you immediately see the created page exactly like it will be displayed on the users' screens. So you won't stumble across an unpleasant surprise.
It's an incredible tool for building a website without a development team and learning the basics of programming.
What Can Be Created With Elementor?
Everything. From a blog and news resource to an online store. Elementor makes it possible to create a complex hierarchical site with many pages or a killer landing page. You can find many Elementor reviews and understand if this plugin is good for you. Here is one of them:
Elementor Pricing
Elementor website builder plugin allows you to work with it for free or buy one of the subscription options. In this article, we will analyze the features of the free plan in detail.
But if you decide to expand your options, you can purchase one of the paid plans:
Plan for one site – $59
Plan for three sites – $99
Plan for 25 sites – $199
Plan for 1000 sites – $399
Paid versions of Elementor have advanced widget sets, premium support, and design features.
The free version has over 30 different widgets and over 20 templates, plus everything you need to create a website.
💡 In this article, we compared the features of the paid and free versions, so be sure to check it out.
How to Install Elementor in WordPress?
Getting started with free Elementor is very easy. You can do this by uploading the plugin to the dashboard through the "Plugins" section.
Find "Elementor" in the "Plugins" section and download it.
Then activate Elementor.

Ready! You can start customizing your website's appearance and functionality with Elementor.
NOTE
If you want to use the PRO version, you can create an account on Elementor.com and choose the plan. Then, download the Elementor Pro after purchasing. It doesn't work without a free version, so you must install both.
Free vs. Pro: What Will Suit You Best?
There are over 30 different widgets available in the Elementor free version and more than 100 widgets in the PRO version.
The free version has many basic design and content management features, without which it is challenging to build any site. With Elementor, this can be done without coding skills, using a simple drag-and-drop.
Here are the widgets of the free Elementor version: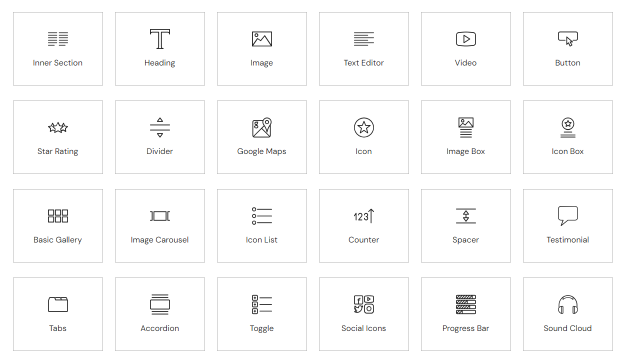 The PRO version gives you more options. In addition to the widgets that come for free, there's also the ability to accept PayPal payments and collect form data.
Here is the list of Elementor PRO version widgets:
But the most important thing that distinguishes Elementor PRO from the free version is the following:
If you need help with your site, Elementor offers AI to help you find or quickly create the right images and make it easier to work on the site. Here's how it works:
And that's not all. Elementor PRO has many other elements and features for advanced developers to create the desired design. Just keep in mind that if you add many elements to your WordPress website, you should monitor the loading speed.
Free Plugins to Extend the Elementor Capabilities
Yes, Elementor provides a great set of tools for creating a website. But sometimes, this is not enough, and you don't want to buy paid access. Or imagine you did get the paid version, but it is not enough to cover all your website-building needs. What to do in this case?
You might want to consider additional options like extending Elementor with free add-ons and plugins.
For example, look at Crocoblock plugins. If you add them to the free Elementor version, you can create any website for any task — simple and complex dynamic websites, from a blog to WooCommerce projects.
FAQ for Elementor WordPress Plugin
What is the Elementor WordPress plugin used for?
This plugin helps you to design your WordPress website by dragging and dropping needed elements into the right places.
What's the difference between Elementor and WordPress?
WordPress is a platform on which a developer creates a website. Elementor is a WordPress plugin that helps you design a website and add the needed functionality to it.
Is Elementor suitable for beginners?
Yes, completely. You don't need to know how to write code to use it. It is enough to drag and drop various elements into the right places. There are a lot of Elementor tutorials that could help you.
Do professionals use Elementor?
Yes. Elementor provides many development opportunities, even for professional users.
Which is better, WordPress or Elementor?
It would be best not to compare them because Elementor is a WordPress plugin. They work together. Installing Elementor expands the possibilities of WordPress and gives you more tools for building a website.
Can I create an attractive website with the free version of Elementor?
Yes, the free version has enough tools for that.
Final Thoughts
Elementor is a convenient and practical plugin that everyone can use, from novice users to a professional. It dramatically simplifies the task of developing a site and helps to create attractive web designs.
In addition to basic features, such as building websites visually and creating templates, it offers a bunch of additional handy functionalities, such as:
Box Shadow;
Background Overlay;
Hover Effect;
Animations;
Gradient Backgrounds;
Mask Options;
Shape Dividers, etc.
Besides, many new exciting features are expected shortly, and these developments look promising. ✨