So, you want to start blogging, but you are not quite sure which is the best blogging platform to choose. There are so many blogging platforms out there, all with their own unique range of features. Luckily for you, I have narrowed them down to eight platforms which each have their own particular advantages.
If, after reading this, you are still not quite sure, don't worry. Just pick one and get started. You can always change to a different platform later and repost your content.
Table of Contents
6 Tips for Choosing a Blogging Platform
Each blogging platform has its own advantages and disadvantages, depending on what you are looking for. Here are six important points to consider when deciding whether a blogging platform is right for you.
What is the content editor like? You will be using the content editor every time you create a new blog post, so you need to be happy using it. Does it work in the way you prefer? For example, maybe you want a drag-and-drop interface like WordPress's Gutenberg block editor.
What about ready-made themes and templates? You want your blog to look good, but you might not have the experience or time to design it yourself. If so, you need to know what ready-made themes or templates are available and whether they are free or paid.
How customizable is the appearance? Although it's good to have something ready-made to save time, you might want to make lots of changes to stamp your identity on it. If so, you need to know how much you can customize the site's appearance. Can you create your own unique layout and design from scratch if you want to?
Can you add extensions and integrations? Whatever blogging platform you choose, it might not provide every function you need out of the box. So, what additional features can you add via plugins and integrations with other tools and apps?
How good is it for SEO? If you want to get lots of targeted visitors to your blog, you need to appear in Google searches. So, how easy is it to optimize your blog for search engines? For example, there are SEO plugins for WordPress which help you improve the SEO of your blog posts.
What are the monetization options? If you want to make money from your blog, what options are available with the platform? For example, can you make money directly from views as with Medium? If not, is it easy to add paid adverts or affiliate links?
8 of the Best Blogging Platforms
🏆 Best for starting a free website, with the option of upgrading later.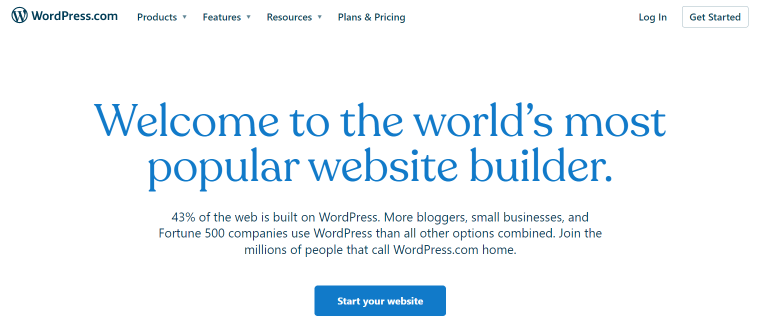 43% of the web uses WordPress, including Fortune 500 companies, so they must be doing something right. However, there are two versions of WordPress – WordPress.com and WordPress.org. WordPress.com websites are hosted by WordPress, and you can start a website for free, although you will need to pay for the best features.
With WordPress.org, your website is not hosted by WordPress, so you pay for your own hosting and domain independently.
📚Read more: WordPress.org vs. WordPress.com Comparison: Key Differences.
Out of all the platforms reviewed here, WordPress.com is probably the best platform for beginners to create a great-looking blog. There are lots of really cool themes to choose from, you can build your content with blocks, and even turn your site into a store to sell products. However, the free version does have limitations.
Key features:
Build your content with blocks.
Built-in SEO and marketing tools.
Thousands of easy-to-install add-ons.
You can turn your site into a store to sell products.
iOS & Android mobile app for managing your website wherever you are.
How can you earn with WordPress?
Display adverts.
Create an online store.
Include affiliate links to relevant products, for example, to Amazon.
Accept donations.
Pros:
You can get started for free.
No technical knowledge or design experience is needed.
Popular platform – 43% of the web uses WordPress.
Cons:
The free version contains adverts which you don't receive any money from.
🏆 Best for writers who want to earn money from an ad-free platform.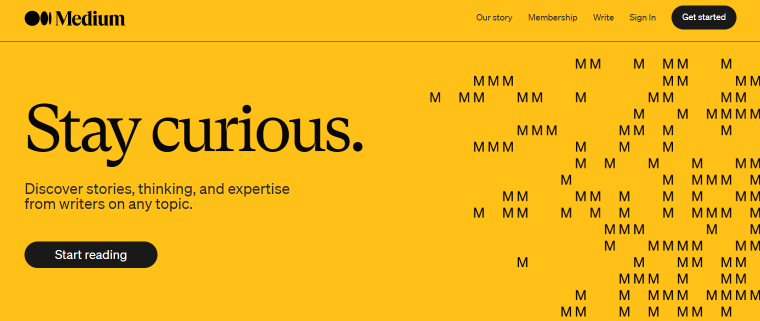 If you like writing and just want to write without worrying about any website stuff, Medium is ideal for you. You can get started straight away for free. However, you can only read three articles per month with a free membership. But the paid membership is only $5 per month, which gives you unlimited usage of the site.
Once you have 100 followers on the site, you can easily make money through the Medium Partner Program, where your articles earn money depending on how much they get read by paid Medium members. This is unlikely to make you lots of money, so it's best to see it as a bonus for having the freedom to write about almost anything you want.
There are no adverts on Medium, so you cannot earn money that way. You can include promotional links. However, you need to label all affiliate links as such, and you cannot be blatantly spammy. You need to be providing genuine, unique content.
Key features:
Ad-free.
The built-in audience of 85+ million active readers.
12,000+ publications on a wide range of topics.
Free and paid memberships are available.
Built-in comments feature for members to interact with each other's content.
How can you earn with Medium?
Medium Partner Program – the more reads you get, the more money you earn.
Affiliate links – as long as you're not spammy about it.
Promote your own product, mailing list, or service – again, as long as you're not spammy.
Pros:
Free to get started.
Very easy to use – writing a new article is as easy as using Microsoft Word.
The large membership base gives you a ready-made potential audience.
Search engine friendly – Medium articles can often show up in Google searches.
Cons:
You can't earn money with the Medium Partner Program until you have at least 100 followers.
🏆 Best for online stores or podcasts.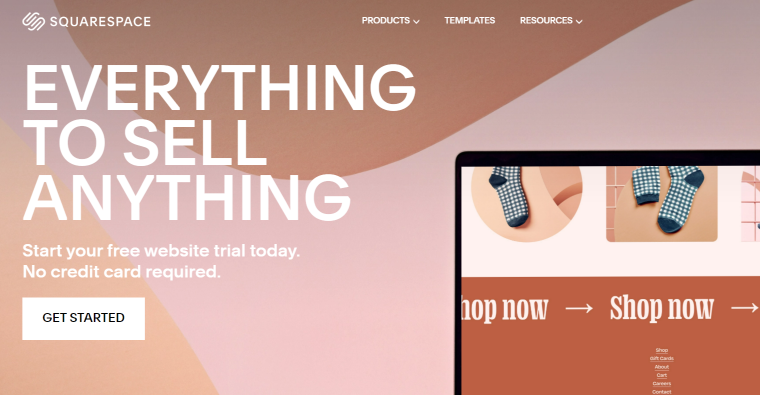 Squarespace doesn't have anywhere near as many templates available as WordPress. However, these templates are high quality, and using Squarespace's built-in website builder, you can customize the appearance of your website almost however you want. Squarespace comes with built-in eCommerce and podcast support, built-in email campaigns, and newsletters. So, if you want to get heavily into marketing, Squarespace could be ideal.
Key features:
Website builder with customizable templates and pre-built layouts.
Manage your website while on the go with the Squarespace app.
Podcast support – words with Apple Podcasts and other podcatchers.
Create an online store to sell products or services.
Google Workspace integration.
Designed for marketing with built-in email campaigns, newsletters, banners, and promotions.
SEO optimized without the need for extra plugins.
How can you earn with Squarespace?
Online store.
Google AdSense ads.
Affiliate links.
Pros:
Fully customizable.
Great for image-rich content – integrates with Getty Images and Unsplash.
Connects to social media.
Built-in analytics helps you understand where your visitors are coming from.
Cons:
No free option is available.
Limited range of extensions.
🏆 Best for those wanting an all-in-one workspace for everything.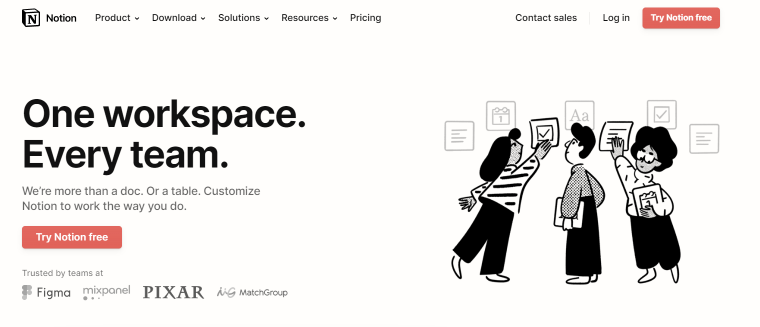 With Notion, you can easily create a free account, write some content, and then publish it on the web. You could use it as a free blogging platform, but Notion is much more than a blogging platform. It is an all-in-one workspace for planning, creating, managing, and collaborating. You can set up to-do lists to plan and manage your workflow. You can create content pages, share them with your team, and collaborate.
When it comes to publishing your pages of content to the web, there don't seem to be many options for customization of the appearance. There aren't "themes" like you get in WordPress, for example. You're kind of stuck with Notion's appearance and overall layout.
In terms of monetizing your content, there doesn't seem to be a built-in way to include ads. As for adding affiliate links to your content, I couldn't find any information about that in their terms of use, so you may or may not get away with trying to earn money that way.
Key features:
Prioritize and manage your tasks with built-in kanban boards, task lists, and calendars.
Mobile app for working on content anywhere.
Upload and share files.
Work on projects as a team with the comments function and shared calendars.
Easily publish a page to the web with one click.
You can create subpages within pages.
How can you earn with Notion?
Pros:
All-in-one workspace with everything you need to plan, create, and publish content.
Ability to work on content with other people as a team.
You can get started for free.
Cons:
There are no themes available like with most blogging platforms.
🏆 Best for beginners.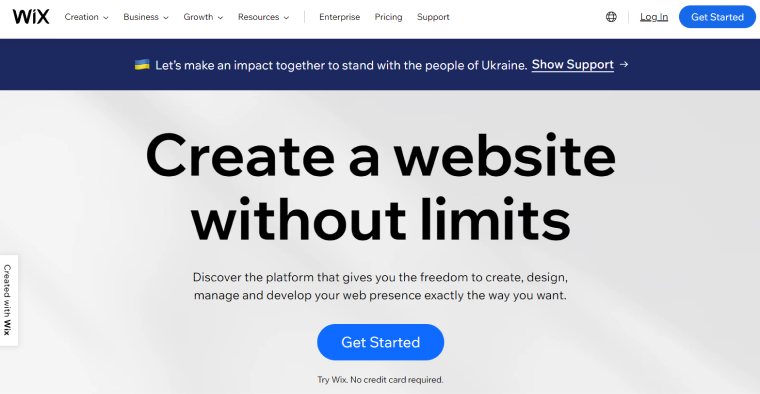 Wix is ideal for beginners as it features an Artificial Design Intelligence system. You just need to answer some questions, and then it creates your website for you. Alternatively, you can choose from a wide range of pre-designed templates.
You can get started with Wix for free, but many of the best features require you to pay a monthly fee. For example, if you want to use your own domain, accept payments, and choose from the best templates.
Key features:
Drag and drop page editor.
Multi-cloud hosting for maximum uptime.
SEO optimized.
Built-in eCommerce solutions.
Scalable free web hosting.
Promote your site with social media ads and email campaigns.
Built-in reporting and analytics.
How can you earn with Wix?
Online store.
Google AdSense ads.
Affiliate links.
Pros:
Over 800 pre-designed templates to choose from.
Alternatively, Wix's Artificial Design Intelligence can create a website for you after you complete a questionnaire.
You can create blog posts from your phone.
You can get started for free.
You can manage everything from the front end.
Cons:
Not as customizable as some other platforms.
The most useful features are not available in the free version.
🏆 Best for those wanting to focus on writing without any unnecessary features.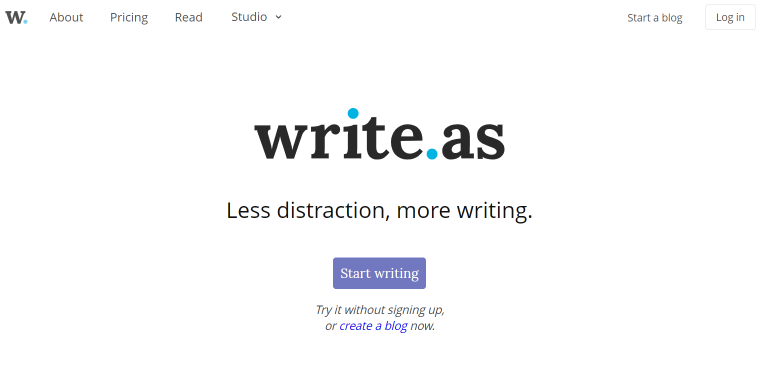 Write.as's main selling point is its simplicity. Its text editor is stripped down to the absolute bare essentials. You just have a page to write your text on and an auto-save feature. Once you're done, you click "Publish," and that's it. You can publish anonymously, under a pen name, or using your real name. With a paid account, you can connect your own domain name.
While there are various themes available, they are all very minimalist in design. So, if you are looking for something more flashy and eye-catching, Write.as might not be for you. But if you just want a quick and easy way to publish your writing, it doesn't get any quicker and easier than this.
Key features:
Ad-free.
Free and paid memberships are available.
Lightweight, minimalist design with a focus on writing.
Built with privacy in mind – ability to publish anonymously.
Team account allows for up to 5 team members.
How can you earn with Write.as?
Donations via their "Web Monetization (WM)" system.
Create exclusive paid content.
Pros:
The stripped-down editor feels like writing in a journal.
You can use it for personal or professional blogs.
Quick and easy to get started.
Cons:
Requires the use of Markdown to format your text.
It could be a bit too minimalist for some people's tastes.
🏆 Best for combining blogging with social networking.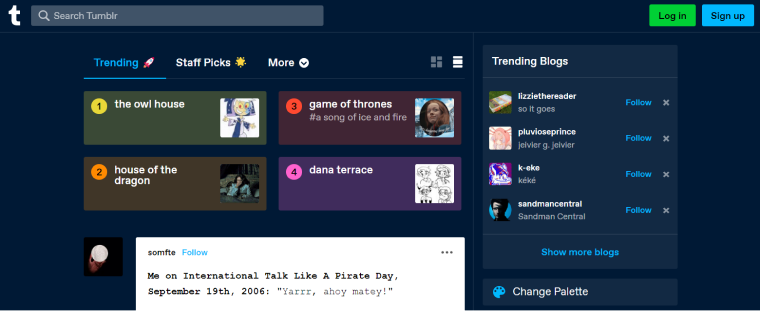 Tumblr is easy to get started with and use and is totally free unless you decide to pay for a premium theme. It is very visual in nature and is ideal for those who want to post lots of images and videos, although the video file size limit is 100MB. One of the best things about Tumblr is that it is a blogging platform and social network in one. You can follow other blogs, like and repost their posts, and send and receive messages.
Key features:
Post schedules.
Page customization tools.
HTML editing.
Tagging capabilities.
Ability to comment, reblog, and like.
Custom domain name.
Inbox and messaging.
Automatically post to Facebook and Twitter.
How can you earn with Tumblr?
Google AdSense ads.
Affiliate links.
Pros:
Free.
Combines blogging and social networking.
Very visual.
Many free and premium themes are available.
You can add your own domain name.
Cons:
You can only schedule up to 50 posts a day.
100MB video upload limit.
🏆 Best for tech geeks.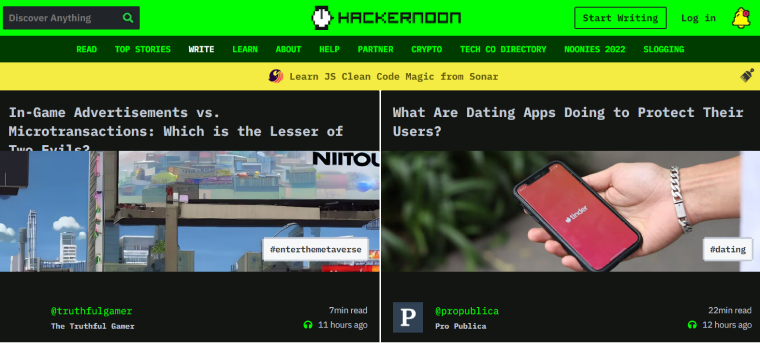 HackerNoon is an interesting platform, as it used to be hosted on Medium.com. But in 2019, they decided to go it alone and create their own independent site. I can see the benefit of both scenarios. When it was on Medium.com, you could use the same account for HackerNoon as the rest of Medium. However, now that they are independent, they have complete control over how they want to run their website.
Another advantage of HackerNoon is that there is no paywall. You can read all the content for free, and it's free to set up an account and start posting content. However, your work will need to be approved by editors, but that's no bad thing as it ensures the quality is kept high.
Key features:
It was created from the ground up by techies, for techies.
High-quality content on all areas of tech, including AI, blockchain, cybersecurity, gaming, programming, robotics, virtual reality, and more.
Subscribe to your favorite topics and get a customized daily Tech Brief.
Bookmark your favorite stories privately or publicly.
Ability to receive micropayments via Coil.
How can you earn with Hackernoon?
Micropayments.
Affiliate links.
Pros:
Completely free to use – no paywalls or pop-ups.
Active community of technology professionals and enthusiasts.
Professional editors to help improve your content.
Dedicated, helpful support team.
Cons:
Some may find the site design hard on the eyes.
FAQ
How do I start blogging?
If you have never done blogging before and just want to quickly get started publishing your writing online, the quickest and easiest way to do that is with Write.as. You can publish your writing anonymously or under a pen name. However, if you want a more fully-featured blog that could earn you money, you might be better off going with something like WordPress.
How do I start a blog with no money?
It's easy. Most of the platforms mentioned in the list above are free to start. For example, on WordPress, you can sign up for free and get a good-looking blog up in not much time at all. Then later, if you have the money, you can upgrade for more features. 
How do beginner blogs make money?
Affiliate marketing is one way you can make money as a beginner blogger. If you can find products that relate to the topics you are interested in writing about, you can earn a bit of money by linking to those products. However, it can take some time to get enough visitors to your blog to start seeing much money.
Another option is Medium.com, which will pay you for the number of reads your blog posts get. However, you need at least 100 followers on Medium before you can earn money.
What types of blogs are most successful?
The most popular topics to blog about are food, travel, health/fitness, lifestyle, fashion/beauty, photography, personal, DIY, parenting, music, business, art/design, books/writing, finance, interior design, sports, news, movies, religion, and politics.
How long does it take to make $500 per month blogging?
It can typically take about 8-12 months to make $500 per month from blogging. However, this will depend on various factors, such as the topics you're blogging about, how you're earning money (e.g., ads or affiliate links), the quality of your writing, and how well your blog posts show up in searches. 
Conclusion
So, there you have it. Those are eight of the best blogging platforms reviewed. Of course, which one you choose depends on what you are looking for.
For example, if you just want a minimalist, no-fuss way to publish your writing online, Write.as might be for you.
But if you wish to not just blog but also organize your entire workflow, Notion is a great choice.
However, if you are looking for a fully featured blogging platform with plenty of options, WordPress is probably the best choice.