WordPress is a CMS that runs millions of websites with billions of users, and this number is only growing. That's why many choices exist for those who want to become an affiliate, and it works for individual content creators and companies.
Table of Contents
Why Become an Affiliate in WordPress Ecosystem?
WordPress is the #1 CMS in the world with a compelling ecosystem of plugins, themes, tools, and integrations, not to mention the community of contributors or developers who make pretty good money on their products based on WordPress.
The fantastic thing about WordPress is that you can create quite remarkable websites using only free tools (thanks to the contributors and freemium plugins). In this case, technical skills are needed, and workarounds will probably occur. But paid solutions will be required to build more complex websites with outstanding functionality, performance, and stability.
So many incredible plugins, services, and hosting providers are ready to provide this level of quality and advanced solutions. But people might simply not know about them; that's why affiliate programs are so important. You can recommend a tool you genuinely like and use and get money for it.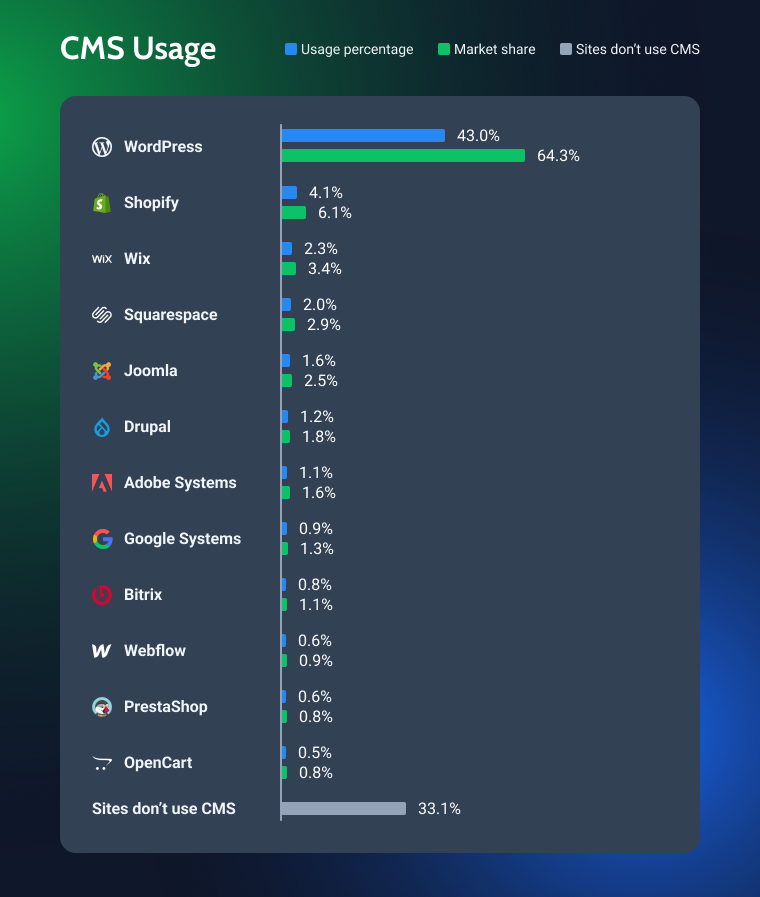 Top 9 Affiliate Programs
There are so many affiliate programs to choose from. Here's my list of them, and I hope it will be helpful for you.
Kinsta affilate program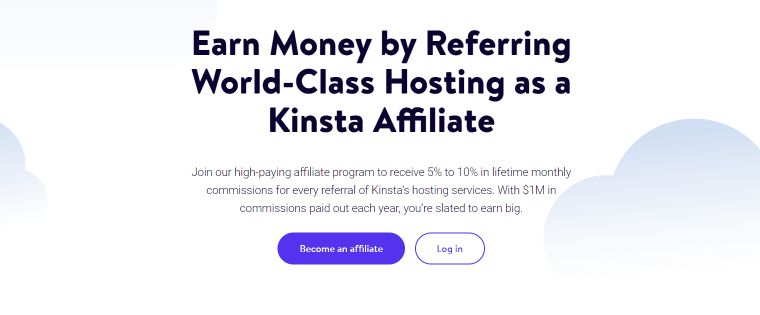 Kinsta provides Application Hosting, Database Hosting, and Managed WordPress Hosting for all web projects. When it comes to performance and security, Kinsta has a lot to offer. They use the most high-end CPUs and the Google Cloud Platform with their 35 data centers. In addition, Cloudflare Enterprise is included in every plan, adding more than 200 locations worldwide to deliver content with blazingly fast speed. Also, it guarantees security and DDoS protection.
Kinsta is a perfect solution for agencies and companies that want to deliver the best user experience for their customers when it comes to their websites. The user-friendly dashboard gives all the information about performance, troubleshooting, and easy access to all the settings. Their tech support is also famous as extremely helpful and responsive.
Kinsta affiliate program details
Kinsta definitely offers a lot of perks to their affiliates: from $50 to $500 for new customers, based on the subscription referred.
But also, there is a 5% to 10% recurring payment every month for every referral of Kinsta's hosting services. It is pretty rare for referral programs and gives you additional passive income, especially considering the fact that Kinsta's churn rate is less than 4%.
And a nice little bonus: they have a live tracking dashboard for those who use your affiliate links.
Earnings:
Earnings for WordPress Hosting referrals: from $50 to $500 per new customer depending on the plan you referred +10% recurring commissions for the lifetime of the customer referred.
Earnings for Application Hosting referrals: 5% recurring commissions for the lifetime of the customer referred.
Earnings for Database Hosting referrals: 5% recurring commissions for the lifetime of the customer referred.
If a referred client uses more than one service, the commissions are accumulated for each service accordingly.
Cookies duration: 60 days.
Minimum payout: $50 after two months of the customer's tenure.
💰 Join Kinsta Affiliate Program now.
Crocoblock affiliate program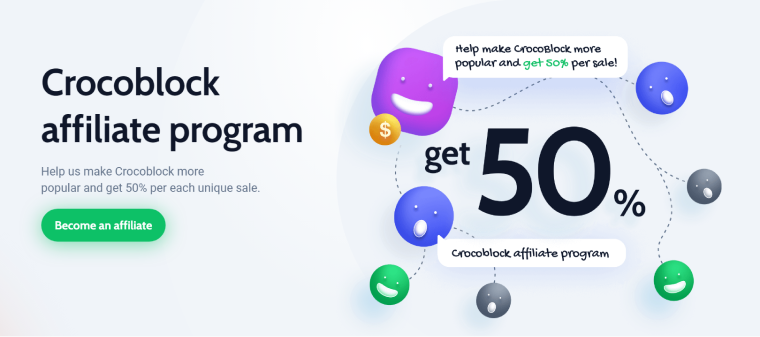 One of the most famous and essential JetPlugins is JetEngine – an extremely powerful tool with more than 20 modules for dealing with default and custom post types and fields and generating various custom queries. So, you can display precisely that piece of content you need and place it wherever you want it to be. It's a real game-changer that transforms the approach to WordPress and turns it into a supercharged CMS, allowing you to create even the most complex websites.
JetThemeCore is another example from this pack. It gives complete freedom and control over all the templates on the website, allowing you to set dynamic conditions for displaying them, and mix and match template parts for any post type, including WooCommerce pages. Without coding, of course.
JetSmartFilters allows you to make advanced filters with loads of settings and layer 12 filter types in one to get any desired hierarchy.
This list can go on and on, as I've mentioned only a few out of 20 plugins.
Crocoblock affiliate program details
Our affiliates get 50% per unique purchase of the client who used their link. There's a set of banners they can use, but it's also okay if they use social media, videos, or just post links in their website's footer.
Earnings: 50% per unique sale.
Cookies duration: 30 days.
Minimum payout: $400.
💰 Join Crocoblock Affiliate Program now.
WordPress.com affiliate program (also includes Jetpack and WooCommerce)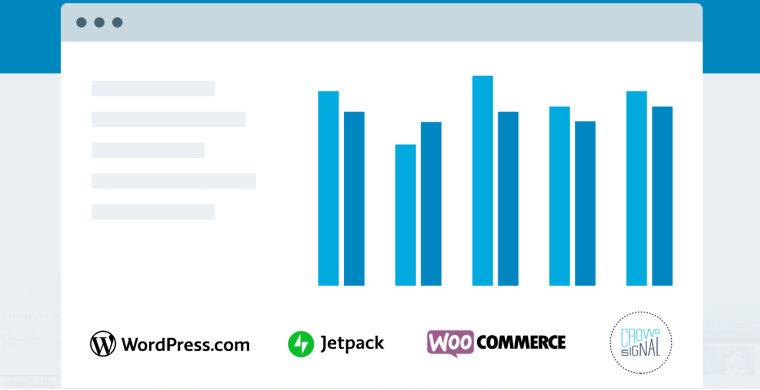 Automattic is a company that owns a blogging platform WordPress.com (not to be confused with WordPress.org), WooCommerce, Jetpack, VaultPress, and many others.
WordPress.com is basically a site-building platform with very limited free and several premium plans. The price starts from $48 annually, but to get a somewhat full-fledged website, you should pay at least $300 a year, $540 if you want to have eCommerce functionality, and from $25 000 a year for a VIP plan (which is used by such giants as The New York Times, TechCrunch, and Salesforce). The latter is made for enterprise-level and most performance-intensive websites.
WooCommerce doesn't need an introduction, as it's the most popular shopping eCommerce solution in the world.
And Jetpack is a toolkit for boosting website performance, safety, and growth, offering services from scheduled cloud backups to improved search and CRM.
WordPress.com (Automattic) affiliate program details
There's a 20% commission for products:
WordPress.com annual plans;
WooCommerce – all purchases;
Jetpack – all services.
But if the affiliate has less than $100 of rewards on a consistent basis, they will be automatically removed from the program.
Earnings: 20% per sale.
Cookies duration: 30 days.
Minimum payout: $100.
💰 Join WordPress.com Affiliate Program now.
CSS Hero affiliate program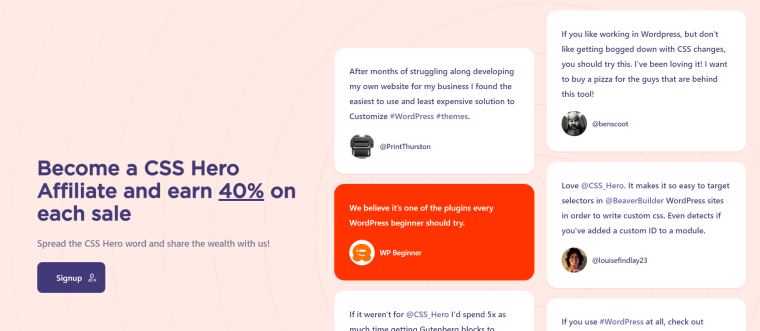 CSS Hero is an awesome plugin for editing any CSS on a website visually. So, it's perfect for those who don't know CSS but not only for them. Even the most advanced users and developers praise this plugin because it saves a lot of time and makes it possible to try new design ideas and experiment with backgrounds, colors, and gradients.
The latest version supports video backgrounds from Coverr and has color scheme and mesh gradient generators. The resulting CSS code is also available for editing, so it's possible to add finishing touches manually if needed. It can be copied and used independently, even without a plugin.
Of course, you can customize every detail of how the website will look on any mobile device, add as many breakpoints as needed, and even test it live on the device using QR-code synchronization.
Adding on-scroll animations and even JS code, which will render in real-time, is also not a problem. Other helpful features are snippets, CSS or LESS variables, as well as a history of edits.
And last but not least: CSS Hero's creators claim that it doesn't degrade the site's performance.
CSS Hero affiliate program details
Prices for this plugin span from $29 to $599, and you will get 40% from each sale. A great advantage of being an affiliate of CSS Hero is that it is useful for literally any WordPress developer.
Earnings: 40% per sale.
Cookies duration: 90 days.
Minimum payout: $50.
💰 Join CSS Hero Affiliate Program now.
WP Rocket affiliate program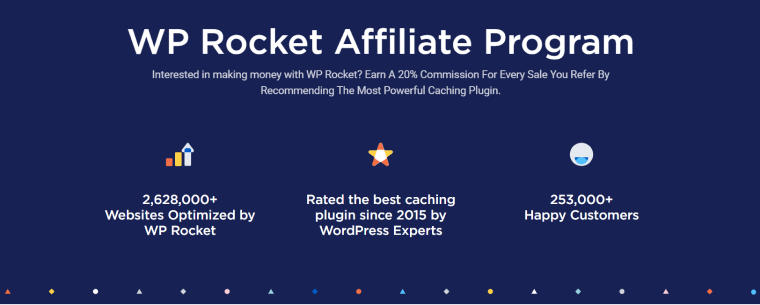 WP Rocket is an all-in-one speed optimization plugin for WordPress. Features include page caching, cache preloading, GZIP compression, CDN, database cleaning, frequently accessed resources preloading in a browser cache, etc. As with any other caching plugin, you should pay a lot of attention to its settings and test it several times because conflicts with other plugins are more than possible. The reason is the complex nature of script and snippet loading and execution order and the dependencies connected to it and the cache, which might interfere with them.
That's why good plugins for performance optimization should have a detailed dashboard and settings to fine-tune them for any website: not to cache particular pages, not to remove unused CSS, and so on. And WP Rocket has such a dashboard.
WP Rocket affiliate program details
They manually review each affiliate after registering and work via ShareASale. The price range is between $49 and $249.
Earnings: 20% per sale.
Cookies duration: 30 days.
Minimum payout: N/A.
💰 Join WP Rocket Affiliate Program now.
Elementor affiliate program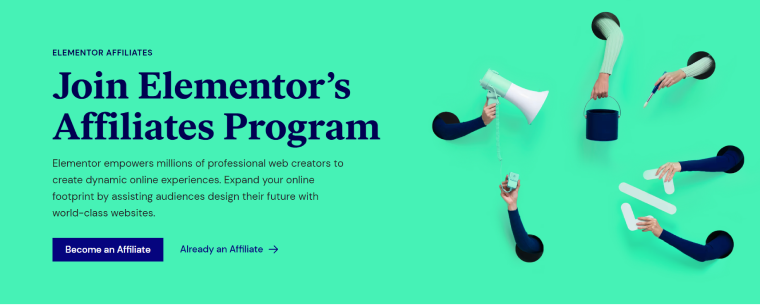 Elementor is the most popular WordPress page builder and #2 (after WooCommerce) most popular WordPress plugin (18,2% of all the websites use it, according to W3Tech). There is a great free version of this builder with tons of free and premium third-party add-ons, but Elementor Pro is much more powerful. It has many very useful premium widgets, a theme builder, templates, and works with dynamic data. With millions of users worldwide and a highly active community, this plugin has its bugs and drawbacks promptly reported and fixed, and new features are being added.
Elementor affiliate program details
You have to be a WordPress professional to join the program. But the commission is as much as 50% per sale. The price range for the Pro version is from $49 to $999.
Earnings: 50% per sale.
Cookies duration: 30 days.
Minimum payout: $200.
💰 Join Elementor Affiliate Program now.
RankMath affiliate program

RankMath is a powerful SEO plugin with many instruments helping to boost website SERP ranking. It comes with 15 modules that can be enabled or disabled, and every little detail in settings can be customized based on your project requirements.
This plugin offers really a lot, yet its intuitive dashboard helps the user not to get lost. From an advanced analytics dashboard, Google Index status detail reports, and very detailed meta settings, to Content AI tool, and rank tracker to the most advanced schema generator, this plugin covers everything connected to SEO and is a great tool to recommend.
RankMath affiliate program details
So, by becoming their affiliate, you will be able to spread the word and get some cash for it. The plugin has a quite powerful free version, and what is unique is that company pays even for free account sign-ups (just $0.20, but still, it works as a form of motivation). The price range for the premium version is from $59 and $499.
Earnings: 30% per sale.
Cookies duration: 60 days.
Minimum payout: $400.
💰 Join RankMath Affiliate Program now.
Newsletter Glue affiliate program

Newsletter Glue is a plugin for creating newsletters in WordPress. It helps to save time and be more efficient because everything can be done in one place using a familiar and powerful WordPress editor functionality.
It's a well-known fact that creating email templates that look good on all devices is tedious and quite complicated because of some specific restrictions. Also, different email clients can display it in their own way.
This plugin doesn't require any migration process from your email service providers; all it takes is just to connect them to Newsletter Glue. There are new newsletter subscriber forms, a builder, and functionality to make a newsletter achieve publisher on the website, and these emails become searchable by Google and shareable.
Newsletter Glue affiliate program details
The price range is from $99 to $1,425+.
Earnings: 20% per sale.
Cookies duration: 15 days.
Minimum payout: $50.
💰 Join Newsletter Glue Affiliate Program now.
Stackable affiliate program

Stackable is a plugin offering advanced custom blocks, templates, and kits for Gutenberg builder. Sometimes, it's not so easy to make great page designs with Gutenberg without dealing with custom CSS because the default blocks don't offer too much customization freedom. That's why plugins like Stackable are a real must-have.
Stackable offers not only many custom blocks but also ready-made designs, wireframes, UI Kits, and other perks. It's lightweight and even works with dynamic content.
Stackable affiliate program details
There's a free version of the plugin available, but to get more, you should subscribe to Premium, which starts from $49 and can go up to $499.
Earnings: 25% per sale.
Cookies duration: 30 days.
Minimum payout: $100.
💰 Join Stackable Affiliate Program now.
FAQ
What is affiliate marketing?
It is a type of partnership where publishers (influencers, bloggers, developers, companies, etc.) can earn money referring to certain products from the owner of that product. In the WordPress community, there are quite strict rules for those who can become an affiliate and how they can promote products. 
What is an affiliate dashboard? 
A company provides a dashboard where the affiliate can track their performance, see how much money they've already earned from the program, and have other related tools. 
What is a cookie duration in this context? 
Users might click the referral link on your website today but make a purchase in one week or even later. Still, it is you who brought this client here, so you should be paid. The period while you are eligible to get money for that client is called cookie duration. 
Final Thoughts
WordPress is a unique and incredible CMS. Its history and the determination of people ready to contribute are inspiring. From creators of free plugins to developers of massive projects, they all make WEB a better place. And different WordPress affiliate programs help and motivation to spread the word about the best tools, so others can use and enjoy their potential.