Are you looking to create a job board website? Little you can do without a promising WordPress job application plugin. To choose the best one, you should analyze way too much information: how much it costs, what features it has, whether it is secure and whether it will not cause the already installed plugins to break.
Today, we'll take a look at the top 8 plugins which can give you the needed functionality to create a WordPress job board website.
Table of Contents
What Features Should Every WordPress Job Board Plugin Have?
The feature list varies from one job board website to another, depending on the added and desired functionality. There are so-called general features. For instance, a job board isn't one without job listings, application forms, and user profiles.
On the other hand, there are project-specific features. These can be a Favorites page for candidates to save the jobs they like, a form submissions manager for website admins to monitor applications, and many more. I'll focus on the main features every WordPress job board site should have:
Custom Post Types and custom fields functionality to be able to add job listings;
A form builder allowing you to create all the needed form types such as registration, application, job submission, contact, etc.;
Custom user roles feature since the WordPress core is somehow limited when it comes to adding more user roles and changing their permissions;
A theme builder allowing you to flesh out every website page structure;
A profile builder covering the user profile page creation;
A quick search and a filtering system to find the best job applicant/vacancy fast and easily;
Application management feature, which will make it easy to store and process submitted applications;
Centralized email sending option to notify the website users about new messages, profile views, etc.
The good catch will be a well-coded and secure, customization-friendly plugin. You better choose the one having a no-code setup and responsive design features.
The Best WordPress Job Application Plugins Compared
Now, let's compare popular job listing plugins focusing on their feature lists, competitive advantages, and pricing.
🏆 Best for adding job board-like functionality to a WordPress website.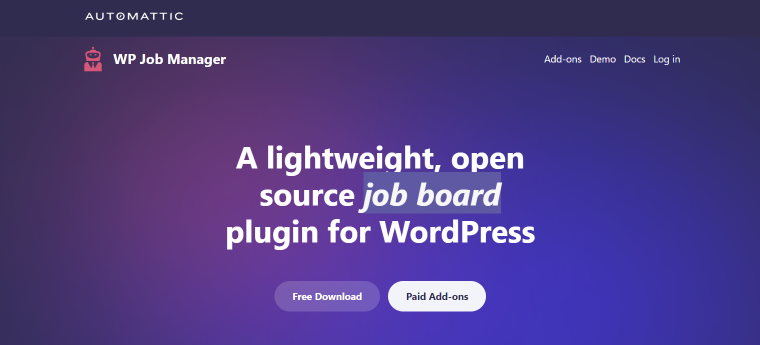 WP Job Manager is a "lightweight, open-source" job board plugin by Automattic, the same brand behind Jetpack, WooCommerce, and WordPress.com, to name a few. It is the most popular solution among WordPress users, boasting a solid 100K+ plugin installations and a 4.5 rating. The core functionality is free and claimed to be just enough to power a simple job listing website.
The plugin is easy to use and developer-friendly – well-templated and shortcode-based for you to customize it via the theme you currently use.
WP Job Manager key features:
the ability to submit, categorize, and manage job listings;
using shortcodes to add job listings;
the search and filtering tools powered by AJAX;
employers can submit and manage jobs via front-end forms;
customization-ready RSS feeds to alert job seekers about new jobs they might find interesting;
the ability to create job listing single pages and provide detailed descriptions;
a convenient dashboard allowing registered employers to manage their active job listings;
applying for a job through custom emails and links.
Pricing: the core plugin is free, and the paid add-on bundle starts from $159 per year.
Advantages:
easy to set up and use;
available in 35 languages;
the plugin has a handy UI familiar to all WordPress users;
developer-friendly code covering CPT creation, template files, and endpoints;
a preview feature allowing you to check out what a job listing will look like on a live website;
created job listings can be read by search engines.
Disadvantages:
limited form types in the free version;
free version users get support through WordPress.org, which can be slow sometimes;
no email alerts feature.
🏆 Best for building a feature-packed job board website.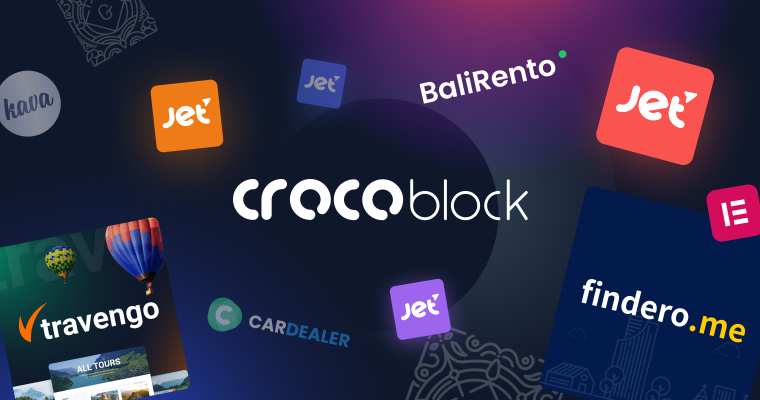 Crocoblock is a website-building solution by the samely named company. It has got 20 plugins, both free and paid, which allow beginner and seasoned developers to create a fully-fledged website. No matter the website type, Crocoblock can cover it.
Its JetPlugins are pretty popular among WordPress users, as shown by the 4.5-star rating and 80K+ active installations. As a current Crocobock subscriber, you can create a job board website using the following plugins:
JetEngine – to handle posts and all dynamic content, user profiles, data stores, etc.;
JetThemeCore – to build page templates and form the site structure;
JetSmartFilters – to create a filtering/sorting system;
JetSearch – to add a search bar to the website;
JetBlocks – to fill the header template;
JetPopup – to house forms, information messages, notifications, filters, etc.;
JetFormBuilder – to build different form types;
JetStyleManager – to style the form fields;
JetElements – to add minor yet vital website elements like buttons.
Crocoblock key features:
dynamic content features such as custom post types and content types, listing grids, data stores, glossary and meta fields, dynamic visibility, etc.;
a functional profile builder;
a query builder to fetch and output data on the front end;
AJAX-powered filters and search;
a powerful theme builder allowing you to shape every website page;
dynamic pop-up builder, custom trigger events, and visibility conditions;
a form builder and adjustable post-submit actions.
Pricing: a custom subscription for the job board project will cost $216 per year for one website and $441 for unlimited. The best value would be to purchase the All-Inclusive subscription, which costs $199-$399 and embraces all JetPlugins.
Advantages:
extensive dynamic content features;
hierarchical filters and search;
the ability to craft every website page using a theme builder; 
30-day money-back guarantee;
a free Kava theme, which is best suited for JetPlugins;
a free form-building core;
handy one-stop interface;
Elementor- and Gutenberg-friendly;
a free styling plugin for Gutenberg blocks;
excellent documentation.
Disadvantages:
only two plugins from the list are free;
no custom user roles functionality.
🏆 Best for adding job listings to web pages via shortcodes.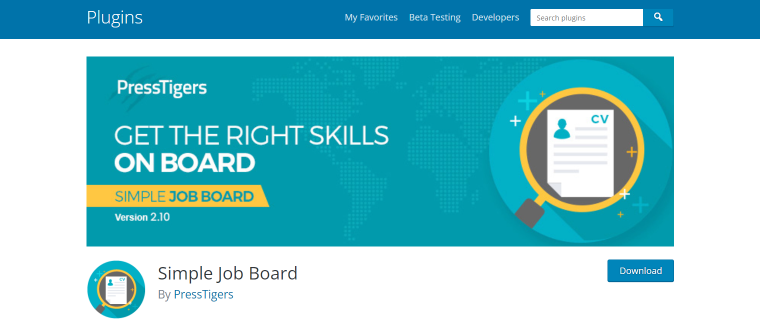 Simple Job Board, created by PressTigers, is a robust and user-friendly plugin rated 4.7 stars by the WordPress community. It's quite a popular solution, as attested by over 20K installations. Simple Job Board allows you to output multiple job listings on the desired pages via a simple shortcode, [jobpost]. The plugin boasts a templating feature, letting you change the default file templates using the Classical and Modern UI layouts. Overall, it is a customization-ready WordPress job application plugin able to help you create a workable website.
Simple Job Board key features:
the ability to add, manage, and categorize job listings in the WordPress UI;
job listings can contain location and job type data;
supports a category shortcode to output matching job listings at once;
using shortcodes to pull job type and location data;
the ability to combine shortcodes for a particular job listing;
a document uploading feature;
global settings allowing you to configure the application form, filters, and email alerts;
anti-hotlinking to enhance document security;
application manager.
Pricing: the core plugin is free to download and use. The premium add-ons' prices vary between $10 and $35. It is also possible to create and buy a custom bundle.
Advantages:
free core functionality;
available in 11 languages;
RTL ready;
shortcodes give maximum flexibility;
customizable file templates;
plugin UI is similar to WordPress's one.
Disadvantages:
some necessary features are premium;
can seem confusing to those who never used shortcodes.
🏆 Best for building content-rich job pages and recruitment tools.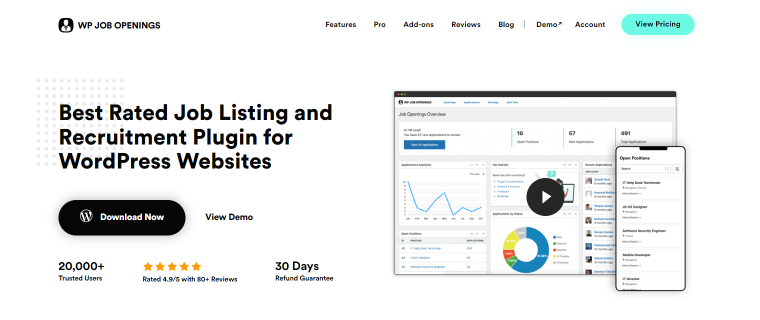 Made by AWSM Innovations, the WP Job Openings plugin is another popular WordPress job board builder. It has got 20K+ installations and has been rated quite highly – at 4.9 stars. The team behind the plugin intended to provide "a 360-degree approach to the recruitment process," tailoring all its features to deliver on the promise.
WP Job Openings is suitable for those who look not only to create a work-ready job board site but also to keep tabs on its internal workings.
WP Job Openings key features:
a robust dashboard where one can manage submitted jobs and applications;
detailed analytics and application manager;
the ability to create a career page;
notifications manager and automated email sending;
automated shortcode generation;
a form builder to build and customize website forms;
AJAX search and filtering systems;
real-time alerts about new form submissions, messages, and more.
Pricing: there is a free lite version and a Pro package, incorporating three pricing plans – Individual, Professional, and Agency. The single-site license starts from $49 per year.
Advantages:
developer-friendly code;
the ability to use third-party forms and those from custom URLs;
30-day refund guarantee;
Grid and List layouts for job catalogs;
a straightforward dashboard to manage everything about job seekers and their applications;
supports Google Schema for SEO purposes.
Disadvantages:
some crucial features are only available in the premium version.
🏆 Best for building directory and listing websites, including job boards.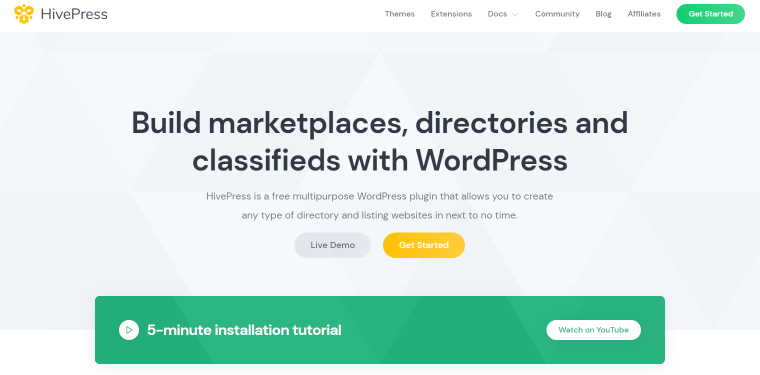 HivePress proudly shows off its 10K+ installations and nearly impeccable rating (4.9 stars). It is a directory and classified ads plugin by HivePress, allowing you to build a job board, business directory, real estate, car dealer, and more website types. HivePress is customization-ready, easy to use, and flexible. The feature list it boasts is enough to create a job listing website.
HivePress key features:
the ability to add categories to listing types;
custom fields addition to the listing form;
the opportunity to make search filters out of custom fields;
location-based search within listings;
users can leave reviews and ratings for specific listings;
private messaging feature;
the ability to save listings to favorites;
user registration;
niche-specific themes, both free and premium;
captcha protection;
the ability to moderate listings;
the plugin page templates can be customized without coding.
Pricing: a free version and premium extensions, costing from $29.
Advantages:
the ability to monetize the created website by adding paid, featured, and claim listings;
a free ListingHive theme for maximum compatibility;
available in 23 languages;
easy listing management;
developer features, including hooks, REST API, snippets, and more;
a welcoming HivePress community;
well-structured core plugin code.
Disadvantages:
can be confusing for beginners.
🏆 Best for creating various application forms and managing submissions.

ApplyOnline is a WordPress job application plugin developed by Spider Teams. It is rated 4.3 stars and has currently reached over 6K installations. Its aces are user-friendly Application Form Builder and manager features. ApplyOnline allows users to publish job, classes, and admission ads and manage submitted applications.
The plugin is secure, lightweight, and is claimed to integrate perfectly into the website design. To output created ads on the front end, you'll only need one shortcode, [aol]. Apply Online is easy to set up and use; plus, it's completely free!
ApplyOnline key features:
drag-and-drop application form builder;
the ability to create such ad types as Admissions, Career, Classes, Registrations, etc.;
adding a title, thumbnail image, taxonomy, ad summary, "Apply Now" button, and more to the ads listing;
the ability to filter ad listings;
file attachment feature;
the ability to create a single job listing page;
AOL Manager user role for handy application management;
centralized emailing feature;
functions and hooks support;
the ability to set start and closing dates.
Pricing: free and paid add-ons, starting from $39 per six months.
Advantages:
free core plugin;
secure and stable when it comes to performance;
a powerful form builder;
it's possible to output all job ads using one shortcode;
a separate user role for managing received applications;
eight premium extensions to complement the plugin's core features.
Disadvantages:
it's not a robust job board solution, as there is no theme builder and profile builder functionality;
some management features are incomplete without a premium bundle.
🏆 Best for creating a popular job board respecting one's HR needs.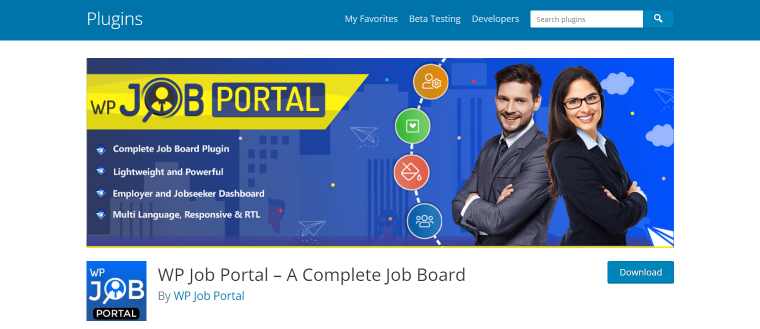 Developed by WP Job Portal, the namesake plugin is claimed to be a feature-packed recruitment solution, which is able to take the job board business up a notch. WP Job Portal is a relatively new addition, and that may be the reason for its fledgling popularity. So far, the plugin has scored 3K+ installations and shows off a 4.7 rating. All in all, it is said to provide a "more customized, simple, and reliable" user experience.
WP Job Portal key features:
a filtering tool, allowing to refine the search by pre-defined criteria;
straightforward application process and user-friendly forms;
custom application strategies realized via hooks;
the ability to add custom fields to the registration form;
saving jobs listings to Favorites;
resume parsing and printing;
advanced custom fields can be added to jobs, companies, and resumes;
color manager for themes;
available in multiple languages;
specific permissions for the admin role (approval, enabling/disabling fields, changing the order of the fields, job listing management);
activity log.
Pricing: a free core version and three pricing plans: Basic, Standard, and professional, priced at $49, $99, and $149 accordingly.
Advantages:
separate dashboards for employers and job seekers;
user registration and login pages;
searching for jobs by radius;
25 and 45 shortcodes available in the free and premium versions accordingly;
a responsive layout suitable for tablets, mobile devices, and the desktop;
good theme compatibility;
generate SEO-friendly URLs.
Disadvantages:
the plugin is poorly documented.
🏆 Best for setting up detailed career feeds and managing recruitments.
Last but not least, the Job Manager & Career plugin by ThemeHigh. It is a rising star in the website-building world, as shown by its 2K+ installations. The rating, though, is impeccable – 5 stars. The plugin provides a basic toolkit to create detailed job listings and career pages, a filtering system, and submission management features.
Job Manager & Career key features:
the ability to post and manage new job openings;
candidates can apply for a job from the career page;
manageable applicants' details;
advanced search filter by location, job type, category, and even keywords;
the ability to upload files (resumes) in different formats;
automated email send-out to the candidates;
supports Google reCAPTCHA;
marking Featured jobs with a special badge;
the opportunity to add styles to the career page.
Pricing: there is a free version and three yearly plans, costing $49 for one website, $99 for up to five websites, and $149 for up to 25 websites.
Advantages:
accordion layout for the career page;
comprehensive backend settings;
advanced filtering and search;
social sharing feature;
reset functionality, which helps you undo all changes like a charm;
importing the plugin data;
quick support;
30-day refund policy;
compatibility with many popular themes.
Disadvantages:
more advanced features are not handed out for free.
WordPress Job Board FAQ
How can a non-experienced developer build a job board site?
Everything is possible, provided they have the right tools. Firstly, one needs to define their needs and round out the most suitable plugin. Secondly, one must get it (download it if it's free and purchase it if it's paid), install it, and activate. Documentation and video tutorials will do the trick for the rest.
Are WordPress job board plugins free?
Some are free, like ApplyOnline and HivePress, and some are premium. Among the premium solutions, we can point out Crocoblock. There are hybrid solutions, which are primarily free but have premium bundles, too. I can mention WP Job Board, Simple Job Board, WP Job Openings, and Job Manager & Career.
What features should a job board plugin have?
A solid job board plugin should have dynamic content features, a theme and form builder, a profile builder, functionality to add job listings, and tools to track and manage submitted job applications. It would be best to have a search and filtering toolkit, automated emailing, and – sometimes – the possibility to add user roles.
Bottom Line
WordPress job board plugins are meant to facilitate the project-building process by giving users the best tools to carry out certain functions. Today, we've had a look at the eight most popular plugins, and it's time to recap what they are good for.
WP Job Board allows you to quickly and easily add new listings vis shortcodes.
Crocoblock lets you build feature-packed job boards boasting a rich dynamic content toolkit.
Simple Job Board can help you create multi-language job boards using the native WordPress UI.
WP Job Openings covers recruitment tools and content-rich job pages.
HivePress allows building directory and listing websites, including job boards.
WP Job Portal allows creating a job board site focused on one's HR needs.
ApplyOnline covers application management and is a powerful form builder at once.
Job Manager & Career allows you to set up detailed career feeds and manage recruitments.
Have you ever tried to build a job board using Crocoblock products? We'll be delighted to see and feature it.