54% of marketers think video is the best for Instagram posting. The other 53% say the same thing about images.
To me, these numbers are fascinating! They demonstrate GIFs are perfectly suited to Instagram promotion. Why? Because GIF combines attributes of videos and images at once! Checkmate, as chess players say.
Don't feel convinced? Then let me tell you more about Instagram GIFs. I will also show how to make your own GIF using different tools.
Table of Contents
Why Adding GIFs to Instagram Is Profitable
Many big brands create GIFs. They have good reasons for that:
1. GIFs are trendy. Sixty-three percents of Americans use them in their online communications. Google Trends also shows that the request "how to make GIF" is rather popular. People search it more often than "sneakers buy," "how to create a website," or "inauguration of Joe Biden." Giphy, the biggest GIF platform, has about 40M views per month. It is a huge audience! And it can be yours if you start making Instagram GIFs.
2. GIF attracts people's attention. Having a video on your Instagram post increases engagement twice. GIFs look like videos, but they are easier to create. It takes about 5-10 minutes to make a simple Instagram GIF. Of course, some GIFs (like this one) require skills or, if you lack them, third-party help. Yet, making a GIF is more manageable than the whole video. Ordering the simplest Instagram sticker or GIF costs about $10, while a short video ad costs about $40 (according to Fiverr).
3. GIFs make people feel attached to those who use them. 80% of people agree that GIFs express their thoughts and feelings better than words alone. Most of them said they feel "more connected" to those they message using GIFs.
4. GIFs and Stickers can be a fabulous tool to enhance brand awareness. Big brands use them as ad banners. Look at Lego, for instance. To make their Instagram Story about the replica of a Harley-Davidson bike more eye-catching, they added a question sticker asking, "How many LEGO elements are in this life-size Harley?". This simple action flares viewers' curiosity and motivates them to stay and find the answer, increasing their knowledge about the brand.
To add a question sticker to your Instagram Story, start uploading a video or photo you like, then tap a smiley face button in the right corner of your screen.
By the way, do you know the difference between GIFs and stickers? In fact, both GIFs and stickers are considered GIFs. The difference is that the sticker doesn't have a background or, in other words, transparency. That is why stickers are not obscure objects on photos or videos they added.
How to Make a GIF or Sticker for Instagram?
You have two options:
convert the video to GIF;
make a GIF from a still image.
It is necessary to have a GIF-making app in both cases. The most popular are Giphy, Gfycat, Gifs.com, and Imgur. Giphy has rich functionality compared to other platforms. For example, it lets you access its animation library and sticker-making tools. It also allows you to make GIFs from both videos and static images.
In contrast, platforms like Gfycat or Imgur can only convert videos to GIFs. As a GIF or sticker maker for Instagram, FlexClip is also a great choice because it has been adopted by lots of social media marketers.
Time needed: 5 minutes.
How to create a GIF from video files on Giphy?
Sign up for Giphy.
Upload your video (MP4 format only) or add a YouTube link.

Your video can't be more than 100 MB and longer than 15 seconds.

Customize the duration of your future GIF.

Customize the duration of your future GIF. If there is a need, add text or side effects to it. The basic Giphy toolset is limited, so don't expect much. For example, you can't add your brand logo or watermark. If it is important for you, use video editors instead of Giphy. I recommend Vimeo, Filmora, or Clipchamp.

Add tags.

The more, the better. It helps other Giphy users to find and share your GIF.

Final customization.

Finish customization and upload GIF to the Giphy platform. After that, you can share the GIF on your Instagram or elsewhere.
Below you can see a GIF I made from the Crocoblock video using Giphy tools.

How to create Instagram GIFs from images?
Upload a JPG or PNG image to Giphy and add animation to it. You can modify a ready-made GIF, too.
If you need something unique (cartoon-like animation or a brand Instagram GIF), Giphy tools are not enough. In this case better to use additional painting software like Procreate. Or, you may hire an artist via Giphy.
View the official handbook to know how to make animations in Procreate. Mind, however, that it is only available for Apple devices. If you don't have one, Photoshop is your choice. Krita and Adobe Photoshop Sketch are good alternatives.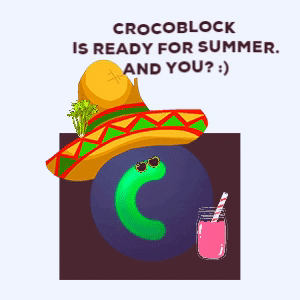 I made this GIF with both Giphy and Photoshop. First, I used Photoshop to add a hat and a white background to the Crocoblock logo. Giphy helped to insert animated objects.
How to Make Your Own GIF in Photoshop?
There are a few ways to make a GIF or sticker in Photoshop. You can:
draw a picture yourself and then add an animation to it;
make a GIF from a ready-made image;
make a GIF from a short video.
Drawing in Photoshop is not a simple task, so you definitely have to pass a training course if you can't do it. Still, if you want to learn the basics of how to draw in Photoshop, start with this easy-to-understand WikiHow tutorial. In my article, we concentrate on how to make your own GIF from images using Photoshop.
Key facts you need to know
Let's say you want to make a GIF animation of a happily waving woman. To do this, you will need a sequence of photos. The first one should illustrate a woman slightly raising her hand. The second one shows the same woman raising her hand a little higher and so on. This collection of images is your frames. Photoshop will sequence these frames into an animated GIF. Yet, that is a general description of the GIF-making process. Now, let's dive in and talk about the concept.
NOTE:
To make a GIF from a video with the help of Photoshop, use the following sequence of buttons: File > Import > Video Frames to Layers. After that, select a video you want to convert into GIF format and follow steps 5-7 of the manual below.
To create a GIF in Photoshop from an image:
Collect the pictures (frames) for your GIF. For this purpose, I prepared six pictures of the Crocoblock logo. Here they are: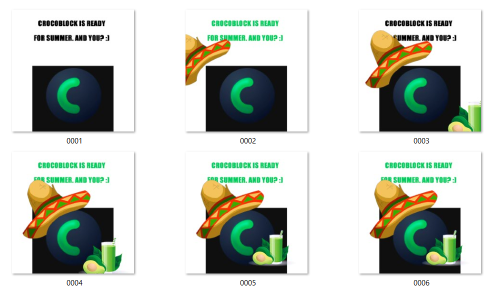 Create a template, clicking "Create new." After that, Photoshop will suggest selecting the resolution of the template. Choose any you like.
Drag and drop your pictures onto the template and press "Enter." Your photos will appear in the right bottom corner of the screen.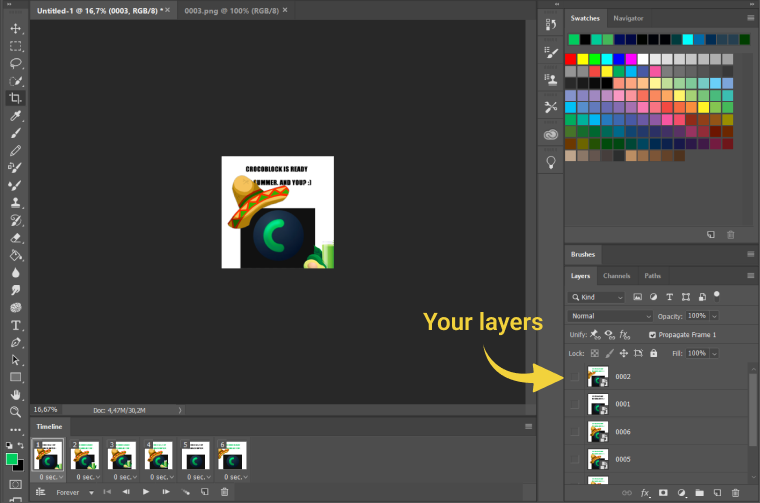 Delete a background by clicking a trash bean icon in the right bottom corner. I outlined this icon in yellow on the screenshot below.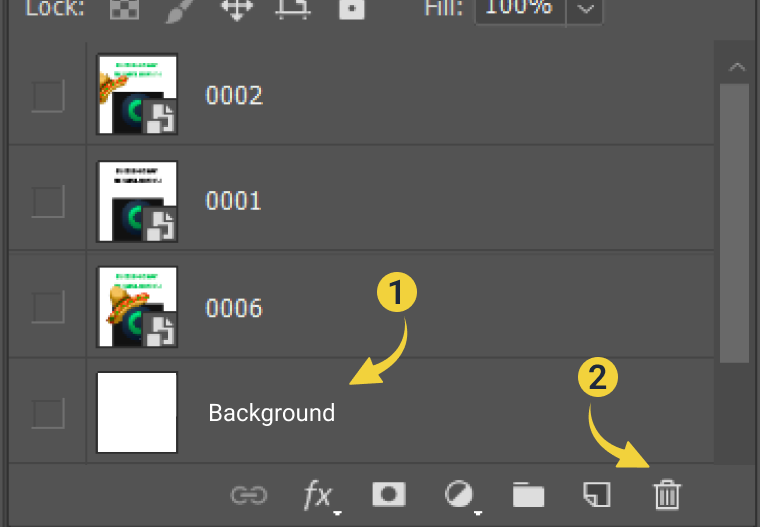 Press "C" and crop your picture like the screenshot below shows. Then click the Window tab (number 1 on the screen) and choose "Timeline" from the list. A new panel will appear at the bottom of your screen. You will see the "Create Frame Animation" button (number 2) on it. Click this button to drag and drop your first layer to the panel. Then, click the hamburger menu button (number 3 on the screen) and choose "Make frames from layers."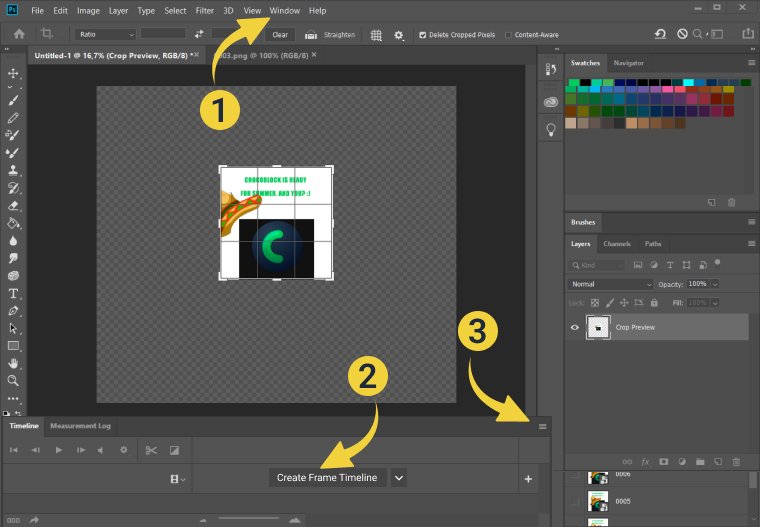 Choose "Forever" from the drop-down outlined in red on the screenshot below. Thanks to that, your GIF will constantly be replaying. Set up frame delay time by clicking on the "0 sec" button.
alt text: How to make GIFs in Photoshop, step 6
Press "Shift+Alt+Ctrl+S" to save your GIF. An alternative way to do it is to click File > Export > Save for Web (Legacy). That is all! Congrats! Now you are a happy owner of a Photoshop-made GIF. Don't forget to upload it to Giphy. Without it, you can't post a GIF on Instagram.
NOTE:
If you find Photoshop too challenging to use, try a Picasion instead. This service makes GIFs the same way Photoshop does, but it is easier to use. All you need to do is download frames you want animate to it. Picasion also helps to make glitter text which can be helpful for some Instagram posts.
However, Picasion lets to download ten frames only. If you have more, it will be better to use Photoshop, Procreate, or other similar software.
How to Post a GIF on Instagram?
Unfortunately, Instagram doesn't have in-built tools for adding your own GIFs or stickers. That is why you need Giphy and a tremendous amount of patience, too, because it takes time to make everything work right.
So, to post GIFs on Instagram, you should:
Sign up for Giphy.
Verify your account. To do it, fill out a form and prepare to wait. It can take a whole week to get approval from Giphy.
Upload at least five GIFs to Giphy. You can do it while waiting for verification. Each animation also should be approved by Giphy. Only after this will it appear in the Instagram Sticker Menu. To pass moderation, ensure your content is appropriate for all audiences.
Start making an Instagram Story as you usually do.
Add GIFs to your post. To do it, tap a smiling face icon in the corner of the Story editor.
Is It Possible to Post Instagram GIFs Without Giphy?
Yes and no. If you convert your GIFs into MP4 format, you can upload them to Instagram like usual videos. But that is all. You can't add animated images to the post or use custom stickers to decorate Stories.
To convert GIFs to video, upload them to Giphy or another similar platform. If you want to convert GIFs on a smartphone, use apps like Momento (for IOS only) or ImgPlay (for both IOS and Android). 
FAQ
How do you put GIFs and stickers on Instagram?
You can create GIFs or stickers using Giphy, Gfycat, Gifs.com, and Imgur. And then, add it using the dedicated "GIF" field, which opens after clicking on the smiley at the top of the screen.
Why can't I use stickers on Instagram?
Most likely, it is a mistake. Try updating the app and then adding the sticker to your post.
What's the difference between GIFs and stickers?
The difference is that the sticker does not have a background or transparency. But, in fact, GIFs and stickers are considered GIFs.
How to use GIFs for free on Instagram?
Using GIFs and stickers is completely free on Instagram.
To Sum Up
Here you learned the easiest ways to create an Instagram GIF. But there are numerous other options to make animations. Let me know in the comments below if you want to find out more. For now, I recommend learning how to build animated charts. And if you plan to make a website, read this WordPress guide.