Slow down for a moment and listen. Can you hear that? Can you hear the bells jingle, laughing, and snow crunching under your boots? That's right, Christmas is coming! It's time to prepare presents and take out the decorations. Crocoblock has something for your websites to look more festive and Christmassy! Here we go – Ho Ho Ho!
Table of Contents
Why Is It Essential to Prepare the Website for Christmas Holidays?
The holiday season, especially Christmas, is the best time to sell more products and services, drive new customers, and present the brand from the best angle. You better come prepared and devise a winning optimization strategy for winning over the customers.
For starters, why not refresh the homepage design a bit? You can use one or multiple Christmas widgets to make your site more engaging, festive, and enjoyable. Next, you will learn about a few widgets from JetPlugins that will help you quickly add some holiday elements to your website and prepare it for Christmas.
Run Run Rudolph
Let the Countdown Timer widget from JetElements show how much time is left until the X day. It can be anything – Christmas, sales start date, best deal end date, etc. A Countdown Timer will look equally great on commercial and non-commercial websites. The dotted numbers look like tiny snowflakes! Be creative while trying out different Christmas widgets ideas, and use our jolly examples below for inspiration.
It's Beginning to Look a Lot Like… Hotspot
Help Santa Mamas and Santa Dadas shop for Christmas using the Hotspots widget from JetTricks. Those tiny spots draw attention to the products and welcome visitors to click on them and continue Christmas shopping. Display the available product images along with some helpful notes. This way, you will help users learn more about each product and make the shop more customer-friendly.
The Most Wonderful Time of The Year
Let your achievements speak for themselves! The hot Christmas season is the best time to tell the world about them using the Image Comparison widget. If you run a design studio, a present wrapping company, or maybe you are a make-up artist – it's the best promotion to show pictures before and after. Try it!
We Wish You a Merry Christmas Widget
Use the Animated Text widget to wish your website visitors and customers happy holidays and the best experience in the new year. This effect is striking and helps to highlight the most important words.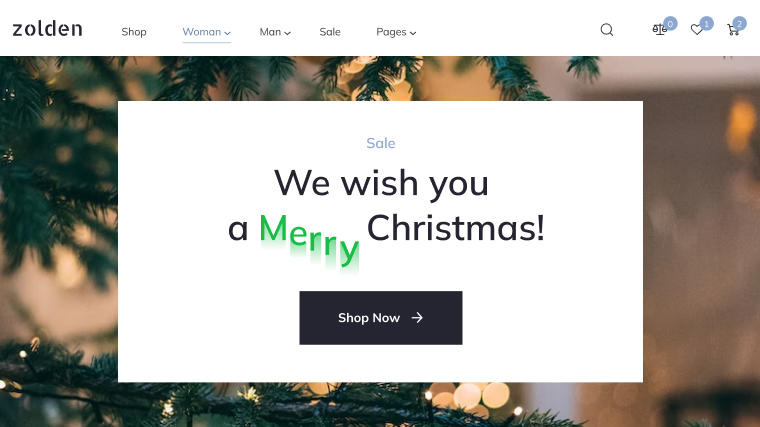 Para la la la la la la lax
Follow me in merry measure; everybody's singing fa la la la. Sing we joyous, all together, fa la la la la, la la la la. Are you singing along with us? Of course, you do! You can't help singing when you discover that the Section Parallax widget makes your website look fairy-tale. Look at the samples and get inspired. It can melt even Mr.Grinch's heart!
Let It Snow, Let It Snow, Let It Snow
Most likely, you have stumbled upon sites where fireworks or snowflakes appeared during the holidays. Such effects always add a festive mood and a desire to stay longer on the site. To add a falling snow effect, use the Particles widget from JetTricks.
Have Yourself a Merry Little Playlist
Create a video playlist with all your favorite Christmas songs and share it with your subscribers with the help of the Video Playlist widget for Christmas from JetBlog. Make it cheerful and eye-catching to brighten everybody's mood!
All I Want for Christmas Is… Sale
Another widget that your customers will appreciate is WooCommerce sale products. Prepare excellent discounts and add noticeable sale badges to certain items in the product grid. It is a perfect opportunity for you to sell more products and for your customers to enjoy a lower price.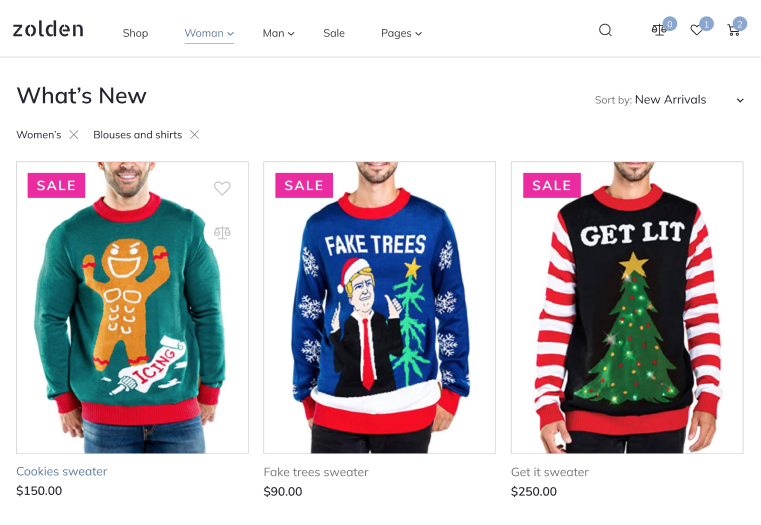 12 Days to Christmas
If you're hosting events that require registration and dynamic events display, use the Calendar widget. It's part of the JetEngine plugin and lets you create a stylish calendar to keep your potential clients updated on upcoming events.
FAQ
What is the best plugin for the Christmas period?
It depends on the elements or Christmas widgets you want to add to your WordPress website. For example, if you need to add hotspots, use the JetTricks plugin; if you want to add some dynamic elements, JetElements is the way to go. 
How can I add a Christmas Countdown widget for a website?
Adding such a timer is easy with the JetElements plugin. Choose the part of the site where you want to place the timer, customize it, and enjoy the result.
What should I definitely add to the site before Christmas?
The main thing is a festive design that will set the mood. Next, there should be some dynamic elements, animations, discount badges, etc. Choose what suits your website's style, and feel free to implement it.
Do They Know It's Christmas?
Well, those were our 8 top website widgets to add a bit of holiday cheer to a website. Now you have some ideas and instruments for website decorating and just enough time to do something special. We'd love to see how you decorated your sites. Please, share your Christmas design ideas in the Crocoblock Community. We'll be glad to hear from you!
Warmest greetings for this holiday season and many wishes from the Crocoblock team! 🎄