The WooCommerce plugin, online services, and mobile payments made it way easier to start an online store. WooCommerce is a standard plugin now for the best eCommerce websites due to its great functionality.
It would seem that you can add nothing here. But times change, and WooCommerce's functionality is not enough. Therefore, 900+ plugins fill some gaps. Here I have categorized and described some best WordPress eCommerce plugins:
for online store managing;
for sales management;
for SEO;
for better UX.
Explore their key features and user feedback, and – hopefully – choose the best ones for your WordPress store.
Starting Point: WooCommerce Functionality
Sometimes the basic WooCommerce functionality is enough for small WordPress stores since this WordPress eCommerce plugin:
is free, easy-to-use, and has all necessary tools for WordPress stores (including default pages);
allows you to customize categories, products, tags, and attributes;
boasts advanced options to manage prices, payments, delivery methods, and taxes;
proposes many payment methods (bank cards, PayPal, bank transfers, cash, and payment gateways);
provides total control (including taxes and inventory level) and manages user accounts;
is fully compatible with Elementor, best themes, and plugins;
is scalable for big and small e-shops;
envisages Google Analytics, delivery notes, PDF invoices, order descriptions, light affiliate program integration, etc.
Now, let's consider some plugins that can extend WooCommerce functionality and make WordPress shops more profitable.
Best Plugins for WordPress Stores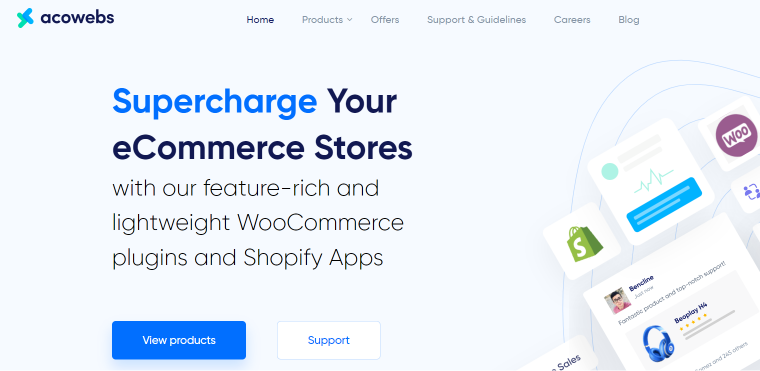 This plugin allows customizing product pages of the best eCommerce websites with such options as input fields, dropdowns, checkboxes, and data for gift messages, donations, and other products. It has excellent documentation, including back and front-end demos.
Features:
22 field types (text field/areas, checkboxes/radio/image/color groups, files downloading, numbers, Google place selector, color picker, date/time fields, hidden input, paragraph, header, separator, static text, product groups, and global form, etc.);
conditional logic and variations to control products to be displayed;
configure forms by applying different settings: global settings, prices display, labels, reCAPTCHA, binding fields;
set a price as a fixed or percentage value, and customize the price formula.
Pricing: There are four subscription plans: $39/year for one site and $79 per year for five sites; $69 for a lifetime for one site and $149 for a lifetime for five sites.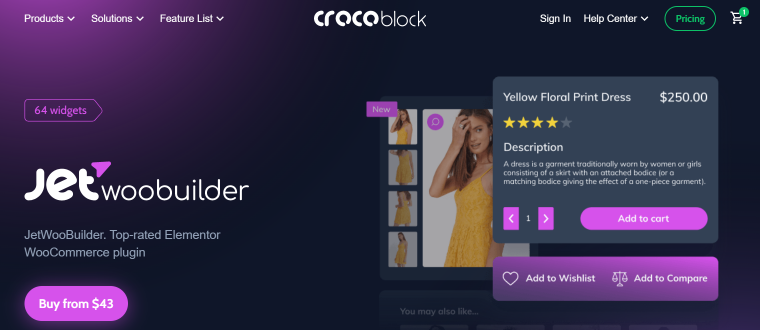 This plugin invites you to "put flexibility into motion." It features numerous widgets to build picturesque shop templates. Besides, users can customize WooCommerce product cards in Elementor and change product catalog, sections, cart, and checkout pages.
Features:
custom templates for a single product, shop, cart, checkout, success, and account pages;
editable WooCommerce pages;
manageable reviews;
custom behavior conditions and allowed user roles;
customizable grids, products list, and taxonomy tiles;
sorting by best selling, top-rated, and most viewed items, date, price range, stock status, and alphabet;
60+ widgets (global, single product widgets, archive card widgets, categories card widgets, and page-specific widgets).
Pricing: The plugin costs $43 per year for one site and $88 per year for an unlimited number of sites.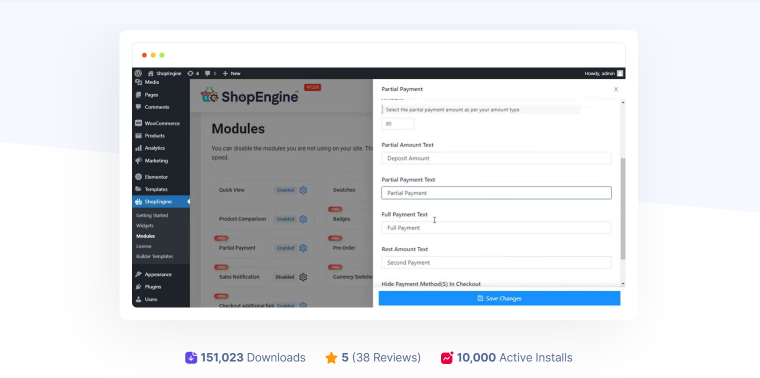 According to the official site, this plugin has more features than other plugins (e.g., WooLentor and CoDesigner together). ShopEngine is a lightweight WooCommerce suite for Elementor. The plugin proposes lightning-fast loading speed, WooCommerce Builder, product comparison, wishlist, sample variations, pre-order, quick checkout, and more.
Features:
free modules: quick view, wishlist, product comparison, flash sale countdown, swatches, variation swatches; premium modulus: free+badges, fast checkout, partial payment, pre-order, backorder, currency switcher, sales notification, variation swatches, QR code;
free templates: single page, archive, shop, cart, empty cart, check out, quick view;
59 free widgets: additional information, add to cart, breadcrumbs, widgets for products, archive product, checkout forms, filters, search.
Pricing: The premium version for one/five/unlimited sites costs $47/104/179.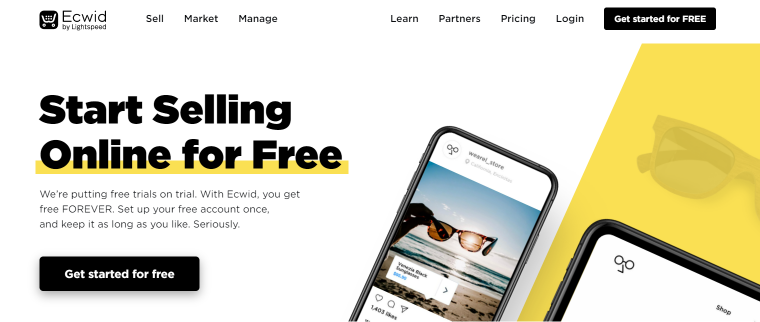 Ecwid is a WordPress plugin for creating online stores integrated with many platforms (i.e., Instagram). It supports website building, adding a directory to a site made with another CMS, launching a full-fledged store, and managing Instagram shopping, TikTok selling, and Facebook shopping from one platform. Ecwid provides hosting with a maximum of 10GB per file.
Features:
users can manage their stores through the WordPress admin panel, Ecwid dashboard, and a mobile app;
functionality: product cards with photos, descriptions, prices, and configuration options; shopping cart for placing an order; online payment for goods; choice of delivery method; reliable protection of personal data of buyers, including payment information;
launching stores on social networks like Instagram and Facebook; uploading goods to popular trading platforms; placing a widget with a product on a page of any site or adding a showcase as a separate page;
payments for goods: bank card, e-payments, cash, and bank transfer;
calculated rates;
integration with CMS, site builders, and social networks;
built-in app store and SEO optimization.
Pricing: The pro version costs $150 per year.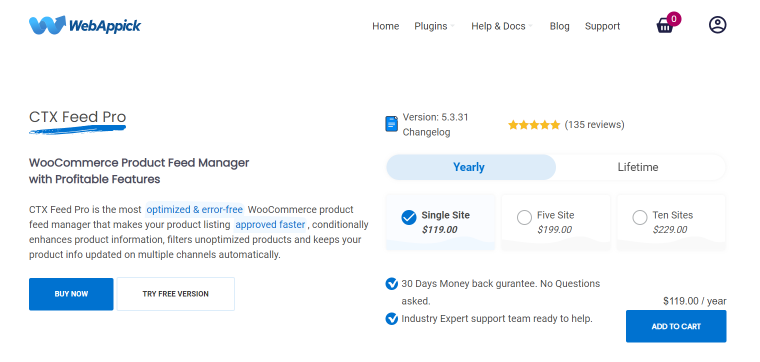 CTX Feed is the ultimate solution to create the most optimized and error-free product feed for any WooCommerce store. While supporting over a hundred marketing channels, this product feed plugin will help you reach any search engine, affiliate site, marketplace, or price comparison site without difficulty.
This WooCommerce product feed manager plugin has been tailored to relieve you from all the troubles and confusion regarding getting your product feeds accepted quickly and effortlessly.
Features:
add unlimited products;
supports all types of WooCommerce products;
more than a hundred built-in templates are available;
create unlimited product feeds;
supports 100+ well-recognized channels;
comes with a multilingual feature;
supports all the major file types;
auto-update based on the chosen interval time.
Pricing: The pro version of CTX Feed costs $119 for a single site, $199 for 5 sites, and $229 for 10 sites yearly.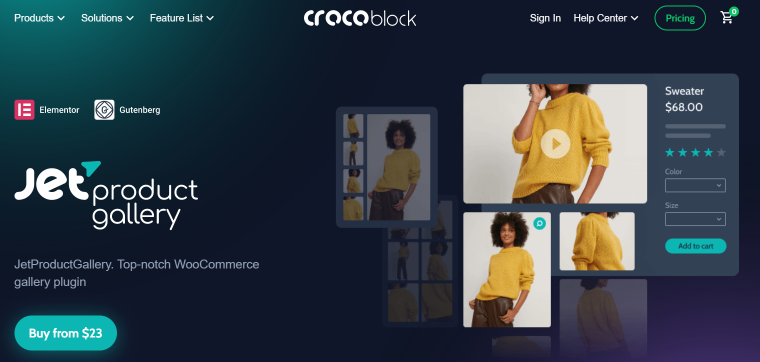 This plugin makes online stores beautiful; it presents goods in the most attractive light. Using it, you can develop stylish galleries, build flexible Custom Post Types to add any content to the website and fill the product gallery with images and videos. JetProductGallery is compatible with Elementor and Gutenberg.
Features:
create product posts to add any content to the website, including featured videos and files uploading;
create catalogs with product image zoom, pagination, dynamic gallery tags, product lightbox controls, custom styling, displaying product video in a pop-up, and advanced options;
apply showy gallery views to single & catalog pages by designing a universal gallery template with different layouts, product gallery slider, gallery grid, and anchor navigation;
allows building four product gallery layouts using the following widgets: gallery anchor navigation, vertical gallery slider, gallery modern & grid.
Pricing: The pro version costs $23 per year for one site and $47 per year for unlimited websites.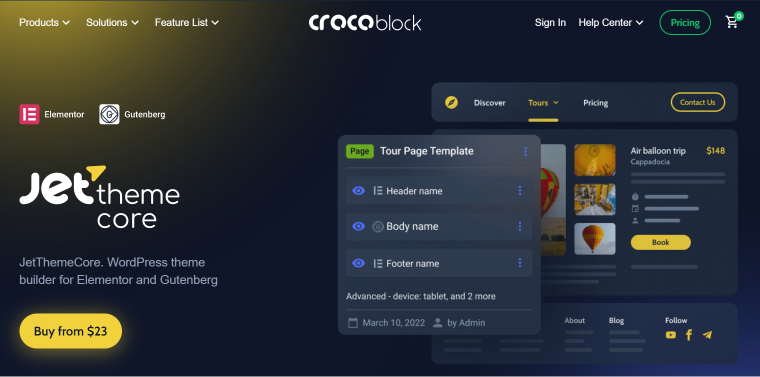 JetThemeCore is a WordPress theme builder for Elementor and Gutenberg. It allows you to build the entire site structure, including design elements (header/footer) and templates (pages, archive, error, search results, CPT). This plugin's functionality is perfect for e-store building.
JetThemeCore and JetWooBuilder cover the e-store creation and help you make it stylish and usable. The plugin has pre-made content blocks and is fully compatible with popular WordPress themes (Kava, Astra, Hello, Elementor, OceanWP, Generate Press, etc.).
Features:
build & manage website structure, i.e., header & footer, single page, archive, error 404 page, search results page, WooCommerce templates, single post page, custom post type pages;
assign visibility conditions to different website parts – include/exclude the template from a certain spot, choose a device where to display the template, and specify the user roles allowed to see it;
apply one/some templates to the page;
full compatibility with popular themes.
Pricing: The plugin costs $23 per year for one site and $47 per year for an unlimited number of sites.
Best Plugins for Sales Management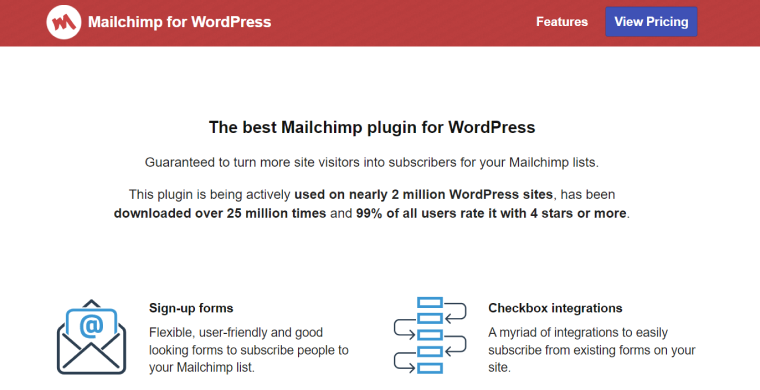 This plugin is a leader in the field of email marketing with 700,000+ active installations. Mailchimp has all the necessary tools: from end-to-end analytics to automatic advertising campaigns and CRM functionality.
Features:
collect and manage the client base (sort by tags and notes, segment by other criteria, delete, add, synchronize, etc.);
schedule advertising campaigns through email marketing, retargeting, and social network surveys;
own website/landing page builder to launch a full-fledged online store and a booking system;
search services, content indexing;
integration with eCommerce systems, payment tools, calendar and event management services, social networks, survey platforms, graphic editors, and CRM systems.
Pricing: There are four pricing plans. In particular, the Free plan proposes multi-channel tools to build a business; the Standard plan offers data-driven automation and optimization tools for $17 per month; the Essentials plan is priced at $11 per month, and the Premium plan with advanced customizable features comes at $299 per month.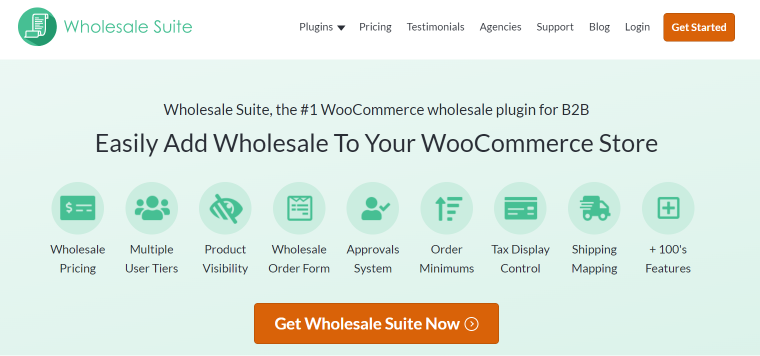 Wholesale Suite allows you to build a big B2B store. It focuses on big stores with different pricing by setting fixed/percentage discounts; users can create order forms and set purchase requirements. Wholesale Suite embraces several plugins with various features. Together they provide pricing, multiple-use tiers, product visibility, order forms, approval system, order minimum, tax display control, and shipping mapping.
Features:
manage wholesale pricing across multiple levels by fixed price or percentage;
control product visibility by user role to mark products & categories as wholesale or retail;
considers the country's tax requirements & control pricing/tax display as required by law;
force wholesalers to use specific shipping & payment gateways;
specify the order and product minimum;
streamlined one-page ordering solution (the wholesale order form).
Pricing: Wholesale Suite has two pricing plans: Growth Bundle for one site with a regular price of $297 and Business Bundle for an unlimited number of sites priced at $597.
Best SEO Plugins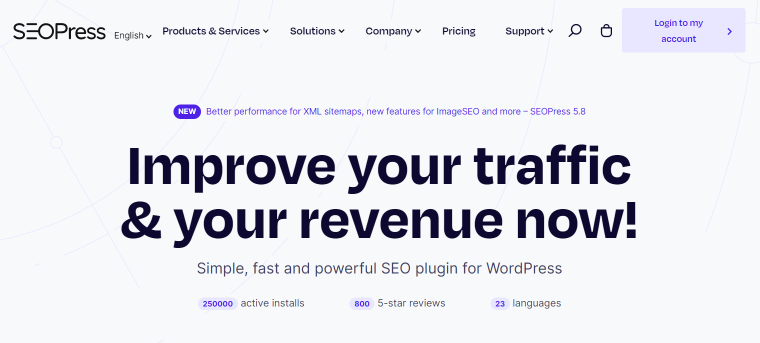 SEOPress is a WordPress plugin for internal SEO optimization on the site. Its basic version is sufficient for most non-commercial projects. The SEOPress plugin has a straightforward interface with settings grouped into sections (headings and metadata, sitemap, social networks, Google Analytics, etc.).
Features:
optimizing meta title/description, open graphs, and Twitter cards;
post types, archives, and taxonomy indexing;
crawling/indexing meta robots, canonical URLs, Google Indexing API, and IndexNow API;
analyzing content with unlimited keywords, Google Analytics, Matomo Cloud/On-Premise, and Microsoft Clarity;
import/export of meta tags from or to a CSV file;
adding Schema.org and Google Knowledge Graph markup;
monitoring 404 errors;
setting up redirects;
a dashboard with notifications about site optimization problems and links to solutions;
adding microdata to Facebook and Twitter posts;
creating and configuring XML and HTML sitemaps;
imports data from Yoast, All-in-One SEO, The SEO Framework, and Rank Math;
integration with popular plugins and services: WPML, Polylang, MultilingualPress, WooCommerce, Easy Digital Downloads, WP Rocket, Weglot, Google Analytics, Elementor, Divi, Visual Composer, Admin Columns Pro.
Pricing: The premium version of the SEOPress plugin costs $49 per year for an unlimited number of sites, the SEOPress Insights plugin for professional SEO costs $99 per year for one site, and the SEOPress Bundle normally costs $148 (PRO for unlimited sites) + Insights (for one site per license).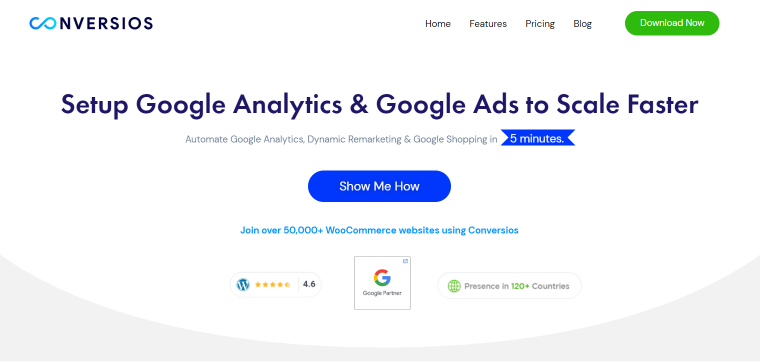 Conversios uses Google Analytics Enhanced eCommerce tools to track user behavior in WordPress stores. The free plugin version envisages views and clicks tracking. It supports all advanced trading tools, including shopping behavior, checkout behavior, product performance, and sales performance.
Features:
Google Analytics tracking through a standard actionable dashboard: shopping behavior, checkout behavior, dual tracking (Universal Analytics + Google Analytics 4), Google Ads, and Google Analytics linking;
complete Google shopping automation: innovative shopping campaign management, auto-sync, scheduled product syncs, SEO optimization for products, site verification, domain claim, Google Merchant Center account management, and dynamic remarketing tags for eCommerce events.
Pricing: There is a free version with limited features and Hustle/Growth/Leap versions with regular prices of $39/59/99 per month.

Rank Math helps you get the perfect SEO-optimized page. Even its free version is enough for SEO parameters optimization. The plugin audits sites, detects problems, and indicates what needs to be changed. Rank Math tracks and evaluates published content to recommend improvements.
Features:
in-depth analysis of sites for SEO optimization using 15+modules: 100-points page quality score, advanced 1-x click SEO analysis tool to audit site, and optimization of up to five targeted keywords per page for free, SEO for images, etc.;
easy data import from other plugins, integration with Google Analytics, Search Console, Twitter, Bing, Facebook, Pinterest, and LinkedIn;
rich snippets for 20+ Schema types;
various Schema types support, validation of schema markups, custom schemas for posts, and conditions for schema templates;
easy-to-follow setup wizard, simple user interface, personal assistant Content AI;
local SEO and Knowledge Graph optimization, internal link suggestions;
keyword ranking and sitemap status tracking;
meta title and description editing.
Pricing: There is a free version and three paid plans: PRO for bloggers, individuals & solopreneurs priced at $129 per year; BUSINESS for freelancers, businesses, & agencies priced at $429 per year; and AGENCY which comes at $999 per year.
Plugins for Better UX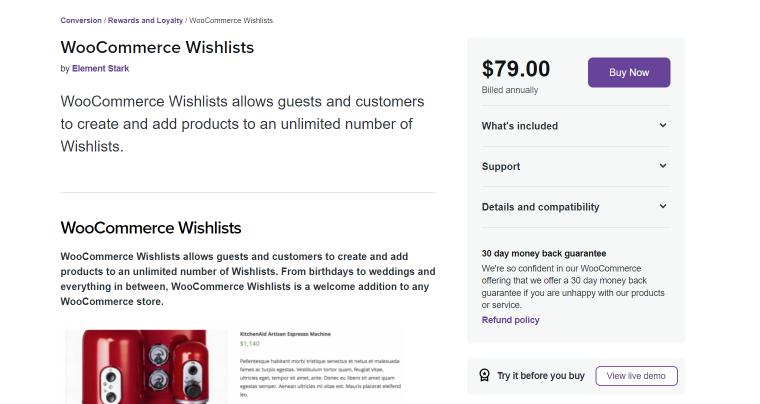 In this plugin, the wishlist is not just a button for adding products to favorites but a full-fledged marketing tool. The possibility to track favorite products is excellent, but that's just the tip of the iceberg. A unique feature of WooCommerce Wishlist is sharing the wishlist on social networks.
Features:
registered users can create an unlimited number of confidential wishlists, and unregistered users can access their wish lists for 30 days;
users can present their wish lists on their social media pages;
grouped products support;
customization of the "Add to Wishlist" text, icons, and buttons;
notification if the wish list already contains a certain item;
management of wish lists through the admin panel.
Pricing: The plugin costs $79 per year.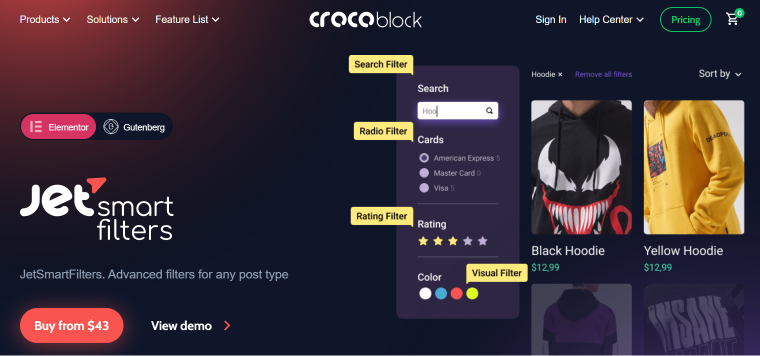 This easy-to-use plugin for Elementor and Gutenberg makes it possible to apply 15 filtering widgets. Users can customize filter options and apply filter widgets to any WordPress page template and post type. Besides, users can build any desired search hierarchy.
Features:
15 filtering widgets: Sorting, Rating, Visual Filter, Search, Radio, Date Range, Range, Check Range, Select, Checkboxes, Date Period, Alphabet, Active Filters, Active Tags, Pagination, Apply Button, and Remove Filters;
display filtered results on archive pages;
use the Indexer feature to indicate the number of items in categories;
unite several similar filters into one hierarchy;
adjust a filtering logic and dynamic filtering;
hassle-free setup;
seamless integration with ElementorPRO, ACF, and all JetPlugins.
Pricing: The plugin costs $43 per year and $88 per year for an unlimited number of sites.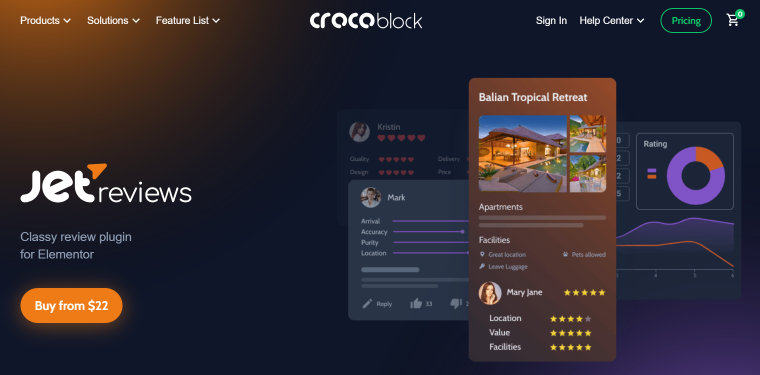 JetReviews is a classy WordPress eСommerce reviews plugin. JetReviews is a classy WordPress eСommerce reviews plugin. It's suitable for e-stores due to additional functions such as product rating systems, statistics, comments lists, etc. It allows visitors to share feedback directly on the resource itself. Site admins can manually manage comments on the back end.
Features:
show user reviews according to ratings;
dynamically changeable comments and reviews;
present statistics and offer multiple rating scales to users;
easy voting;
possibility to apply a review section to any page and edit the review field in a pop-up window;
a clean dashboard to moderate reviews;
restrict users from leaving comments based on their roles (author, administrator, editor, contributor, subscriber, customer, shop manager, or guest);
user verification by reCAPTCHA v3 and required name/email fields;
ability to build custom queries and structure data rendering;
Static Review and Reviews Listing widgets let you add static and dynamic review sections anywhere on the site.
Pricing: The plugin costs $22 per year and $44 per year for an unlimited number of sites.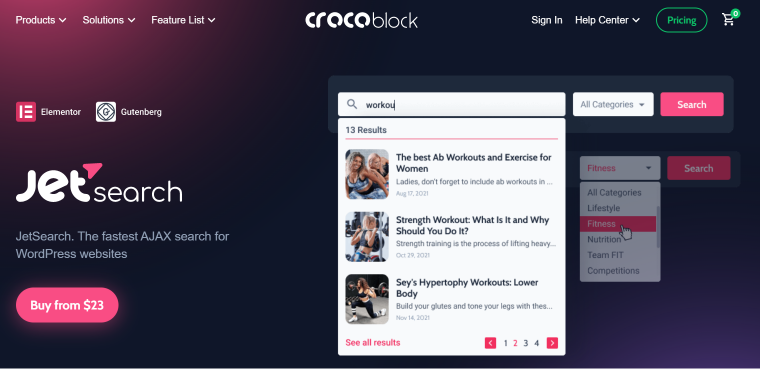 WordPress has a limited default search tool. This plugin for Elementor and Gutenberg fills the gap. It provides the fastest AJAX functionality allowing you to search the entire website through a live search bar.
Features:
conducting a search throughout the blog, pages, categories, CPTs, tags, and taxonomies;
sorting search results by relevance, post ID or title, author, creation date or last modification date, menu order, number of comments, or in random order;
customization of the quick search view;
building a search results page choosing between a Grid, List, and Masonry layouts.
Pricing: The standard license costs $23 per year for one site and $47 per year for unlimited websites.
FAQ
Can I use several plugins simultaneously?
Yes, you can use as many compatible plugins as you wish, but too many plugins make your site heavy. They increase site loading time and decrease the site's position in Google rating. 
I advise you to consider JetPlugins. They work together just right and make the site fully-fledged without additional weight.
What is the best plugin for eCommerce?
It depends on your needs. Plugins often have similar features that allow you to build a successful WordPress eCommerce site. Before choosing a plugin, evaluate your business needs, available opportunities, and the future of the online store, its size, and target audience.
What are the necessary features for WordPress eCommerce plugins?
Here is a list of some necessary features:
– compatibility with WooCommerce;
– support of default payment gateways and a possibility to add additional ones as extensions;
– multiple customization options and templates to design WordPress stores;
– integration with applications such as email services, accounting software, etc.;
– no security issues and good support.
What are the benefits of premium plugin usage?
There is nothing wrong with free plugins, but premium ones often have better features, support, and documentation and offer more templates.
How to add Google Analytics tracking to a WordPress eCommerce site?
Statistics systems will help you control traffic flows. To use Google Analytics, you need to install it manually through code or corresponding plugins.
Conclusions
There is no shortage of WordPress eCommerce plugins. As long as there are different online stores, there will be different types of dedicated site-building plugins.
All of the above options, both paid and free, will help you set up a best-selling online store in the shortest possible time. Just choose the option that suits you the most.