One of the reasons for WordPress's flexibility is its ability to incorporate plugins. These high-quality tools are pieces of software that can add virtually any features and functions to the websites built with WordPress.
Today, I will review two leading WordPress plugin development companies, more precisely, their all-in-one solutions for improving Elementor and Gutenberg editors.
Table of Contents
What Are Ultimate Addons for Elementor, Spectra, and Crocoblock?
Ultimate Addons and Spectra are two products by Brainstorm Force. Brainstorm Force is a team standing behind the popular WordPress Astra theme. Ultimate Addons for Elementor is a stand-alone plugin packed with 50+ widgets to expand design options and hundreds of templates to kickstart website production.
Spectra is another product by Brainstorm Force, and it is an all-in-one solution to power up the Gutenberg WordPress editor. Until recently, Spectra was known as the Ultimate Addons for Gutenberg. It adds powerful blocks to WordPress native editor while keeping its simplicity and speed.
Crocoblock is a company that develops top-notch tools for Elementor and Gutenberg users. At its core, there's a suite of 20 paid and free plugins (JetPlugins) that can be installed and used separately or in a bundle. As a whole, JetPlugins enable users to build any type of website without the need to install additional tools.
Ultimate Addons for Elementor vs. Crocoblock
Both companies present complete toolkits for work with Elementor. Let's see what features they offer and what pricing policies they've got.
Ultimate Addons for Elementor key features
The Ultimate Addons takes Elementor to a new level of creativity. This add-on adds many innovative widgets to the existing page builder and offers plenty of fully customizable templates for building beautiful websites effortlessly.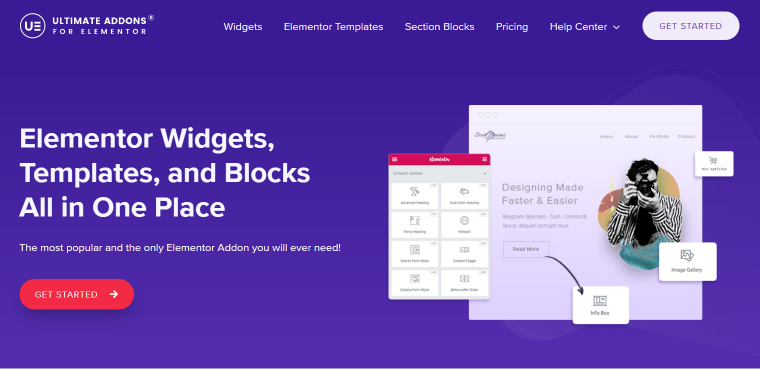 With a collection of 40+ widgets, users can create unique designs for different projects. This collection includes images, blogging, basic design widgets, and more. Here are the most outstanding functionalities that these widgets bring to Elementor:
A wide range of widgets makes it easy for design professionals and newbies to create stunning web pages: Form Style widget allows customizing every field, button, and background of forms; Hotspot Tour widget creates virtual tours for visitors using tooltips; Interactive Particles Background widget makes moving animations for columns and sections with interactive hover effects.
Some of the widgets may be especially useful for eCommerce projects. They allow displaying products in a Grid or Carousel layouts, building advanced queries, styling up call-for-action buttons with animation effects, importing user reviews from Google and Yelp, and more.
The How-To Schema widget is an excellent instrument for building blog websites. It creates step-by-step instructions much needed for tutorials, recipes, and so on. Such posts rank higher in SEO and attract more visitors to click on the site's link.
The Ultimate Addons feature an impressive library of professionally-designed templates. Users can choose from 100+ website templates and 200+ section blocks and import them in just a few clicks. This ability speeds up a workflow for WordPress professionals and enables newbies to build functional visually-appealing websites without using a line of code.
Another time-saving feature for WordPress developers is a Cross-Domain Copy Paste feature. It allows replicating pieces of content (tabs, posts, forms, buttons – whatever!) together with their styling options to different web pages and sites. And that is done with only four clicks: right-click, copy, right-click, paste.
To sum up, the Ultimate Addons offers valuable tools for different types of users. WordPress newbies will appreciate its easy-to-use Elementor interface and ready-to-use templates, while the professionals will value its time-saving features.
Ultimate Addons pricing
Ultimate Addons offers three types of paid plans with annual and lifetime versions. Note that all plans allow unlimited website usage and come with a 14-day money-back guarantee.
Ultimate Addons plan ($69 – annual & $249 – lifetime) comes with all the premium features and a limited number of website templates.
Essential Bundle plan ($169 – annual & $849 – lifetime) comes with all the premium features, a growing library of website templates, an Astra WP theme, and a WP Portfolio plugin.
Growth Bundle plan ($249 – annual & $1249 – lifetime) comes with everything included in the previous plan, plus three more plugins by Brainstorm Force (Convert Pro, Schema Pro, and Ultimate Addons for Beaver Builder) and access to a growing library of online courses for web-design specialists.
Crocoblock for Elementor key features
Unlike Ultimate Addons, Crocoblock does not focus on design functionalities. It is a toolkit for working with Elementor consisting of 20 plugins (JetPlugins) that improve Elementor in various ways. Each plugin offers from two to 40+ widgets, summing up to 150 widgets.

Crocoblock users can install a complete JetPlugins collection with 47 static design templates, 14 dynamic website templates, and over 200 pop-up templates (including 50+ interactive pop-up templates) or install and use only selected plugins. Each of them boosts various aspects of Elementor's functionality. Here's a quick review of what these plugins do:
The JetEngine plugin has everything for building dynamic sites. It's capable of creating custom post types and revolutionary custom content types, query builder, profile builder, REST API, and many other tools for making dynamic architecture.
Crocoblock offers numerous tools to improve the design of all elements on the website. JetElements plugin complements Elementor with new widgets that deal with data visualization and integration of external apps. At the same time, JetTricks adds sophisticated visual effects (parallax, satellite, particles, and more) to the web pages.
Crocoblock packs an unprecedented number of WooCommerce widgets broken down into groups for easy searching for proper solutions when building any type of e-store.
JetMenu plugin is the best solution for building elaborate navigation systems on the WordPress platform. With its help, users can make all sorts of menus (mega menu, hamburger, accordion, etc.) and insert static and dynamic content.
Other plugins will help web developers create a registration, login, and review forms, add AJAX filters to custom post types and WooCommerce products, implement online booking systems, and more.
All in all, Crocoblock offers a complex set of innovative tools that expand Elementor's capabilities in all possible directions. Various plugins can be installed separately and work together flawlessly as they share the same approach to CPT, taxonomies, and relations.
Crocoblock pricing
Crocoblock offers customizable plans where users can choose the plugins they need. Plugins range in price from $15 to $43.
The All-Inclusive plan with a complete set of plugins costs $199 for one site or $399 for unlimited projects per year.
There are two-lifetime plans with the entire suite of JetPlugins: a $750 Freelance Lifetime for 500 sites and a $999 Lifetime plan for unlimited sites.
All plans come with a 30-day money-back guarantee.
Spectra vs. Crocoblock for Gutenberg Comparison
Let's now compare Spectra (former Ultimate Addons for Gutenberg) and Crocoblock plugins for Gutenberg.
Spectra key features
Spectra provides users with advanced design options previously unavailable in the WordPress native editor. At the same time, the developers aim to secure Gutenberg's advantages over other page builders (simple layout and speed) when using Spectra.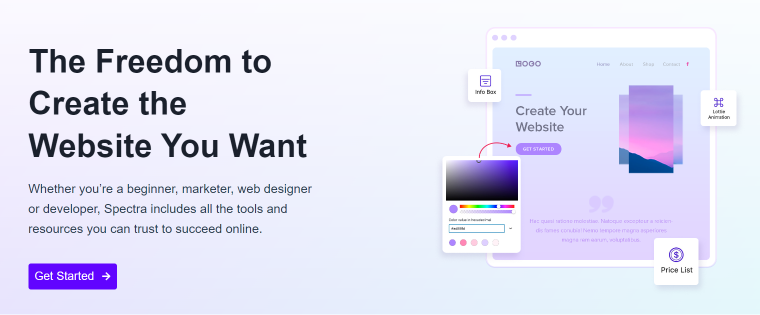 This plugin significantly improves Gutenberg's capabilities by adding 28 unique blocks. They're all optimized for high performance, so the website loads at maximum speed. There is an option to turn them on and off individually and activate/deactivate all.
Spectra blocks are diverse and deal with advanced content layout, tabs and buttons' customization, and creation of forms for all purposes. All blocks are highly customizable for easy matching of the website's brand. Users can also copy design settings from one block to another, significantly speeding up the workflow. One of the core advantages of the Spectra plugin is the templates library.

It includes 100+ demo website templates made of high-performing blocks, 42+ presets for blocks that allow building uniform web pages with unique designs, and 350+ combinations of Spectra blocks for various website sections and wireframe patterns.
Another area where the Spectra plugin improves Gutenberg is website responsiveness. First of all, the blocks are optimized for every screen size. Users can quickly switch between desktop, mobile, and tablet views using three buttons in the editor's top panel.
Spectra pricing
I believe Spectra is potentially an excellent solution for creating clean, simple, and responsive websites with Gutenberg. Unfortunately, users report multiple bugs in the latest versions of this plugin. 
In addition to Spectra free, the Brainstorm Force team put out its premium paid version. There are three packages for annual and lifetime use with the ability to purchase a plan for one, ten, and 1000 websites. Here are the details, package by package:
Spectra Pro – to use it yearly, you'll have to pay $61, $74, and $86 for one, ten, and 1000 installations accordingly. The Lifetime subscription for the same number of projects will cost you $299, $399, and $499. Spectra Pro gives access to Popup Builder, Loop Builder, Dynamic Content features, custom blocks, and extensions like Animations & Motion Effects, etc.
Essential Toolkit – a yearly subscription for 1/10/1000 websites costs $99, $161, and $199. Lifetime package comes at a fixed $599, $899, and $999. In terms of functionality, Essential Toolkit covers everything in Spectra Pro, plus access to Astra Pro, premium starter templates, and priority support.
Business Toolkit – it's not out yet, but you can still check out what it offers and how much it costs. So, Business Toolkit pricing amounts to $199, $225, and $265 yearly. For Lifetime, you'd have to pay $999, $1199, or $1399 – depending on the desired number of websites. This subscription plan will unlock three more exclusive features for you: ProjectHuddle (team collaboration tool), SureWriter (AI-powered assistant for content creation), and SkillJet Academy Membership (access to professional courses).
Crocoblock for Gutenberg key features
Crocoblock presents a suite of 11 WordPress plugins that increase Gutenberg's functionality and allow building websites of any complexity. Some of these plugins were developed explicitly for work with the WP native editor, while the others are adaptations of popular JetPlugins for Elementor. Let's see what possibilities the Crocoblock plugins bring to Gutenberg users.
JetThemeCore plugin allows creating WordPress templates and implementing them on single pages or the entire site (like header or footer templates). The templates can be visible to selected user roles only or may appear only on desktop/mobile/tablet devices.
For the users who want to add dynamic website structure to their sites but don't want to rely on Elementor, JetEngine is the way to go. Essentially, this is an all-in-one toolkit for displaying all post types dynamically using Gutenberg blocks. Some features like query builder, data stores, REST API, and integrations with payment platforms are crucial for online trading platforms and services.
JetFormBuilder features 18+ field blocks to build form structures at the backend, stylize every little detail of the form, and see the result instantly (WYSIWYG that Gutenberg editor is missing).
JetBooking and JetAppointment are two plugins by Crocoblock that can build booking calendars for hotels, property rentals, travel agencies, service stations, and any other businesses that offer services on daily or hourly bases and use websites created with the Gutenberg editor.
JetProductGallery is great for creating WooCommerce galleries.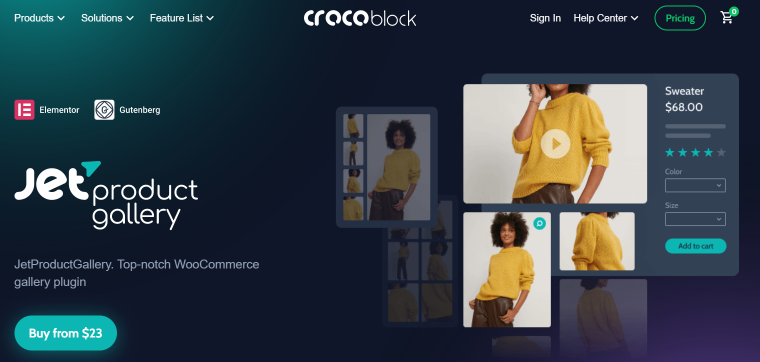 JetGridBuilder is a handy tool for all Gutenberg sites. It adds adaptable grids for easy moving and resizing of Gutenberg blocks.
JetStyleManager applies style settings to every detail of Gutenberg blocks, which are added by JetPlugins.
JetMenu provides unlimited possibilities for building complex mega menus with static and dynamic content.
JetSmartFilters and JetSearch plugins enable dynamic filtering and search with AJAX functionality for sites made using the Gutenberg editor.

As I see it, each of Crocoblock's plugins expands certain aspects of Gutenberg's potential while together, they constitute a significant improvement for all types of websites built with WordPress native editor, especially when it comes to dynamic features.
Crocoblock plugins for Gutenberg pricing
Some of the plugins for Gutenberg are free, and the others range in price from $19 to $43 (JetEngine). The whole package costs $199 for one site or $399 for unlimited projects per year, but in some cases purchasing one or a few plugins might be a better deal.
A $750 Freelance Lifetime plan for 500 sites and a $999 Lifetime plan for unlimited sites are also available.
Brainstorm Force and Crocoblock Support Services
Brainstorm Force support is available through a ticketing system. Owners of active licenses for their products can expect support within 24 hours on weekdays. Users of free products also can turn to the support team, but they will get a response within 48 hours.
Unfortunately, Brainstorm Force doesn't provide support through live chats, phone, or teleconference.
Brainstorm Forms encourages users to refer to their products' knowledge base before opening a ticket with a support service.
Crocoblock, on the other hand, provides support to owners of valid licenses via chats, tickets, or Zoom calls. The support team is available from 9 AM to 6 PM as per EET.
Besides the impressive knowledge base, Crocoblock users (or anyone interested in Crocoblock products) can pose questions in a Facebook community with over 20k members. Crocoblock YouTube channel features tons of video tutorials and reviews of various plugin features.
FAQ
What is Gutenberg?
Gutenberg is a built-in block-based editor introduced in WordPress 5.
Which Elementor plugin is the best?
Many high-quality Elementor plugins can satisfy the needs of different users. Crocoblock's JetPlugins and Brainstorm Force's Ultimate Addons are among the best.
Are users required to have coding skills for using Spectra and JetPlugins for Gutenberg?
These plugins are easy-to-use solutions that require no HTML or coding skills from users
What is the main advantage of Spectra?
Spectra plugin fixes Gutenberg's responsiveness issue by adding 28 blocks optimized for every screen size.
What's the most significant difference between Ultimate Addons and Crocoblock?
Ultimate Addons for Elementor covers mostly design functionalities, while Crocoblock also adds other special functionalities.
Ultimate Addons vs. Crocoblock: Conclusions
Both companies produce high-quality WordPress plugins so that users can create better websites while experiencing fewer difficulties. However, their products are pretty different.
The undeniable advantage of Brainstorm Forms' products is access to extensive libraries of ready-to-use templates. These templates include demo websites, wireframes, and section blocks. WordPress newbies will love the ability to import professionally designed templates in just a few clicks, while the professionals will appreciate Ultimate Addons' time-saving features.
Ultimate Addons for Elementor and Spectra for Gutenberg offer many tools to enhance WordPress functionalities, especially those dealing with website design. Spectra can be characterized as a promising lightweight plugin capable of coping with common responsive design challenges. For now, users are advised to do a backup before activating the latest version of Spectra, but I suggest trying it out on a clone website before making the decision.
Unlike Ultimate Addons, Crocoblock does not focus on design functionalities but offers a full spectrum of special features to Elementor and Gutenberg WordPress editors. Most notably, Crocoblock plugins have the advantage over other solutions in providing WordPress editors dynamic features and WooCommerce capabilities.
Users can install JetPlugins by Crocoblock in a bundle or choose to use selected plugins to add particular functionalities to their sites. As a whole, JetPlugins presents tons of valuable instruments, and their capabilities may be difficult to grasp immediately. Luckily, the Crocoblock team has answers to all possible questions and is happy to share them with everybody.