Viewers of any website or user interface want optical coherence, uniformly dispersed content, a logical visual hierarchy, and a logical user flow. Custom software development services rely on wireframes too much. Including the website wireframe in your preferred workflow model will strengthen your credibility as a web design analyst.
If you are interested in learning how vital visual designs are to people like web designers and how to wireframe a website, don't stop reading the article. You will get a lot of insight regarding simple website wireframes in the below section.
What Is a Wireframe?
A website wireframe is a visual illustration of a website's structure. They are a pattern of special characters (black and white-bordered shape) that depict how a website might look. Each shape signifies a particular web page design feature such as a photo, a slogan, menu items, links, tabs, etc.
Moreover, a simple website wireframe is made during the initial stages of a user experience. It allows the designer to establish and organize an information hierarchy of the newly developed products so that the user can easily absorb the information presented on the site.
5 Steps to Wireframe a Website
A wireframe is not a place to intrude on mere fonts, pictures, actual colors, etc. Rather, they are many powerful tools used explicitly by UX designers. They're availed when the designer has to tackle some initial steps while developing a new app, website, or anything else. Below are the steps that reveal a step-by-step pathway to describe how to create a wireframe for a website.
Step 1. Research
Although it is not the official step to create wireframes, you have to ponder the idea of how you can start a pictorial representation of a product without conducting user research. So, it would help if you had to examine and analyze your project.
It would be best if you had to look for similar services from your competitors and investigate them. Moreover, you also have to check out the strengths and weaknesses of your competition.
When going through how to wireframe a website, you must also not ignore your buyer since they are an important figure during the overall process. You should have to research from their perspective to discover their concerns, like who will buy from you? Why they would buy from you instead of your competitors, and what kind of solution they are exploring for a particular problem.
Step 2. Start sketching
If you are on the way to discovering how to wireframe a website, it's time to get your fine pen, notepad, eraser, and piece of paper. It is necessary to visualize your thoughts quickly and efficiently.
Because this isn't about developing a high-fidelity wireframe on paper, stay away from small details. All you have to do now is draw out the essential parts and layouts.
You might use a countdown because most design engineers are high performers. Set a timer for 4-5 minutes and force yourself to complete the wireframe inside that time. Continue this procedure until you have a few mockups that you are satisfied with.
Step 3. Add some details
After the two initial steps of making a wireframe for a website, now is the time to add some details to the simple website wireframe. To create your website wireframe in actual size, you must define some features. First, you should define usability conventions like putting the navigations on the top next to your logo and a motto, placing a search box on the top right corner, etc.
In the following steps, you should define the idea about what's more significant than what in terms of design and spacing and which messages should be used to emphasize land highlighted with specific font sizes?
How can you create interactive annotations? Where would you put your call-to-action buttons? What size should they have? What kinds of images/interactivity might help communicate the message? All these points will help you create wireframes smoothly.
Step 4. Ask for feedback
You know that creating a website wireframe comprises several steps, and one of the most meaningful steps is to ask for feedback from your colleagues. You have to tell them about your efforts.
Try to pay attention to your coworkers about your project. Explain how each design assists you with the project. Start changing the wireframe when you've acquired all the information and recommendations.
Step 5. Create prototypes
The final step in creating wireframes is to develop a prototype. The prototypes are an intimate manifestation of what your web screen will look like. They can be assessed as an early representation of your layout as they are interactive instigation of your setup that includes each design feature and the navigation component.
In this step, you can take help from plenty of wireframing tools (Adobe XD, Framer, Proto.io, etc.).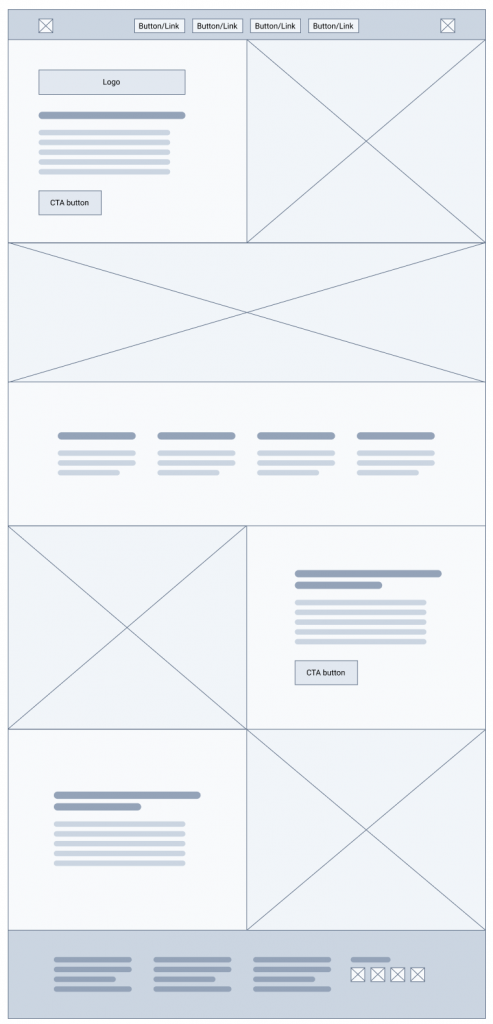 This prototype aims to enable you to test your blueprint design by noticing what it will look like in a real-life and even watching how users will interact with it on the screen. Moreover, after creating the prototype, you could access whether and how you can code each design detail.
Conclusion
A website wireframe is very important as it helps you visualize and assess your content's layout. Creating a website wireframe is an approach to the low-fidelity mockup used in web design and user experience design.
It shows the configuration and layout of the placeholder objects, which create the basic foundation and structure of a web page or digital screen.
It may assist you in saving time and effort and make the infrastructure of your information perfect. It supports you in checking for and fixing usability concerns.
In addition, any page layout can be quickly portrayed by the wireframes for you to examine how a page layout works.