Crocoblock affiliate program allows all WordPress users to earn 50% out of each unique sale and help us promote our products using affiliate links.
Affiliate Links
Affiliate links are the special links you get after registration for the Crocoblock affiliate program.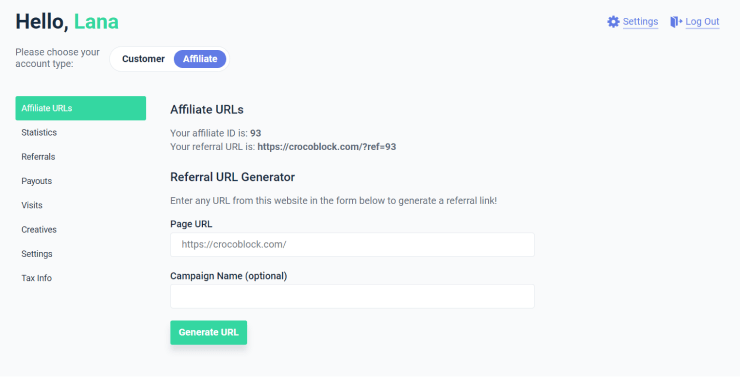 You can generate your affiliate link by inserting the page you'd like to link to and the campaign name (if applicable). For instance, you want to track sales and visits from the blog and YouTube, so you can generate two different links:
https://crocoblock.com/?ref=93&campaign=blog
https://crocoblock.com/?ref=93&campaign=youtube
Affiliate Cookies
This WordPress affiliate program uses the first-cookie approach. These cookies are used to track referrals from affiliates.
This means if the client has visited the Crocoblock website earlier (through organic traffic, Google, or another affiliate link), the first cookie would be stored by first-visited.
The referred sale will be successful only with clean or expired cookies.
How Much Can I Earn with Crocoblock Affiliate Program?
Your affiliate earning directly depends on the product your client chooses. Our highest product price is the Lifetime subscription at $999, so your earnings will be $499,5.
Affiliate Payouts
The minimum affiliate payout is $400. We execute the payouts after 30 days-period, due to our refund policy.
It means, that if it has been 30 days after the last referral purchase, and the amount of $400 has been reached, the Affiliate will be paid automatically during the next billing cycle.
Crocoblock billing process might take up to 15 business days, on a monthly basis.
Having said that, you are welcome to choose your own most suitable promotional method or experiment with them all to get the best from the Crocoblock affiliate program.