JetEngine is a truly multi-functional tool and necessary for working with the dynamics on your website. In case if you need to build a complex structure to display your custom post types and custom taxonomies, this plugin for Elementor is the right choice. Let's get started!
Necessary steps before creating a listing template
Step 1 – Above all, make sure, that you have created a post type (a custom one or not) and the post type has some posts. Follow this link to learn how to perform it.
Step 2 – Please, ensure, that you have a custom taxonomy or a default one, to be able to create a listing for a default taxonomy, category or tag.
To learn, how to perform it, read this tutorial.
Creating a listing template for the terms from custom taxonomy
Step 1 – Go to the WP Dashboard > JetEngine > Listings options.
Step 2 – Choose the Terms type in the Listing source. In the other field select the taxonomy in the dropdown menu that you have created before and that contains terms. After that, enter the name for this listing.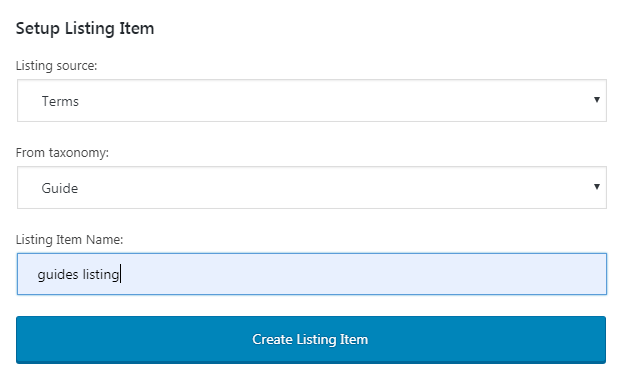 Step 3 – Go to the Elementor editor and search for the Dynamic field widget here. Drop it to the canvas.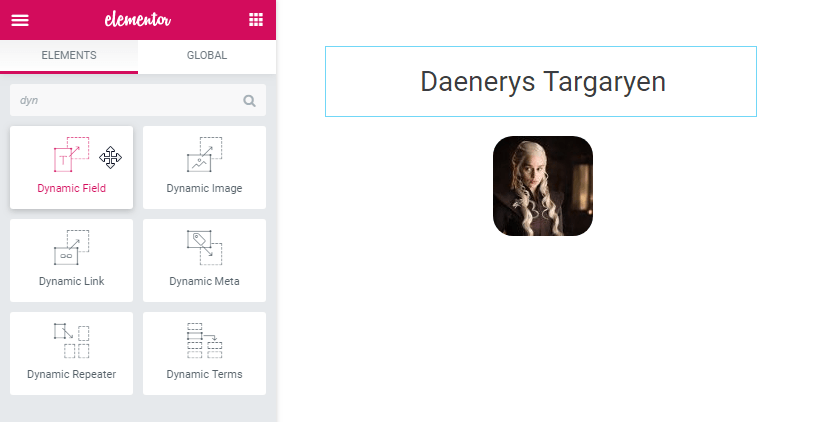 Step 4 – Go to the Content tab where you should choose the Post/Term Data item in the Source menu. In the Object Field menu select the Term name option. Set the needed HTML tag to set the size of your heading.
Step 5 – The next step will be to show the term image. To perform it you should search for the Dynamic Image widget and drop it to the page. In the Content tab, you should choose the Post thumbnail option and enter the Custom meta field key 'photo' to show the term image. Select the right size for your picture from the Image Size dropdown.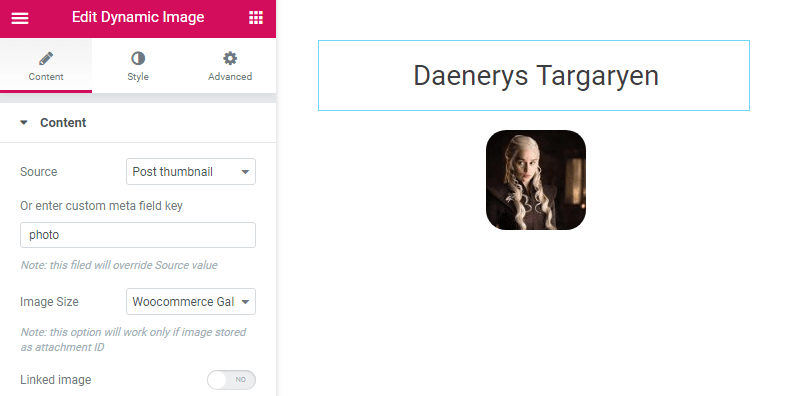 Step 6 – Moreover, if you have created a listing for a post before, you can change the settings. To do it, you should open your listing with Elementor editor and on the left panel in the bottom click on the Settings button. Then you need to click on the Listing Settings tab where you can apply a new source to the listing, change a post type or taxonomy. Update the page to save the changes.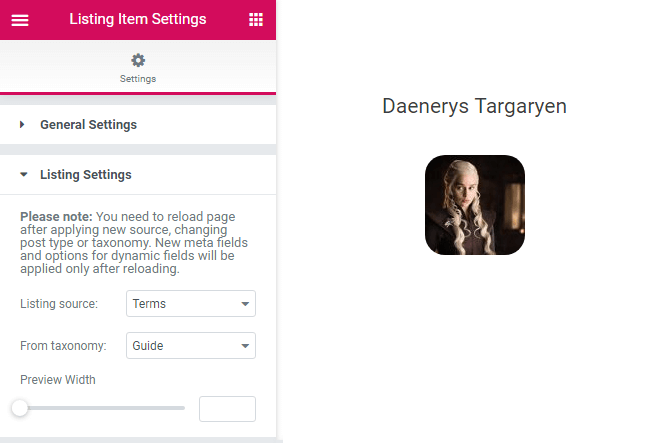 That's it!
Now you can use the listing template in order to showcase the terms (either the default ones or the custom ones you've created) with the Listing Grid widget. Check this tutorial to learn more about the way you can use the terms listing in the Listing Grid to display the terms whenever and wherever you want.