Once you get interested in the Crocoblock products, you go to the pricing page to find out more about the cost of available subscription plans. Also, you'll explore the differences between them.
There is a flexible and convenient pricing range for our clients. This tutorial features Crocoblock subscription plans and their most prominent features. The overview is meant to anticipate your questions and provide the fullest information, so you feel confident about choosing the right pricing plan. Continue reading to know the details of each subscription plan and decide which one will be ideally suited for your purposes.

There are three main packages, each of them suiting certain needs and offered for either One Website or Unlimited Websites:
E-Commerce;
Design;
Dynamic.
Their period of use is one year. Each and every subscription plan comes with 30 days money-back guarantee, so, in case you find out that you're unable to use the Crocoblock products, you can request a refund within 30 days from the date of purchase, and we'll give your money back.
All-Inclusive Yearly and All-Inclusive Lifetime subscription packages provide you with all Crockoblock plugins and give you access to Extras that can be used by All-Inclusive clients only.
First, let's explore the benefits of E-Commerce, Design, and Dynamic packages.
E-Commerce Pricing Plan
If you would like to create an online store or start selling some merchandise on your blog, this plan is for you. It will suit both an experienced business person and a web commerce newbie. The set of JetPlugins offered in this package is intended to make your work with an online shop easier. You will receive tools to interact with the WooCommerce plugin more efficiently, organize and design the showcase of the products, create such powerful sections as Wishlist and Comparison table, and add filters to improve the user experience. Not to speak of the plugins that simplify the creation of stunning website layout and overview.
What is included in the Crocoblock E-Commerce Pricing Plan:
License for 1 website / Unlimited number of websites;
Constant updates of all included plugins;
Professional tech support;
Design Pricing Plan
This package was created to fulfill the needs of designers and developers who want to create an astonishing website appearance. Were you looking for instruments that could reveal your creative potential? Then you definitely should take a look at the Design Pricing Plan. Besides a highly versatile JetElements plugin that contains a huge number of widgets, this package also gives you access to advanced styling tools. Amazing animation effects, convenient tabs functionality, and different log enhancements – you will get all these goodies in one box.
What is included in the Design Pricing Plan:
License for 1 website / Unlimited number of websites;
Regular updates of included plugins;
24/7 tech support;
Dynamic Pricing Plan
A little automation can never hurt, can it? This pricing plan contains plugins that enable the usage of dynamically changing information. When you change something for the item in the dashboard, you don't need to change it manually on the frontend. Dynamic elements will change automatically. So, as you can see, the plugins of this package can help you simplify and fasten the maintenance of the data on your website. Additionally, it includes enough instruments to make the website not only dynamic but also attractive and pleasant for the eyes.
What is included in the Dynamic Pricing Plan:
License for 1 website / Unlimited number of websites;
Monthly updates of included plugins;
Full tech support;
All-Inclusive (both Yearly and Lifetime) package
This type of subscription is the most suitable for full-time website developers. With it, you get access to all the products provided within the Crocoblock subscription, and in case of a Lifetime plan, you're not limited in time.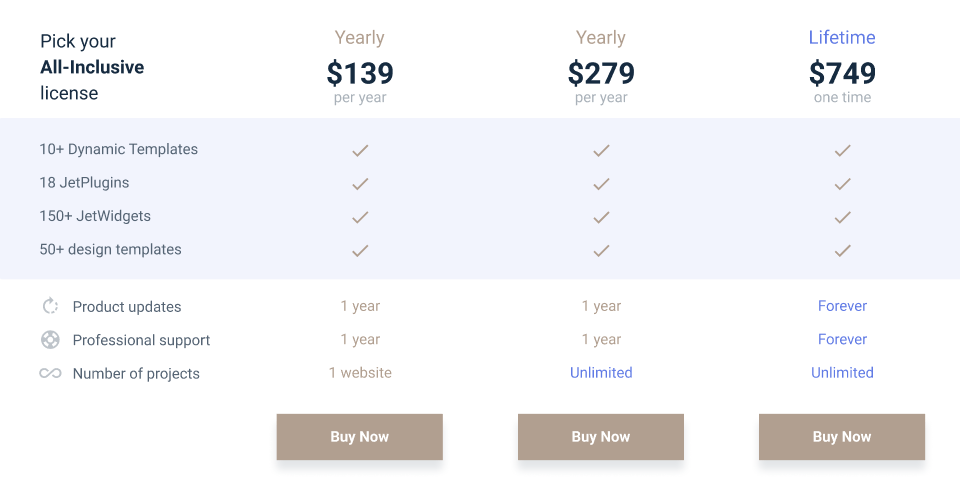 Here you will have a unique opportunity to use all of the available plugins for building your site and implementing them to one site or the unlimited number of sites for a year or forever. Frequent and regular updates, as well as efficient support, are included.
This subscription can be used in 2 ways: as a yearly plan that you should prolong every year to keep using the all-inclusive tool and a lifetime one, which is paid for only once.
Yet, All-Inclusive subscription has some advantages:
As a user of this type of subscription, you will get exclusive access to Crocoblock Extras. This means that you will receive a wide range of available ready-made design, dynamic, pop-up templates, and access interactive pop-up library. Moreover, the separate sections, pages, and templates are available only for the owners of All-Inclusive plans;
Yearly/Lifetime caring and efficient support provides high-quality service in solving complicated issues of our clients;
Yearly/Lifetime regular updates and development guarantee stand for keeping you aware of the latest updates and ensure proper maintenance of the installed Crocoblock products;
If you want to get an opportunity to access all the Crocoblock features without being limited in time, this type of subscription will be a good choice for you!
How to upgrade the subscription plans?
If you purchased Design, Dynamic, or E-Commerce packages, you have the option to upgrade your license to All-Inclusive Yearly or All-Inclusive Lifetime plan, by simply paying the difference between the pricing plans.
What is more, you will have the opportunity to upgrade your subscription from the E-Commerce pricing plan to the Design or Dynamic one.
Click the "Upgrade License" link and follow the offered steps.
In case you have a subscription for 1 website (Design, Dynamic, or E-Commerce), but want to upgrade to unlimited websites, please contact Crocoblock support, and they will do that manually.
How to upgrade from a single plugin to a subscription plan?
If you already have one of our plugin subscriptions and want a bigger package, you don't need to pay for the one you already have once more. You can skip the full price for the upgrade by following a few simple steps:
Go to the Pricing page.
Choose the plan that suits your needs best.
Click the "Buy now" button.
Find the "Have a discount code" block. Hit the "Click to enter it" button.

Insert the promo code "levelmeup" there and hit the "Apply" button.
Fill in the other personal info and proceed to the next step.
In this case, you will only pay the difference between your current subscription and the cost of the chosen set. If you meet any problems, please contact Crocoblock support.
Hope, it clears up the things, and you'll be able to consider all the pros and cons and make your decision!
If you still have questions contact our Support team.