This tutorial tells about Crocoblock subscription plans and their most prominent features. The overview is meant to anticipate your questions and provide the fullest information about subscriptions. Continue reading to know the details of each plan and decide which suits your purposes.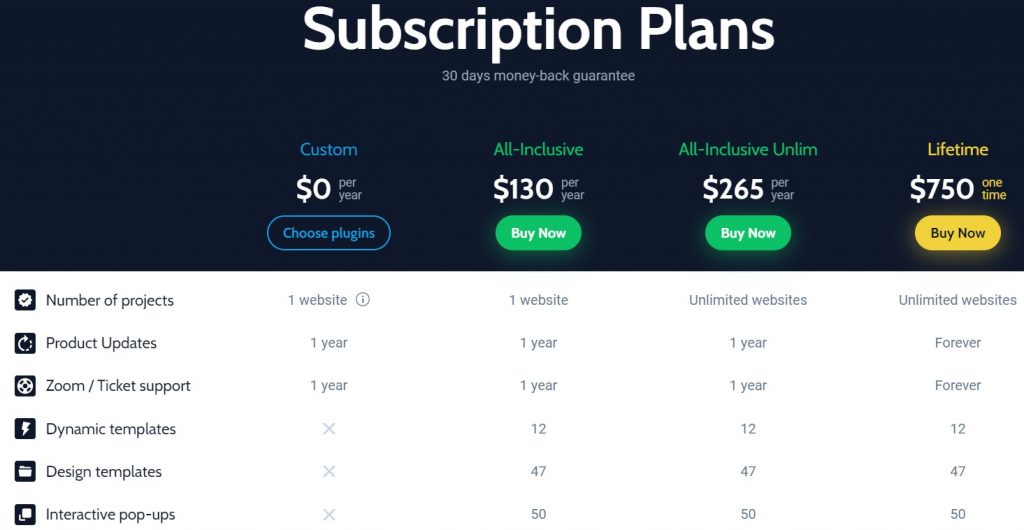 We offer a flexible and convenient pricing range for our clients. There are four main alternative plans that you can adapt to your needs and offered for either One website or Unlimited websites:
Custom
All-Inclusive
All-Inclusive Unlimited
Lifetime
Custom and All-Inclusive (both for one website or unlimited) are yearly subscriptions.
Every subscription plan comes with a 30 days money-back guarantee, so, if you find out that you're unable to use the Crocoblock products, you can request a refund within 30 days from the date of purchase, and we'll give your money back.
Also, 24/7 support provides high-quality service in solving complicated issues via Zoom or Tickets, and are always ready to answer any question on Facebook and other social media.
Crocoblock also guarantees the timely updates and ensures proper maintenance of the installed Crocoblock products.
All-Inclusive and Lifetime subscription provide you with all Crocoblock plugins and give you access to all extra benefits that can be used by All-Inclusive clients only.
First, let's explore the Custom Subscription.
Custom Subscription Plan
Custom Subscription implies that you create the required set of plugins by yourself. Define the type of website you want to build and organize the list of the necessary tools. Even if you buy only one plugin, it is a Custom Subscription too. The list of plugins you add to your custom plan is specified as for one website. If you want to use the same selection for other projects, switch the toggle in the cart to the Unlimited option.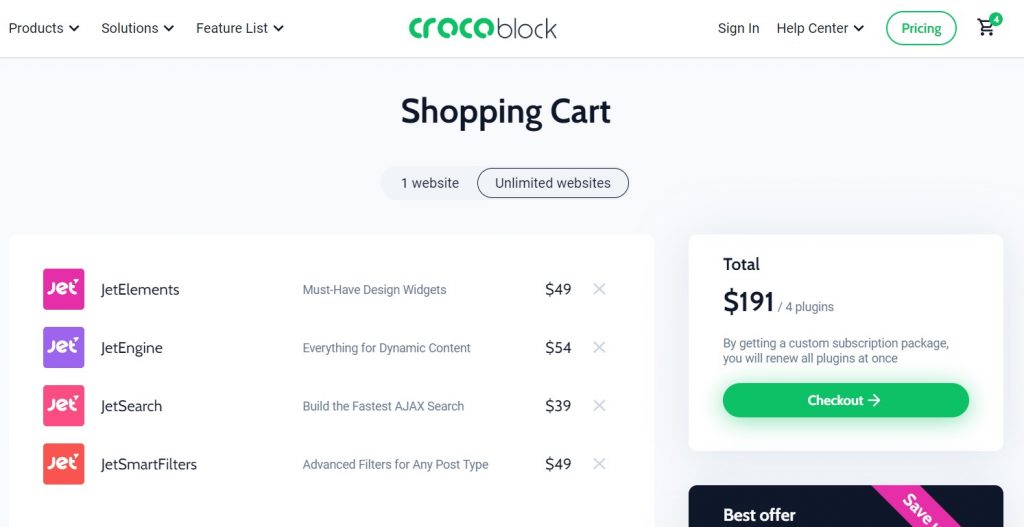 Also, keep in mind that yearly Subscription renewal is applied to the whole set of plugins in your Custom plan. It means that, for instance, if you buy JetEngine, JetSmartFilters, and JetElements, you can't renew JetEngine only. If you understand that the list is excessive, it is more reasonable not to renew this subscription and buy the JetEngine plugin separately.
All-Inclusive Yearly and Lifetime
This type of subscription is the most suitable for full-time website developers. With it, you get access to all the products provided within the Crocoblock subscription. In the case of a Lifetime plan, you're not limited in time.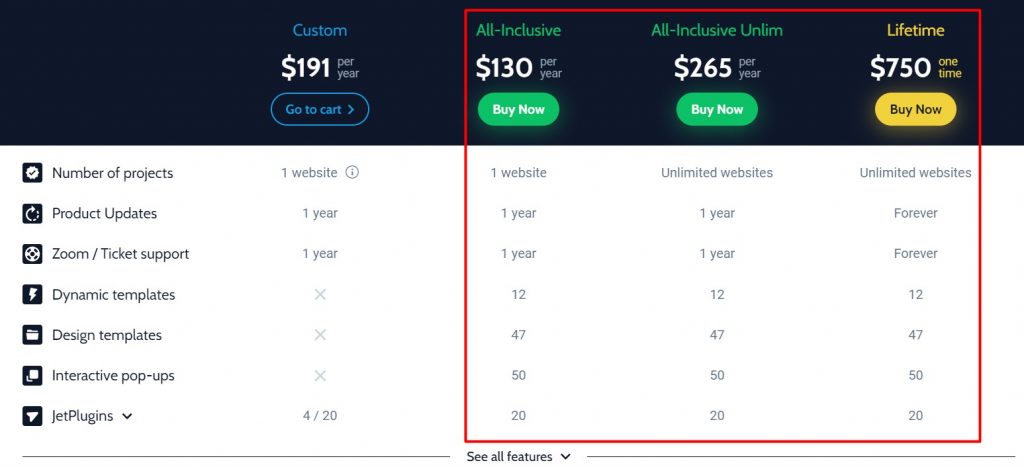 These subscription types provide you with all of the available plugins for one or the unlimited number of sites for a year or forever. Frequent and regular updates, as well as 24/7 support, are guaranteed.
All-Inclusive and All-Inclusive Unlimited are yearly plans that you should prolong every year to keep using the all-inclusive tools and benefits and to be sure that all plugins are updated and work correctly. 
For a Lifetime license, you need to pay only once and get the updates, support, and all future benefits forever.
Let's look at the All-Inclusive benefits in detail:
All-Inclusive users get exclusive access to Crocoblock Templates. You will receive a wide range of available ready-made design and pop-up templates and get access to an interactive pop-up library. Also, you get 12 pre-coded dynamic templates that are focused on dynamic content, cover various business niches, and are configured to be used right away. The list of dynamic templates is constantly replenished.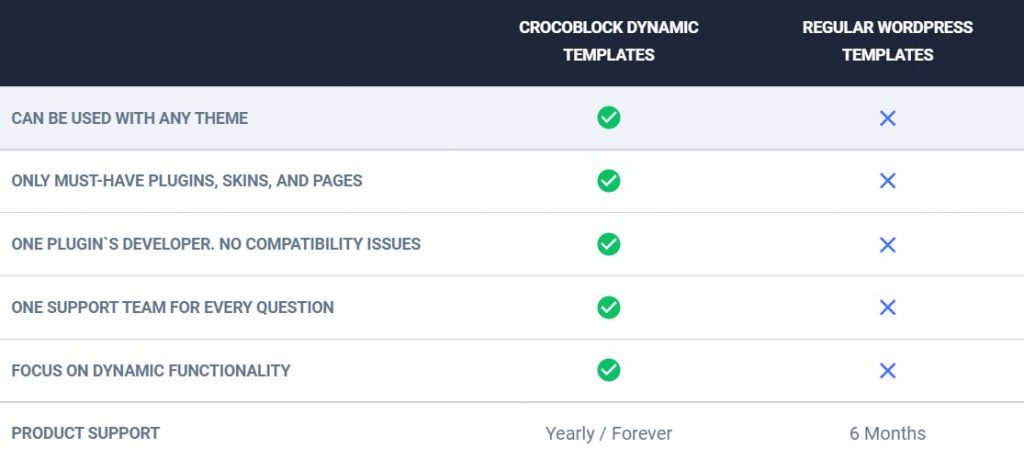 If you are an All-Inclusive user, you also receive 100% discount for JetFormBuilder PRO addons to get them absolutely free. In another case, you may buy a pack separately to extend the functionality of the forms ($39 per year for one website and $79 per year for unlimited websites).
If you want to get an opportunity to access all the Crocoblock features without being limited in time, this type of subscription will be a good choice for you.
How to Upgrade Crocoblock Subscription?
If you already have one of our plugins and want a bigger package, you don't need to pay for the one you already have once more. You can skip the full price for the upgrade by following a few simple steps:
Go to the Pricing page.
Choose the plan that suits your needs best.
Click the "Buy now" button.
Find the "Have a discount code" block. Hit the "Click to enter it" button.
Insert the promo code "levelmeup" there and hit the "Apply" button.
Fill in the other personal info and proceed to the next step.
In this case, you will only pay the difference between your current subscription and the cost of the chosen one.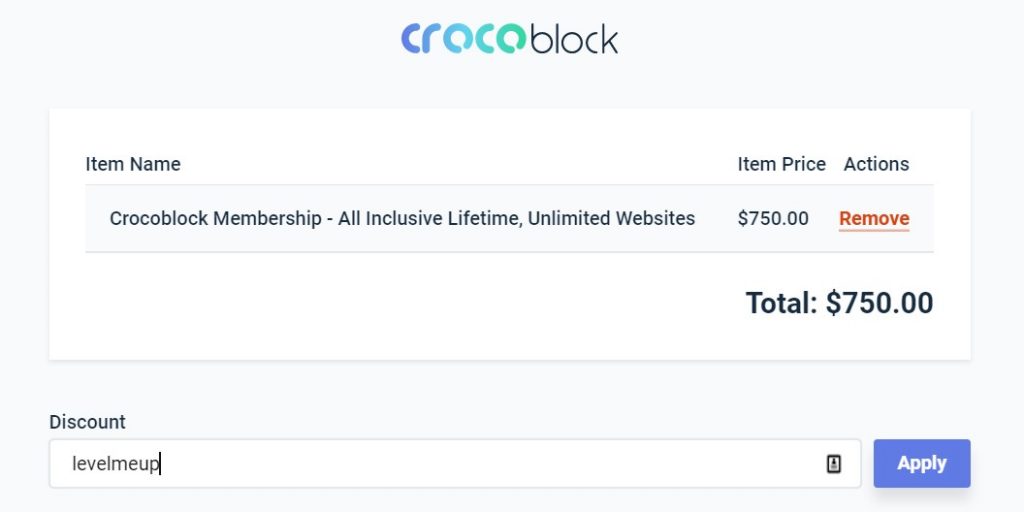 Note that this code decreases the cost for only one plugin. If you bought several plugins, it is better to address the support team. They will create a specific promo code for the sum that you already paid. When you apply it to the package you buy, the price you paid before will be cut.
If you have the All-Inclusive One website and want to upgrade to the Unlimited option in the middle of the licence period, go to your account, click the "Upgrade License" link and follow the offered steps. Also, you can use the Crocoblock upgrade page and choose the necessary plan there. The scheme for upgrading from All-Inclusive to Lifetime is the same.
Remember that you only pay the difference between the plans in case of any subscription upgrade, and that's it.
If you meet any problems, please contact Crocoblock support.
Hope, it clears up the things. Consider all the pros and cons and make your decision.