How to Create a New User in WordPress Dashboard
This tutorial uncovers the authority of each WordPress user. Also, after reading you'll learn how to add a new user to your WordPress site.
WordPress provides a very convenient option to add new users in order to establish different access permissions for them. The project usually requires cooperation between editors, authors, and admin, so users roles come in handy.
This tutorial explains how to add a new user role in WordPress. Keep reading to find out how to do it!
Add a New User
Navigate to your WordPress Dashboard and click Users > Add New block.
Here, you need to fill in information about the new user: the username, email, and the other optional fields, such as Website, First and Last Name, etc.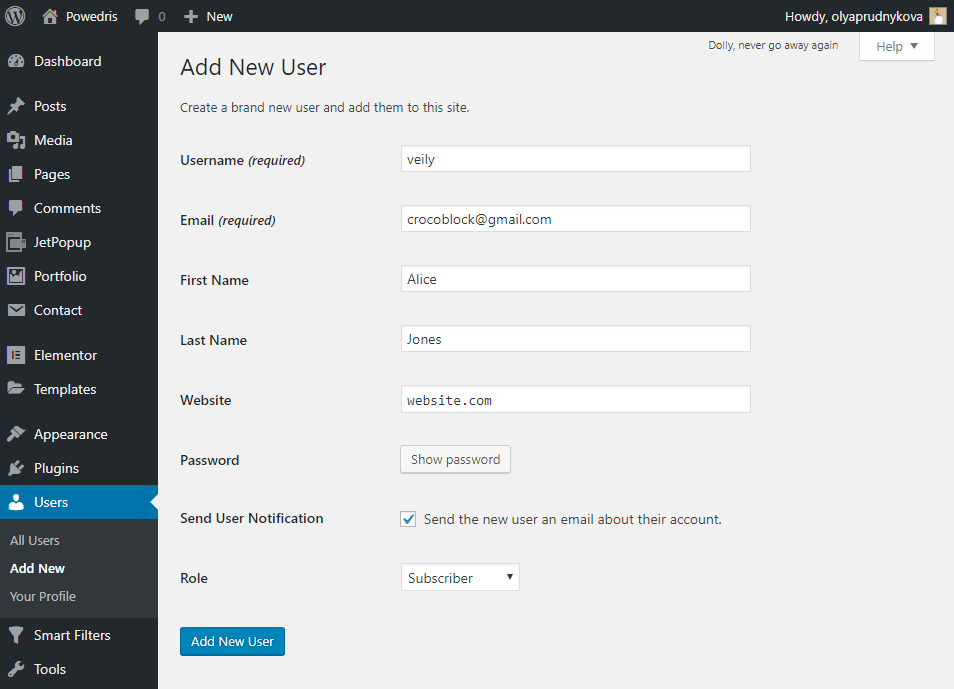 Then, click the Show password button in order to view the password. You can change it to any password you want. Just make sure it's secure.
After that, enable the Confirm Password option to send the new user notification about his account via email.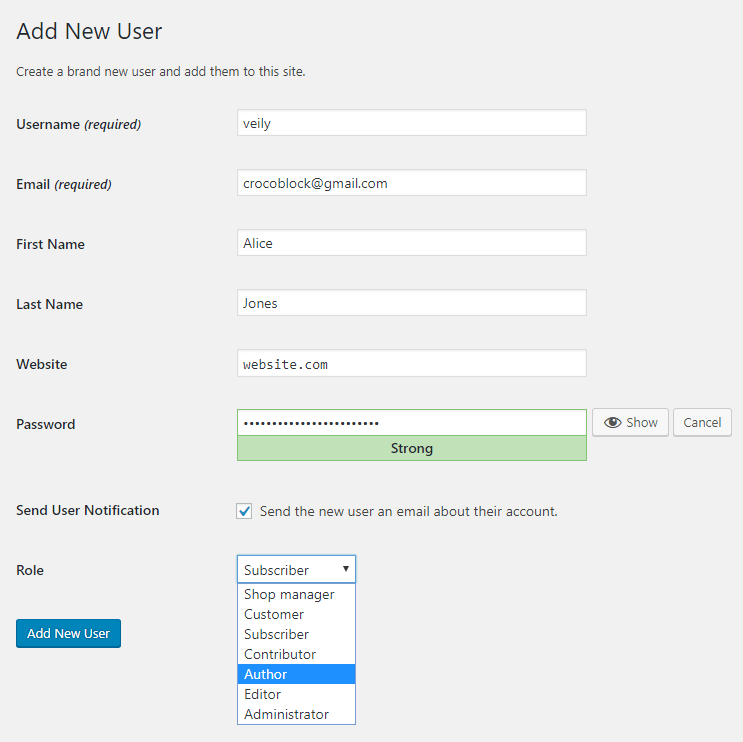 At last, select a user role from the dropdown list and click Add New User button.
How to Choose the User Role
Generally, WordPress provides six different user roles. Each one can provide your visitors with more options or narrow down the accessibility in case it's needed. Let's figure out how to choose the proper user role by overviewing each of them.
Administrator
Administrators can manage everything on the site. The user with this user role can, in part:
Create, edit, and delete any content;
Manage plugins and themes;
Edit code;
Delete other user accounts.
Editor
An editor is generally responsible for managing content and thus has a high level of access. The editor can create, edit, delete, and publish both pages and posts – even those belonging to other users.
Author
What the author can do is create, edit, delete, and publish his own posts (and upload media files). This makes this role pretty clear – the authors are responsible for creating content, and nothing more.
Contributor
A contributor is only able to perform three tasks – reading all posts, as well as deleting and editing their own posts. This role is quite limited since it doesn't enable users to publish posts or upload media files. However, it's ideal for one-time and new content creators.
Subscriber
Subscribers can read all posts on the site. It comes in handy for subscription-based sites, where you want to enable access to content only for certain people.
SuperAdmin
When there is a super admin, the regular administrator role is somewhat modified. For example, regular admins on WordPress Multisite networks can no longer install, upload, and delete themes and plugins, nor can they modify user information. These capabilities are reserved for the super admin.
It's simple, isn't it? You can create as many users as you need and make them work on one project without fearing they will accidentally harm the existing content on the site by using the default user roles.
Was this article helpful?