WordPress Custom Fields
A JetEngine feature that allows you to work additional content parts into a web property.
WP Custom Fields
Use Cases
How it works
Bring the required fields into play and set the description to them in the posts directly.
Booking
Create custom fields for Hotel booking like prices, room parameters, beds and bathrooms quantity, lists of basic and additional facilities.
How it works
Play around with the conditional logic to make fields visible due to the rules.
Appointment
Add meta fields to fill in the barber's details: description, photos, experience, certificates, links to portfolios, and full contact information.
How it works
Add the default field values to have ready-made content or set the custom ones.
Marketplace
Fill in the custom meta fields with all the data for the Car ads to be posted: car model, main parameters, price, mileage, a photo gallery, etc.
How it works
Set up a field group and customize their width in the admin area.
E-Commerce
Insert additional fields in your single products like attributes, rating system, size, additional photos, or add documents as attachments.
Discover

18 WP Custom Fields

Types
WP Custom Fields
Options & Settings
Complete the basic field setup
Transliterate Cyrillic to Latin in the field name automatically
Fill in the default meta field value
Set Character limit to Define the field value length
Set the custom field visibility by Conditional logic rules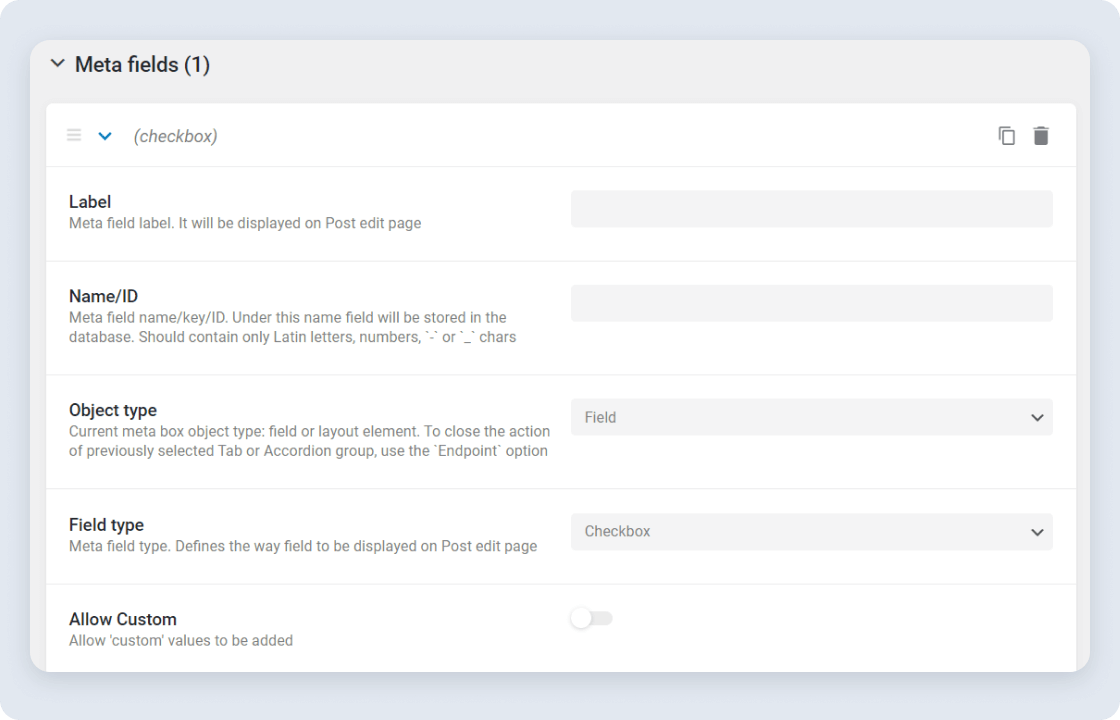 Enrich custom field types' capabilities
Add Custom Values to Checkbox and Radio field types
Get options from Glossary into Select, Checkbox, Radio meta fields
Define Value ID and/or URL format for Media and Gallery types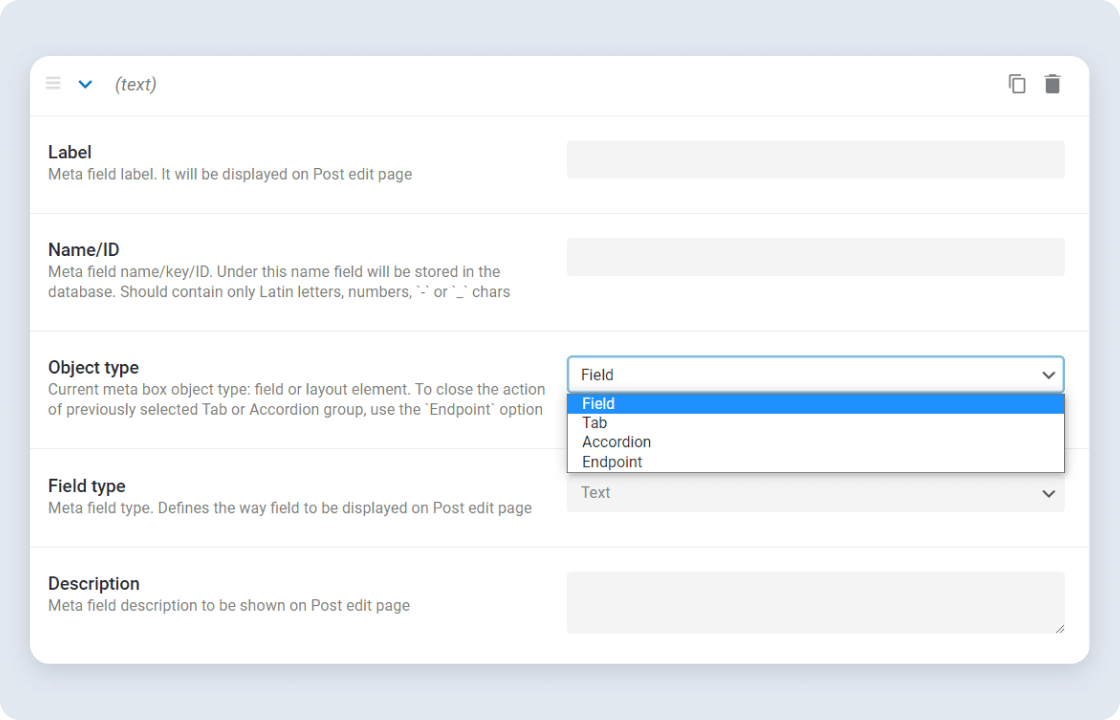 Adjust the post edit page area
Apply tab or accordion view to the post edit page
Customize the field's width
Add Description to meta fields
Expand

WP Custom Fields Functionality

Crocoblock DevTools set includes extra plugins for WP Custom Fields to perform additional operations.
Attachment link callback
Trim string callback
Related posts as lists
Calculated callback
Dynamic data addon
Learn more
Explore Seamless
Third-Party Integrations
Add any field to the WooCommerce product using the MetaBox JetEngine feature. Make the Text, Textarea, Repeater, and WYSIWYG field types fully SEO friendly via RankMath and Yoast SEO tools.
Find Out More

About WordPress Custom Fields
Get JetEngine plugin for Elementor
30 days money-back guarantee