Whether you want to leave your mark on the design, declutter the WordPress admin dashboard by hiding unused menu items, or harmonize the back-end aesthetics with the website's styling, the ideal solution lies in employing white label WordPress plugins.
This article will review popular WordPress plugins to white label your website's back end. But first, let's clarify why it is a good idea to customize the WordPress admin area.
Table of Contents
Why Do You Need White Label Plugins?
The primary reason for using white label plugins is to rebuild the WordPress back-end admin area. WordPress agencies and web developers may accomplish several significant tasks by customizing the admin menu, login screens, and other elements.
Firstly, with the help of white label plugins, developers can offer an enhanced user experience to their clients. Rebuilding the back-end menu results in a sense of the website's exclusivity and elegance and provides users with a feeling of a unique and classy product. At the same time, a customized admin area can reflect the website's branding identity by using the same visual elements, colors, and design language, creating a consistent user experience.
Secondly, white label plugins enable agencies and freelance developers to establish their own brand identity. By removing the visual attributes associated with other brands, including WordPress and various plugins, and adding their branding elements (logos, typography, color scheme), web devs build a cohesive website back end that reflects their brand identity and helps increase loyalty among website owners' clientele.
Another compelling reason to rebuild the back-end admin area is the ability to tailor it to different purposes. Not all users require access to all menu options, and displaying irrelevant menu items can be overwhelming and confusing to non-technical website owners or admins. White label WordPress plugins can simplify the interface and show only the menu options relevant to specific user roles or everybody except for the website creator.
Furthermore, white label plugins provide the advantage of making these changes without requiring coding skills. Initially, you may have simple goals, like removing the WordPress logo or creating a custom login page. However, upon exploring the capabilities of white label plugins, you will discover a plethora of additional possibilities to enhance the websites.
Top White Label WordPress Plugins
The following list comprises eight WordPress free and freemium white label plugins with the most versatile features and the best user reviews.
🏆 Best for agencies looking for a user-friendly and free solution to customize the WordPress dashboard.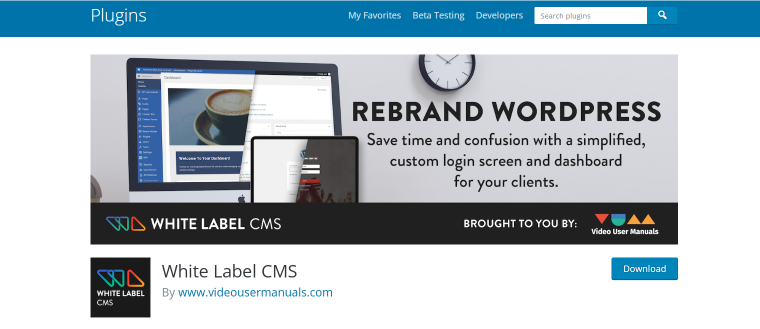 White Label CMS plugin is one of the most popular solutions with basic functionalities for customizing the WordPress dashboard, with over 200,000 downloads from WordPress.org. It groups customization options into five sections, each dedicated to different parts of the back-end admin panel: Branding, Login, Settings, Menus, and Dashboard.
This plugin focuses on controlling dashboard functionality and not so much on its styling. However, it still allows you to create unique fancy login pages.
Main features:
allows displaying different menu sections and sub-sections to different user roles;
provides a live preview for building login pages;
has options to make two welcome panels for different user roles.
Pricing: free.
Pros:
great free solution for easy dashboard customization;
straightforward login page builder with live preview;
free.
Cons:
no live preview for customizing the admin panel;
no options for adding new menu items or rearranging existing ones;
very few settings for styling.
🏆 Best for creating branded dashboards with custom widgets.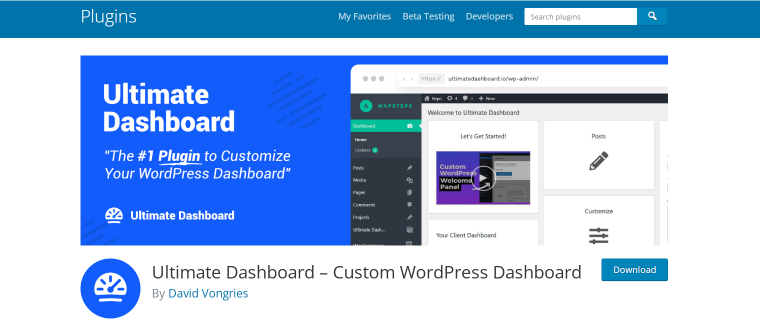 Ultimate Dashboard – Custom WordPress Dashboard has garnered overwhelmingly positive reviews from users with a 4.7-star rating on the WordPress.org platform. This white label plugin uses an intuitive interface and extensive feature set to customize and brand dashboards effortlessly. Not only it allows users to hide menu items, but it also enables them to create and add custom widgets and icons and even upload prebuilt layouts for the dashboard.
Main features:
add new items to the menu and admin bar;
custom color scheme;
manage user role access;
login page customizer.
Pricing: a free version is available, and the pro version costs $58 per year.
Pros:
comprehensive dashboard customization, even allowing the creation of custom post types specifically for the dashboard;
developer-friendly features allowing to add custom functionality.
Cons:
some essential white labeling features, such as hiding third-party plugins, are only available in the pro version.
🏆 Best for customizing the appearance of the admin panel.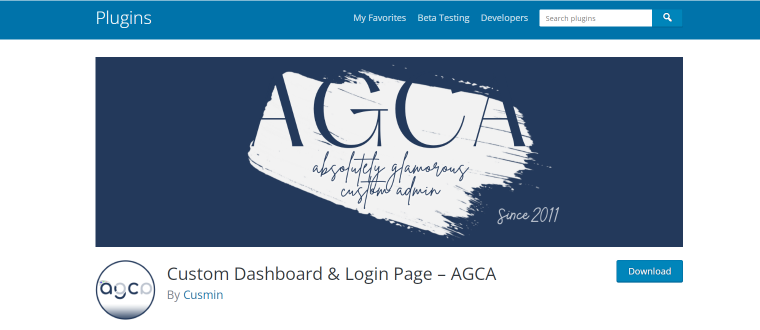 Absolutely Glamorous Custom Admin (or AG Custom Admin) primarily focuses on customizing the appearance and functionality of the WordPress admin interface, allowing modification of the login screen, admin menu, and admin bar. You can brand admin pages with custom content, images, colors, and text, and if you have a paid version of the plugin, you can use one of a few prebuilt dashboard themes.
Main features:
multiple color options for menu items, icons, widgets, background, etc.;
ability to add custom content to the admin panel;
extensive library of icons;
support of custom CSS and JS;
Pricing: a free plugin has many customization features. Paid plans start at $49 per year.
Pros:
ability to customize every little detail of the admin panel to match your branding style.
Cons:
not many user role management features.
🏆 Best for managing multi-author WordPress blogs and websites.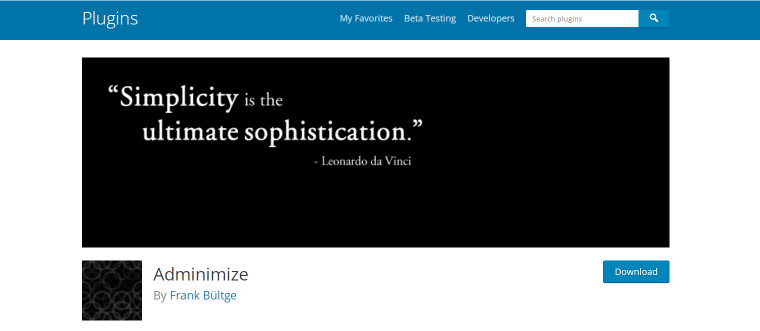 Adminimize is a highly popular WordPress plugin, downloaded over 200,000 times from WordPress.org, with a 4.7-star rating from users.
It enables website administrators to customize the WordPress admin panel by selectively displaying or hiding menu items, meta boxes, and widgets to selected groups of users. You can also control the writing options for each user group, adding or removing features from the post editor.
Main features:
intuitive interface;
extensive control options.
Pricing: free.
Pros:
great for simplifying dashboard interface for non-technical users;
free.
Cons:
the level of support the plugin developer provides is limited and might be insufficient for users with specific customization needs.
🏆 Best for building white label WordPress websites that are also fast performing.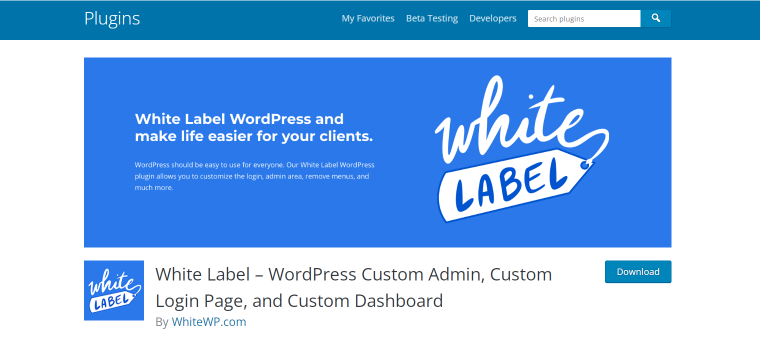 White Label plugin by WhiteWP.com is a robust solution to rebrand and customize the WordPress dashboard, login screens, and admin menus that is lightweight and easy to use. Most of the core features are available on the free version allowing you to erase mentions of WordPress or any plugins and tailor the user experience to match your client's branding.
Main features:
login page templates;
color schemes;
hide plugins from the admin dashboard;
select admins that can bypass rules;
add custom JS and CSS.
Pricing: a free version is available with the core features. The White Label Pro is $39 per year.
Pros:
powerful features in the free version;
lightweight using very little memory.
Cons:
no functionality to add new menu items.
🏆 Best for agencies that want to create a customized and user-friendly dashboard experience for their clients.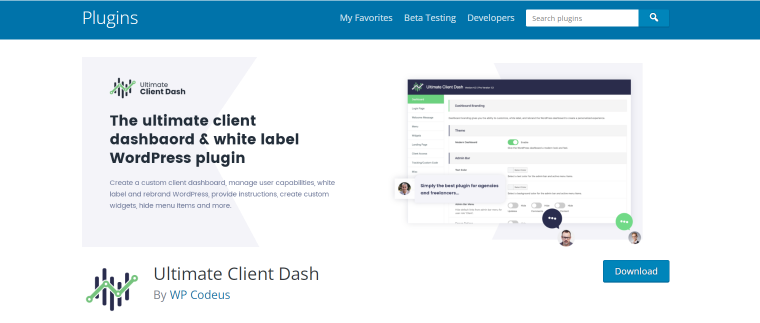 After plugin installation and activation, you'll be offered to create a new user role, "Client," which will then be used for building a customized admin area. With the Ultimate Client Dash, you can hide unnecessary menu items to focus on the essential elements and customize branding, functionality, and appearance specifically for the client.
Main features:
create and customize menu widgets;
modify menu items layout;
leave messages and instructions for the client;
create landing and coming soon pages;
customize the login page.
Pricing: a free version with basic features. Most of the advanced features come with the pro license for $25 per year.
Pros:
many advanced features for creating a client-oriented admin area for a reasonable price.
Cons:
no option to rename existing menu labels.
🏆 Best for rebranding your site's front and back end for free.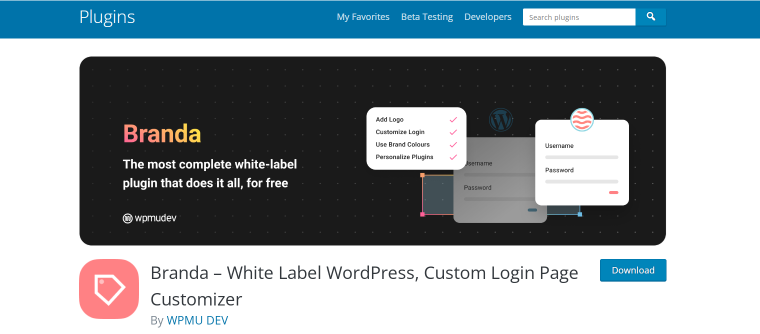 Branda is a free white-labeling plugin by WPMUDEV for replacing or modifying WordPress branding elements on the back and front ends, such as the login screen, admin bar, dashboard, footer, cookie notice, and more. The plugin offers a wide range of customization options, including changing the logo, typography, colors, and styles to match your brand identity.
Additionally, Branda allows you to create and manage custom email notifications and templates, giving you control over the messages sent from your WordPress site for various events.
Main features:
ability to enable/disable all features as modules in one window;
customize the branding of emails from the WordPress site;
allows inserting tracking codes anywhere on the site;
easy importing and exporting white-labeling settings.
Pricing: free.
Pros:
versatile tools for customizing front-end branding elements;
all features are free.
Cons:
doesn't include user-role management.
🏆 Best for rearranging and optimizing the admin menu.
Admin Menu Editor has over 400k active downloads on WordPress.org. It offers a range of powerful features for optimizing the admin menu packed in a simple and user-friendly interface. With a drag-and-drop editor, you can rearrange existing menu items, edit their labels and icons, hide unnecessary widgets, and create new ones. The Pro version allows hiding menu parts from user roles or a particular user and adds a few more customization features.
Main features:
drag-and-drop editor;
live preview;
ability to add links to external sources.
Pricing: a free version is available.
Pros:
user-friendly interface;
powerful free features for rearranging the admin area.
Cons:
doesn't provide tools for login page customization;
very few styling tools.
FAQ
What does white label mean in web design?
White labeling in web design refers to the process of customizing and rebranding a product to match the visual identity of a specific company or brand.
What do white label WordPress plugins do?
WordPress white label plugins help create a custom admin experience by rebranding and optimizing the back-end admin area and login page.

What is the purpose of customizing the WordPress admin dashboard?
There are a few purposes for customizing the WordPress admin dashboard, including enhancing usability, providing a personalized experience for website administrators, and establishing a brand identity for web developers.
How to choose white label plugins?
It's important to choose white label plugins that offer free versions or trial periods, download them to your WordPress site, and test if their basic features meet your needs, such as hiding third-party products from the dashboard and customizing the styling according to your branding preferences. The hands-on testing will also help uncover any potential compatibility issues.
In Summary
Employing white label WordPress plugins is crucial for customizing the back-end admin area and thus offering a superior user experience and establishing brand identity. Let's recall the benefits of the best white-labeling solutions discussed above.
White Label CMS is a straightforward free solution for customizing the admin dashboard and login page.
Ultimate Dashboard is the best for creating branded dashboards with custom widgets.
AG Custom Admin plugin offers the most features for customizing the appearance of the admin panel.
Adminimize is the best plugin for managing multi-author WordPress blogs and websites.
White Label WordPress plugin is the best solution if you focus on your website speed.
Ultimate Client Dash is specifically designed for agencies building WordPress sites with user-friendly admin dashboards.
Branda is the best free plugin for rebranding back-end and front-end elements.
Admin Menu Editor offers advanced and easy-to-use features for rearranging and optimizing the admin menu.