If you are reading this article, you probably already have a solid understanding of the directory websites and their purpose, don't you? Yet, let's define it once again to be sure we are on the same page.
Business listing directory websites create, manage, and display classified listings of products, services, places, information, etc., in specific categories. Such websites as Yelp, HomeAdvisor, TripAdvisor, BBB, and Thumbtack are excellent examples of directories.
Yes, they are huge and have thousands or even millions of listings, but if our goal is to create a miniature directory website, let's say, for the small town's local restaurants, the plugin's functionality or the solution will be basically the same because there's the same logic behind both big and small directories.
Table of Contents
Key Functionality of WordPress Directory Plugins
There are three main parties involved in the scheme of any business listings website:
those who want to promote their services or business (let's call them sellers);
those who search and consume those services (let's call them buyers);
the owner (admin) of the directory website.
The sellers want to show their goods and services and promote them. Make them easily findable, reachable, and relevant to get as many buyers as possible.
The buyers want to find what they are looking for and get exact and relevant results with all the additional information and contact details they might need.
The website owner wants to make it all work well and the expectations of both buyers and sellers to be met. For this sake, they first wish to have clear and safe registration processes for both parties and comprehensible categorizing. One more thing they really want is to make money on the listing website. So the algorithm for charging sellers or buyers for the service must also be well-thought-out.
Thus, now we can see a pretty clear picture of the key functionality any directory plugin must have:
new user's registration (for sellers, in particular) and a straightforward login process every time;
tools for adding their new listings with all the fields needed. It must support at least text and media formats and have a very user-friendly interface;
tools for assigning proper categories and tags to the listings;
front-end submission forms;
payment methods integration;
a functionality for editing and deleting listings;
a functionality for rating sellers or their listings by buyers;
a possibility for buyers to promote their listings (as a rule, for an additional cost);
straightforward navigation and filters;
well-crafted product/service (listing) and categories pages.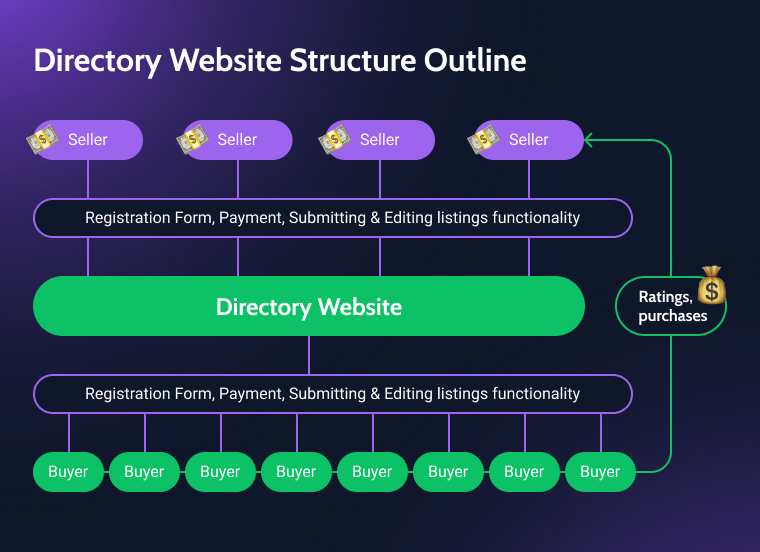 If you put the directory website on the next level and add some eCommerce functionality, it will become a multivendor marketplace, like eBay or Etsy. For doing that, there must be a set of tools for creating not only listings of local services on the map (or something like that) but for adding different types of products (physical, like cars or real estate, and virtual, like bookings or subscriptions). So, in most cases, the more complete and rich the functionality of the directory plugins, the bigger the growth and money-making potential that website has.
Let's look at my list of plugins for making such websites, their pros and cons, and their potential.
Business Directory
🏆Best for: listings that don't require a fancy design and can be displayed on a map when search by location is essential. The Business Directory plugin is also a good option for those looking for a free functional plugin.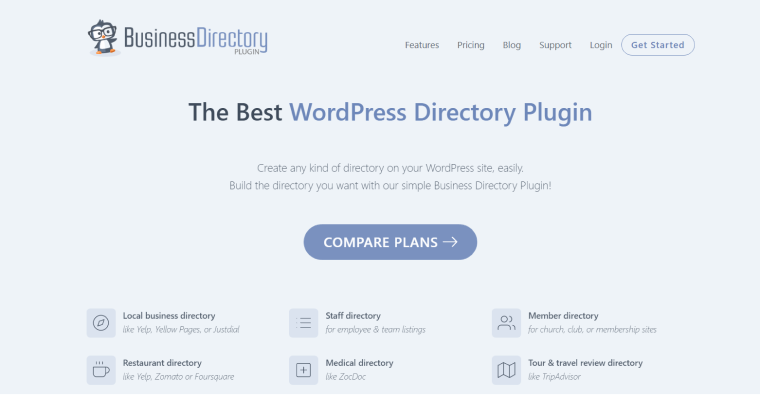 It is one of the popular plugins for building directory websites, mostly having positive reviews and offering quite a wide range of features to submit and organize listing, as well as to charge for the services easily. Another key to the popularity here is the considerably good functionality of the free version. You can build a no-frills but solid directory without spending a penny. It is also lightweight, which is important when dealing with a large amount of data.
Pricing: $99-$499 a year. The lower plans offer not only a more limited number of projects but a more restricted functionality, too. No Lifetime license. A free core version is available.
Pros:
It has a lot of features, including Claim Listing.
Simple directory websites can be created even using the free version of the plugin.
Pricing plans with a lot of displaying and payment options are available.
Charging users for submitting their listings is very easy.
It has a location-based filtering module (in paid plans).
The plugin has integrations with PayPal and Stripe in paid plans also Authorize.net to handle payments, even with a free version.
It has a flexible form builder for submitting listings.
Cons:
This plugin offers a poorly-made demo website and video tutorials (which almost don't cover the most important topics).
It doesn't offer a variety of beautiful design skins, even with extra themes, and the customization freedom isn't their strength.
A Map, Search by City, Backup&Migrate, and a few other modules are available only in the Pro and Elite plans.
The admin must approve all the pending listings manually.
It doesn't have advanced filters.
Its premium versions are expensive for what we get.
GeoDirectory
🏆Best for: creating a visually appealing directory website based on geolocation.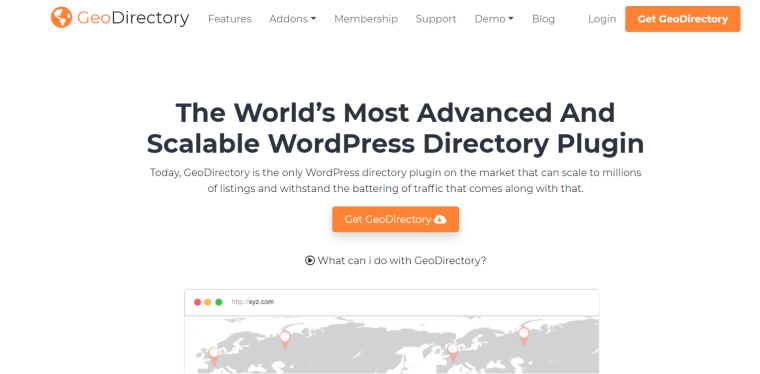 This plugin does what its name suggests: it creates a directory based on the listings' positions on the map. It has a nice front-end design and a proper amount of building blocks for Gutenberg to create pages with the dynamic content generated from GeoDirectory listings. But to do refined stylization, you will need to use CSS because it doesn't have an extra Gutenberg style manager (like Toolset or Crocoblock subscription). It supports visual builders, such as Beaver and Elementor Pro. With the help of their dynamic tags, you can edit pages visually and insert the dynamic content from the listings.
Pricing: $199 a year. $995 Lifetime for the subscription. Individual features and add-ons can be purchased separately on top of the free core plugin as an alternative to the All-inclusive subscription.
Pros:
This plugin has a very flexible pricing approach (modules can be bought separately and paid monthly. The full subscription also has a quarter-based payment option).
It supports conditional logic for custom fields.
Its core (free) version can be enough to build a decent directory website that will look good and perform well.
GeoDirectory supports WordPress multisite.
Cons:
The plugin's admin interface is not intuitive and user-friendly.
The core plugin only has a search by name and location options, so it needs an Advanced Search extension, which offers a nice set of tools but does not have the "Remove all filters" button and doesn't show already applied filters.
The website, based on the plugin, cannot be easily leveled up to a proper marketplace; it will always stay just a business listings directory.
It doesn't have a form builder to create a decent front-end submission functionality.
The plugin doesn't support front-end listing editing.
Payment system integrations are not supported, too. The directory monetization works via Claim listing functionality, and if you want to charge for it, you should add and set up another two plugins or more, depending on the payment system you want to use.
It is expensive for what you get.
Toolset
🏆Best for: well-designed classified listings websites where it's beneficial to display items in the form of visually appealing grids.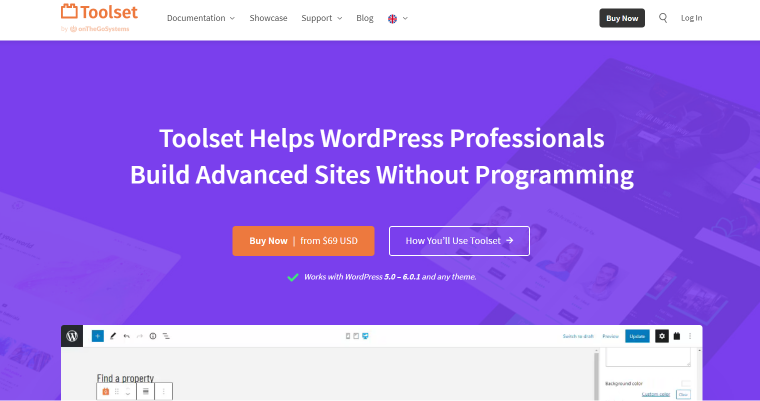 Being a core plugin of the directory website is not a big deal for a Toolset because it offers a much more comprehensive range of capabilities than just dealing with listings. It is a CPT plugin with a nice template builder already included in the functionality. Moreover, it is very easy to use and well-documented. Websites made with Toolset have all the potential to become not only a directory but a marketplace too due to great integration of the custom fields with WooCommerce.
Pricing: $69-$299 a year. No Lifetime license. No free version.
Pros:
It has a template builder for individual listing pages and taxonomy pages.
Individual listings or custom queries can be displayed anywhere on the website.
There are two form types: user registration and front-end listing submission.
Plugin supports repeater fields for forms.
It gives much freedom in making not only one but many different directories with various types of listings and custom fields, as well as forms for the end users.
Cons:
It doesn't have a free version.
Charging users for placing their listings is a bit complicated; it only supports the WooCommerce functionality.
Filtering options are not very advanced.
Crocoblock solution
🏆Best for: highly scalable and custom-designed projects with additional marketplace functionality, elaborated filters, and advanced monetization options.
The Crocoblock solution (the collection of JetPlugins) is very far from being only a directory plugin. Creating and managing a business listing directory is just one of the many powers of this suite. I'm talking about the suite, not an individual plugin because Crocoblock offers a module-based logic behind the architecture of such websites.
So, the core plugins for the Crocoblock marketplace solution are the following:
JetEngine (to create, manage and customly query listing);
JetSmartfilters and JetSearch (to use advanced filters);
JetFormBuilder, a free plugin with Premium add-ons (to create advanced front-end submission forms);
JetReviews (to write, upvote/downvote, display reviews, and collect statistics).
The clear advantage of this solution is that you get not only those five plugins but another 15 to skyrocket your overall website functionality. Moreover, there are 13 premade dynamic websites, three of which are directories.
With this marketplace solution, you will be able to let users add their listings with the help of elaborated forms and pay right there; easily manage them later using a custom-made dashboard; create wishlists, and write reviews.
The business directory owner has several ways to monetize the website: receiving payments for each listing or selling subscriptions, which include a certain amount of ads.
One of the fantastic things about this solution is a package of very advanced filters, complete flexibility in creating custom queries, displaying them anywhere on the website, and applying any custom design.
Price: $199 a year for one project, $399 a year for unlimited projects, and $999 for the Lifetime license. All plans include 20 plugins of the suite and 13 premade dynamic templates.
Pros:
A very powerful solution, suitable for a huge variety of directory types.
This solution offers advanced and highly adjustable filters.
It has an extremely robust Form Builder with multi-step capabilities, a user-profile builder, and conditional functionality (the core plugin, which has a lot to offer, is free).
Advanced reviews and rating capabilities are also at your disposal.
Users can create wishlists and bookmarks, both registered and unregistered.
It offers complete freedom in designing and stylizing every part of the directory.
The price is a steal for what they offer, especially a Lifetime license.
Cons:
It doesn't have a free version.
The plugins require some time to learn.
It doesn't have an Autocomplete feature in search fields.
Some of the plugins are honed to work with Elementor builder. So, if you don't like it, you might not use the full potential of the suite.
Advanced Classifieds & Directory Pro (ACADP)
🏆Best for: not very complicated directory websites which don't need a fancy design and elaborate monetization schemes.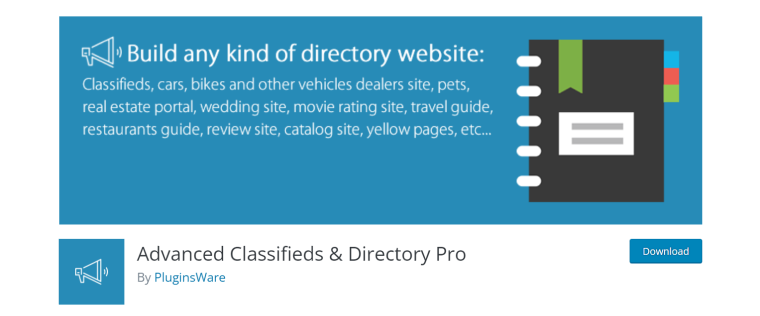 It is another plugin that offers most of its features in a free version. It has an intuitive interface and can be an excellent choice for those who dislike going too deep into details and fine-tuning. For example, it offers one pretty general yet practical form for listing submissions. It also gives you a choice between Map and Grid views to display the listings, and that's it. At the same time, it has five Gutenberg blocks to mix and match and a shortcode functionality (also for generating custom listing loops to display).
Pricing: $95-$263 a year (for one to five projects, respectively). $799 for a Lifetime license. The plugin has a free core version.
Pros:
The free core plugin is quite functional. You will be able to create a directory with an unlimited amount of categories and custom fields.
The plugin has pretty decent search widgets.
It has a Shortcode generator to show listings, locations, or search forms anywhere on the website.
The plugin's interface is user-friendly.
Cons:
It doesn't have a form builder to modify a listing submission page.
You cannot monetize the website or charge users somehow without purchasing the Premium version of the plugin.
The plugin uses a default WordPress user dashboard functionality for submitting and editing listings.
Its Premium version is quite expensive for what you get.
It doesn't have an import/export function in a free version.
Directories Pro (former Sabai Directory plugin)
🏆Best for: nicely designed listings of local companies.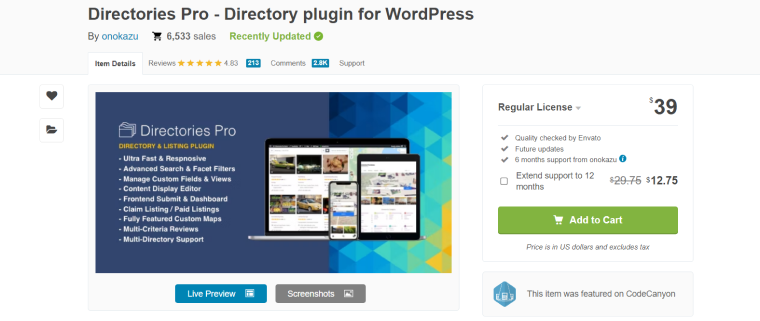 It's a great plugin with a lot of awesome features. Their filters and how the rating system is constructed are worth special shout-outs. It has both front-end and backend listing submission possibilities and supports WooCommerce monetization functionality with flexible pricing and payment options.
Price: $39.
Pros:
A low price.
It has seven listings display templates.
It has a Bookmark functionality.
The plugin is compatible with WPML and Polylang.
It supports the Claim listing features.
Cons:
It doesn't have a free version.
It has a steep learning curve.
The submit form is standard and is honed for adding a place on the map, not products.
FAQ
What is an online business listings directory website?
It is a website where information about products or services is classified and placed into categories and tags. In most cases, this information is submitted by those willing to sell or promote something for the end users, who are willing to purchase or use such services or goods. Google.com can be called an online directory, too. Other great examples are Yelp and Tripadvisor. 
Do business directory websites make money?
The primary purpose of such websites is actually to make money or, at least, take some control over and gain influence inside the industry. The more refined and creative the monetizing schemes over the information flow between the listing owners and the visitors, the more revenue and control the website owner can get.
Is it good for business directory websites to have a lot of cutting-edge features and instruments, including advanced filters? 
It's not compulsory if the goal is to make a simple classifier for, let's say, little town restaurants. But suppose you are interested in upscaling to cover more categories, offer more to buyers and sellers, and generate more revenue. In that case, the best solution is to have a powerful plugin or a suite from the beginning.
Takeaway
Building your directory website is not the same as an emotional purchase on Amazon or even starting your blog (we've all been there, right? 🙃). It should be a 100% well-considered decision involving prior marketing research and a certain budget for a good, user-centered design, development, future promotion, and, of course, the backend functionality of the plugin you use to manage and display listings because it is literally an engine to enlive everything. So, take your time and carefully consider all the pros and cons. I hope this review will help you.
If you want a good solution for a low price and to make a list of local services, look no further and purchase Directories Pro to have a decent and good-looking directory.
If your main goal is to show listings on the map and places near the users, consider trying GeoDirectory.
For a website with a decent overall listings directory functionality, with easy-to-setup pricing plans, but where a fancy design is not so important, try Business Directory or ACADP. The free versions of the latter three plugins might be enough, depending on your goals.
For a more extensive functionality than only handling directories and for more flexible designing options, check out Toolset.
In case you need more powerful functionality and all the tools for running the directory as a marketplace with any type of products, complete design freedom, and a lot of additional perks, the Crocoblock subscription will be an excellent choice.