Just like restaurant menus are indispensable for customers to place restaurant orders, navigation menus are an essential part of websites. Both menus aim to grab customers' attention and make them stay in the facility/on the website.
Effective website menus must offer visitors easy ways to find what they are looking for and also offer them things they didn't know they needed. Maybe even lead them to certain actions like buying some products or signing up for an email subscription. From the point of view of website owners, menus' main function is increasing user engagement.
The design and functionality of menus are inseparable. So the effectiveness of menus depends on how well-made they are. WordPress has a set of instruments to build website navigation systems, and WordPress themes usually offer one or two templates for creating menus. But the capabilities of basic WordPress tools are incomparable to those offered by WordPress menu plugins. In this post, I will present some of the best plugins available now.
Requirements for Premium WordPress Menu Plugins
Before I start analyzing each of the plugins from the list, let me first explain what features distinguish premium WordPress menu plugins from not-so-premium ones.
The plugins must offer an easy-to-use interface for users with no coding skills to be capable of creating complex menus.
Large mega menus are essential to most modern-looking websites, so premium menu plugins should provide tools for creating them.
Large menus must be converted to mobile-friendly formats with the help of WordPress plugins either automatically or manually.
Effective plugins offer multiple menu layouts and stylistic options to customize all elements of menus, such as colors, fonts, borders, animation styles, and many others.
Mega menus with multimedia content are becoming increasingly popular, so the best menu plugins allow adding images, videos, icons, maps, contact details, and widgets to the menus.
List of the Best WordPress Menu Plugins
Here are the descriptions of the nine premium WordPress menu plugins, emphasizing what tasks the plugins are best at.
Hero Menu Plugin
This menu plugin can create complicated WordPress mega menus and simple dropdowns in just a few minutes.

Hero Menu incorporates a drag-and-drop interface and convenient control options to make customizing menus as straightforward as possible. The mega menu options are the most impressive of its features. Multiple menu columns can be filled with images and icons, while the background areas are fully customizable.
Hero Menu main features:
drag & drop intuitive menu editor;
support of mega menus, sticky menus, and vertical menus as well as simple dropdown menus;
a large library of icons;
ability to use images as menu items as well as background illustrations to create eye-catching mega menus;
60 color presets and 650 Google fonts;
ability to place menus anywhere on the page using shortcodes.
The Hero Menu license costs $20 for use on one site. It grants 6-month support, which users can extend to 12 months for $5.63.
Hero Menu plugin is a great solution for WordPress newbies to build both simple dropdown menus and complicated mega menus. It doesn't have the largest number of customization features, but its greatest advantage is its easy-to-use interface and gentle learning curve.
Groovy Mega Menu
This plugin is compatible with most WP plugins, including Elementor and Divi. It aims to make menu production quicker by offering multiple menu presets.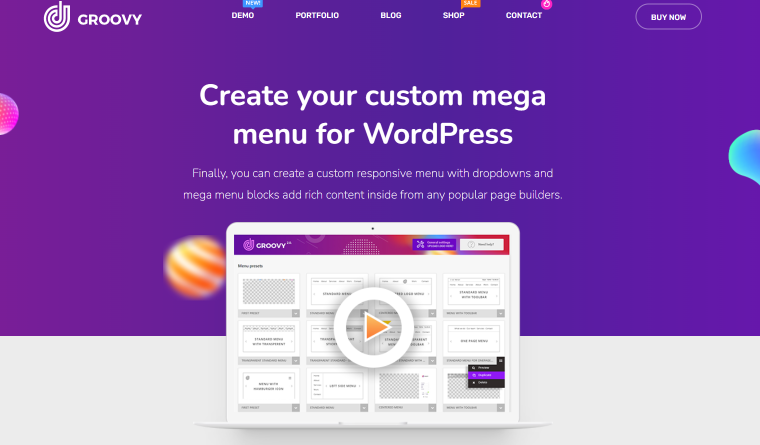 Groovy Mega Menu is compatible with many WordPress plugins. It allows inserting widgets and shortcodes into the menu to connect it with dynamic content on the website. This is a well-fitted tool for blogging websites and news platforms. There are over 20 presets available that can also be modified, which saves a lot of time if multilayer menus need to be built quickly.
Groovy Mega Menu main features:
fully responsive and mobile-ready plugin;
an online library that contains 20+ menu presets for a quick start, over 2000 icons, and 1000 fonts;
compatible with most premium WordPress plugins;
an elaborate set of options for vertical menu layouts, including slide or off-canvas appearance effects;
inner plugin live preview mode.
The price tag on this WordPress mega menu plugin is $28. Numerous features make Groovy Mega Menu an all-around multifunctional and effective solution for upgrading website navigation systems. Its core peculiarity is integrating all WordPress themes and most premium WordPress builders.
JetMenu
JetMenu, formerly referred to as the best mega menu plugin for Elementor, is now also available for creating amazing menus with Gutenberg editor.
While JetMenu is capable of building navigation systems for any site, its unique features make it a perfect solution for e-stores. Not only does it have the means to build eye-catching multilayered lists of items, but it can also insert any kind of dynamic content into the menu. This way, users can see best-selling products or clients' reviews as they browse through the site.
JetMenu main features:
on top of widely used menu layouts, it offers masonry and slider grid layouts;
the preset manager that allows saving custom menu layouts and using them for other menus;
ability to create different navigation bars for different pages on the site;
create desktop-independent mobile menus;
supports any kind of content, including dynamic.
This plugin costs $43 per year as a standalone plugin. It can be purchased in a bundle of 20 top-notch WordPress plugins for $199 per year for one site or $399 per year for unlimited sites.
JetMenu is an all-around tool used by WordPress developers to increase user engagement. It has piles of features to make visually appealing functional menus.
UberMenu
This plugin generates content-rich flyout menus, dropdown image menus, tabbed menus, and mega menus.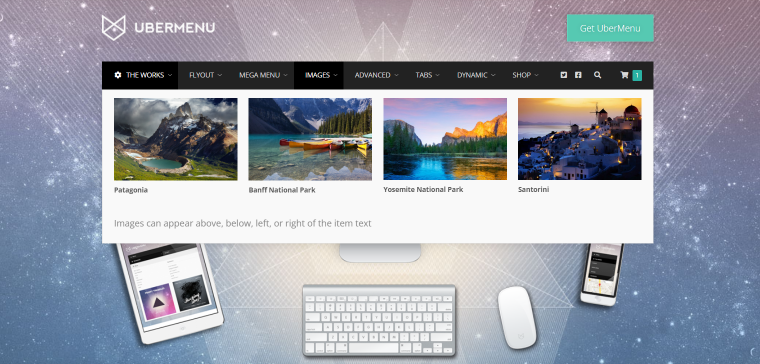 UberMenu offers a number of pre-made mega menus that users can customize according to their needs. The menus can contain large images and even dynamic links, making UberMenu a popular choice for blogging websites.
UberMenu main features:
50+ style settings;
ability to make a dynamic menu by pulling articles and website pages;
support of different types of multimedia content like illustrations, maps, and contact forms;
separate layout controls for every menu item;
menu presets enable users to use UberMenu right from the box.
The price tag on the UberMenu license with 6-month customer support is $26. Overall, this is a very convenient tool for converting existing linear menus to mega menus or building a website navigation system from scratch. With all the styling features and multimedia content this plugin can use, UberMenu is capable of creating unique menus.
Mega Main Menu
This plugin can brand complicated and simple menus with any WordPress themes, thanks to multiple styling options.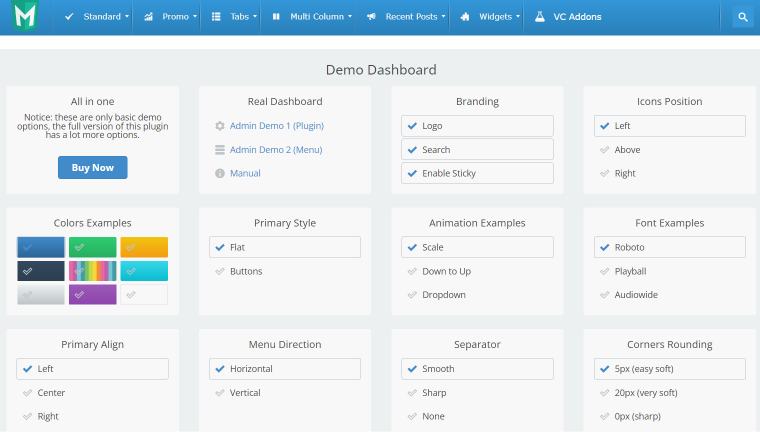 The main advantage of Mega Main Menu is a set of unlimited options when choosing colors, fonts, and icons for creating a unique user experience. Logos can be added anywhere on the menu, just like images, links, widgets, and shortcodes.
Mega Main Menu main features:
set of unlimited colors and Google fonts to brand all navigation menus with the websites;
a free demo dashboard to illustrate the plugin's capabilities;
ten different dropdown variations for easy dropdown menus customization;
compatible with multilingual sites and RTL supported;
add images, icons, links, text, logos, widgets, and shortcodes to any types of menus offered by the plugin.
This plugin costs $16 and comes with six-month support or $20.13 with 12-month support.
It's a perfect option for developers who want to tune up their menus' branding in full accordance with websites while cutting down on costs. Mega Main Menu allows adding visuals to dropdowns with minimum effort.
QuadMenu
This is a multipurpose menu builder with drag-and-drop to make the setup process smooth.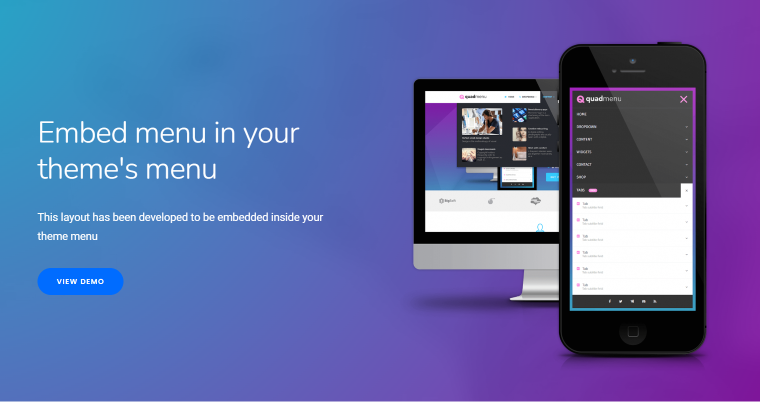 QuadMenu is a powerful WordPress mega menu plugin that can be easily customized using a drag & drop editor. It also provides a real-time preview of all changes done to the menus. QuadMenu supports all the popular menu layouts and allows the menu to be embedded by the WordPress theme. Some advanced features, like a sticky menu and toggle buttons, can automatically be added by the theme.
QuadMenu main features:
support of collapse, embedded, off-canvas, and vertical menu layouts;
vertical and horizontal mega menus with support for touch screens and mobile devices;
responsive menu layout that can be customized manually;
real-time preview of menus under construction;
support of carousel, tabs, and accordion types of menus;
WooCommerce menu module allows including products and cart button right into the menu;
drag-and-drop editor.
QuadMenu has a free version suitable for those who want to try out the plugin's engine. To get all the premium features, users must pay $49 for one site license, $99 for five site license, and $149 for an unlimited site license.
This is one of the most expensive WordPress menu plugins. The price is justified by the abundance of extraordinary features for building all kinds of menus. Most importantly, QuadMenu offers more menu layouts than the average WordPress menu plugins do.
WP Responsive Menu
WP Responsive Menu plugin focuses on converting WordPress menus to mobile-friendly formats seamlessly.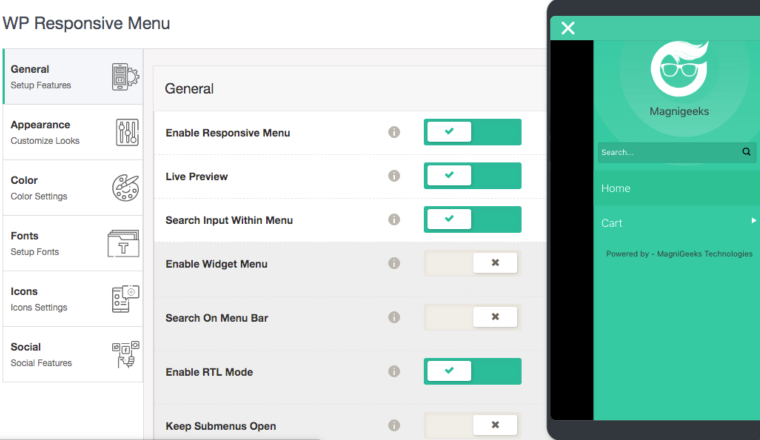 Sometimes WordPress themes lack the means to create touch screen and mobile-friendly versions of menus. In such cases, WP Responsive Menu is exactly the right solution to deal with the problem. The building process is streamlined as the plugin integrates with the native WordPress dashboard excellently.
WP Responsive Menu main features:
preview menu changes before implementation;
support of swipe gestures and pinch-to-zoom feature;
ability to turn an existing menu into a mobile-friendly format in under one minute;
manually choose to limit menu items displayed on mobile devices to avoid cluttering and oversized designs;
WooCommerce integration;
support of social media buttons in menus.
A free version of the WP Responsive Menu plugin has enough features to build responsive menus. The paid version with maximum features sells at $35 for a single site, $89 for five sites, and $159 for unlimited sites.
This plugin provides full control over how the menus look on mobile devices of any size. Search through dozens of options to manually create responsive menus or let the plugin do all the work in no time at all.
Superfly Responsive Menu
Superfly is a WordPress plugin that generates awesome-looking vertical menus for desktops and mobile devices.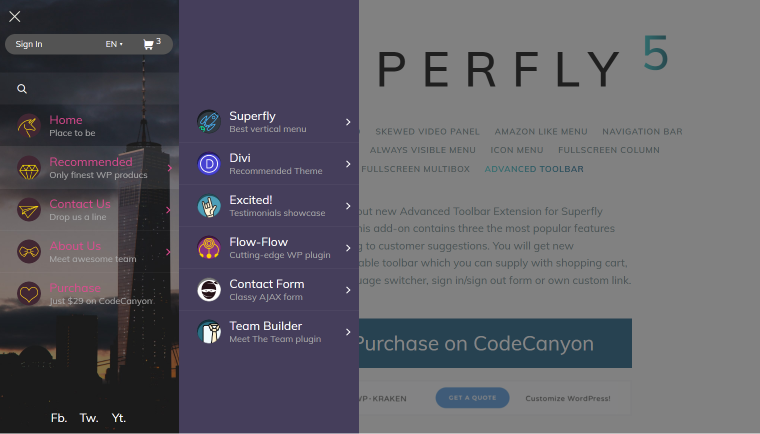 This is a great tool for websites that want to build their navigation system around vertical menus. Such menus can be presented in skewed, fullscreen, or icon layouts with vector graphics. Superfly Responsive Menu offers a completely new user experience by adding space-efficient navigation to websites.
Superfly Responsive Menu main features:
the skewed video layout feature allows the use of YouTube videos for background while presenting the menu at an unusual angle;
support of multiple vertical menu layouts, such as vertical navigation bar, fullscreen multi-box, icon menu, static menu, and others;
ability to hide the menu button and link the menu to any element on the page;
live demo page to check out how this plugin works.
This plugin costs $16 and comes with six-months customer support, which can be extended to 12 months for $4.13.
In short, Superfly offers the best options on the market for building space-efficient vertical push/sliding/static menus. Some of these menus mimic the full functionality of mega dropdown menus, while others are best for use on single-page websites.
Max Mega Menu
Max Mega Menu is one of the best all-inclusive solutions for organizing website navigation using multi-level mega menus.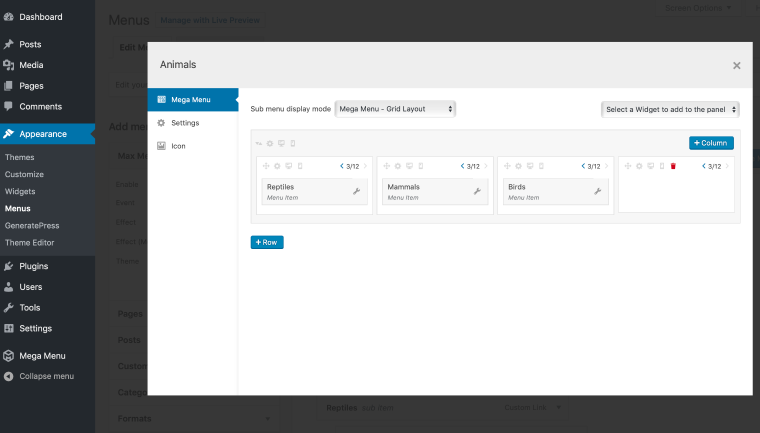 This WordPress plugin utilizes an easy-to-use drag-and-drop editor and a well-organized backend interface. This makes it a popular choice for WordPress newbies. At the same time, Max Mega Menu packs some extraordinary features enabling users to create menus for any website, especially if we're talking about the plugin's Pro version.
Max Mega Menu main features:
support of various types of menus, such as horizontal, vertical, hamburger, submenus, and accordion menus;
ability to add any multimedia content to menus;
the "responsive breakpoint" feature allows users to see how their menu will look on devices with any screen size;
some menu items can be hidden for specific roles using the roles tab;
a wide range of options for styling up menu elements.
Max Mega Menu has a fully functional free version capable of creating menus for an average website. The Pro version with full access to features costs $29 per year for one site, $49 for five sites, and $99 for unlimited websites.
This feature-rich plugin can attract both WordPress newbies and professionals. It is an effective tool for building sophisticated mega menus of various types with multiple stylistic options.
FAQ
What is a mega menu?
It is a type of expandable menu in which many choices are displayed simultaneously.
Why should I use WordPress menu plugins?
Default WordPress instruments can't build large content-rich menus.
Which WordPress menu plugin is the best?
There's more than one great WordPress menu plugin because different types of websites require different solutions.
Can I create dynamic WordPress mega menus?
Yes. To do this, choose WordPress mega menu plugin that supports adding dynamic content to menus via widgets or shortcodes, such as Groovy Mega Menu and JetMenu.
Summary
All of the plugins presented above can create stunning WordPress menus. Some of the features they have are common, while the others are distinctive. Let's quickly review what these plugins are best at.
Hero Menu Plugin can be used for building complex navigation menus even by newbies, thanks to its easy-to-use editor.
The most distinctive feature of Groovy Mega Menu is its compatibility with all the major WordPress plugins.
WP Responsive Menu is great for users who need to build mobile-style menus.
For websites that need space-efficient vertical menus, Superfly Responsive Menu is the best option.
JetMenu generates amazing mega menus that are absolutely necessary for e-stores.
Max Mega Menu and UberMenu both have sets of stylistic options to create WordPress mega menus that no other plugins have. Mega Main Menu is the best option for branding mega menus with any WordPress themes.