Do you want to create a beautiful, functional contact form for the website?
Unfortunately, more than the built-in WordPress functionality is needed for such tasks. And for most cases, you need to use additional plugins. Luckily, not all such plugins are paid. In this article, we compare the two plugins – JetFormBuilder from Crocoblock and Contact Form 7 by Takayuki Miyoshi – to understand which of the plugins has more features and will be a better fit for your project.
Table of Contents
JetFormBuilder Plugin Overview
JetFormBuilder is our freemium plugin. In this article, we will only consider the free version functionality.
So, JetFormBuilder is the plugin that was created specifically for the quick building of dynamic forms. The plugin offers a choice of more than 24 fields, which you can add to the form, combine, and customize. Using the JetStyleManager plugin from Crocoblock, you can stylize the form fields, customize fonts, add effects, etc.
This video will introduce you to the JetFormBuilder plugin a little more:
Contact Form 7 Overview
Contact Form 7 is a popular free contact form plugin that can be used immediately after installation. It helps you create basic forms on the WordPress website. In addition, the plugin supports reCAPTCHA sending, Akismet spam filtering, and search using the AJAX system.
Unfortunately, the plugin does not allow you to create a unique design form, but you can use the built-in Elementor capabilities to add a little design.
The following video will show you how to Contact Form 7 works and what opportunities it gives:
Form Plugin Features Compared
Let's go a little deeper and compare the capabilities of the two plugins.
Contact Form 7 has worked since 2007 and has millions of fans. It allows you to create a contact form on the website where visitors can send messages directly to your mailbox. Thanks to this possibility, the plugin was called Contact Form 7. But today, dozens of other plugins have the same functionality. So let's see what else we can do with Contact Form 7:
there is a pre-created contact form in the plugin, which you can immediately add to the website;
the plugin has a wide selection of fields that can be added to the created form and removed from it;
compatible with different WordPress themes;
supports reCAPTCHA and protects the website from spam;
has no paid updates;
supports AJAX search system;
fields are available: text, date, number, flags, drop-down menu, switchers;
the simplicity of use.
Now let's look at the possibilities of JetFormBuilder:
24+ types of fields are available, including media, checkboxes, calculated, date, radio, etc.;
it is possible to create a contact form from scratch or choose one of the existing forms;
the owner of the website has 12 submit actions: send a letter, remember the user data, update the post, save the record, etc.;
easy creation of multi-step forms;
easy to manage;
supports AJAX search system;
it is possible to design any form with JetStyleManager.
The free JetFormBuilder has more opportunities to create different forms. In combination with JetStyleManager, users can create truly amazing things. Unfortunately, Contact Form 7 does not have such a functionality.
Supported Integrations
Most often, website forms are used to receive payments and registration with further email sending. And this means that when you choose the contact form plugin, it is essential to look at the integration it supports.
JetFormBuilder supports integration with ActiveCampaign, Mailchimp, GetResponse, and PayPal. That is, the user can pay for your product or service and receive letters from you. If you need integrations with other services, the choice is much broader in the Pro version.
Contact Form 7 allows accepting payment via Stripe and sending letters using Constant Contact and Sendinblue services.
User Experience Comparison
Let's see what users say about the JetFormBuilder free version.
Users like JetFormBuilder. They note the functionality, capabilities, and the plugin's ease of use.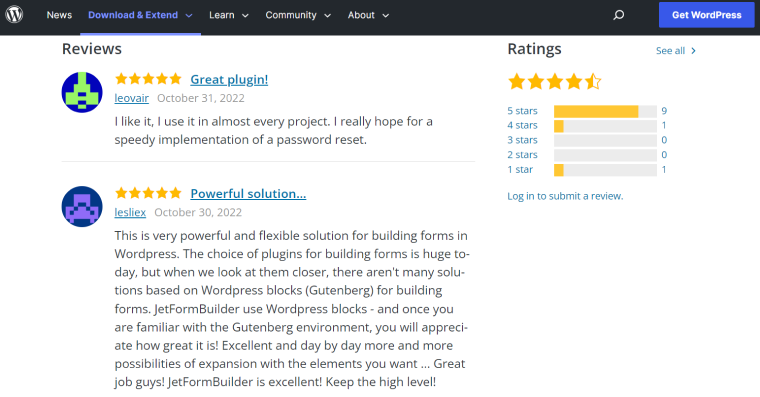 Contact Form 7 plugin has many positive reviews and 4.1 ratings. Users highlight its simplicity and believe this is the best option for creating simple forms.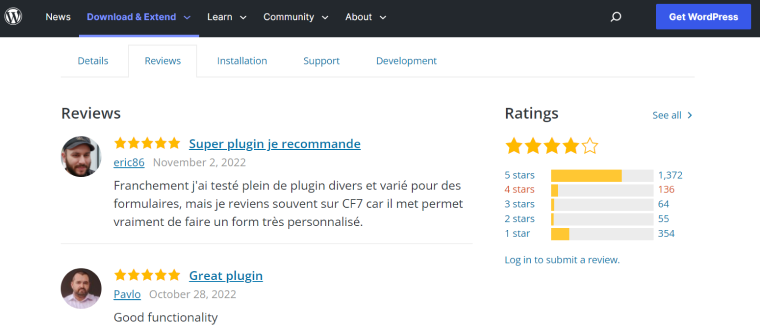 Contact Form Plugins Interface Comparison
Now we will take a closer look at how plugins work from the inside and how long it will take to create a form.
Working with Contact Form 7
Let's start with Contact Form 7. Its main feature is adding fields to the form. And you need a basic knowledge of HTML to do this. First, this is what the form looks like while you edit it: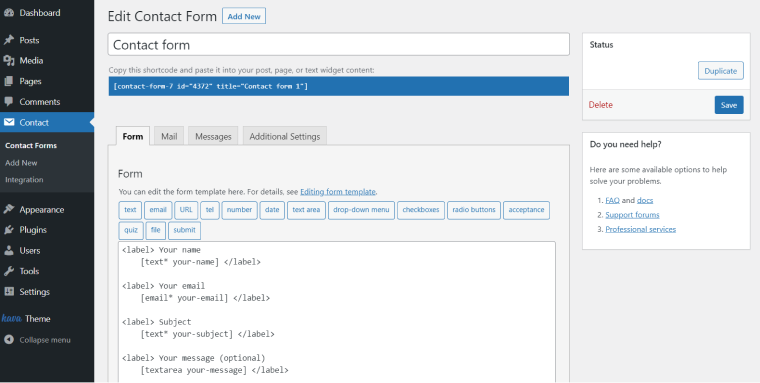 On the top panel, you can manage what the user will see after filling out the form.
It is what the created contact form looks like on the page: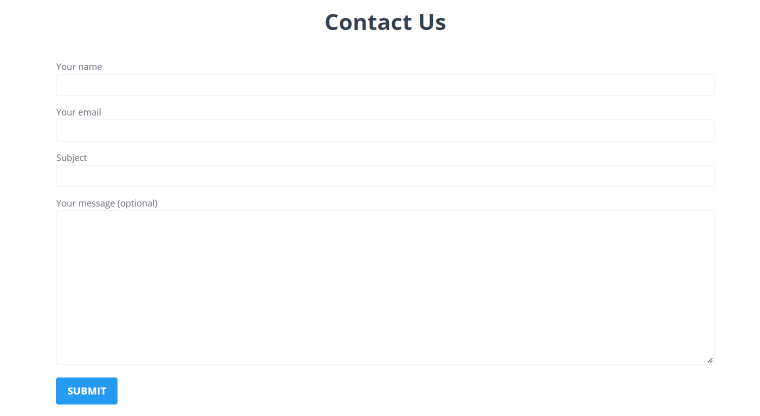 I spent 20 minutes creating and configuring this form on the website.
Working with JetFormBuilder
Now let's look at the form creation process in JetFormBuilder. Everything is much easier here because you can drag the necessary fields from the toolbar. Each field can be configured according to your preferences.
Here is the form's back-end look: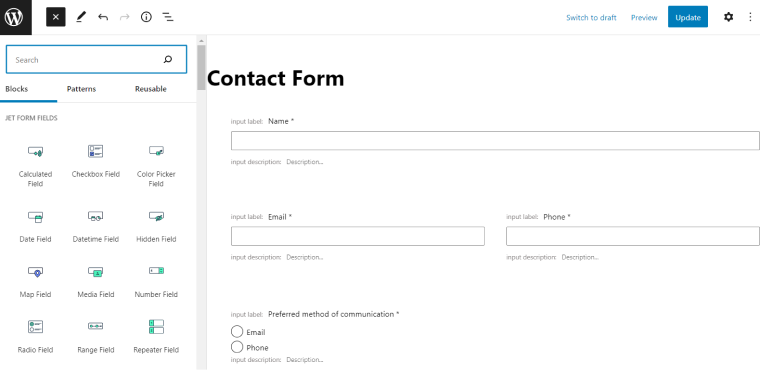 And this is what the created form looks like on the front end. It can be stylized however you wish using JetStyleManager: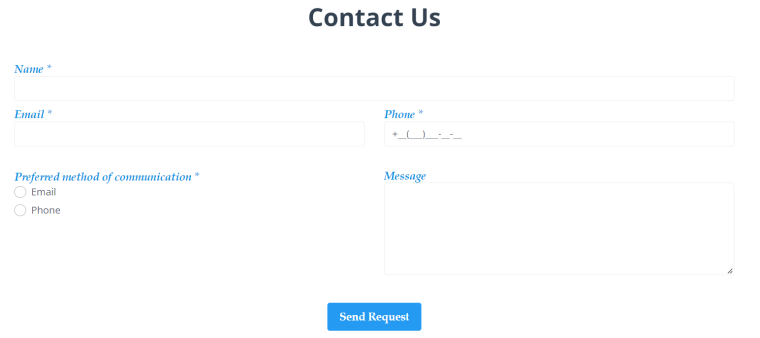 I also spent about 20 minutes creating this form and setting up all fields and messages. But working with blocks is more straightforward than with the code. In addition, I managed to create a more creative form style than with the Contact Form 7 plugin.
Contact Form 7 and JetFormBuilder Comparison
Let's start with the similarities.
The time has come to compare the capabilities of two plugins to create forms and determine which tool is more straightforward, convenient, and faster.
Contact Form 7 and JetFormBuilder are easy to use. In a few minutes, you can create a simple form and configure it as you want. The plugins support the search using the AJAX system and are compatible with many WordPress themes.
Now let's talk about the differences.
The main thing is that the functionality is worth paying attention to. JetFormBuilder allows you to create many more form types thanks to the ability to add 24 fields and configure them. In addition, it's easier to work with JetFormBuilder because you can drag and drop needed fields to the right place. Besides, the website owner can choose from the 12 post-submit actions.
Contact Form 7 is undoubtedly one of the most famous plugins for creating forms, but in terms of functionality, it loses to new plugins.
FAQ
Can a contact form be created in WordPress without a plugin?
Yes, but for this, you need to be able to write code. It's easier and faster to do it with a WordPress form plugin.
How to choose a plugin for creating a contact form on a WordPress website?
To begin with, you need to determine what form you want to create and what fields you need. For example: are name and email enough, or do you need the possibility of payment? After determining the necessary parameters, see what opportunities different plugins give. It is difficult to say which plugin is the best for these purposes, but you can choose the one where all the necessary features will be.
How much does a form-building plugin cost?
The cost depends on the plugin you choose. For example, Contact Form 7 is free, JetFormBuilder has a free and paid version, etc.
Conclusion
In this material, I compared two plugins for creating contact forms: Contact Form 7 and JetFormBuilder. With their help, you can quickly add the form to the WordPress website. Working with them is simple, so they are suitable for newbies.
I tried to create a form using both plugins and saw that it is more convenient to work with JetFormBuilder. It gives a large selection of fields; you can drag and drop them and create multi-step forms.
I hope this analysis was helpful, and now you know what to pay attention to when choosing a contact form plugin.