How to increase the site's functionality and get the necessary information from users? Of course, by using forms!
Forms allow you to solve many tasks: from collecting emails to publishing guest articles on a blog.
In this article, you'll learn about the most popular types of forms and how to embed them on your website. Keep reading!
Essential Rules for Creating Forms
WordPress plugins today allow you to create a vast number of different forms. For example, with Crocoblock's JetFormBuilder, you can build payment, calculation, booking, register, and other types of forms. Moreover, they can be multi-step or simple and pursue several goals like purchase, registration, date or time reservation, survey, etc.
The main thing to remember when creating a form is that people dislike writing a lot. Therefore, your task is to ask only for the essential information.
For example, if a person registers for your online event, all you need to know is their email address. However, when creating a feedback form, you must add an option to ask a question.
Don't add extra fields. Leave the bare minimum. And if, even with this minimum, the form looks too big, make it multi-step or hide dynamic fields that may appear depending on the response.
WordPress Website Form Types Which You Need to Try
Now, let's move on to the most interesting – the types of forms you should try to place on your site.
Subscription form
The subscription form is one of the most popular forms. With its help, you can collect your database of email contacts and share helpful information with them.
This form can be added as a pop-up or anywhere on the site.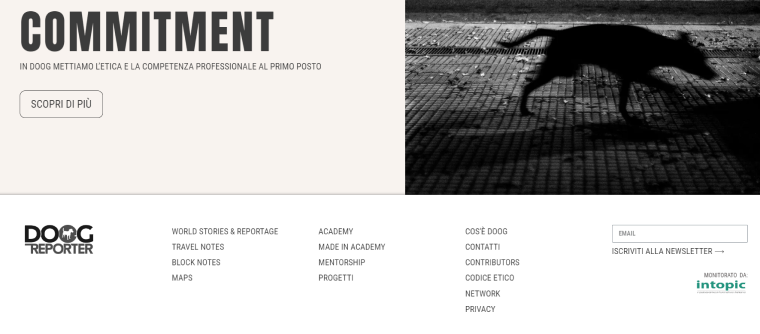 To make it effective, you can write what information you will send via email and how often users will receive emails from you. Because the only fear a potential client may have when they see this website form type is that you will send a lot of spam.
Be sure to add a call to subscribe, and in the place where the email should be, leave a hint of what this field is for.
Contact form
A contact form is another type found on almost every website. Moreover, it is standard, so practically every plugin for creating forms has a template.
You can customize these contact forms however you like. For example, JetFormBuilder allows you to create a contact form by simply dragging and dropping the required fields.

To make this form type effective, create a field for questions and write how long it takes you to answer the user's request.
Feedback form
This type of form will be helpful if you wish to learn about the user experience – mainly if you sell services or goods.
Make this form anonymous, so users will share their opinions and wishes more actively. It is also a good idea to add the ability to rate your services and add text, photos, or videos.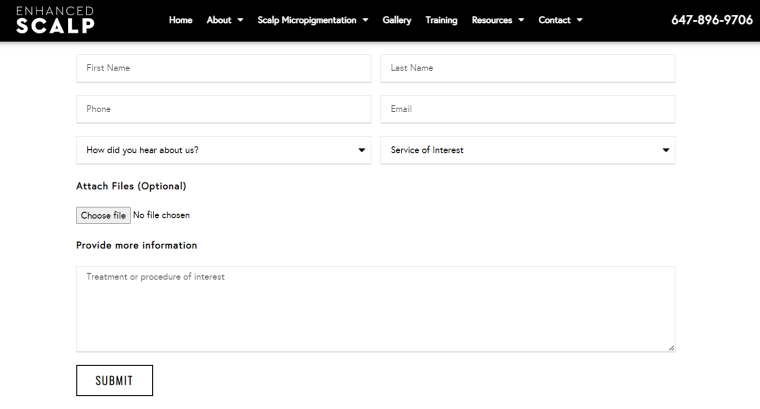 Appointment and booking forms
If you need clients to book a specific time on a particular date to use your services, the best choice is to create an appointment booking form.
Show free time slots, and allow leaving a name and phone number.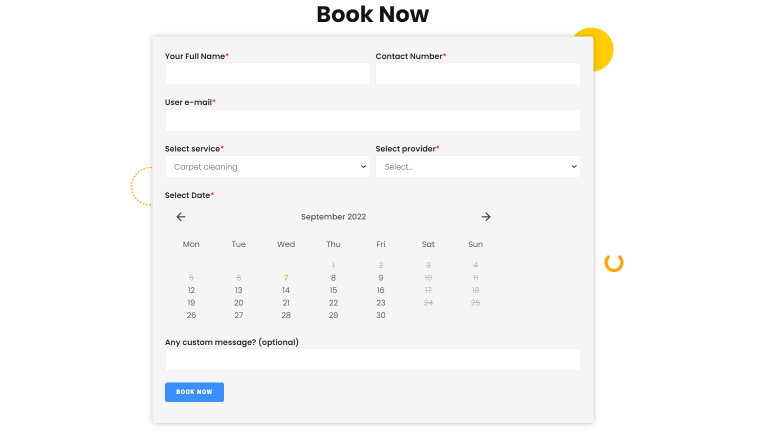 This form type will simplify the interaction with customers.
If you call back customers after booking a time, be sure to indicate this and write how long they should wait for your call.
Another popular form type is the booking form. It will be helpful to you, for example, if you rent out housing or cars or provide services to only one client per day.
Payment form
The payment form is another necessary and popular type that can be used on almost every website.
To create an effective payment form, you need to set up payment acceptance, add products or services and allow to select them. Then add fields where user can leave their email, phone number, and payment information.
Guest posting form
The guest posting form is handy for websites with blogs. You can create a form type that users can use to upload their content.
This form is safe because it doesn't give the user access to your site's dashboard and is effortless to post content.
💡 Discover how to create a WordPress guest post submission form in our article.
Remember to add a field for images and author credentials.
Multi-step surveys
Multi-step forms are not the most popular but are still very useful. You can learn many interesting things about your audience with their help. Gather the questions you need to improve the customer experience or product and add them to the form.
Make it multi-step so the survey page doesn't look long and intimidating. To increase the number of responses, state how long it will take to fill out the form and what the user will get from it.
Client qualification forms
This form can be helpful if you have a large selection of products or services and users are confused about what to choose. Ask them some qualifying questions to help them decide.
For example, if you sell presents, you can ask some questions in the form, clarify the person's preferences and then offer options.
Social survey forms
All people love activity. They also love it when you ask for their opinion. You can use it for your WordPress site. Place a social survey form with questions and several answer options.
After a person submits the form, show them the overall statistics. It can be another tool to help you get to know your site visitors better.
Online order form
The online order form is handy for those who provide complex services. For example, if the site is for repair services, you must understand the amount of work and its difficulty to indicate their exact cost.
The client can choose what they want from the list of your goods or services, leave their information, and you will contact them to clarify the details.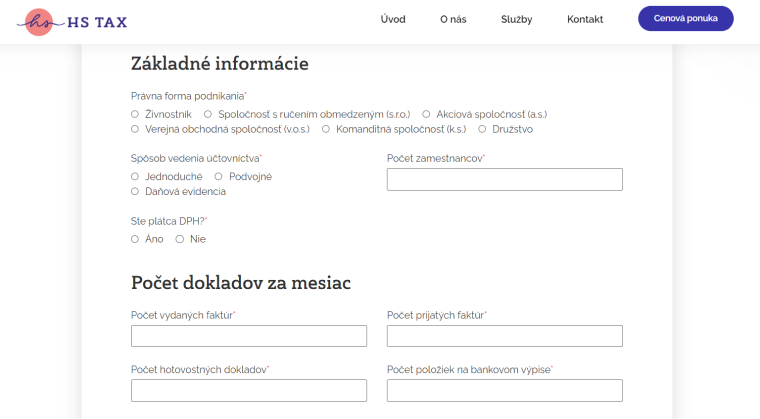 To increase efficiency here, it is worth leaving only the most necessary fields and indicating the time after which you usually contact customers.
Login and registration form
These are popular form types, too. If you need content to be displayed only to registered users, you need these forms.
For the login form, it is enough to leave only two fields: login and password. It would be best if you did not make it complicated because the interface of this form is approximately the same for all sites, and users are used to it.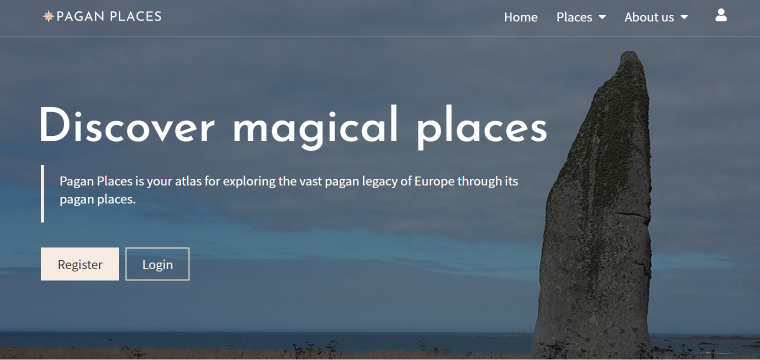 The registration form involves collecting more data than a username and password. Consider what information you need about the person and add corresponding fields to the form. Remember the minimum required number of fields and avoid excess.
Price calculation form
Does your product or service have a variable price that differs depending on, for example, size or color? Then you need a cost calculation form. Let potential customers know how much they will pay to get what they want.
Add a field with options and a calculated field to automatically calculate the cost.
A Few Final Recommendations
Now let's talk about efficiency. In addition to the minimum required number of fields, there are five other things that you need to follow for your forms to be effective.
Adaptability. Make sure each form opens quickly and correctly on different devices so it is convenient to fill it out, for example, from a phone.
Attractive design. Spend some time on your form's fonts, colors, and layout. It should be fun to fine-tune all that.
Take care of safety. People leave you their personal information. Your task is to ensure that it will not be transferred anywhere or used for inappropriate purposes.
Invalid input. If something was filled in incorrectly, the user should easily and quickly find what exactly. Add indicators that will show the error.
Tell them what's next. First, users should see that their form has been accepted. Next, insert a message, pop-up, or thank you page that will appear after submitting the form. Tell them that the submission was successful.
These simple rules will help you get more form submissions and give your users a better user experience.
FAQ
How to create a form on a WordPress website?
To do this, you need to install an additional plugin. First, choose the one that allows you to create the required fields. Next, create a form, add fields and text to your form, create a design, and publish the form. After publishing, be sure to check how it works.
Is it possible to create a form in WordPress without additional plugins?
By default, WordPress doesn't have any form-creation tools. Instead, you can create them with code or install a plugin. The second option is easier and faster.
How many forms can be added to a WordPress website?
You can add as many as you need. You can place them on the same page of the site or different ones. But take care of the design so the website does not look overloaded.
Final Thoughts
WordPress website forms are one of the most useful features. They allow you to interact with the user effortlessly and discover the necessary information.
From the article, you learned about 12 different form types. All of them can be created using the free JetFormBuilder or any other plugin.
Try creating a form on your WordPress website, and don't be afraid to experiment.