Web forms are an essential part of website development and are found on almost any good site. They can be used for business transactions, customer generation, and more general things like search inquiries.
With web forms, online companies can turn browsing readers into full-blown consumers. They can even attract new leads via registration forms. However, many websites neglect their web forms to prioritize their homepages. Sure, this can generate traffic, but customers need to remain interested in the most crucial part – filling out their details.
A poorly constructed form can be off-putting to the consumer and may detract them from signing up for your newsletter or purchasing. As a result, you could lose leads, sales, and profit.
I've scoured the Internet and gathered what I believe are 10 amazing examples of web forms designs – both for businesses and more creative sites – and examined what makes them so great. Check out the article below to learn how to create a successful and engaging web form.
5 Great Business Form Examples
Web forms perhaps reach their most important moment when doing business. A form has to meet a few basic expectations if it's going to be successful. If a form isn't clear, aesthetically pleasing, and easily accessible, then it's not going to perform well with regard to producing new customers.
I've gathered 5 form design examples that function well as business tools. Their clarity and engaging designs all engage potential customers and turn them from prospects into consumers.
Danny's Cleaning Services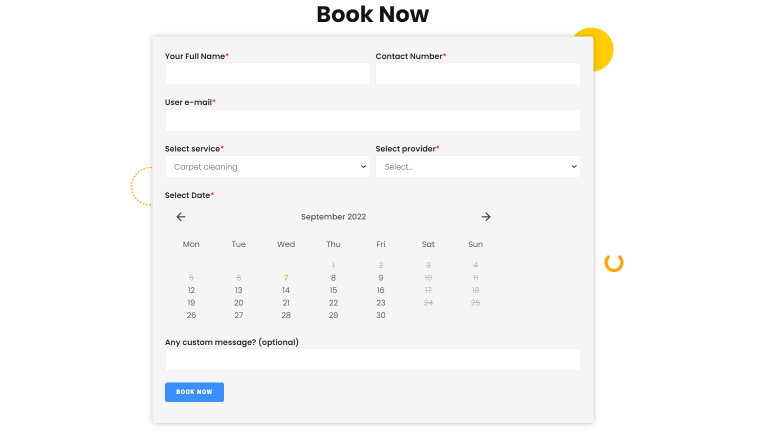 This web form design from Danny's Cleaning Services showcases a perfect example of how visual aides can entice people into completing forms. The easily readable and accessible calendar makes it simple for customers to book their appointments by allowing them to visualize the weeks ahead.
What's more, its simplicity and lack of data fields don't deter potential customers from booking appointments with them.
This is a top tip for business forms: don't make your customers spend ages filling out forms with endless fields and information – a few lines of basic info will do.
MyBlue4You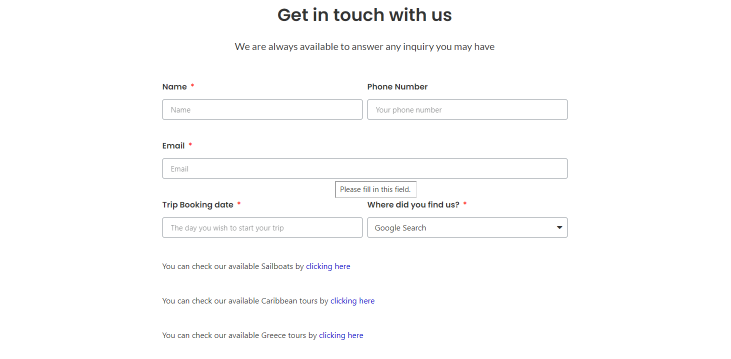 MyBlue4You is a website for boat lovers; you can rent your yacht out to holidaymakers or purchase accommodation in a luxury sailboat for a vacation. With a wide variety of destinations on offer and a global customer base, it's essential that the website takes into consideration its target audience, which they have done via the range of language options in the bottom-right of the screen.
Special mention
Crocoblock has a free form-building plugin for WordPress – JetFormBuilder, that helps you create a booking form, contact us form and more form types.
Eloped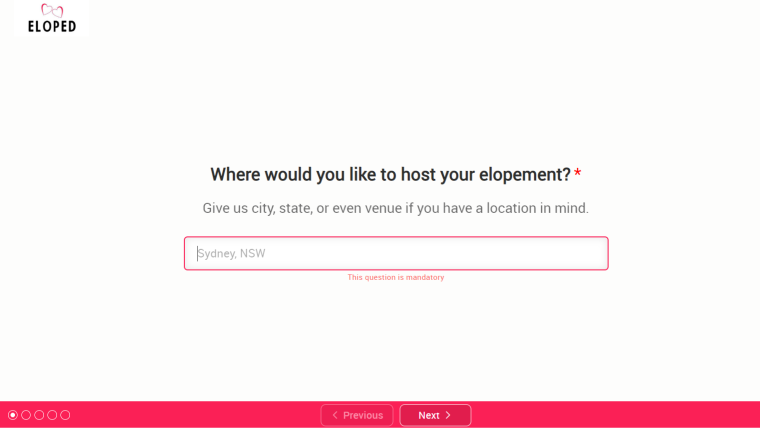 For small weddings in Australia, Eloped offers incredible packages that help couples achieve the wedding of their dreams on a limited budget. The team caters to all visions, partnerships, and locations (within Australia) and provides undecided customers with an opportunity for a free quote via their website.
Once you've clicked "Get a Quote," you'll be directed toward a web form. While there are a few different fields you must fill in, the website cleverly utilizes a technique called motivation. By employing the "Next" button, the site leads potential customers towards a sense of progress, of accomplishment. This engages the form-filler into continuing the process.
Also, Eloped chooses an immaculate and appropriate color palette, representing romance and simplicity in its purest form.
Chckr
Simple and effective. Granted, Chckr offers a service that can be achieved with just a website's URL, but it highlights this effectively and clearly. It's the first thing you see when you load their webpage; you're greeted by a significant, instructive title and a helpful direction underneath the data field box.
What's more, the website has included an example of exactly how to fill out the form – exhibiting a strategy called error prevention. This ensures users get a better customer experience by preventing mistakes before they happen.
Media.Monks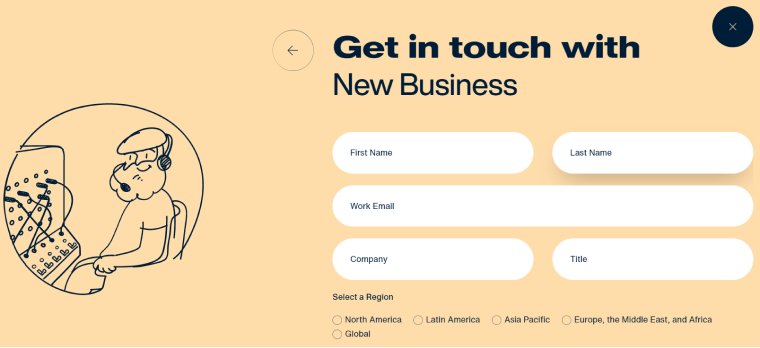 Given their background as a digital marketing and advertising agency, Media.Monks know how to design a website. Their site is full of innovative and quirky animations, culminating in aesthetically pleasing interfaces and easy-to-use web forms.
The pictured form showcases design simplicity while making it easy for new businesses to contact them. They employ a radio button system for choosing your region, indicating a convention that only one option can be selected. This makes it clear for form-fillers and avoids needlessly overcomplicating things – essential for attracting new clients.
5 Great Creative Form Examples
Web forms don't have to be boring and to the point. Sure, they have to be clear enough to allow the reader to fill it out (no completely wild fonts, for instance), but there's a certain creative liberty that web form designers can take.
Creating a fun, original form design is especially relevant if you're promoting yourself or your company as a creative business. After all, how better to showcase your creativity than via your website?
Original and genuinely innovative designs can entice your reader to sign up or make a purchase right there and then, so if they're already on the form page when their interest is piqued by your design – even better!
Below, you'll find 5 incredible examples of creative web form designs from that you can draw inspiration.
Robby Leonardi
Proficient in coding and animation, Robby Leonardi created his interactive virtual resume to stand out from the crowd. It worked. Visitors to his site simply scroll down and watch his avatar run, jump, and swim through different "sections" – from skills to hobbies to work experience.
And in the last stage of his Super Mario-like animation, readers are presented with a contact form. The engaging and joyful journey culminates in this form, which is as attractive as the rest of the site.
What makes the form even more ideal, though, is its simplicity. Three data fields, that's it. Sweet and simple, this tactic entices readers into filling it out due to the speed and ease with which they can do so.
Odama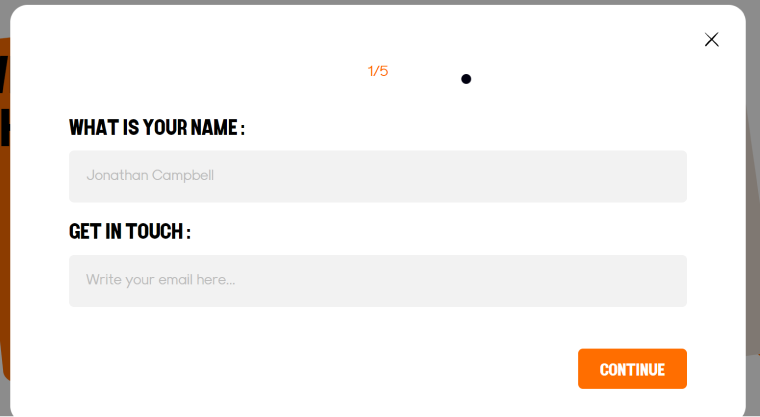 Odama pride themselves on turning abstract ideas into real-world marketing designs, and it's easy to see this reflected in their site. Each web page is meticulously constructed and animated to emphasize their creativity.
This form from their site guides the reader into filling out the fields with simplicity and ease. Moreover, the small black dot follows your cursor round as a sort of added curiosity – a little showcase of their creative abilities. The "1/5" at the top indicates progression to the customer, motivating them to complete the form.
General Condition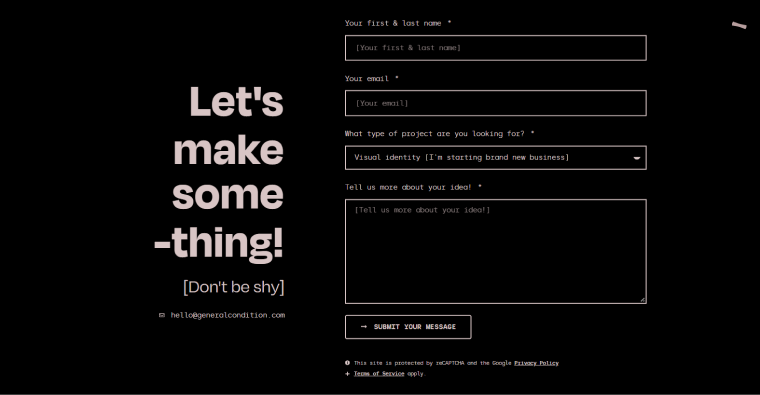 This form is the pinnacle of General Condition's brand identity – a key factor in what makes a good form design. Their font choice is interesting, as is their liberal use of punctuation marks like the square brackets.
The design studio makes it easy for users to complete the form by highlighting important parts in white, contrasting the dark black background behind them. This stands out to readers and retains a key part of the studio's shadowy brand identity.
Pracownia Olszańska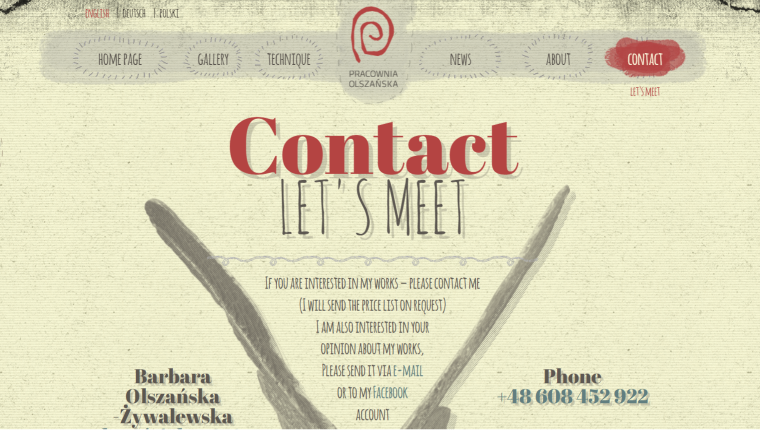 This website, run by a Polish artist, is a creative demonstration of her abstract art capabilities. She's included animated graphics and sound effects to provide an interesting user experience that highlights her work and impacts visitors to the site.
Even with all the graphic designs in Pracownia Olszańska, there's still a clear section on where to input your email. Clarity is not compromised here, which is why this design is an excellent example of how you can be creative without losing sight of your audience.
Rose Family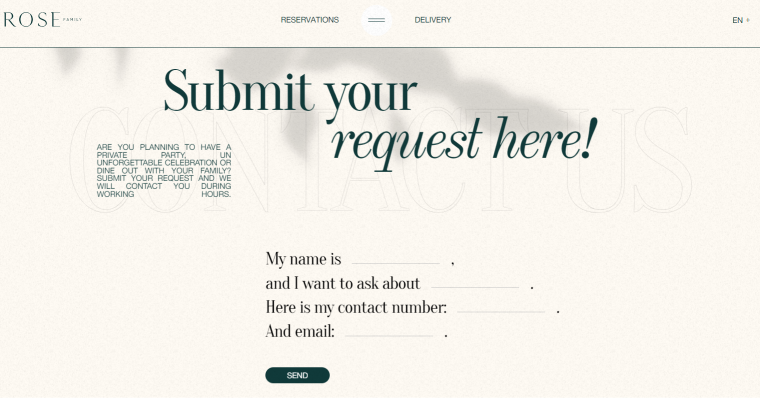 The Rose Family restaurateurs have been providing fine-dining experiences of the highest quality for over four decades, and their classy, sophisticated website reflects this. The high-end nature of their work needed an equally elegant web design, which is reflected in their reservation form.
Simplistic and formal, the single curved line adds an element of subtle modernity that alludes to the grace and minimalism of notable works of art.
A Few Final Thoughts
Now that you've seen some exceptional web form design examples, it's easy to see what consumers are drawn to online.
Attractive, consistent color palettes go a long way to enticing customers and exhibiting a strong brand identity that resonates with users.
Simplicity is another key factor for a successful web form; consumers want to be guided through the process while exerting as little mental and physical effort as possible.
So, don't overcomplicate things. Keep your web forms consistent with your site's brand identity, and ensure they're easily accessible and engaging to fill out.
I hope this guide has been helpful in your quest for the ultimate web form design. You can get inspiration from many sites, but this article has covered a handpicked selection.