When you're creating and building a website, it can feel overwhelming and confusing. Where do you even start? Of course, you'll want a site that is pleasing to the eye, but you also want it to have full functionality and be user-friendly—that's where a good content management system (CMS) comes into play.
A CMS is a system that makes important managing aspects of your website – such as content – very easy. Plus, no experience in coding is necessary. There are many CMS choices out there, but one stands out to be tried-and-true and very easy to use—WordPress.
What Is WordPress.com?
In layman's terms, WordPress.com is a popular tool for anyone, even those without coding experience, to design and build websites and blogs without worrying about hosting. WordPress.com is an online platform that lets users create an account and start building a website from scratch—they also provide hosting, basic security, and maintenance.
No experience is necessary for anyone to utilize WordPress.com, and it's by far one of the most popular CMS choices on the web today. More than 40% of websites choose WordPress as their CMS. There are both free and paid plans within WordPress.com, depending on what features and functionality you're looking for.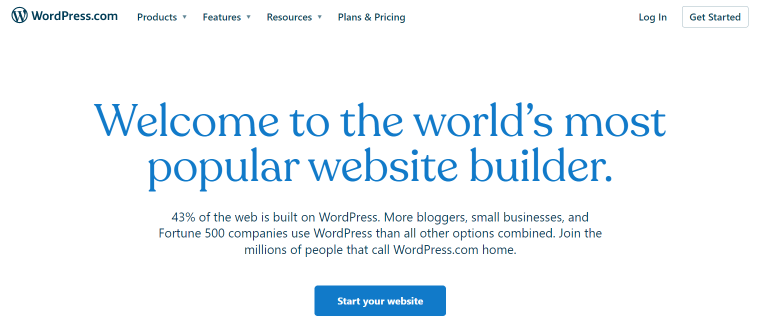 What's the Difference Between WordPress.org and WordPress.com?
If you were to Google "WordPress," you would see two different sites show up—WordPress.org and WordPress.com.
So, what is the difference between the two domains and services? Basically—it comes down to how much control you want over your website.
WordPress.org is popularly known as "self-hosted WordPress"; it is the open-source, free WordPress software you'll install on your web host, under your domain name, creating a website that is 100% uniquely yours. You will need to purchase your web hosting and domain name.
WordPress.com is a for-profit service (although there are free plan options) that is powered by the same WordPress.org software above. It's a simplified version of WordPress that's been preinstalled on the WordPress.com server. A downside is that it does not boast as much functionality as WordPress.org (unless you're willing to pay fees).
WordPress.com Pros
Using WordPress.com is a no-brainer when building simple or hobby websites with little experience. A couple of key benefits include:
WordPress.com gives you up to 3GB of space free of charge. After reaching this space limit, you'll need to upgrade to a paid plan.
Users never have to worry about any updates or backups—it's all taken care of for you.
WordPress.com themes and templates make web design extremely easy.
It's not necessary to purchase separate hosting.
WordPress.com Cons
When it comes to limitations, WordPress.com has a few disadvantages compared to WordPress.org. Some things to consider include:
Selling ads on your site is not allowed, limiting your site's monetization ability. You can apply for a separate advertising program called WordAds.
Uploading plugins is not an option. If you upgrade to a paid plan, you can choose a selection of compatible plugins.
WordPress.com places ads on free websites. You'll need to upgrade to hide ads.
You cannot upload your themes, and customization is limited—you'll need to upgrade to use custom CSS.
Membership websites cannot be built using WordPress.com
Unless you have a paid plan, you'll have a WordPress.com branded URL (for example, http://yoursite.wordpress.com).
Your site can be deleted anytime if they believe it violates their terms of service.
Hosting WordPress.com
On a basic level, WordPress.com is the hosted version of the open-source WordPress software.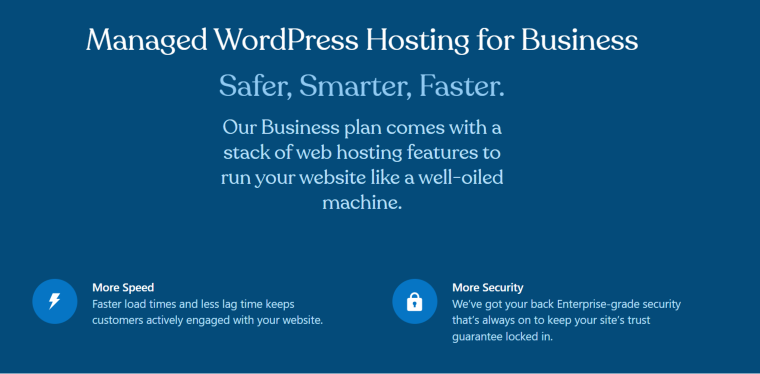 When using WordPress as software, you can choose to install it on any host. However, when using WordPress.com, they will manage hosting for you. This means you'll get automatic updates to your site, 24-hour support, fundamental security, and more.
WordPress.com hosts sites for free, although users can upgrade their plans for additional features and customization options. WordPress.com hosts its sites on thousands of servers located in data centers across the United States and around the globe.
What Can You Build With WordPress.com?
At its inception, WordPress was mainly used to create simple blogs. Since then, the software has grown, improved, and become so robust, that it can make nearly every type of website imaginable. Some examples include:
lifestyle and hobby blogs;
professional portfolios and resumes;
business websites;
eCommerce stores.
FAQ
What exactly does WordPress.com do?
WordPress.com is a popular platform for publishing your website amongst blogs and other businesses. Automattic, Inc. owns and operates WordPress.com; it is run on a limited version of WordPress software.
Is WordPress.com safe?
Every WordPress.com site is encrypted and automatically installed with an SSL certificate. WordPress.com also runs firewalls and security testing and monitors suspicious activity. There is a dedicated security team if you need assistance. 
Who should use WordPress.com?
Given its ease of use, WordPress.com is an excellent choice for bloggers, artists, entrepreneurs, and nearly anyone looking to build a website. However, those with more technical experience or who want more control over their coding should consider hosting their own WordPress software. 
Does WordPress.com offer analytics?
Yes! WordPress.com stats are built into every website, allowing you to track traffic and other analytics of your website. If you'd prefer to use Google Analytics, you can integrate it by upgrading to a WordPress.com Pro plan. 
Conclusion
WordPress.com is a simple, easy, and efficient way to build a functional website for your brand, business, or personal hobby. For those that don't want to have to think about hosting, third-party tools, or coding, WordPress.com is a fantastic option for you. It's as easy as signing up and designing!