I'm not surprised that when it comes to WordPress plugins' descriptions, the most anticipated part is the one showing end results of their applications. After all, a picture is worth a thousand words.
In this article, I will present nine websites that use JetPlugins to bolster their functionality and improve their design. I strongly encourage you to visit them and see what these tools can do.
List of WordPress Event Websites Built with Crocoblock
This list will be especially interesting for event planners and site owners who want to convert visitors into attendees as well as for web developers planning to build beautiful event websites.
Park Live Kent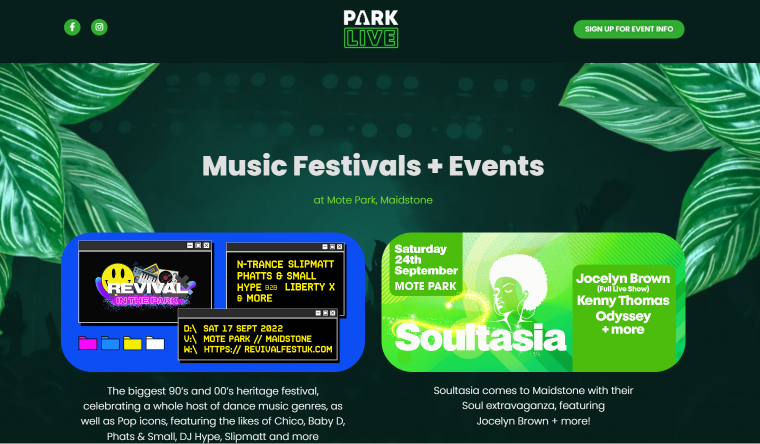 Parklivekent.com is a WordPress event website run by a Lucus Live Event Agency to promote annual festivals, music concerts, and other events at Maidstone's Mote Park. The website's main page is where the visitors can find a list of feature events and either jump to each event's page with detailed description and information about tickets or register for a newsletter.
The developers chose to use a clean and concise design not to distract visitors from the website's primary purpose – selling tickets and user registration. Because the home page's content consists mainly of images, the background is dark, and the text is light. Links to the event pages are organized in a simple listing grid, and the parallax feature is applied to add a dynamic feel to the page.
JetElements' Animated Text widget drags visitors' attention to a headline and CTA buttons. On subpages, the slider feature highlights the photos of past events.
The website's design may appear oversimplified, but it allows people to find information about future events hassle-free. Besides that, it looks just right on mobile devices where the JetMenu plugin provides a responsive menu.
Developer, Theme & Template: Park Live Kent
Plugins: JetTricks, JetMenu, JetElements
Earagail Arts Festival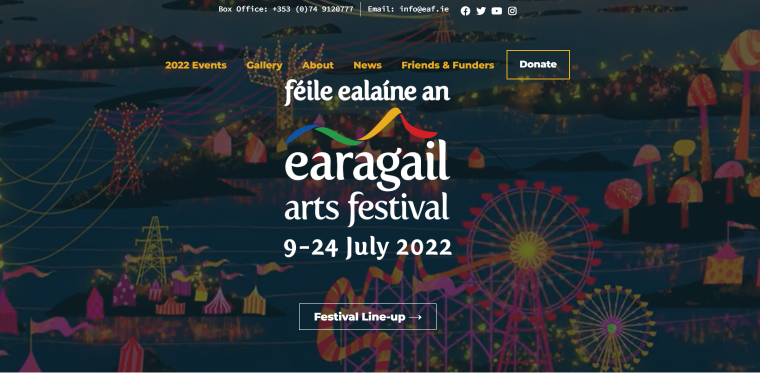 The Earagail Arts Festival takes place in County Donegal, Ireland, every June or July. It started in 1988 and consists of multiple musical acts, parades, street performances, and plays. The festival itself serves as a tourist attraction in the County Donegal.
The landing page starts with a concise navigation bar and the festival's logo over a fullscreen background video. From there, visitors can scroll down to the news and events sections. JetEngine's Dynamic Field and Dynamic Image widgets fetch all the dynamic content that appears in the news and events sections. The Dynamic Link widget redirects visitors to the original blog articles.
The News and Events subpages' content is neatly organized using the Dynamic Listing Grid feature. The Tabs template showcases the main page's images and sections of the blog articles.
The website provides plenty of information for people interested in the Earagail Festival. JetEngine's dynamic features offer regular updates for its landing page, while other Crocoblock plugins are responsible for content layout.
Developer: Tommy Callaghan & Manna Design
Theme & Template: Tommy Callaghan
Plugins: JetBlog, JetEngine, JetElements, JetTabs
CMA

The-cma.com is a membership site representing the Content Marketing Association, the industry association for marketing, advertising, and social agencies. Through events, news, awards, and training articles, CMA members promote content marketing as an effective marketing tool.
The website has a classic and professionally-looking design which won Crocoblock's Site of the Week award. The particles feature of the JetTricks plugin creates a background geometric pattern on each page. Another stylistic feature that appears everywhere on the website is parallax, and it makes a multilayered structure noticeable when scrolling the pages on mobile devices.
The Events, News, Case Studies, and Awards subpages contain hundreds of articles. They are organized in grids using the Dynamic Listing feature, and AJAX Loading for Filterswidget allows easy searching. Visitors can travel from one content page to another using the pagination feature.
To wrap it up, I can state that this website uses multiple WordPress plugins that result in smooth UX and a clean, stylish design.
Developer: NRCM
Theme & Template: Dan Barrett
Plugins: JetBlog, JetEngine, JetSearch, JetWooBuilder, JetTricks, JetSmartFilters, JetBlocks
Singular Sport
Singular Sport is a company that organizes soccer events in Portugal. Its WordPress website notifies users about future events, like soccer games and children's camps, and offers to buy tickets for such occasions.
All pages contain turquoise details such as the logo, CTA buttons, icons, and section borders. Combined with the light-colored background, this contributes to a clean and glowing design. A simple navigation bar turns into a hamburger menu with an accordion feature on devices with smaller screens. A Slider widget is set to autoplay screen-size blocks with linked buttons on the front page.
The Events page contains Dynamic Listing Grits with information about future or past events. Skins Manager, another dynamic feature of JetEngine, allows pulling CPTs from other sites to the items on a list.
This website, run by a soccer events company, is bold and straightforward, but it's ideal for sports fans who know what they're searching for.
Developer: MOH Estúdio Criativo
Theme & Template: Pedro Marçal
Plugins: JetEngine, JetTabs, JetElements
EUATC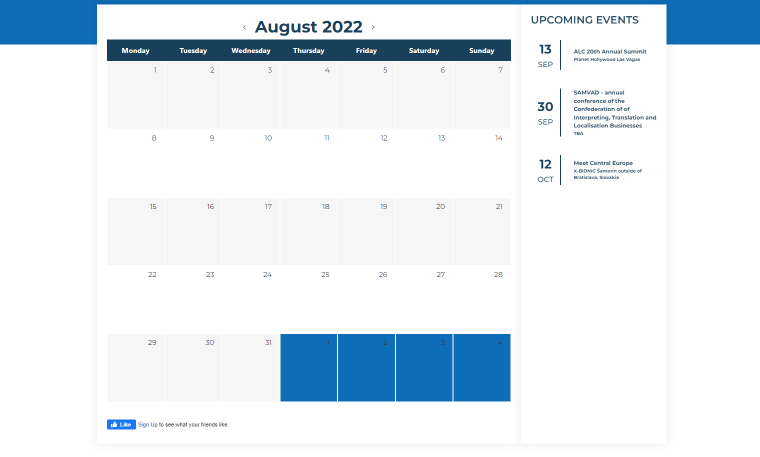 The European Union of Associations of Translation Companies (EUATC) is an umbrella body for national associations of translation companies based in Europe. On their website, they publish various material primarily related to linguistics, translation sciences, and the translation industry while mixing in general European news.
Euatc.org design uses cold palette colors and sharp-edged forms. This website shows how content can be organized into different grids using JetEngine widgets. In fact, on EUATC's landing page, there are at least three different types of layouts – autoplay slider, column, and masonry layouts.
The Events page displays the metadata about upcoming and past events in a calendar layout via JetEngine's Dynamic Listing Calendar widget. This feature also allows showing an event on several dates, if needed.
It's good to see how different layouts work well for one type of content and don't work for another one. I still think that playing around with too many formats on the same website, especially on the same page, makes visitors feel disoriented.
Developer: Descomunal
Theme & Template: Pedro Marçal
Plugins: JetEngine
Majordocs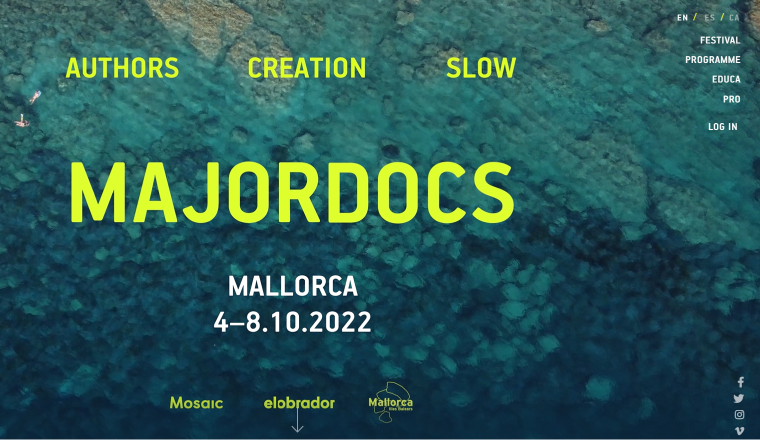 Here's another website that's a winner of the Site of the Week award. It is dedicated to an annual creative documentary film festival in Mallorca.
The website design is very artistic yet calm and modest. The homepage showcases a background video of ocean water played in a loop. All dynamic elements float over the background video thanks to the JetTricks parallax feature. As we scroll down the page, the background color changes from white to complete black and then back to white.
Each subpage contains at least one video powered by the Video Player widget, and some content embeds in an automated slider grid layout. There are a lot of vector icons on the website supported by the Inline SVG widget, so the images look equally good on small and large screens.
Building a website dedicated to an arts festival, the developers succeeded in creating eye-pleasing visuals and smooth UX. To do so, they used Crocoblock plugins that improved the content design.
Developer, Theme & Template: 22MW
Plugins: JetEngine, JetElements, JetTricks, JetEngine
Mandala Theatre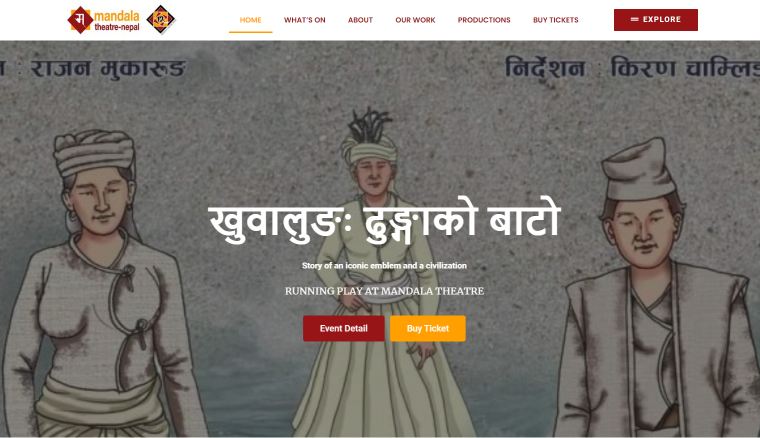 Mandala Theatre is a group of young enthusiastic actors and theatre workers of Nepal who formed a group to work together consistently in Katmandu. The group is devoted to exploring and popularizing the indigenous theatrical forms of Nepal society.
The website reflects the team's multifaceted work, so it is rich in images and text content located on dozens of subpages. A simple navigation bar allows accessing most of these subpages. They are also linked directly to the landing page with the help of JetEngine's dynamic features, namely Dynamic Fields, Dynamic Links, and Dynamic Listing Grid widgets.
Some of the future events are displayed on the main page via the Slider widget. Visitors can see full-screen pictures of performances with titles and link buttons set on autoplay. All metadata about future and past plays in theatre is also pulled to the events calendar built using the Dynamic Listing Calendar widget. They appear as icon-sized clickable images and short text descriptions.
The Mandala Theatre actors have many plays up their sleeve, and it is best to use the Search tool to find the specific performance. AJAX Search Form widget supports searching and makes it super fast.
Developer: Sagar Prasai/Diverse Patterns
Theme & Template: Sagar Prasai
Plugins: JetEngine, JetSearch, JetElements
KIC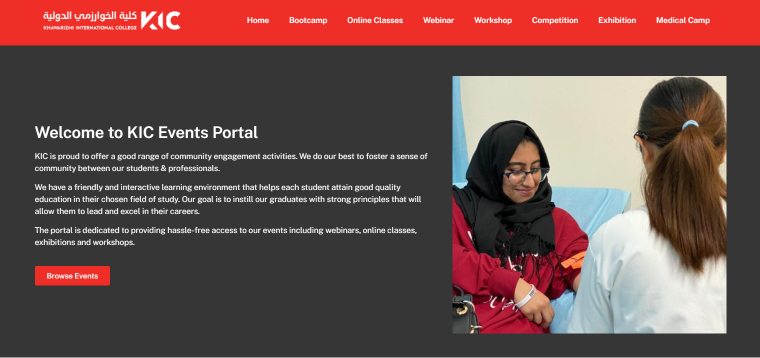 Khawarizmi International College (KIC) in Abu-Dhabi is one of the top 40 educational institutions in the UAE. As part of its activities, KIC organizes workshops, webinars, exhibitions, and online courses for students and professionals. Events.kic.ac.ae is a WordPress event website that provides hassle-free access to all events.
As expected, the website's colors, fonts, and visuals align with the college brand. The design is modest, and it serves to increase each element's functionality. The body of a landing page consists of large icons representing different types of activities set in the Dynamic Listing Grid. At the same time, the Dynamic Field widget pulls numbers of such activities. Past events appear at the bottom of the page in a Slider layout.
Registered users can leave reviews and comments on workshops and other events using custom forms built with the JetReview plugin. Website moderators can approve/delete reviews via the admin dashboard.
Overall, the site looks professional and runs smoothly thanks to JetEngine's dynamic features.
Theme & Template: Khawarizmi Intl College
Plugins: JetEngine, JetReview, JetElements
Aguilar Film Festival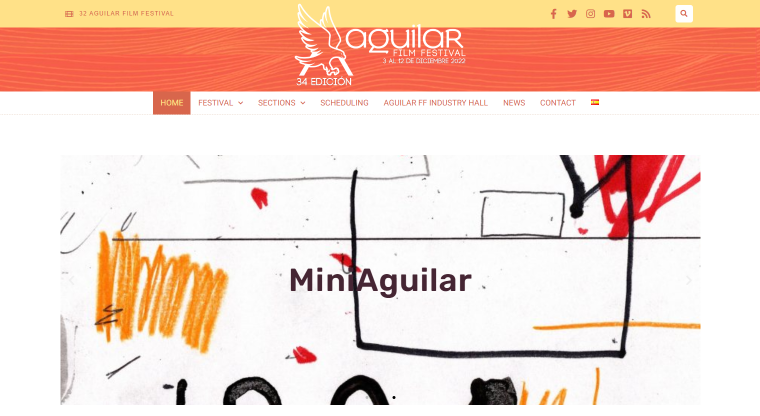 Aguilarfilmfestival.es promotes the annual film festival that takes place in Aguilar, Spain. This WordPress event website is quite different from most other sites on the list, as it exhibits its content using an asymmetrical layout. Images, videos, and texts have different sizes and appear in blocks of different shapes, which aligns with the theme of diversity in cinematography. 
A Banner widget on the landing page with a zoom-in animation attracts website visitors to film announcements, while the Video Playlist widget offers to play multiple YouTube videos. The developers used another widget with visual effects (Animated Flip Box) to present the scheduling information in a flip box layout.
A simple navigation menu at the top of the page includes a search tool driven by the JetSmartFilters plugin. Finally, each page ends with a beautiful Footer menu built and stylized with the JetBlocks plugin.
This WordPress website makes use of more JetPlugins widgets than any other on the list. I find it visually balanced, dynamic, and interactive with visitors.
Developer, Theme & Template: Juaco Amado
Plugins: JetEngine, JetBlocks, JetElements, JetSmartFilters, JetBlog
Conclusion
Looking at the WordPress event websites above, I conclude that the website developers use JetPlugins mainly for three purposes: to improve the dynamic website structure, the design content, and to make searching through the content faster.
JetEngine's dynamic widgets assist in structuring the content (Dynamic Listing Grid, Dynamic Field, and Dynamic Link widgets) and importing CPTs and meta fields from other websites (Skins Manager widget).
JetElements plugin is an essential tool to improve websites' design. Some widgets improve design interactivity (Section Parallax, Animated Box, Animated Text, Banner), while others create advanced video and image content layouts (Video Player, Slider).
Events WordPress websites usually contain lists with past events and listings of scheduled future events. For the fastest search through any type of post, users use the JetSearch AJAX Search Form widget.
And what is your favorite Crocoblock plugin? Look through our library of websites to find more inspiring examples of JetPlugins' applications and share your work with us!