It's always a good idea to get updates in order to use the latest versions of the products. Crocoblock team updates Jet Plugins along with the skins and section templates library every week, so, no wonder, you might be interested in how to update the skins and section templates. Actually, in order to get the latest updates and use the latest skins, you should make updates weekly with JetThemeCore plugin.
As a matter of fact, the best part of the news is that you can make the updates right from the Crocoblock Dashboard in several clicks. Want to know how?
Updating the Section Templates
If you want to add new section templates to the ones already existing in your Magic Button library, follow the next steps.
Step 1 — Navigate to WordPress Dashboard and locate the Crocoblock tab. Make sure you've installed and activated JetThemeCore plugin on your site before proceeding to further actions.
Step 2 — Go to Crocoblock > Plugins tab. Here you'll see the list of plugins you already have installed.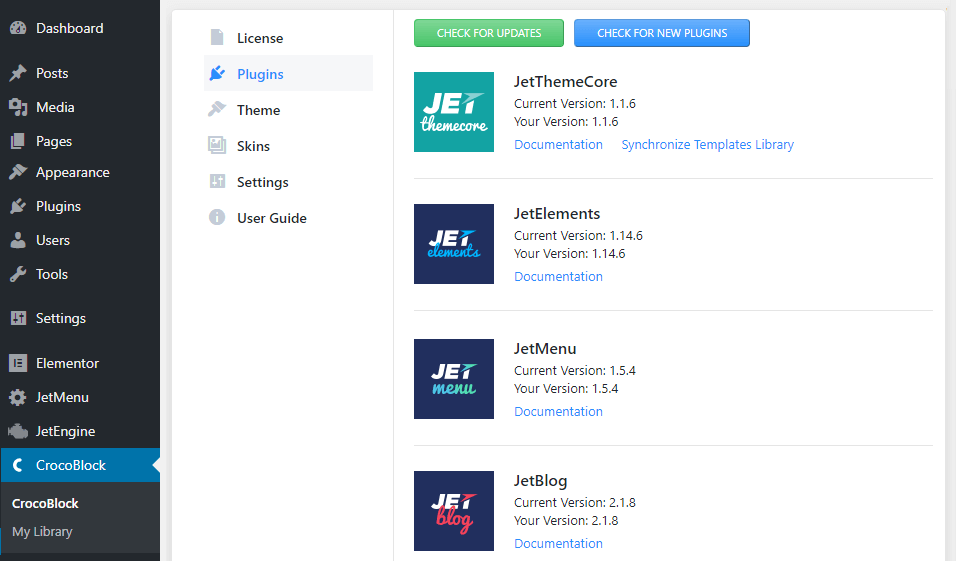 Step 3 — Click Check for Updates button to see if there are any updates available. Especially this is needed for JetThemeCore. However, in case the newer section templates and skins include some new plugin features and widgets, please, update the Jet Plugins that require installation of the new version .
Step 4 — All you need to sync the section templates is JetThemCore plugin. It is permanently on top of the plugins list. Click Synchronize Templates Library link to make the sections library up-to-date.

Updating the Skins Library
Now it's time to load the new skins. Keep reading this guide to learn how this can be done.
Step 1 — Assuming that you've already updated the plugins and the sections library, let's switch from Crocoblock > Plugins tab to Skins tab just several points below it.
Step 2 — Click the Synchronize Skins Library button to start the updating.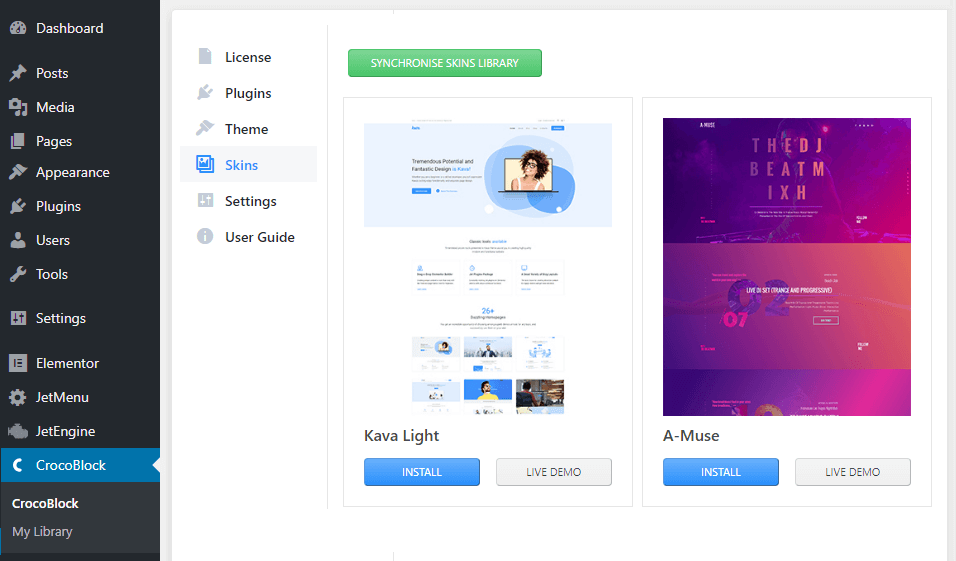 Step 3 — After all previous steps are done the list will update and you'll get all newly available skins.
In conclusion, this process is really easy and gives you access to all the newest skins and section templates. Hoping you're already enjoying the skins you've got from Crocoblock team!