JetEngine comes with an exquisite frontend submission option. It became possible with the User Profile Builder. When it comes to implementing a User Account functionality and submitting data from the frontend, JetEngine is handy and crucial.
Introducing User Profile Builder – an awesome tool which allows to create personal accounts for users and gives them the possibility to submit any information to your site from the frontend.
Activation and Presets Import option
1 Step — Activating User Profile Builder
In order to start working with User Profile Builder, you need to enter the WordPress Dashboard, navigate to JetEngine icon, and click the JetEngine menu item as shown below: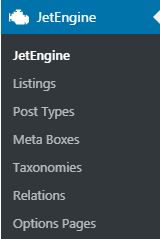 In the opened JetEngine dashboard window you will see the Modules available for activation. Tick the Profile Builder option and click the Save button. Now, you can work with it to the fullest.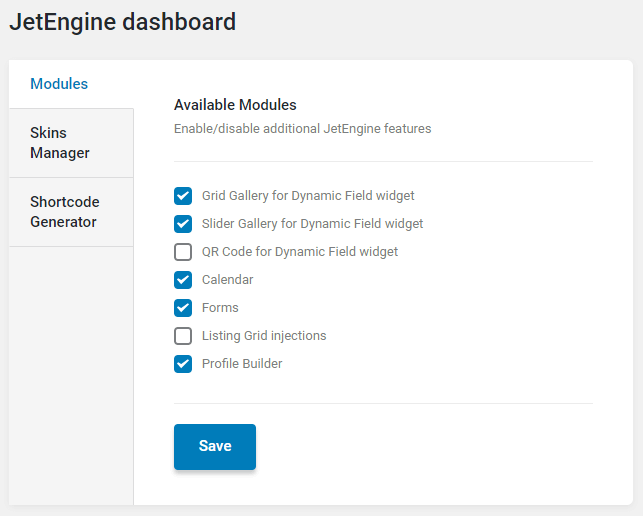 2 Step — Exploring Presets Import option
After the Profile Builder module was activated you are free to operate with it and set it up according to your needs. However, there's a way to import the pre-made configurations and modify them.
So, go to the Skins Manager tab within the JetEngine dashboard, and find the Presets.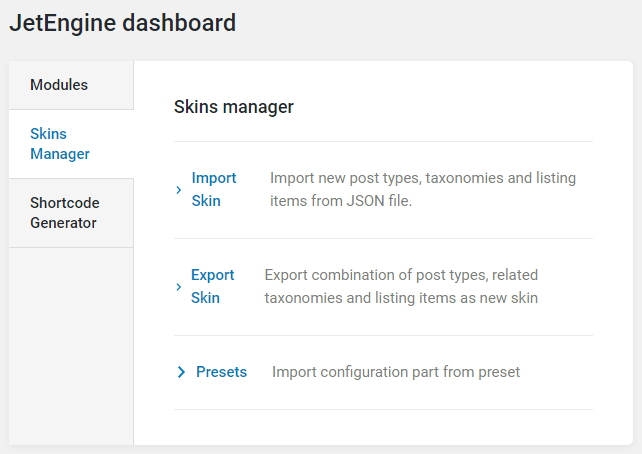 Click on it and you'll see two options available for importing: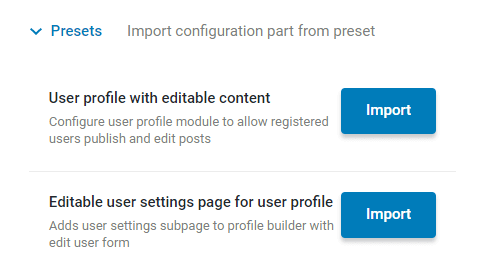 User profile with editable content – this option stands for the Profile itself. It will import all the configuration files and will provide the opportunity to registered users to publish and edit posts.
Editable user settings page for user profile – with this option, you'll get User settings subpages imported.
3 Step — Permalinks re-save
After you hit the Import button (for each option), you'll see the following popup window appears: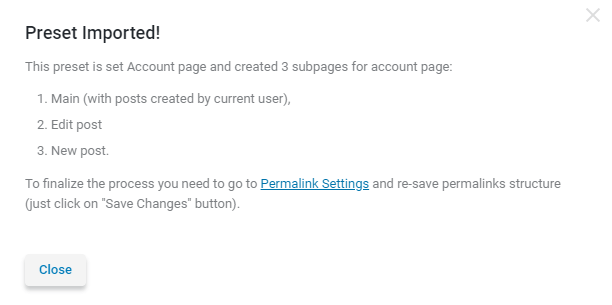 It informs what has been imported and what needs to be done to continue working with the Profile Builder. This way, you should re-save the permalinks structure.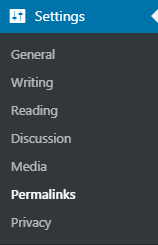 After everything is done, it's high time to overview the Profile Builder.
User Profile Builder full overview
1 Step — Open the Profile Builder dashboard
OK, now we're on the stage of managing the User Profile Builder itself. Navigate to JetEngine > Profile Builder as shown below.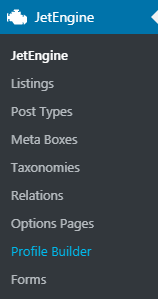 You'll see the dashboard opens, consisting of two tabs: Pages and Account Page.
2 Step — Pages tab overview
Here you can set up the pages that your Account will contain. Let's see what we've got.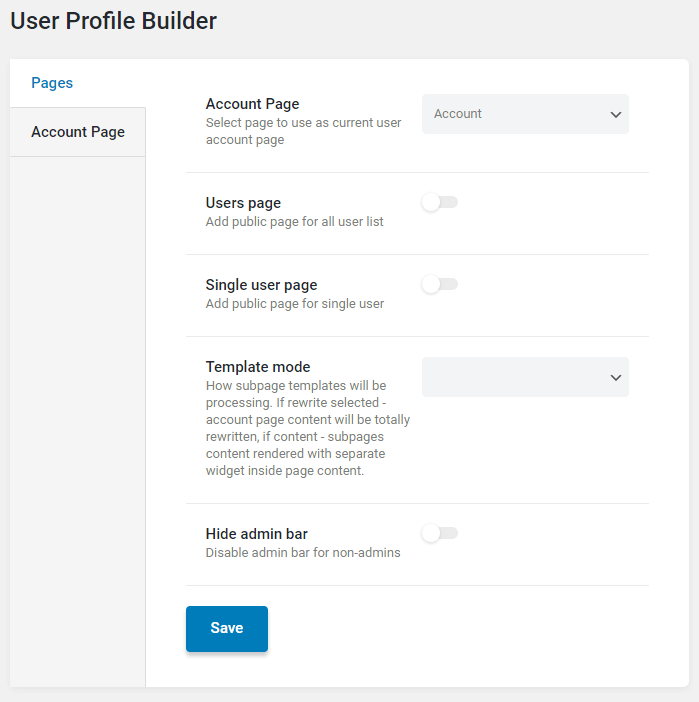 Account page – here you can select the page from the dropdown list, which will be your Account's one. If you imported the preset, this page would be added to your dashboard automatically.
Users page – this option allows you to assign a page as a public one to view the list of all users.
Single User page – also, you can add a public page for the single user. When you toggle this option you will see the User Page Rewrite, where you decide on how to built the permalinks of user's public pages:

by username (basic-url / username),
by user nickname (basic-url / user nickname),
or by user id (basic-url / user id).

Template Mode – here you can choose the way templates of Account's subpages will be processed: either via templates or using page content:

the Rewrite option stands for displaying Account and public User's pages based on the templates assigned to them.

the Content option means that you'll need to use the Profile Content widget on your Account or User page to display the content.

Hide admin bar – here you decide whether you'd like to hide the admin bar for non-admin users or not.
Once you set those pages up, don't forget to click the Save button.
3 Step — Account Page tab overview
The purpose of this tab is to build a structure of your future Account page and adjust the settings for it. Let's examine it closer.
First of all, we've got the opportunity to select what needs to be done when non-authorized users try to access the account page. You have three options:

Redirect to default WordPress login page;
Redirect to page (and set up the Redirect URL);
Show template (and select Elementor/Listing Item template to show as page content).
Let's proceed with other options. There are four main subpages below: Main, Add New Post, Edit Post, User Settings. They have been automatically imported within the preset and are fully editable (title, slug, page template selection).
Those pages are basic ones, and you can add as many new pages as you want, by clicking the appropriate button.
Let's open the subpage to see what's inside: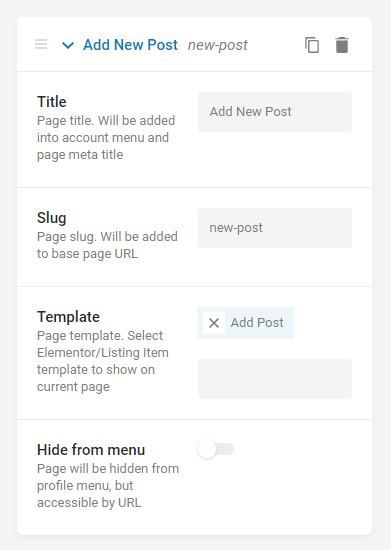 As you can see from the screenshot above, you can set Title, Slug, select Template or Listing item, and choose whether to hide it from the menu or not.
4 Step — Users Page tab overview
Let's return to the Pages tab described in the 1st step. Here, if you enable the Single user page option, a new tab called User Page will appear: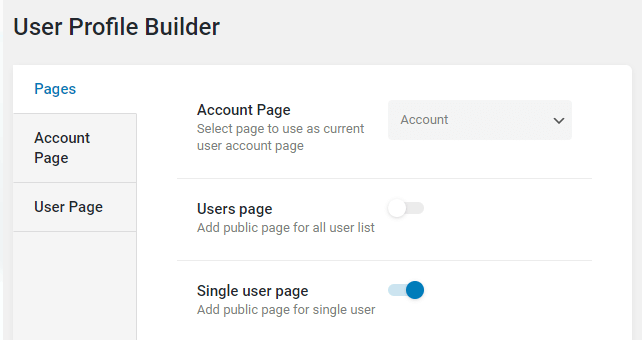 On this page, the settings are pretty much similar to the Account Page. Add the subpages you need and customize them: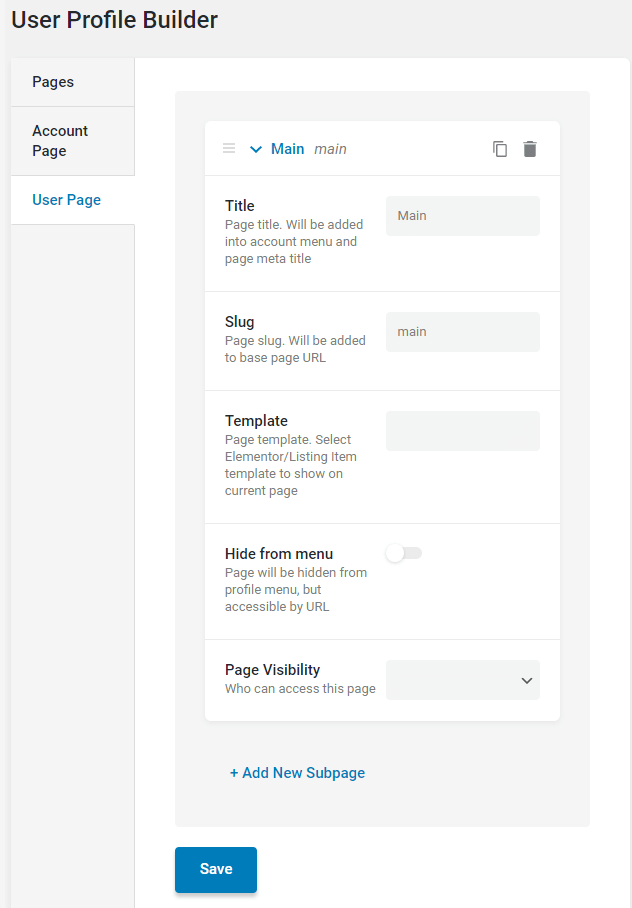 The settings are basic and understandable indeed. So, play around with the Profile Builder pages to establish the structure you need on the backend, and you'll manage to create something like this: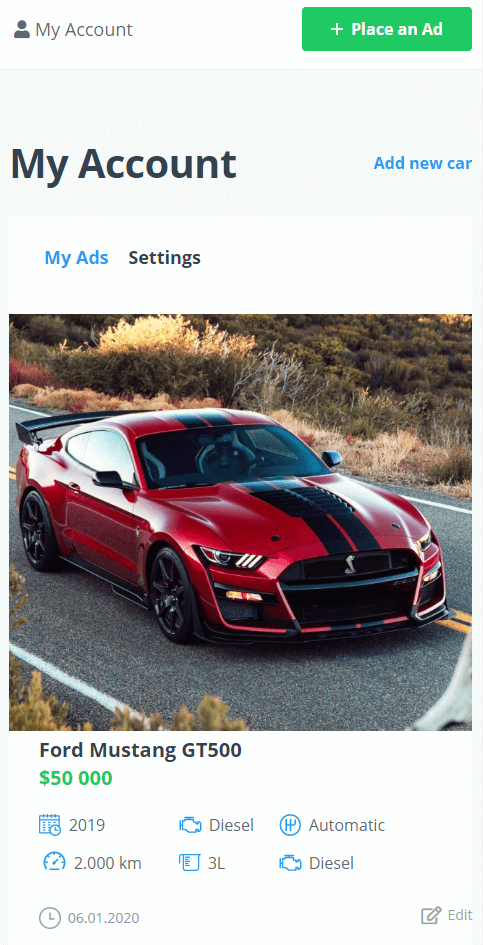 Good luck!