There is a JetBlog Settings section in the WP Dashboard > Elementor block, which includes varied options for settings JetBlog plugin's functionality, such as Youtube API key, Smart Posts List: allow filters for post type, Available Widgets, and Editor Load Level. Let's dig deeper into them.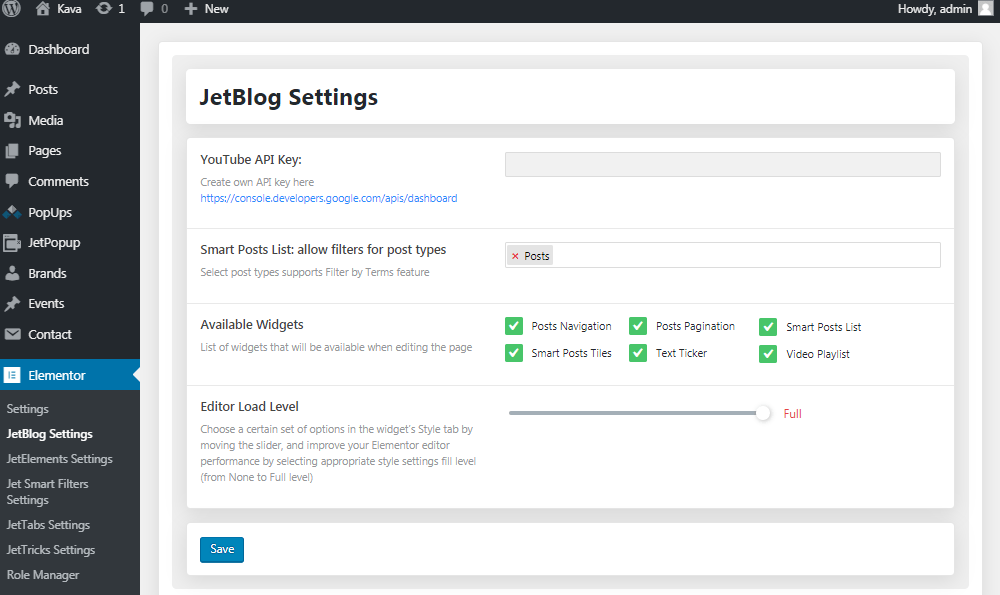 YouTube API Key
Here you need to insert your own API key for displaying the time and duration of the videos while working with the Video Playlist widget. In case, you don't have such an API key, you can create it by clicking the link below.
Smart Posts List
This option helps you to limit post types with support of Filter by Terms feature in Smart Posts List widget. Select the appropriate items from the dropdown.
Available Widgets
There are all available JetBlog widgets, which can be enabled or disabled according to your needs.
Editor Load Level
Moving the toggle you can specify a certain set of options in the widget's Style tab and improve your Elementor editor performance by selecting appropriate style settings fill level (from None to Full one).
All in all, as you can see, JetBlog Settings block presents different useful options for customizing JetBlog functionality.