Dynamic Tables Builder for WordPress
This plugin is working with Elementor editor
This plugin is working with Gutenberg block editor
This plugin is working with Bricks editor
Create dynamic data tables showcasing posts, products, users, terms, comments, and SQL data. You can display WordPress Custom Fields data / Listing templates in the cells.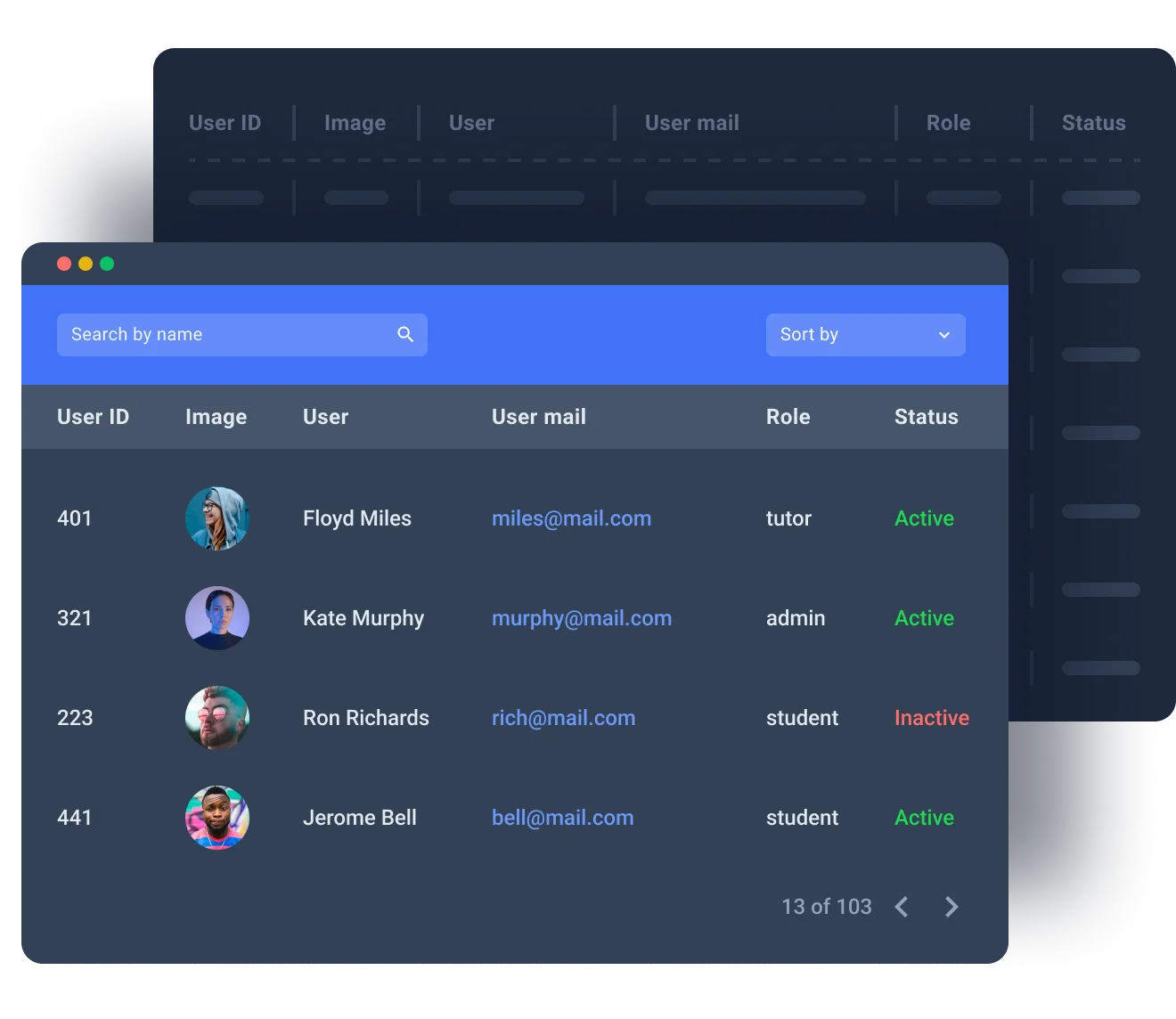 Build Flexible
Dynamic Data Tables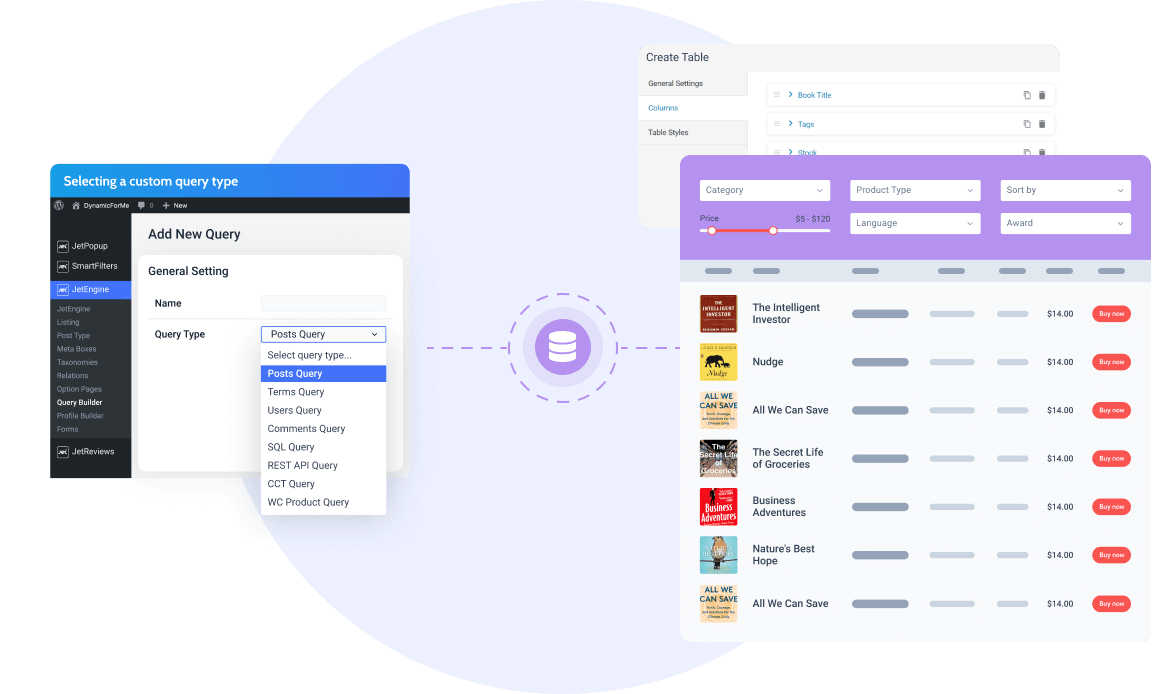 Adding Filters to Sort the Table
Query
Determine which data will be selected from the database and how.
Fetch
Fetch the query columns and use them as frontend display options.
Preview
Preview the table content before adding it to the page.
Visualized data
Want to visualize the table data? Consider the Charts Builder feature.
Fit Any Data

into Table Cells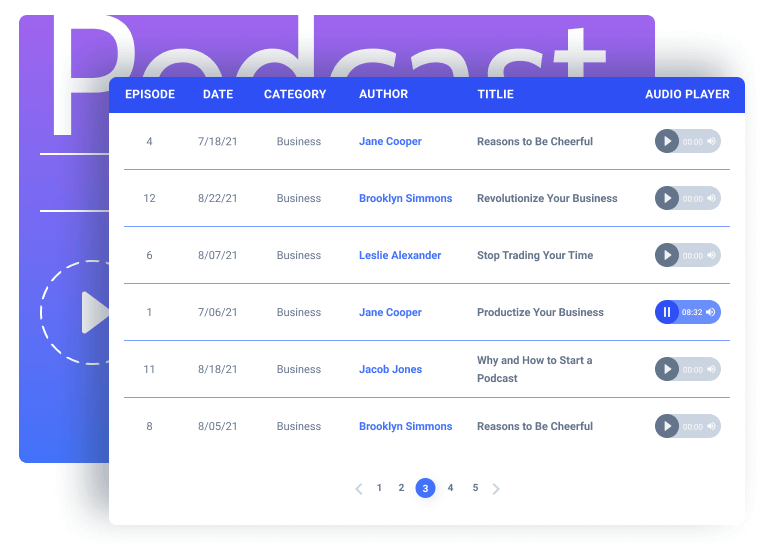 Podcast archive
Looking to create a podcast library? Create a CPT called Podcasts, add meta fields to it, then build a listing item to display the audio files. Next, add the podcast-related columns to the table and output the post's name, date of addition, and a template containing the audio player.
Explore Modular
Options & Settings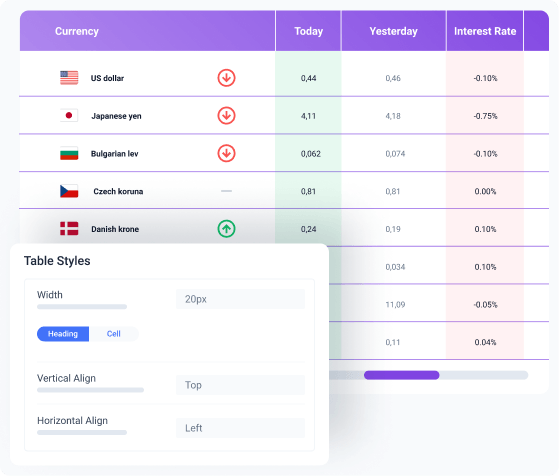 Select Raw Value / Listing template
Choose the appropriate callback for a value
Set the heading/cell width & alignment
Enable horizontal scroll for massive tables
Get data from custom fields & fetched columns
Style both header and body in the page builders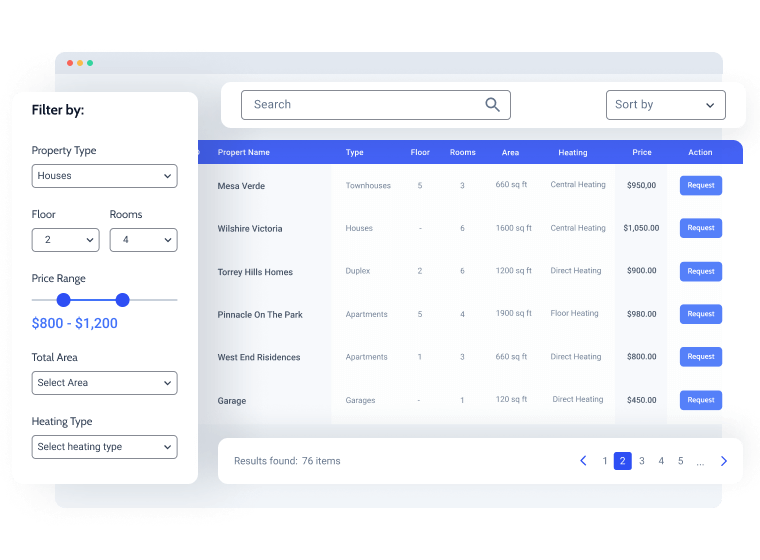 Filter tables

to get more precise results

Bring your visitors an option to narrow down the data displayed in dynamic tables. Filter by several parameters and add pagination to get neat results.
Unlock the benefits:
Filter by any type of data
Search through the table's content
Sort columns in ASC or DESC order
Tables filtration would be possible only with the JetSmartFilters plugin installed.
Display Dynamic Tables

with
Elementor Widgets & Gutenberg Blocks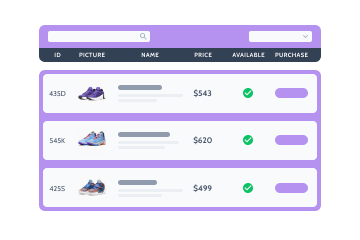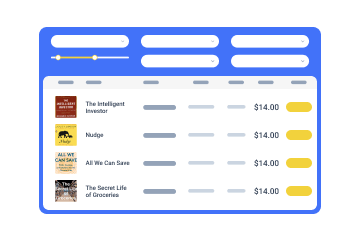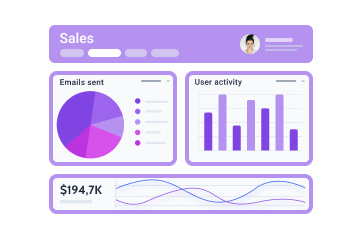 Benefit by
seamless integration
Thanks to Tables Builder functionality, you can display the ACF, PODs, CPT UI, and other third-party plugin data. Showcase the WooCommerce products. Other integrations include JetReviews and JetSmartFilters.
Choose Subscription
30 days money-back guarantee
Custom subscription
Subscription price for 1 website only. For more choose the Unlimited websites in the cart.
17 widgets

included

JetEngine plugin

1-year product updates

1-year of Zoom & Chat support
All-Inclusive subscription
150 widgets

included

20 JetPlugins

1-year product updates

1-year of Zoom & Chat support
Go pricing
For more details on the Subscription proceed to the Pricing page
Find Out More

About Tables Builder
Knowledge Base