The introduction of Gutenberg has made WordPress much easier to use. It is intuitive and straightforward, with nearly 100 blocks for editing content. With every new edition, this block editor improves flexibility and expandability, enabling full site editing and growing its user base.
Because it is a core WordPress feature, many web developers provide Gutenberg support in their products, further improving its functionality. With the emergence of Gutenberg plugins, it is becoming a complete full site builder for beginners and professionals.
We, a company building state-of-art add-ons for Elementor, have now developed a suite of plugins to overcome Gutenberg's limitations and help users create better sites.
Premium WordPress Plugins by Crocoblock
Here's a list of top premium plugins for Gutenberg that can be purchased in a bundle or as standalone tools.
🏆Best for building dynamic listings with Gutenberg.
JetEngine can substantially increase Gutenberg's capabilities to build websites with dynamic content. New blocks for links, images, and fields have a wide range of customization options and can be used both in dynamic listings and as standalone posts. JetEngine offers three new types of dynamic listings while also providing the ability to insert almost any data into Gutenberg's native Query Loop block.
The unique Query Builder introduced by JetEngine can combine any data from all databases and external sources connected through REST API on the backend. It allows filtering and querying CPTs, custom DBs, users, comments, SQL tables, WooCommerce products, and terms and displaying it on the front end with a unified approach.
JetEngine main features:
23 dynamic WordPress blocks;
ability to create and operate Custom Content Types – custom databases which allow storing data more efficiently;
dynamic visibility feature to set restrictions on displaying various content;
compatibility with popular plugins, such as WooCommerce, Yoast, ACF, Stackable, RankMath, and more;
three types of dynamic listing blocks with multiple customization options;
powerful query builder with one interface for all query types.
Pricing: $43 for one site and $88 for unlimited projects per year.
🏆Best for building well-designed and customizable pop-ups using a native WordPress block editor.
JetPopup allows the creation of attractive WordPress popups with multiple personalization features. When properly setting up the plugin's targeting and behavioral interaction options, you can improve user engagement and achieve maximum conversion rates.
To make pop-up management easier, the core settings of each pop-up are accessible through JetPopup's main dashboard. Now you can modify visibility conditions, choose animation effects, and set pop-up open events for all pop-ups on the site using one friendly interface.
JetPopup main features:
multiple pop-up open events, including time-based and action-based triggers;
easy-to-use condition builder with include and exclude relation types;
six preset templates and many powerful animation effects to make pop-ups appear most effectively;
pop-up controls within the editor and the pop-up list dashboard to perform bulk actions;
AJAX loading of pop-up content to increase the loading speed of the site;
ability to preview the pop-up you're working on before publishing it.
Pricing: $22 for one site and $44 for unlimited projects, billed annually.
🏆Best for structuring WordPress sites.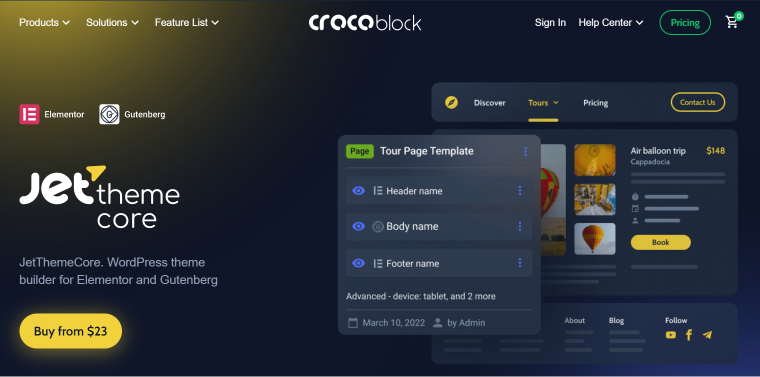 With the power to create custom theme parts, disperse templates to website pages, and assign conditions to different website elements from one informative dashboard using a native WordPress editor as the only basis, JetThemeCore is a versatile theme builder. You can create headers, footers, and archives, save them to the template library, and use them for the entire site or create various single-page layouts.
JetThemeCore main features:
create, duplicate, export, and import custom page templates and theme parts, all using Gutenberg;
apply visibility conditions to templates, including devices and user roles;
create archive pages;
use JetThemeCore with all popular WordPress themes.
Pricing: $23 for one project and $47 for unlimited projects per year.
🏆Best for building mega menus with interactive and dynamic content.
JetMenu is the ultimate solution for building complex menus with diverse content using the Gutenberg editor. The items in the mega menu can contain pretty much any kind of data, static and dynamic: images, videos, icons, maps, WooCommerce products, your store's best offers, news feeds, latest blogs, catchy banners, etc.
One feature that sets JetMenu apart from other menu builders is the ability to build separate menus for desktop and mobile devices instead of automatically transitioning them to mobile format. Imagine you built a mega menu that includes post listings with interactive content – that menu would spoil mobile users' experience, so just build a completely new menu that would work for smaller devices.
JetMenu main features:
creates menus that support interactive and dynamic elements;
allows building and styling two different menus for desktop and mobile devices;
has multiple customization options to match your brand;
supports three menu layouts (vertical, horizontal, and dropdown) and a hamburger menu.
Pricing: the annual price is $43 for one site and $88 for unlimited projects.
🏆Best for creating dynamic and precise filtering systems on WordPress websites.

Using a variety of unique and standard filters offered by JetSmartFilters, you can build intricate filtering hierarchies to search through your listings and make the filtering process fast and accurate. Use the AJAX filtering feature to offer users a more dynamic experience, or turn it off, so the search results are only displayed after users click the "Apply" button.
JetSmartFilters main features:
12 types of filters with customization options;
indexer feature to show the number of relevant items in each category;
ability to build hierarchies with categories and subcategories filters;
adjusted filtering logic;
AJAX dynamic filtering.
Pricing: $43 for one site and $88 for unlimited projects per year.
🏆Best for adding essential booking functionality to services providing hospitality and renting services.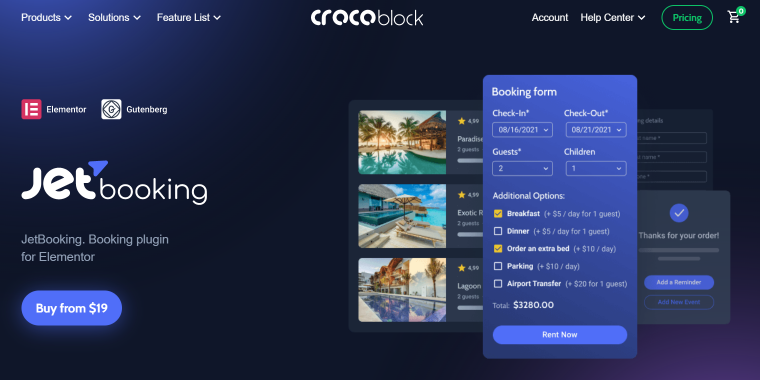 JetBooking helps create complex booking systems using WordPress native editor. Such functionality is essential for businesses working on a daily basis, such as car rentals and hotels. With this plugin, you can set rules to accommodate prices for different seasons, weekends/weekdays, etc. Ensure you're also using JetEngine to access all of JetBooking's features.
JetBooking main features:
integration with third-party services like Google Calendar, MailChimp, Zapier, and WooCommerce integration;
flexible pricing rates;
setting up extensive booking forms.
Pricing: $43 for one site and $88 for unlimited projects, billed annually.
🏆Best for building complex appointment systems using block editor.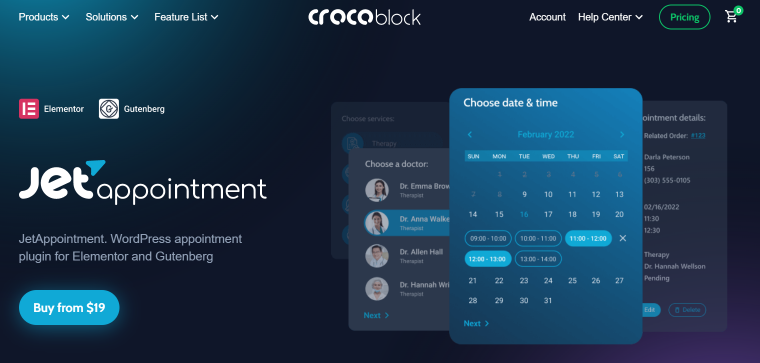 This Gutenberg appointment plugin will work for businesses like spa salons, barbershops, gyms, and legal consultants – i.e., hourly services. The plugin supports synchronization with iCal and Google Calendar, which is great if multiple employees need to keep track of scheduled appointments. In fact, with JetAppointment, you can build a platform for multiple service providers. Ensure you're also using JetEngine to access all of JetAppointment's features.
JetAppointment main features:
list, calendar, and timeline schedule layouts;
extensive appointment forms with customizable post-submit actions;
WooCommerce integration.
Pricing: a yearly charge of $43 for one site and $88 for unlimited projects.
🏆Best for adding static and dynamic reviews to all post types.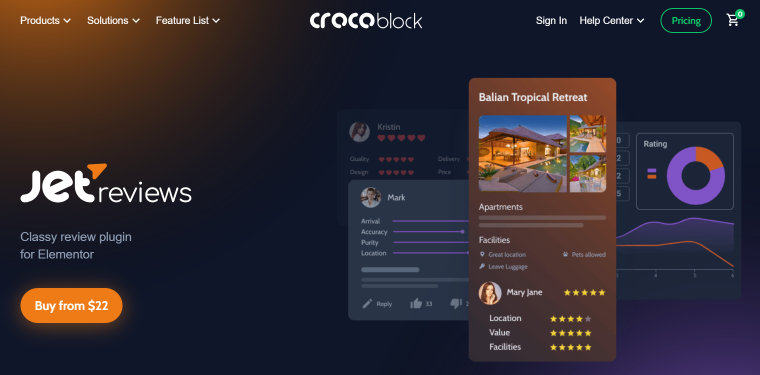 With the JetReviews plugin, you can build forms for users to leave reviews, comments, likes, and dislikes for any CPT. You can further increase user engagement by offering various types of reviews and by having multiple rating scales for the same item. The ability to display live average stats and likes/dislikes summaries greatly benefit WooCommerce websites.
JetReviews provides multiple customization features to build review forms for various purposes and an easy-to-use, informative dashboard for site admins, making it a perfect solution for eCommerce, rentals, and hospitality websites.
JetReviews main features:
dynamic reviews;
multiple rating scales for one item;
author authentication tools like reCAPTCHA and the possibility to reveal real users' data to enhance reviews' credibility;
ability to verify reviews by site admins and automatically check for prohibited words;
ability to upvote/downvote reviews and user comments;
storing all data from reviews in custom databases to prevent the site from slowing down.
Pricing: $43 for one site and $88 for unlimited projects per year.
🏆Best for presenting products using various page layouts.
Crocoblock designed JetProductGallery as a top-notch tool for creating galleries and showcasing single products that is 100% compatible with Gutenberg editor. This plugin offers four product gallery layouts with multiple styling options to present products in the best way possible. Besides advanced options for images, JetProductGallery has premium video display options like loop and allows changing video parameters to fit any product page.
JetProductGallery main features:
slider, grid, anchor navigation, and product page layouts;
buttons for sharing images on social media networks and downloading;
support for many post types;
ability to upload images and videos manually or from the media library;
advanced tools for displaying images like zoom, lightbox, and view in the pop-up.
Pricing: $43 for one site and $88 for unlimited projects, charged yearly.
🏆Best for building AJAX-powered search tools for WordPress sites.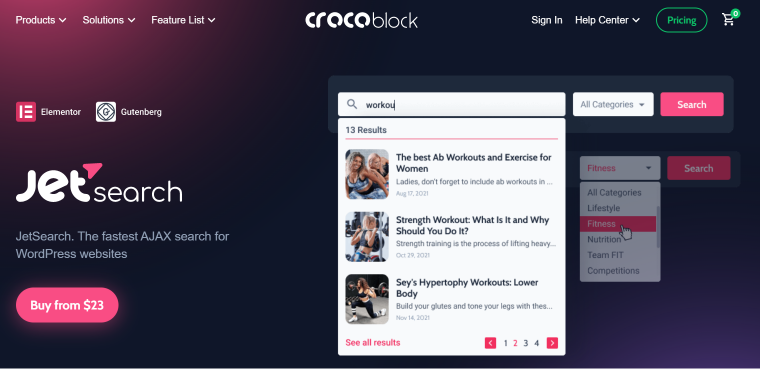 The JetSearch plugin adds a live search bar to the websites created with Gutenberg. It allows searching through the entire site or the specified categories in your listings, as well as restricting search results to titles, descriptions, authors, etc. Using the search query parameters, you can set the criteria according to which the results are sorted on the front end.
JetSearch has powerful stylization settings and is geared by AJAX search technology, guaranteeing a flawless user experience.
JetSearch main features:
dynamic AJAX search;
many parameters for arranging search results;
grid, list, and masonry results page layouts;
ability to search the entire site or by parameters.
Free WordPress Plugins by Crocoblock
Here are free plugins that can further improve WordPress functionality and are especially effective when used with other Crocoblock tools.
🏆Best for building dynamic and complex forms using drag and drop block editor.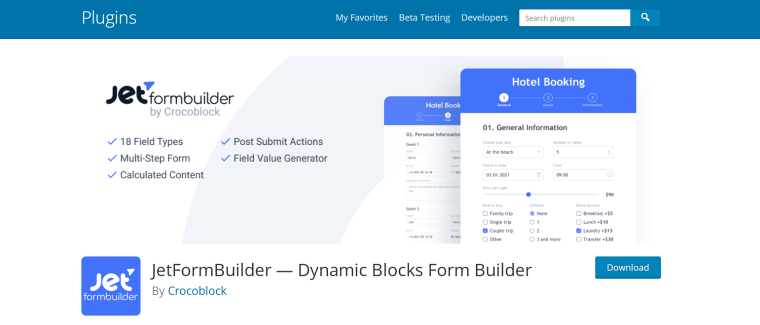 JetFormBuilder is an easy-to-learn form builder designed specifically for the WordPress native editor. It includes 19+ field blocks that allow building complex forms with conditional logic, calculated content, and multiple post-submit actions, which you can use simultaneously. Like all other Crocoblock plugins for Gutenberg, JetFormBuilder contributes to the site's dynamic qualities. For example, you can insert dynamic values into fields using multiple shortcodes offered right in the editor.
The visual drag-and-drop editor provides an intuitive, creative process whether you're working on a simple sign-in form or a complex multi-page survey.
JetFormBuilder main features:
calculated content, hidden fields, placeholder texts, and other smart features;
ability to assign more than one post-submit action;
visibility conditions for all fields;
MailChimp and PayPal integrations;
multi-step forms with step indicators.
🏆Best for styling every element of JetPlugins-added Gutenberg blocks.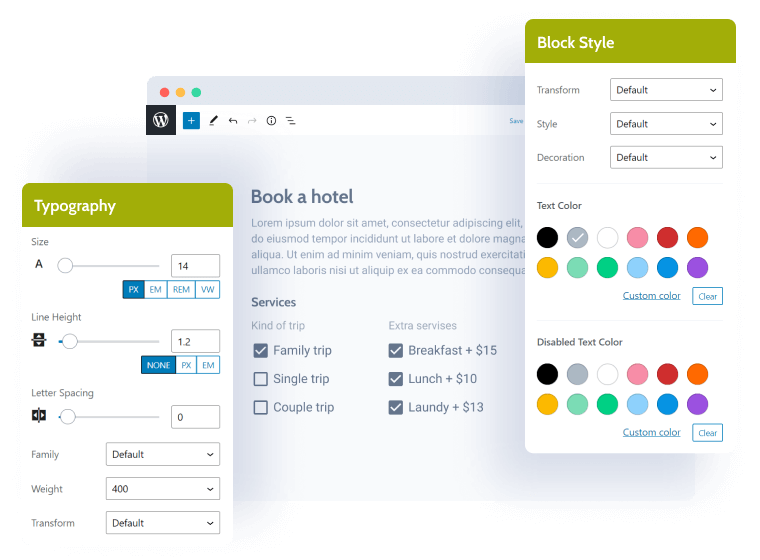 JetStyleManager is a unique plugin designed to add styles to JetPlugins blocks for Gutenberg. The WordPress editor has very limited options to modify designs, so a dedicated styling tool is essential for creating eye-catching web pages. JetStyleManager adds customization options to all Gutenberg-compatible JetPlugins, allowing for modification of every element's detail. You can stylize every block individually or generate styles using ten types of controls.
The core JetFormBuilder plugin is free. Users can also purchase JetFormBuilder PRO Addons for $39 per year for one site or $79 per year for unlimited sites.
JetStyleManager main features:
typography settings;
style controls for every little detail of JetPlugins blocks for Gutenberg;
ability to alter style settings for different devices.
🏆Best for adding a background grid for easy manipulation of posts.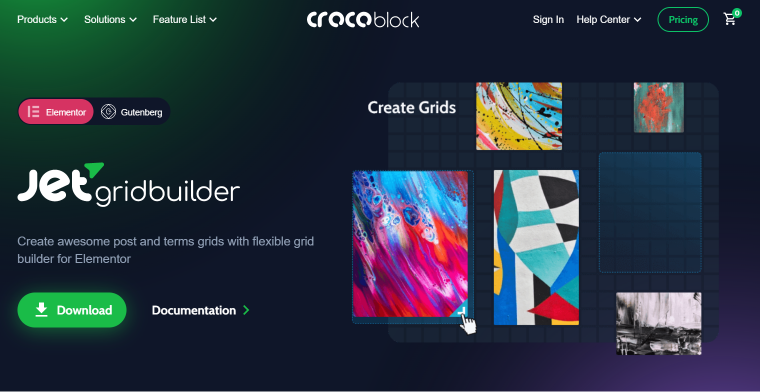 There are many instances when JetGridBuilder can help you create attractive layouts: image and video galleries, blogging listings, booking websites, etc. This free plugin provides you with an adjustable backing grid to place any type of CPT on it. You can choose the number of columns in the grid, thus removing any limits on where the posts can be located.
In addition to compatibility with any post types, this Gutenberg grid plugin will work smoothly with content created by such popular plugins as ACF, WooCommerce, and MetaBox. Use JetGridBuilder to experience a much faster and more enjoyable web development in WordPress editor.
JetGridBuilder main features:
compatibility with popular plugins and various content types;
customizable grid;
adaptable thumbnails for featured images.
Summary
Each of the Crocoblock plugins can improve Gutenberg's functionality in one way or another. Here are some of the most remarkable features that JetPlugins add to the WordPress editor:
create a dynamic website structure using new blocks with multiple customization options;
use custom dynamic tables to store data on the website more efficiently;
display more post types dynamically with Gutenberg blocks;
apply dynamic visibility conditions to indicate when to display selected content;
build multi-step forms with advanced features for all purposes;
create complex query lists that can include any data on the backend, including REST API data, and present the results uniformly on the front end;
use new listing types, including calendar and map listings that are compatible with data from external resources;
improve site navigation using mega menus with dynamic content;
improve UX by adding customization options for all WordPress blocks;
build a fast product filtering system with unique features.
Each of the plugins can help you accomplish specific tasks, and all of them can turn WordPress editor into a powerful toolkit for building websites professionally without using code.